New The Mandalorian Action Figures Include Cobb Vanth, Migs Mayfeld, And Scarred Baldy Boba Fett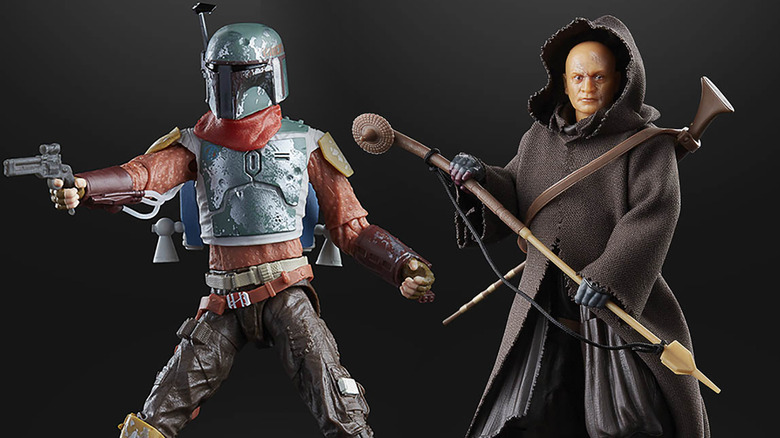 Hasbro
Hasbro PulseCon kicked off today, revealing new toys from the likes of "Power Rangers" and "Transformers," but the collectibles were the most excited to see from Hasbro came from the "Star Wars" series "The Mandalorian." 
A handful of new "Star Wars" Black Series figures were unveiled, inspired by the second season of "The Mandalorian," including that handsome devil Timothy Olyphant as Cobb Vanth, decked out in Boba Fett's armor. Speaking of which, there's a figure of cloaked Boba Fett before he gets his armor back, an official Bill Burr action figure featuring the comedian as Migs Mayfeld. It wouldn't be a proper announcement without new figures of Mando himself, who gets two new figures with ice spiders in both the Black Series and Vintage Collection. Plus, there's a Nevarro cantina playset for the Vintage Collection, inspired by the first season finale of "The Mandalorian." Check them all out below.
Cobb Vanth
Timothy Olyphant as Cobb Vanth is one of the coolest new characters we've met in "The Mandalorian." It's not just because he's sporting Boba Fett armor, but because he's just like a classic western sheriff trying to do right by his small town in the middle of the desert. Featuring a fantastic sculpt of Timothy Olyphant and his silver hair, this figure just looks cool as hell. It makes us hope that we haven't see the last of Cobb Vanth in "The Mandalorian," because he could make for a great ally again in the future.
Cobb Vanth will go up for pre-order at 5:00 P.M. ET over at Hasbro Pulse.
Boba Fett (Tython) and Migs Mayfeld
When Boba Fett first arrives in "The Mandalorian," he's still trying to get his armor back. Until then, he's sneaking around in a big brown cloak with a variety of weapons to help him dispatch with anyone who might get in his way. Even without that Mandalorian armor, Boba Fett is still a deadly warrior, and he might be even more intimidating with his bald, burnt head out in the open. 
Also coming from the second season of "The Mandalorian" is Migs Mayfeld, the former sharpshooter in the Imperial Army turned mercenary. This version of Migs Mayfeld is the one who goes undercover with The Mandalorian as a Juggernaut Pilot in an Imperial facility on Morak. Honestly, I'm a little disappointed that we're not getting the version of Migs Mayfeld from the first season of "The Mandalorian." That's likely because it would required a whole new body sculpt when this body can actually double for an upcoming figure that will have Din Djarin in the same disguise. So Hasbro has killed two birds with one body sculpt. We'll just have to keep our fingers crossed for a proper Migs Mayfeld figure down the road.
Migs Mayfeld will be available for pre-order at 5:00 P.M. ET today at Hasbro Pulse, and Boba Fett will arrive in the summer of 2022.
Nevarro Cantina Playset
Throwing it back to the first season of "The Mandalorian," the Vintage Collection is getting a playset of the Nevarro Cantina where Mando and his allies have their last stand against Moff Gideon and his legion of Death Troopers and Stormtroopers. This playset even comes with a Death Trooper figure to add to your collection. But you'll have to get Mando and IG-11 separately. You'll also notice that Cara Dune is nowhere to be seen, and we all know why.
The playset goes up for pre-order at 5:00 P.M. ET today at Hasbro Pulse.
The Mandalorian and Ice Spiders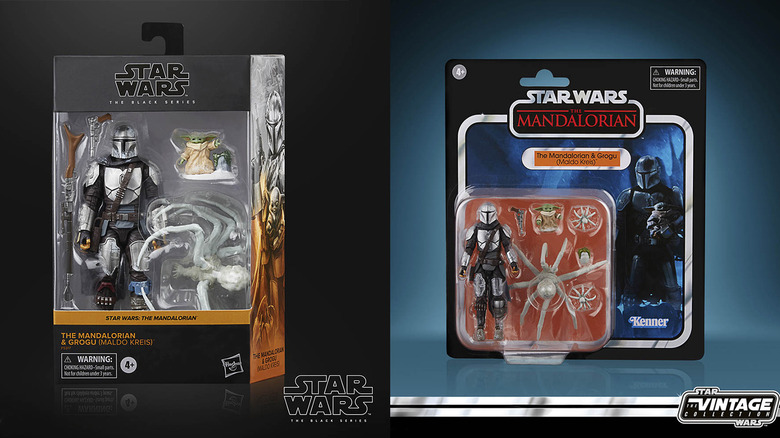 Hasbro
Finally, both the Black Series and Vintage Collection are getting new versions of Mando and Grogu inspired by their time on the ice world of Maldo Kreis. Joining them will be some ice spiders, and each will also provide a little egg for Grogu to munch on. It's better than him eating any more of the Frog Lady's eggs. Honestly, I'm not sure how many versions of The Mandalorian we need, but it'll be the only way to get those ice spiders, so you can bet fans will snatch them up. The Black Series version will be a Target exclusive while the Vintage Collection edition will be a Walmart exclusive. Both will be available in spring 2022.