Riverdale Season 6 Trailer: Things Get A Little Hellish When Sabrina Shows Up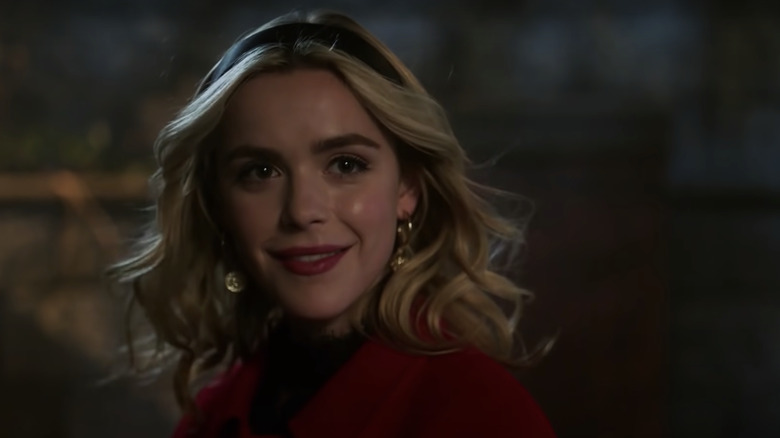 The CW
It was devastating to the Archieverse fandom when COVID-19 canceled "The Chilling Adventures of Sabrina" on Netflix, but after years of waiting and fantasy booking, Sabrina Spellman is coming to "Riverdale." Today, The CW released a teaser trailer for the special five-episode arc of the sixth season of "Riverdale," giving viewers their first look at Sabrina (Kiernan Shipka) crossing paths with Cheryl Blossom (Madelaine Petsch) in the "Riverdale" universe. Fans have long speculated that Cheryl Blossom is a witch, and seeing Cheryl and Sabrina together, even for a second, feels like four years of fan theories finally paying off.
"Riverdale" season 5 less than two weeks ago, leaving everyone on the cliffhanger that the small town of Riverdale is on the verge of destruction thanks to perpetual bad guy, Hiram Lodge. The highly anticipated crossover isn't the only thing the start of season 6 has to offer, with the teaser also offering a serious "holy sh*t" moment for any Betty and Archie shippers out there. Is "Barchie" going to start a family? Will Betty's baby be like a "Rosemary's Baby" horror show? Damn you, "Riverdale!" Why must you tease us this way?!
Riverdale Season 6 Trailer
Betty and Archie just got back together at the end of season 5, so this baby talk sounds like the two are moving wicked fast, even by "Riverdale" standards. Then again, the teaser is filled with horrific imagery and has been promoted to take inspiration from the horror genre, so there's always the chance that Betty's "baby" line could end up being a dream, taken totally out of context, or some other misdirection. The preview also shows both Betty and Archie donning blood spatters, so no matter what's going on between these two, the stakes have definitely skyrocketed.
As for the Sabrina angle, the fourth episode of the event is called "The Witching Hour(s)," which centers on Cheryl attempting a spell to assist a member of the Blossom family. Fortunately, Cheryl will get a little assistance from Sabrina the Teenage Witch herself, who is visiting from Greendale. Showrunner Roberto Aguirre-Sacasa spoke with Entertainment Weekly saying:
"We've been talking about having Sabrina visit Riverdale since Season 1, so it's thrilling that this is finally happening, as part of our 'Rivervale' special event. It's also perfect that she shows up to help Cheryl Blossom during her hour of greatest need. Everyone on set lost their minds — I think fans will, too. It's really fun and special."
The five-episode event of "Riverdale" season 6 premieres on The CW on November 16, 2021, with the remainder of the season debuting sometime in 2022.