The Morning Watch: The Suits In Dune Explained, The Last Duel Script Breakdown & More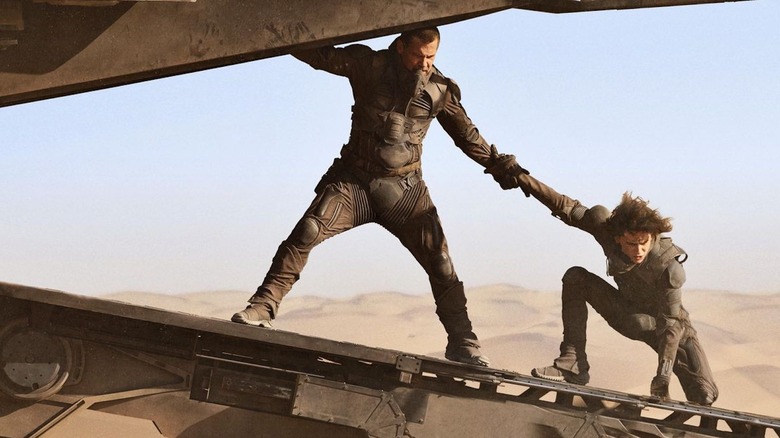 Warner Bros.
(The Morning Watch is a recurring feature that highlights a handful of noteworthy videos from around the web. They could be video essays, fan-made productions, featurettes, short films, hilarious sketches, or just anything that has to do with our favorite movies and TV shows.)
In this edition, find out what the body suits in the upcoming adaptation of "Dune" are all about. Plus, listen as "The Last Duel" stars Matt Damon and Ben Affleck talk about the screenwriting work they did with scribe Nicole Holfcener for the medieval drama. And finally, watch the Honest Trailer take expert shots at all of the James Bond movies starring the one any only Sean Connery.
The Suits in Dune Explained
First up, if you're wondering why everyone in "Dune" is wearing those full body suits, there's actually a good reason for that, and it's not just sci-fi fashion. The stillsuits, as they're called, capture moisture and recycle it into drinking water. In this video from Wired, "Dune" costume designers Jacqueline West and Bob Morgan talk about creating the suits and crafting them so that they could realistically help characters survive in the arid climate of the film.
The Last Duel Script Breakdown
Next, Vanity Fair brought in Ben Affleck, Matt Damon, and Nicole Holofcener to talk about writing the script for "The Last Duel." The story is told from three different perspectives, with two perspectives being handled by Damon and Affleck and the other written by Holofcener. Not only do they talk about writing itself, but they also provide some insight on what happens with different drafts of the script that are printed out for the cast and crew.
Honest Trailer for Every Sean Connery James Bond Movie
Finally, with "No Time to Die" in theaters, ScreenJunkies has delivered an Honest Trailer for all the James Bond movies starring the late, great Sean Connery. From "Dr. No" through ""Diamonds Are Forever" and no special attention paid to "Never Say Never Again." Watch as Connery pretends to drive through exotic locales and deals with villains who all somehow have the body of an egg. These are classic films, people!