The Huge Box Office For Halloween Kills Seemingly Says A Lot About Peacock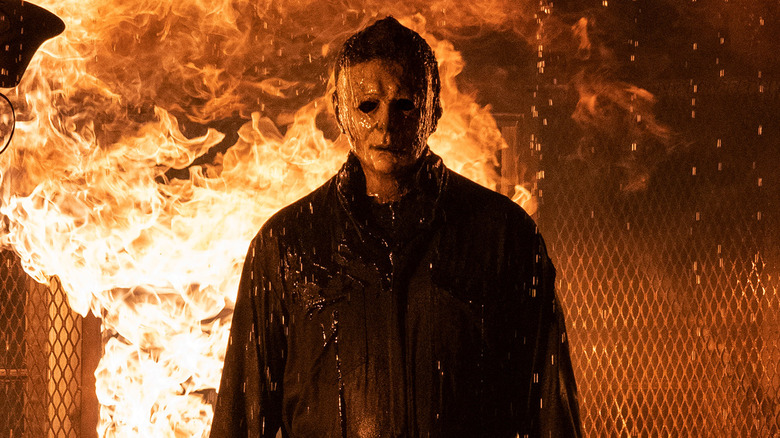 Universal Pictures
"Halloween Kills," after being delayed for a full year, finally made its way to theaters over the weekend, taking in a killer $50 million. It's the best start for a horror movie of any kind in the pandemic era, and also the best start for a movie getting a hybrid release, meaning that it launched both in theaters and on streaming. In this case, for free of charge to Peacock subscribers. However, the numbers make it hard to believe this movie was readily available on a major streaming service, which may end up telling us a lot about Peacock's place in the hierarchy of the streaming wars. A war they are, quite clearly, in no way winning. Let's break it all down.
Halloween Kills Absolutely Killed It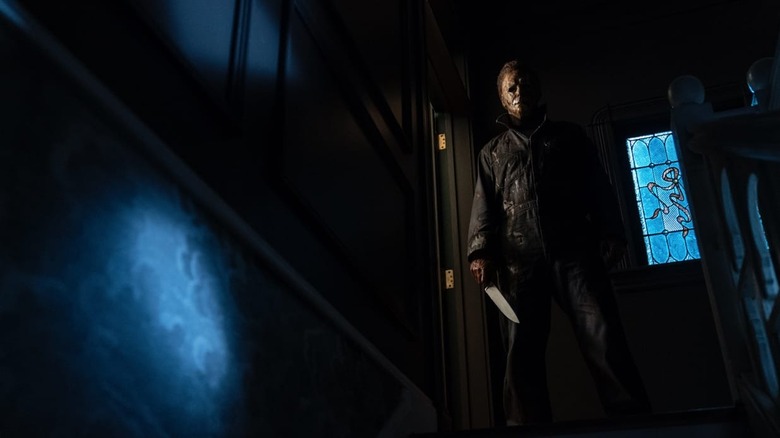 Universal Pictures
Before diving into why this perhaps should be viewed as a blow for Peacock, let's break down the numbers. After having its numbers adjusted down slightly come Monday, director David Gordon Green's "Halloween Kills" took in a terrifyingly good $49.4 million domestically over the weekend. It's only made $5.4 million internationally as its rollout hasn't truly begun, in earnest, overseas yet, so we'll focus on domestic numbers for the time being.
For context, 2018's "Halloween," which ranks as the highest-grossing slasher flick of all time, earned $76.2 million on its opening weekend, not contending with a pandemic or any major competition. By contrast, "No Time to Die" was entering its second weekend as well, with "Venom: Let There Be Carnage" also continuing to gobble up consumer dollars. This to say, even if we take out the streaming release altogether, this would be considered a huge win. Especially when we consider the relatively modest $20 million production budget (not accounting for marketing). There is no question this movie is going to make Blumhouse and Universal a lot of money, and it makes the already planned "Halloween Ends" a safer bet than it was before.
What's perhaps most impressive is the fact that it has overcome critical opinion to accomplish this. The 12th entry in the "Halloween" franchise currently boasts a not-so-great 39 percent critical approval rating on Rotten Tomatoes, though that audience rating is far better, currently at 71 percent. This appears to be a bit more of a crowd-pleaser. "Halloween" 2018 sits at 79 percent with critics and 70 percent with audiences on the site.
Peacock is No Streaming Giant, Not By a Long Shot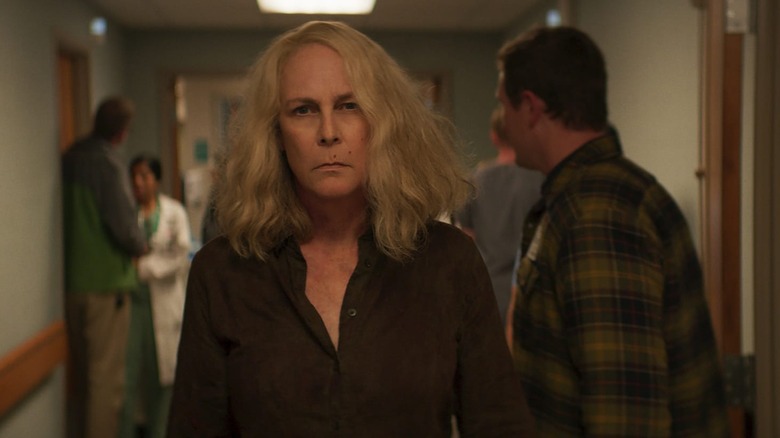 Universal Pictures
Hybrid releases, otherwise known as day-and-date releases, have been a subject of much controversy and debate in Hollywood during the COVID era. I have discussed at length how this might affect the future of blockbuster movies elsewhere, but the numbers certainly seem to indicate that if a big movie is available on a major streaming service the same day it is available in theaters, it will eat into the box office. And that logic follows. For many people it comes down to, why pay to go see it at a theater when I can watch it at home for free?
But whereas hybrid releases on HBO Max, and especially Netflix, certainly seem to go that way, "Halloween Kills" being released on Peacock, based on the early numbers, didn't do nearly as much damage to the bottom line. As reported by Samba TV, an estimated 1.2 million households watched the movie opening weekend. Peacock, for what it's worth, had 54 million subscribers in July of this year, with 20 million active subscribers.
1.2M US households watched #HalloweenKills during its first weekend streaming on Peacock. Viewership peaked on Saturday and skewed slightly female (+5%).#HalloweenMovie #SambaTVInsights pic.twitter.com/t5fG7cnINN

— Samba TV (@samba_tv) October 18, 2021
So, let's do some math. The average ticket price for a movie in the U.S. in 2021 is $9.16. Very roughly, looking at the $50 million debut, that means 5.4 million tickets were sold over the weekend for "Halloween Kills." If we take the reported numbers from Samba at face value and assume, for the sake of the argument, that at least 1 person from all 1.2 million of those households would have bought a ticket, it might have added another $11 million or so to the opening weekend box office. And that's if all of those people headed out to a theater were it not for the streaming option, making for a pretty big if, in my humble opinion. This to say, it seems the Peacock release truly didn't cut into the movie's bottom line all that much.
A Different Story on HBO Max and Netflix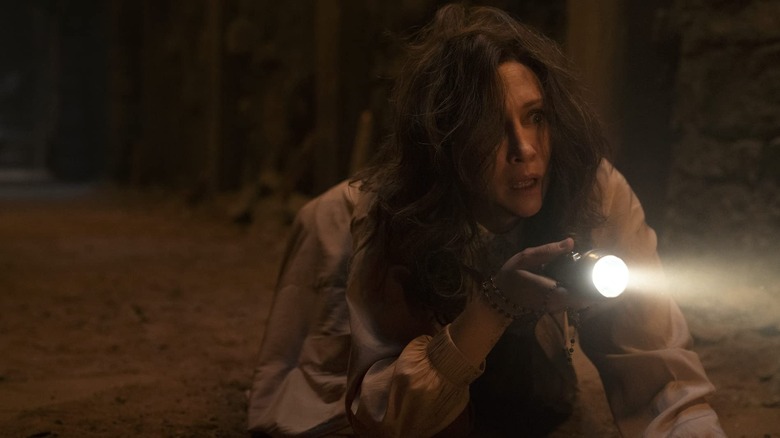 Warner Bros.
For comparison's sake, let's look at some other genre releases from 2021 that had hybrid releases. "Godzilla vs. Kong" debuted with $31.6 million earlier this year, finishing its domestic run with $100.5 million, on its way to $467.8 million worldwide. But just 21.5 percent of its money came from the domestic box office, suggesting that its HBO Max release cut into those numbers. Similarly, "The Conjuring: The Devil Made Me Do It" had 32.5/67.5 domestic/international split ($65.5 million/$136.4 million/$201.9 million total). It was also released day-and-date on HBO Max.
It gets trickier looking at Netflix, as they are quite selective about releasing movies in theaters, and when they do, the company isn't transparent about box office numbers. But Zack Snyder's "Army of the Dead" was released both in theaters and on the streaming service earlier this year. An estimated 72 million households streamed the zombie flick, while estimates have it taking in around $800 thousand opening weekend. Considering Netflix has 209 million subscribers worldwide, those figures aren't surprising. And they don't often go out of their way to get people to theaters, as they aren't in the box office business. They're purely in the subscriber business.
All of this to say, a big release such as "Halloween Kills" being released on a major streaming service, following industry trends and logic, should have seemingly cut into that opening weekend in a bigger way. It didn't. We'll see how things shake out in the weeks to come, but Peacock and NBCUniversal seemingly have a long way to go to become true competitors in the streaming wars.
And the Rest...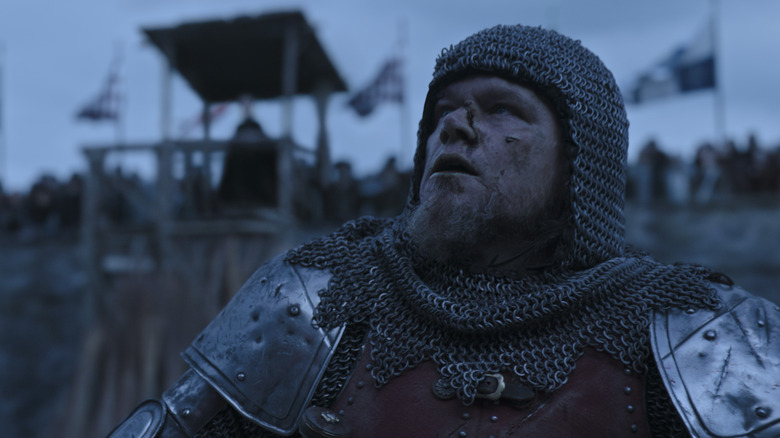 20th Century Studios
"No Time to Die" dropped 56.9 percent in its second weekend, taking in another $23.7 million domestically. It now stands at $447.6 million globally, which would be great for MGM, were it not for the prohibitive $250 million budget. Meanwhile, "Venom 2" continued to do well in its third week, taking in $16.5 million, good enough for the number two spot. It now stands at $283.6 million worldwide. It should, at the very least, get to $400 million globally, which isn't bad, though not nearly as good as its predecessor, which made a shocking $856 million in 2018.
But the big, ugly story this weekend was director Ridley Scott's historical epic "The Last Duel." Against solid reviews and an A-list cast led by Jodie Comer, Ben Affleck, Matt Damon, and Adam Driver, it earned an abysmal $4.7 million domestically. This largely has to do with the fact that older audience members are still hesitant to return to theaters, not to mention that historical dramas such as this would have been a gamble in pre-pandemic times. Still, for Disney/20th Century Studios, it's a brutal result, as the movie comes with a reported $100 million production budget. It's going to be a major flop, even if it manages to get some awards season love later this year/early next year.
These types of movies may well go by the wayside if Hollywood can't find a way to get audiences to turn up for them when they're released. Either that or they will be made, undoubtedly for smaller budgets, at major streaming services. That's why Martin Scorsese is making "Killers of the Flower Moon" for Apple. It's just the unfortunate nature of the theatrical marketplace right now. Horror movies and major superhero franchises can still be safe bets, seemingly everything else is a gamble.