22% Said This Was Keanu Reeves' Worst Movie — Here's What We Think
Keanu Reeves has had a long acting career. Over the course of over 30 years, he's played a lot of memorable characters: the righteous Ted in "Bill & Ted;" the red pill-taker, Neo, in "The Matrix" movies; the dog-loving killer assassin, John Wick, in the eponymous franchise; and, of course, the dashing Kellogg's Corn Flake model in an early '80s television commercial.
As in any long-spanning career, however, there are some films Reeves has starred in that are the opposite of great. /Film went to the most reliable source ever — the internet — and conducted a very flawed online survey asking folks what they thought was the worst movie Keanu Reeves has ever been in. The results of this unscientific survey where the answers are essentially meaningless may shock you. Or not. Read on to find out the results.
What is the Worst Keanu Reeves Movie?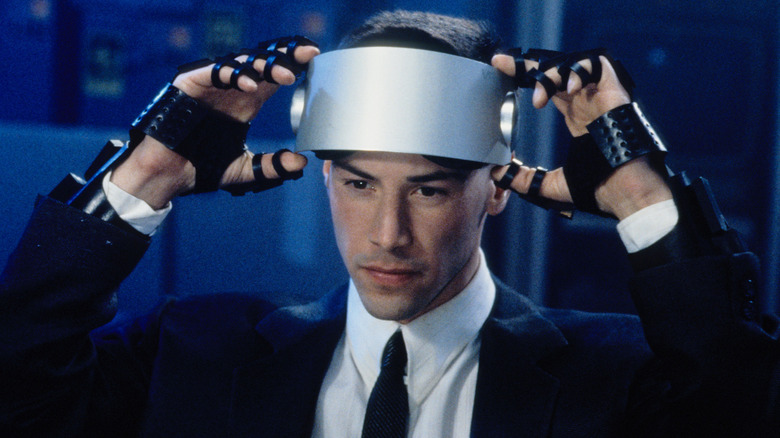 TriStar Pictures
There were 628 respondents to the survey, which I'm pretty sure is most of the internet, so give the responses the weight they deserve, folks. These respondents were asked what they thought the worst Keanu Reeves film is and had these movies to choose from: "Generation Um...," "Exposed," "Replicas," "The Watcher," "Siberia," "Johnny Mnemonic," and "Feeling Minnesota."
I'll be honest,  I was only familiar with the last two listed above, and maybe ... maybe ... the respondents were in the same boat. I say this because the "winner," at 22.29%, was "Johnny Mnemonic," followed by "Feeling Minnesota" at 17.68%.
Trailing close behind was "Generation Um..." at 14.97%, followed by "Replicas" at 12.90%, with "The Watcher" and "Exposed" neck and neck at 11.62% and 11.46%, respectively. Least hated was "Siberia," earning 9.08% of the vote.
Is "Johnny Mnemonic" really the worst Keanu Reeves film? I remember seeing this in theaters with my mom when it came out in 1995 (yes, I was a really cool young adult person). I don't remember much about the movie, really, except that when we left the theater, my mom exclaimed, "Let's get out of here! Where's the f**king car?"
This is the first and only time I've ever heard my mother swear. Ever. So while I do question the methodology behind this survey, I can confidently say that my now-78-year-old mother would agree with the results.
Do you agree with my mom? If so, cool! If not, it's okay to respectfully disagree with her. I might disagree with her myself, in fact. I haven't seen the other movies on the list, but based on their posters and descriptions I'm reasonably confident I would like at least one of them less than "Johnny Mnemonic." I'm not going to watch them, however, to find out  — I'm completely fine never truly knowing my answer to this survey question, and that's okay if you are too.