Doctor Who: Flux Trailer: Jodie Whittaker's Time Lord Run Reaches Its End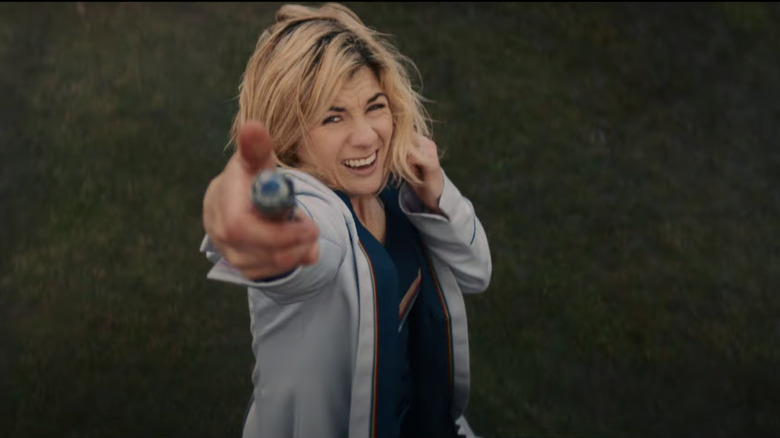 BBC
Today, the BBC gave Whovians all over the gift of the trailer for the final full series featuring Jodie Whittaker's run as the thirteenth Doctor, the six-chapter event, "Doctor Who: Flux." It looks like the members of Team TARDIS, the Doctor (Whittaker), Yaz (Mandip Gill), and Dan (John Bishop) are setting off for a final series of epic proportions, facing off with their greatest threat yet, the Flux, the big bad boss of the series. But not before bringing some of the greatest threats and arch enemies of the Doctor back into the fold to battle along the way.
This series looks to be a who's who (see what I did there?) of the Doctor's greatest foes. The Ood are back, the Weeping Angels are ready and willing to haunt your existence, and Cybermen look ultra-powered and ultra-angry. The trailer also gives us our first look at the redesign of the Sontarans, and enough chaotic energy to look like a live-action version of a "Doctor Who" comic book. Check out the trailer below and see if you can catch all of the creatures we can expect to see in the next series.
Doctor Who: Flux Trailer
From the BBC's official description of the show:
She's back. The Thirteenth Doctor is returning for the thirteenth series in what is set to be a six-part Event Serial. Since their last epic battle in Revolution of the Daleks, the Doctor (Jodie Whittaker) and Yaz (Mandip Gill) have been exploring the universe together but with the Doctor now questioning everything about her past there, she will undoubtedly be searching for answers. This adrenalin-fueled; universe-spanning series will also see an addition to the TARDIS with actor and comedian John Bishop joining the cast as Dan Lewis who will quickly learn there's more to the Universe than he could ever believe. Jacob Anderson ("Game of Thrones," "Broadchurch") is also set to make his debut on Doctor Who as recurring character, Vinder. Jacob's new role will see him join forces with the Doctor, Yaz and Dan as the Doctor faces her biggest ever adventure. Series 13 is set to introduce some terrifying new adversaries...
and the return of truly iconic old enemies. Expect action, fun, scares, and extraordinary new worlds as the Doctor and her friends confront a deadly evil.
Following the Series 13 premiere, Whittaker and showrunner Chris Chibnall will participate in three feature-length specials in 2022, with the final special serving as Whittaker's last appearance as the Doctor. The first special will premiere on New Year's Day, the second airing sometime in the spring, and the third sometime in fall 2022 as part of the BBC's centenary celebrations.
"Doctor Who: Flux" premieres on BBC on October 31, 2021.