Big Mouth Season 5 Trailer: The Horrors Of Puberty Return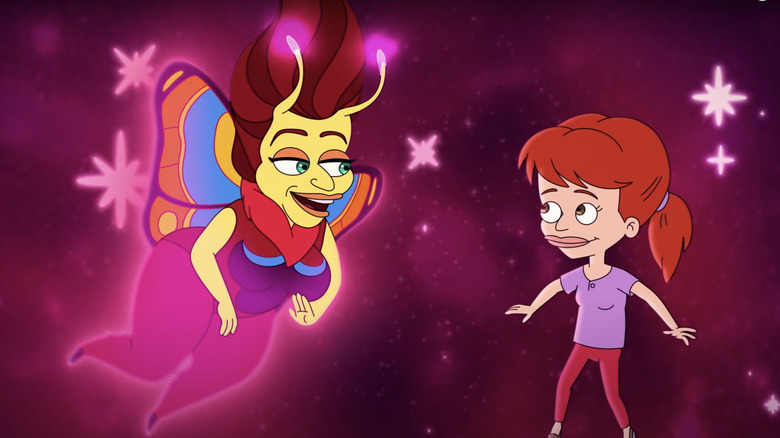 Netflix
Puberty is the worst, but having weird, animated, anthropomorphic metaphor monsters somehow makes it easier to deal with. Nick Kroll and Andrew Goldberg's coming-of-age animated series for Netflix, "Big Mouth," is known for its creatures like the hormone monsters, depression kitties, f*ck gremlins, anxiety mosquitoes, and shame wizards. Now, the trailer for "Big Mouth" season 5 previews that there's even more emotional creepies to worry about. Enter: love bugs and hate worms. 
Our favorite animated youngsters are getting older, and with that comes big, big feelings. They've already learned to navigate the system overriding hormones can do to common sense, but now our characters are going to have to learn how to deal with falling in love, and developing irrational feelings of hate over minor disagreements and rejection. These buggy rapscallions are sure to cause chaos, but in a way that anyone who has survived their teenage years. 
The trailer also teases a "Big Mouth" holiday special, complete with Rankin/Bass style puppetry and stop motion inspired animation. Check it out below.
Big Mouth Season 5 Trailer
The hormone monsters are as feisty as usual, but the love bugs and hate worms are sure to make things even screwier for the students of Bridgeton Middle School. Check out the official synopsis below.
Starting with "No Nut November" and continuing through New Years Eve, "Big Mouth" Season 5 takes on the theme of Love & Hate with the introduction of lovebugs and hate worms, amorphous creatures that can shift between the two forms (like caterpillars and butterflies). Nick's lovebug, Walter, pushes Nick to pursue his feelings for Jessi until she publicly rejects him, turning Walter into a hate worm who leads Nick down a dark, rancorous path.

Meanwhile, Jessi's lovebug, Sonya, appears as Jessi gets closer with Ali and eventually wonders if she loves her as more than a friend. Jessi and Ali's new close bond, and joint co-opting of Missy's affinity group, sends Missy into her own hate spiral, fueled by hate worm Rochelle. Jealousy, unrequited love, and newfound crushes abound in this new form-breaking season as the "Big Mouth" teens navigate 8th grade.
The love bugs are voiced by Brandon Kyle Goodman ("Feel the Beat," "Modern Love," "Alive in Denver") and voiceover juggernaut Pamela Adlon ("King of the HIll," "Better Things," "The Oblongs") with the hate worm being voiced by Keke Palmer ("True Jackson, VP," "Hustlers," "Scream Queens"). The trio join the already dynamite voice cast of Nick Kroll, John Mulaney, Jason Mantzoukas, Jessi Klein, Maya Rudolph, Ayo Edebiri, Andrew Rannells, Jordan Peele, and Richard Kind. Adam Scott, Chloe Fineman, Jemaine Clement, and Kumail Nanjiani (playing ripped-to-shreds Kumail Nanjiani) are also joining the voice cast for the new season.
"Big Mouth" season 5 is due out on Netflix on November 5, 2021.