Halloween Kills Extended Cut With A New Ending Will Be On Home Release, David Gordon Green Teases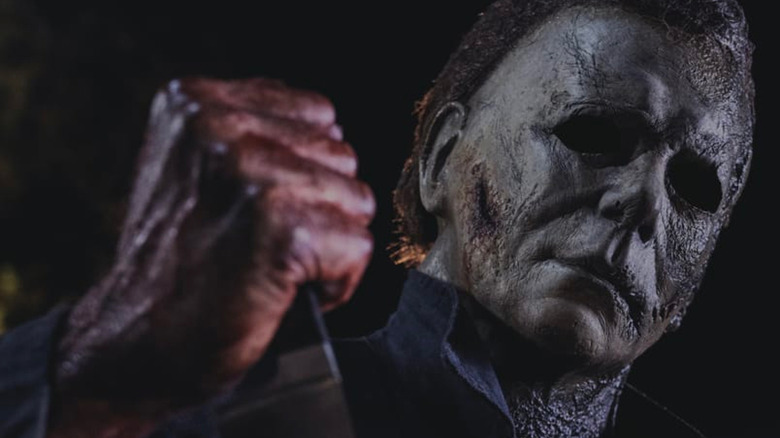 Blumhouse
"Halloween Kills" is now in theaters and on Peacock, with David Gordon Green returning to helm the follow-up to 2018's "Halloween" reboot/sequel. Green is on board to helm the third and (allegedly) final film in this trilogy, "Halloween Ends." But before that arrives, viewers will have a chance to see a somewhat different version of "Halloween Kills" first. Because according to Green, he's working on an extended cut of the film for home video release – complete with a different ending. Green stresses that the version available now is "the director's cut through and through," but adds that there's specifically one additional scene that didn't make it into the theatrical cut, and that's what's going to change when "Halloween Kills" comes to home video. 
Lights Out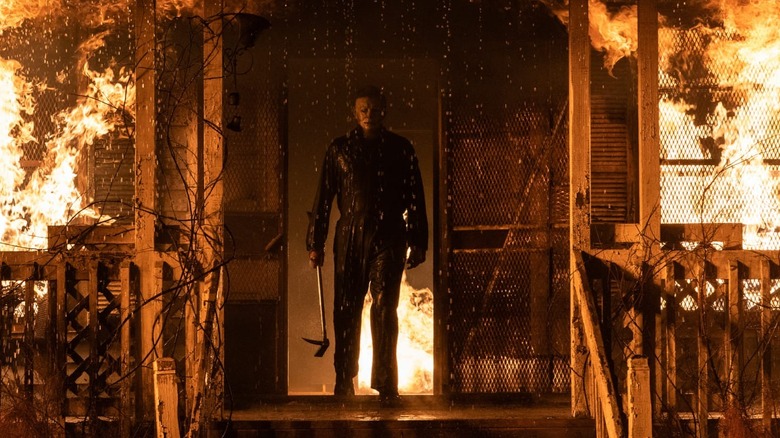 Blumhouse
I have yet to see "Halloween Kills," so I can't comment on how the film ends. But according to director David Gordon Green, the ending now playing in theaters and on Peacock wasn't the way the sequel initially concluded. Speaking with Collider, Green revealed that "Halloween Kills" had one additional ending scene that ended up cut – but fans will get to see it in an extended edition of the film on home video. 
"This is the director's cut through and through, but there's an additional scene that we filmed that was scripted. And actually I think is a pretty brilliant scene," Green said. While he didn't give any specific details of this additional scene, he did add: 
"So we're going to do an extended version on the DVD, just so people can see an extended ending that's different and cool. We ended up lifting it when I became more confident of where we're going to pick up in the next movie, it felt it didn't feel authentic to where we're going to go. So we lifted it. So we just said, we're kind of coming up with, okay, then if we lift that, where do we end? And it was actually Couper Samuelson at Blumhouse, he was just, let's just end when it's over. Lights out. He mentioned it, he was like remember in Rogue One, when you wanted the movie to end? When it was a Darth Vader going ballistic at the door."
It sounds like the scene in question involved some more set-up for the next film, "Halloween Ends." But Green ultimately decided he didn't need it in the theatrical cut. 
Halloween Ends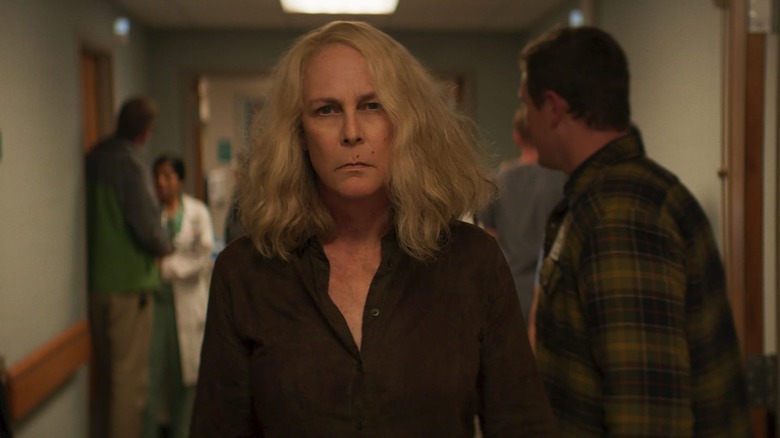 Blumhouse
As for "Halloween Ends," we're going to have to wait until October 14, 2022, for that. But we do have some clues as to what to expect. In another interview, Green revealed that the film will jump forward in time, by which he means the next movie will actually be set in 2022 (since "Halloween Kills" takes place in the minutes following 2018's "Halloween," that means "Halloween Kills" is still set in 2018, too). On top of that, Green added that the movie will deal with real-life issues, like the pandemic we're still stuck in: 
"So if you think about it, I mean, where we're leaving these characters on Halloween 2018, the world is a different place. So not only do they have their immediate world affected by that trauma, having time to process that trauma – and that's a specific and immediate traumatic event in the community of Haddonfield. But then they also had a worldwide pandemic and peculiar politics and another million things that turned their world upside down."
Meanwhile, star Jamie Lee Curtis said of "Halloween Ends": 
"It's going to make people very angry. It's going to stimulate people. People are going to be agitated by it. And it is a beautiful way to end this trilogy. Now that's all I kind of knew from David. Only recently have he and I started to talk a little bit post-Venice film festival a little bit about the movie, a couple little tweaks that I've offered, but very little that you know, this man makes great movies. I just have to stay out of the way."
People? Angry? I've never heard of such a thing!