Bruised Trailer: Halle Berry Directs And Stars In Mixed Martial Arts Drama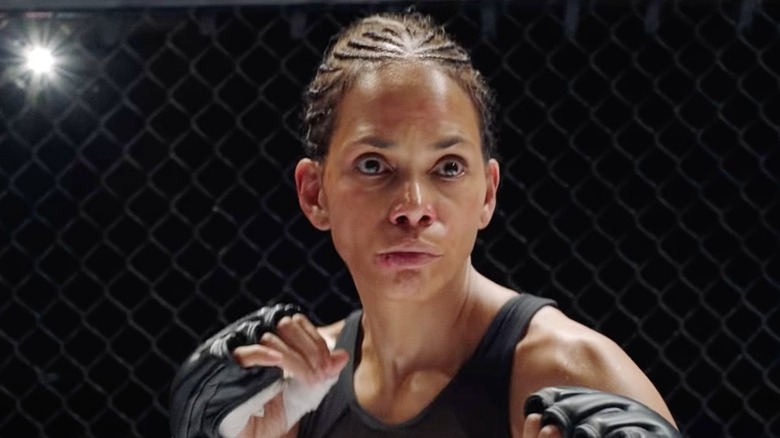 Netflix
If you saw Halle Berry kicking ass and taking names in "John Wick Chapter 3: Parabellum" and you thought, "I would like to see that woman climb into the octagon with braids," your wish is about to come true. Berry is making her directorial debut with "Bruised," a new Netflix sports-drama in which she plays an MMA fighter turned hobo turned comeback queen named Jackie Justice.
That's an oversimplification, of course. As we meet her, Jackie Justice is not really a hobo in the train-hopping sense, but her UFC days are long behind her and people who recognize her alliteratively-named fighter on the street seem to regard her as some sort of homeless person who is now worthy of giggles. In all seriousness, Berry once revealed to People that she spent time living in a homeless shelter in New York City, years before she found Oscar-winning success as an actress, so maybe that was part of what drew her to this riches-to-rags story of a superstar athlete who has fallen on hard times and has to claw her way back to the top while reconnecting with her son.
Check out the trailer for Netflix's "Bruised" below.
Bruised Trailer
Call it a glib reaction, but when I first heard the name "Jackie Justice" juxtaposed with a sport, my mind immediately went to Jackie Daytona, the vampire volleyball enthusiast from "What We Do in the Shadows." I asked myself, "Who would win in a fight, Jackie Justice or Jackie Daytona?"
After watching the trailer above, I think I have my answer, and it would be Jackie Justice, all the way.
"Brusied" is written by Michelle Rosenfarb. Here's the official synopsis for the film, courtesy of Netflix:
Jackie Justice (Halle Berry) is a mixed martial arts fighter who leaves the sport in disgrace. Down on her luck and simmering with rage and regret years after her fight, she's coaxed into a brutal underground fight by her manager and boyfriend Desi (Adan Canto) and grabs the attention of a fight league promoter (Shamier Anderson) who promises Jackie a life back in the octagon. But the road to redemption becomes unexpectedly personal when Manny (Danny Boyd, Jr.) — the son she gave up as an infant — shows up at her doorstep.

BRUISED marks the directorial debut of Academy Award winner Halle Berry and also stars Adriane Lenox, Sheila Atim, Valentina Shevchenko, and Stephen McKinley Henderson in a triumphant story of a fighter who reclaims her power, in and out of the ring, when everyone has counted her out.
"Bruised" opens in select theaters on November 17, 2021, before heading to Netflix on November 24, 2021.