13 Movies Like The Wolf Of Wall Street That Are Definitely Worth Watching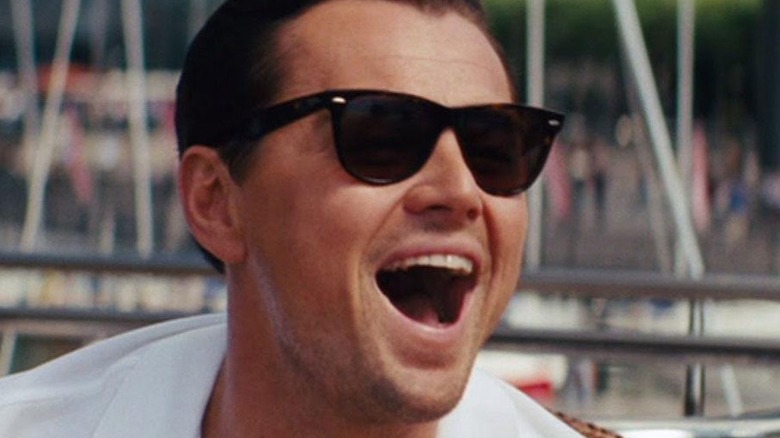 Paramount Pictures
"The Wolf of Wall Street" is one of the best films of the 21st century. Martin Scorsese has never lost his touch, but his biographical dark comedy quickly ranked among his finest work. Scorsese is no stranger to long runtimes, but crafting a three-hour black comedy that's consistently engaging is an amazing achievement.
Scorsese set the all-time record for the most swearing in a film, and the movie's excessive sex, drugs, and general debauchery courted controversy throughout its release. Some Academy Awards voters were so turned off by the explicit content that one even heckled Scorsese at the official screening, but "The Wolf of Wall Street" still ended up with five major Oscar nominations.
Among them was Leonardo DiCaprio's nomination for best actor. DiCaprio is one of the most versatile actors of his generation, but the role of Jordan Belfort was unlike anything he'd ever attempted. A corrupt stockbroker who scams investors with ridiculous schemes, Belfort curates a loyal following of hooligans who wreak havoc on Wall Street, throwing wild parties and using their influence to avoid the attention of authorities.
The film's entire cast is terrific. Jonah Hill earned his second Oscar nomination for best supporting actor, and Margot Robbie turned in her breakout role. Matthew McConaughey's eccentric, chest-thumping character Mark Hanna became an instant fan-favorite. Scorsese's director friends, including Jon Faverau, Spike Jonze, and Rob Reiner, all have fun cameos.
If you loved "The Wolf of Wall Street," give these films a shot too.
War Dogs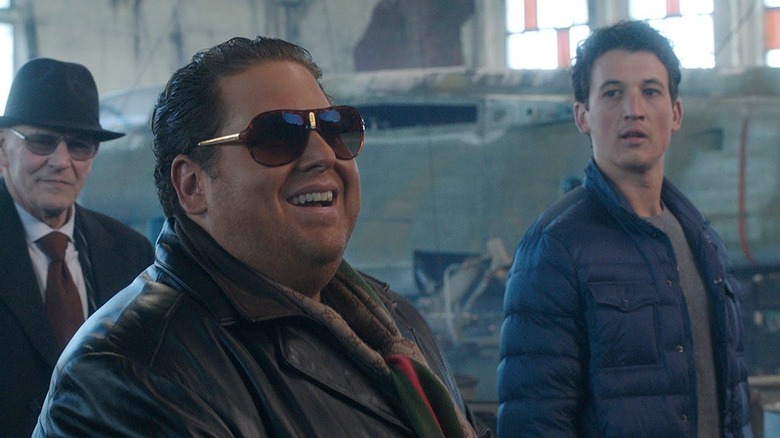 Warner Brothers
Jonah Hill may have started his career with comedic roles in "Superbad," "Forgetting Sarah Marshall," and "Get Him to the Greek," but he showed his dramatic range for the first time with "Moneyball." Hill's performance in "The Wolf of Wall Street" allowed him to combine both sides of his filmography; Donnie Azoff is an uproariously funny character, but the ramifications of his corrupt behavior are treated very seriously. Hill had a similar role in Todd Phillips's 2016 film "War Dogs."
"War Dogs," a black comedy, has a similar tone to "The Wolf of Wall Street," and both films are told from the perspective of real criminals. Hill stars as the eccentric arms dealer Efraim Diveroli, who convinces his childhood best friend David Packouz (Miles Teller) to join his operation. Efraim sells ammunition and supplies to the US Army to support the war efforts in Afghanistan and Iraq. Efraim and David gradually learn that their weapons kill millions. David is shell-shocked and begins to question their actions, but Efraim shows almost no regret and wants to keep lining his pockets.
Like Donnie in "The Wolf of Wall Street," Efraim is an unlikeable character who is nonetheless quite entertaining. Todd Phillips has never been shy about his love of Scorsese, and his depiction of real events is indebted to Scorsese's style. Phillips doesn't absolve the characters of their crimes, but seems fascinated by how these seemingly harmless men became so dangerous.
After Hours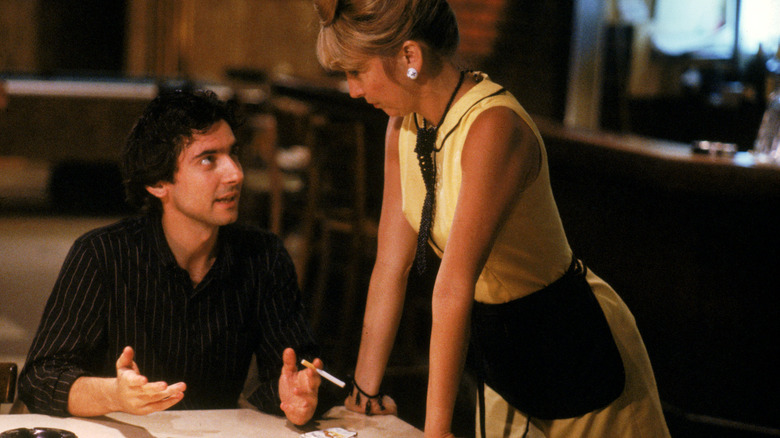 Warner Brothers
Scorsese is often thought of as a purely serious filmmaker, but he's frequently shown that he has a great sense of humor. Films like "Goodfellas" and "The King of Comedy" pepper their dramatic stories with dark jokes, and "The Wolf of Wall Street" was Scorsese's funniest film to date. However, it wasn't the first time that the director tackled a zany premise. Scorsese's 1985 film "After Hours" may not have been showered with the praise his more famous features received, but the underrated classic is among his greatest achievements.
"After Hours" follows measly data analyst Paul Hackett (Griffin Dunne) during the worst night of his life. Paul has little charisma, but works up the confidence to talk to the illustrious sculptor Marcy Franklin (Rosanna Arquette). During his trip to her apartment, Paul loses all of his money, and after the date goes awry he's left stranded in the city without any way to call for help. As Paul makes enemies with the unusual characters who roam the streets at night, the situation escalates, and the entire metroplex begins a manhunt for the lowly desk worker.
Scorsese has been accused of promoting toxic masculinity with his films, but both "The Wolf of Wall Street" and "After Hours" earnestly depict male anxiety. Paul is diminutive, but feels guilty throughout the story as he becomes circumstantially involved in various crimes.
Wall Street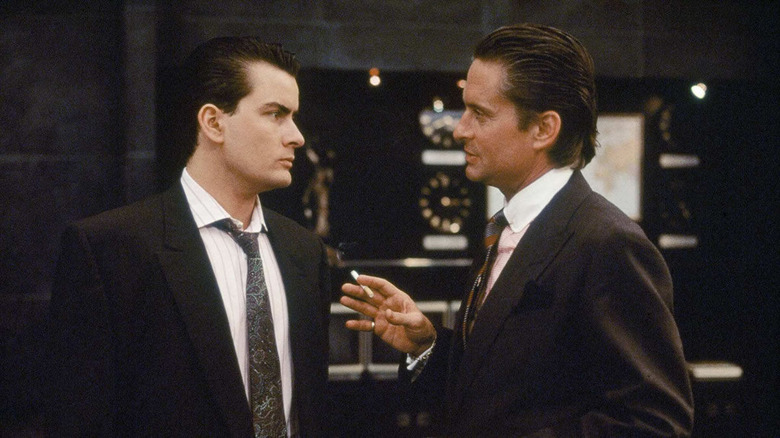 20th Century Fox
"The Wolf of Wall Street" was revelatory with its nuanced depiction of stockbroker culture and the reality of the American financial system. The Wall Street tycoon character is often a caricature in films, but "The Wolf of Wall Street" explored the complex trading system and the people behind it in detail. It is simultaneously fascinating and infuriating. The only film that rivals its impact is Oliver Stone's 1987 classic "Wall Street." Like Scorsese, Stone is a political filmmaker who uses his movies to express timely opinions. "Wall Street" is immensely entertaining, but also a dire prophecy about the evils of these seemingly trusted institutions.
"Wall Street" follows idealistic trader Buddy Fox (Charlie Sheen) as he travels to New York City to begin a new position at the renowned Jackson Steinem & Company. Fox finds a potential mentor in the legendary stockbroker Gordon Gecko (Michael Douglas). Gecko is initially unimpressed by Bud's pitches, but begins to weaponize the young man's naivete and uses him to spy on financial rivals. Bud is deceived into taking part in a criminal plot that leaves his father Carl (Martin Sheen) and the members of his union unemployed.
Both Bud and Gecko share qualities with Jordan Belfort. Like Bud, Belfort begins innocently, and is corrupted by the lavish Wall Street lifestyle; the difference is that Bud recognizes his failings and looks to amend them. The charismatic showmanship of Gecko is closer to what Belfort actually becomes; Douglas' brilliant performance earned him an Academy Award for best actor.
Wall Street: Money Never Sleeps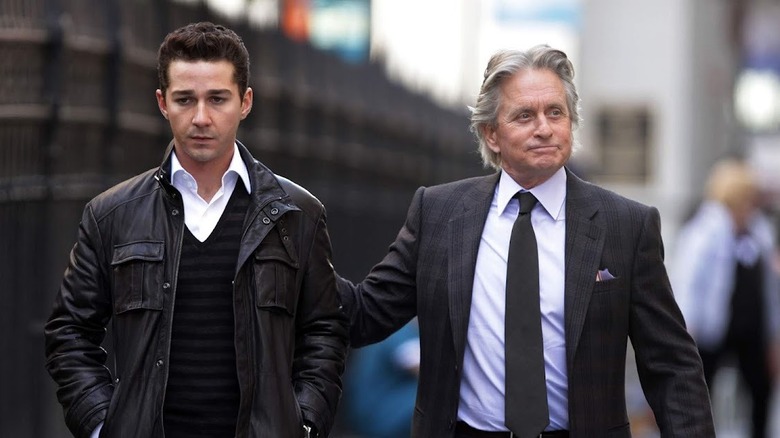 20th Century Fox
A sequel to "Wall Street" was unexpected, but Stone returned to the Gecko character in his 2010 follow up, "Wall Street: Money Never Sleeps." Picking up decades after his imprisonment, the film opens with a penniless Gecko returning to rebuild his empire. Gecko utilizes his notorious reputation to promote his new book "Is Greed Good?" in a fun reference to the first film. But compared to the frequent insider trading and corporate fraud cases of the 2008 financial crisis, Gecko's crimes now seem quaint.
"Money Never Sleeps" shows a more sympathetic side to Gecko. His daughter Winnie (Carey Mulligan) has distanced herself from her father, and dates the trader Jacob Moore (Shia Labeouf), an idealist like Bud. Gecko sees him as another protege, but Moore doesn't want to associate himself with the infamous criminal. However, the two are forced to work together when the owner of a rival firm, Bretton James (Josh Brolin), attempts to destroy both of their reputations with a scam.
Douglas explores a weariness that tempers his initially charismatic performance; getting away with malicious activities is too common to deliver any sort of thrill. Winnie is understandably hesitant about trusting her father; she seeks to build an honorable practice, despite the familial ties that haunt her reputation. Brolin is a very different type of villain, and his shrewdness is terrifying when compared to the upbeat energy that Douglas had in the first film. The complexity of 21st trading should appeal to "The Wolf of Wall Street" fans.
The Founder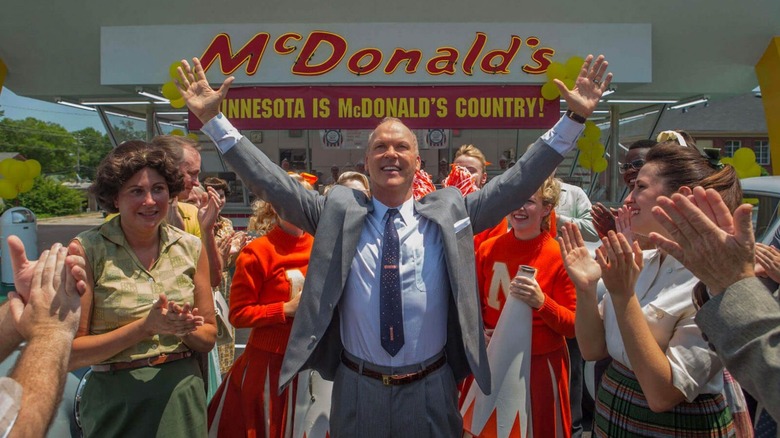 The Weinstein Company
The origin of the McDonald's fast-food chain might not seem as inherently exciting as Jordan Belfort's drug-fueled parties, but the insightful biographical drama "The Founder" showed that the beginnings of America's top burger joint were not quite as friendly as its branding suggests. "The Founder" reveals how investment shark Ray Croc (Michael Keaton) used dirty trading and illicit legal maneuvering to wrestle control of the franchise from its creators, Dick (Nick Offerman) and Mac (John Caroll Lynch) McDonald.
Like Belfort, Croc doesn't immediately seem very threatening or ambitious. A failed milkshake machine salesman who works a grueling job traveling between cities, Croc faces financial ruin that could force him to mortgage his home. In addition, his marriage to Ethel (Laura Dern) is falling apart. However, Croc does have Belfort's conviction. The McDonald brothers have created an innovative system that produces food at a speedy rate, and Croc sees the potential in expanding the local oddity into a nationwide empire.
However, Croc's greed destroys the quality assurances that the McDonalds brothers had seen as integral to their mission. Croc uses the opportunity to line his own pockets — like Belfort, he doesn't care about the damage he causes along the way.
I, Tonya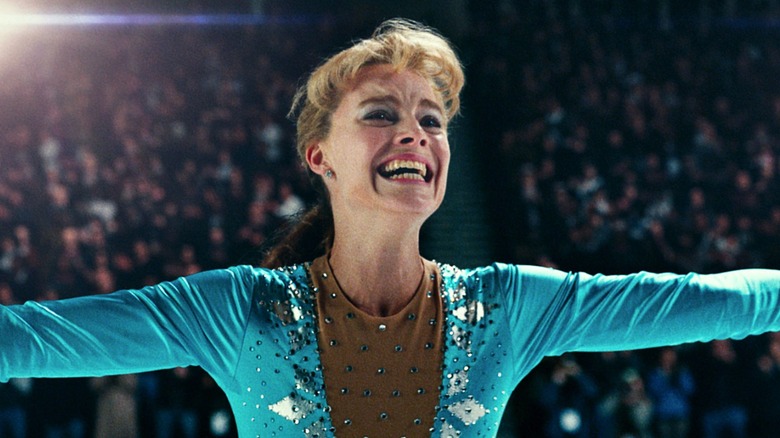 Neon
Although DiCaprio and Hill delivered award-nominated performances in "The Wolf of Wall Street," the film also featured a breakthrough part for Margot Robbie. Before "The Wolf of Wall Street," the Australian star was relatively unknown, but her role as Belfort's doomed love interest Naomi Lapaglia instantly earned her critical acclaim. It was a challenging role; Naomi had to match (or outmatch) DiCaprio's charisma, and while she often reaps the benefits of her husband's wealth, she's also the rare sympathetic character in the film.
Robbie's best performance to date came four years later in the biopic "I, Tonya," a film with a similar vibe to "The Wolf of Wall Street." The film pulls back the curtain on the scandal of Olympic figure skater Tonya Harding, a highly-covered true crime story with equally absurd details.
The young Tonya is pushed to pursue excellence by her dominative mother LaVona Golden (Alison Janney, in an Academy Award-winning role). Tonya is pushed to physical and emotional extremes, but she's a victim of abuse from both her mother and husband, Jeff Gillooly (Sebastian Stan). Despite her challenging upbringing, Tonya succeeds in getting to the Olympics, and she's roped into a scheme to critically injure her closest rival Nancy Kerrigan (Caitlin Carver).
The Big Short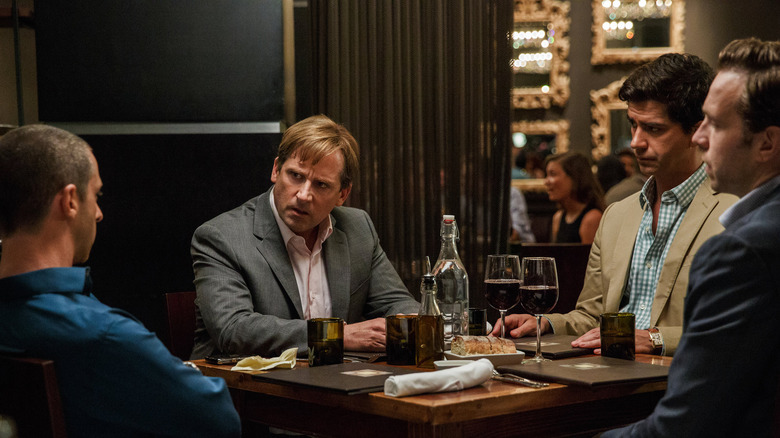 Paramount Pictures
"The Wolf of Wall Street" didn't just shed light on Wall Street's culture of corruption. It also explained financial malpractice in detail. Deceitful figures like Belfort intentionally confuse their clients, and the film breaks the fourth wall to allow DiCaprio to directly explain his scheme to the viewers.
Writer-director Adam McKay used a similar technique in "The Big Short." The film explores the events that led up to the 2008 financial crisis, following the men who realized the system was doomed to collapse after it was already too late. Like Scorsese, McKay utilized untraditional satirical elements to explain the nuanced system in an understandable way. The film incorporates news footage, features cameos by celebrities like Anthony Bourdain and Selena Gomez, makes bold soundtrack choices, and even points out when its recreation of key moments isn't entirely accurate. It's often fun to watch, but McKay gravely reflects on the crisis' human costs during the film's final moments.
American Psycho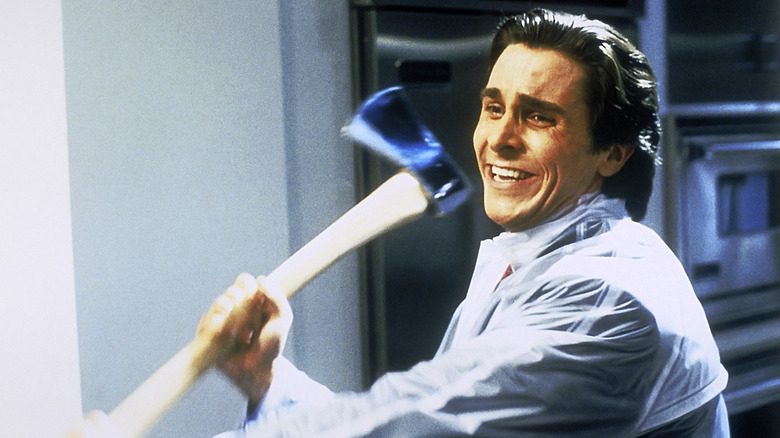 Lionsgate
Films that explore Wall Street culture often face the challenge of what perspective to tell the story from. The environment inherently draws out unlikeable characters, and it can be challenging to watch a story through the eyes of someone unsympathetic. To address this, "The Wolf of Wall Street" leans into Jordan Belfort's complexity. He's the epitome of toxic masculinity, and DiCaprio explores how such a villainous figure could become so influential, as well as the culture that allowed him to thrive.
2000's "American Psycho" addresses similar themes, again by using the corruption of the New York finance world and black comedy. Belfort may have harbored disaster, but Christian Bale's Patrick Bateman is a straight up slasher villain. Bateman is a successful investment banker, and like Belfort he luxuriates with all of the benefits of his wealth. He lives in a lavish apartment, attends fancy restaurants, employs expensive sex workers, and prizes his personal business cards.
However, Bateman is also a serial killer who hooks victims with his charisma. Watching Bateman graphically murder his obnoxious co-worker Paul Allen (Jared Leto) to the tune of "It's Hip to Be Square" is hilarious and terrifying all at once. Both DiCaprio and Bale play characters whose public fronts and private dealings are vastly different; both men can continue their deceptions thanks to their magnetic personalities. It's ironic that "American Psycho" was initially criticized for promoting toxic masculinity, as it's directed by female filmmaker Mary Harron and can easily be read as a condemnation of Bateman's behavior, not an endorsement.
Margin Call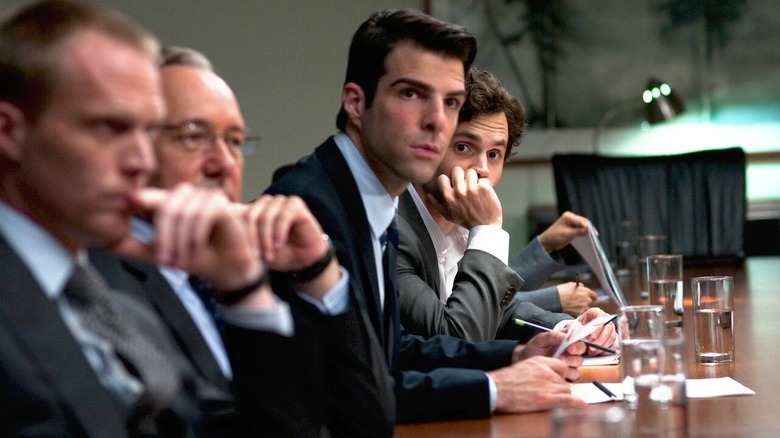 Roadside Attractions
"The Wolf of Wall Street" succeeds in exploring Wall Street culture thanks to its epic runtime, which gives Scorsese the freedom to tell the story over several decades. Instead of cramming the various crimes into a more traditional structure that wouldn't have gone into as much depth, Scorsese shows how years of excess built up to a tipping point.
"Margin Call" does the exact opposite. The 2011 debut writer-director J.C. Chandor follows the crash of a powerful Wall Street investment bank over the course of a couple of hours, and is framed as a real-time thriller. The themes of capitalistic greed and denial at the highest level are similar to those in "The Wolf of Wall Street," and both have a disastrous conclusion. In addition, "Margin Call" is equally effective at fleshing out its shocking revelations in the moments before their impact is felt. Although much more serious, Chandor's script is just as sharp and witty as Terence Winter's screenplay for "The Wolf of Wall Street" — both writers received Academy Award nominations for their work.
Rogue Trader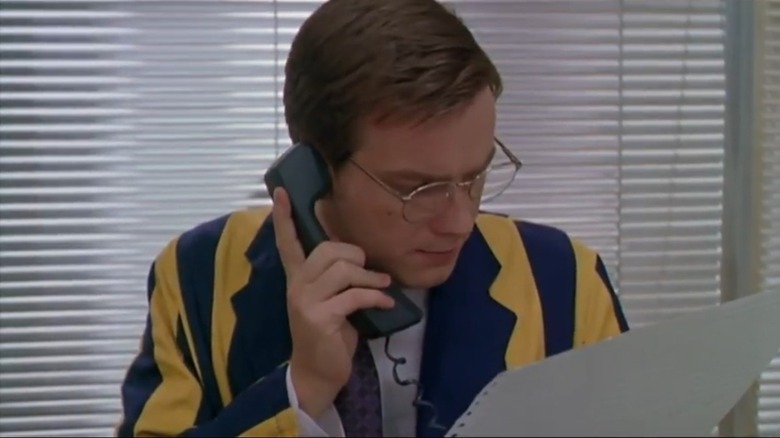 Pathe Distribution
"The Wolf of Wall Street" is a distinctly American film, but other films about investment malpractice have explored how issues of greed and consumerism permeate around the globe. One of the most underrated financial thrillers ever made is the British 1999 biographical drama "Rogue Trader." The film tells the true story of Nick Leeson (Ewan McGregor), an ambitious young trader whose greed inadvertently brings down Great Britain's oldest merchant bank, Barings.
Like Belfort, Leeson's youthful energy runs rampant during his early success. He quickly wows the bank's senior associates with his expert tracking abilities and profitable deals. However, Leeson hides many of the same secrets; he's a serial gambler who hides his losses on company accounts. As the extent of his actions are revealed, Leeson is initially protected by powerful London tycoons who want to maintain the current state of affairs. However, like Belfort, Leeson is ultimately forced to go to jail and reflect on the harm he has caused.
Glengarry Glen Ross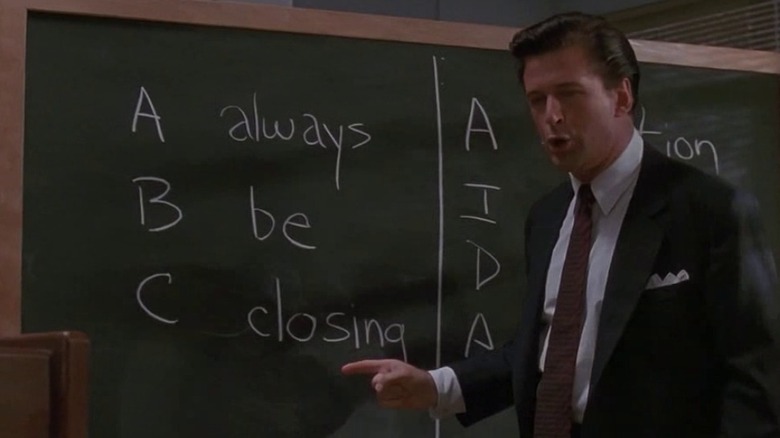 New Line Cinema
DiCaprio is incredible in "The Wolf of Wall Street," but the entire ensemble turns in brilliant performances. Scorsese recruited a murderer's row of great character actors for the film, including Matthew McConaughey, Jon Bernthal, Kyle Chandler, Jean Dujardin, Shea Whigham, and Thomas Middleditch. The precision that each actor brings to their roles fleshes out the corporate world, recalling 1992's "Glengarry Glen Ross," which tackles finance with a similarly stacked cast.
Based on the Pulitzer Prize-winning play, "Glengarry Glen Ross" follows real estate salesmen who are fired amidst a top-level restructuring of their firm, Mitch and Murray. Former titans Sheldon Levene (Jack Lemmon), Dave Moss (Ed Harris), George Aaronow (Alan Arkin), and Ricky Roma (Al Pacino) watch as their careers disappear in front of them thanks to their ambitious office manager John Williamson (Kevin Spacey). The film is best known for its iconic opening scene, in which the property owners dispatch the foul mouthed "motivator" Blake (Alec Baldwin) to scream profanities at the team.
24 Hour Party People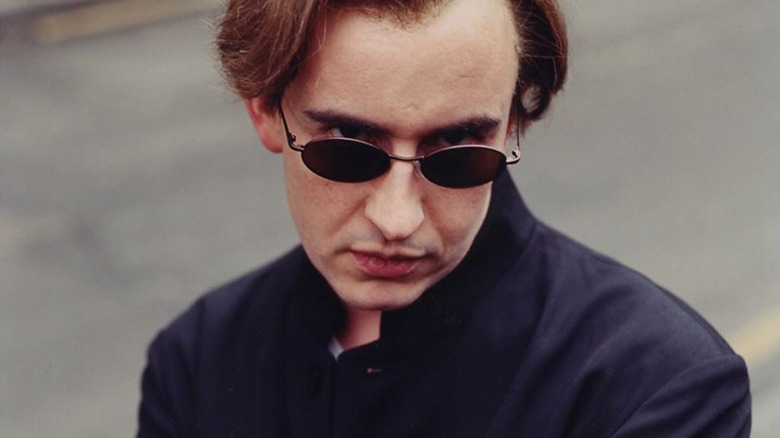 Pathe Distribution
"The Wolf of Wall Street" tells its story from a unique perspective. In the film, Belfort addresses the audience by breaking the fourth wall, and alludes to instances when the film isn't entirely being accurate. Michael Winterbottom's 2002 biographical comedy-drama "24 Hour Party People" also uses an unreliable narrator to tell its story. While the setting — the British punk rock scene — is vastly different from the one in "The Wolf of Wall Street," the film has a similar tone, reflecting on real tragedies through a comedic lens.
Tony Wilson (Steve Coogan) witnesses the rise and fall of punk culture, first as a journalist at Granada Television, and later as an employee of Factory Records. Wilson sees the early days of major artists like A Certain Ratio, Happy Mondays, The Durutti Column, and Joy Division (which transformed into New Order). Like "The Wolf of Wall Street," the story spans several decades as punk grows and declines. Coogan's Wilson is a much more likable character than Belfort, but his musings are just as hilarious.
The Informant!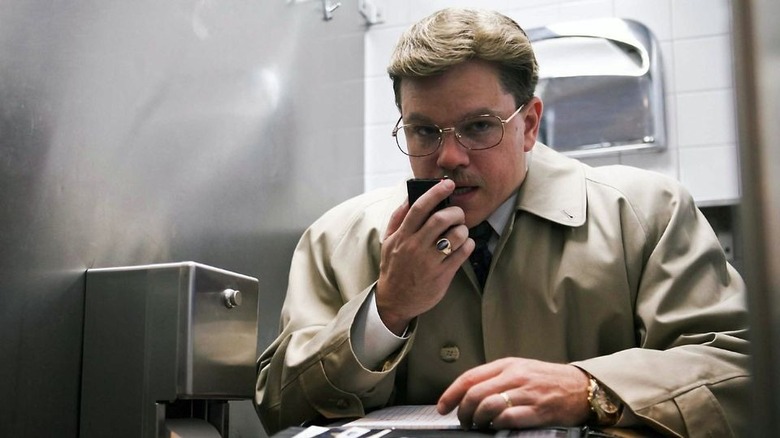 Warner Brothers
Steven Soderbergh and Martin Scorsese are similar directors in many ways. Both are unafraid to take bold stylistic risks, and both have a keen attention to detail. Soderbergh is also fascinated by the financial world, and his 2009 film "The Informant!" approaches its material with a tone that should remind you of "The Wolf of Wall Street." Based on the nonfiction novel by Kurt Eichenwald, the film tells the true story of whistleblower Mark Whitacre (Matt Damon), who exposed the lysine price-fixing conspiracy.
Whitacre is a top salesman at an Illinois commodity trading firm, and is recruited as an FBI informant after he discovers the price-fixing practices hidden in the company's commercial expenses. Like DiCaprio, Damon is renowned as a dramatic actor, so it's fun to see him play an idiosyncratic and awkward character. Damon's heightened anxiety when he's called to collect evidence is often uproarious, and he brings vulnerability to the role as Whitacre collapses under the pressures of his commitments.