14 Shows To Watch If You Loved Midnight Mass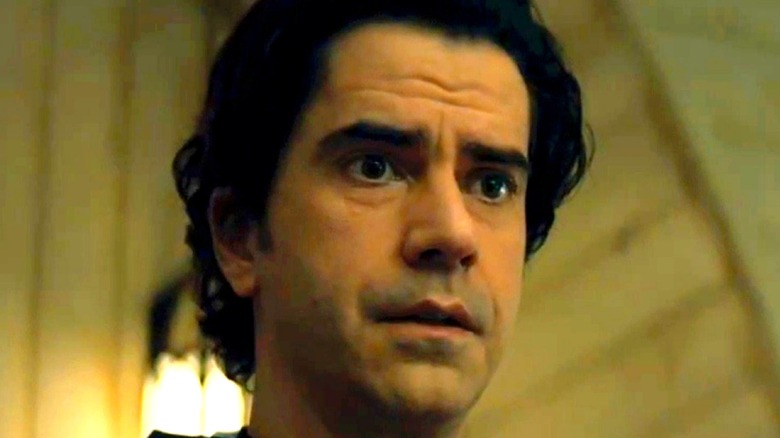 Netflix
"Midnight Mass," Mike Flanagan's drama about a small fishing community disrupted by the return of a charismatic priest and a discredited former resident, has aired on Netflix to critical acclaim. It's a series with complex themes: theism, faith, and the intricacies of belief, as well as forgiveness and redemption.
If you like your TV with bite, the Adrien Brody-starring "Salem's" Lot prequel "Chapelwaite" and the upcoming adaptation of Anne Rice's "Interview with the Vampire" may satisfy your cravings, but in the meantime here are some choice cuts — shows with equally atmospheric themes, a supernatural twist, or characters like the poor people of Crockett Island, who have the poor luck to be nearby when the paranormal intercepts the normal.
Many of the series mentioned here are available on one or more streaming services, and the few that aren't can be found on physical media. Just make sure you've finished "Midnight Mass" first — there are spoilers ahead.
Being Human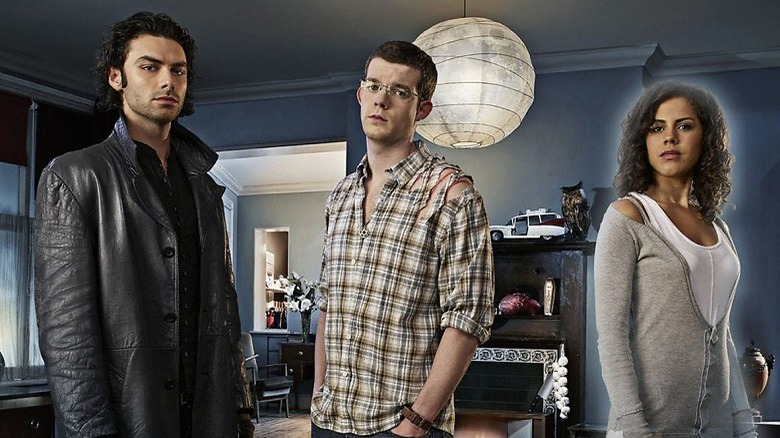 BBC
A vampire, a ghost, and a werewolf walk into a house. What sounds like the setup for a joke was in fact the premise for BBC Three's 2008 series "Being Human," a show that ended up running for five seasons.
The outlandish concept of three disparate supernatural beings sharing a flat in Bristol is not without comedic potential, but the beauty of "Being Human" is that it plays everything relatively straight. There are humorous moments to counter the darker elements, but it predominantly concentrates on our leads attempting to blend into human society without becoming monsters themselves. The series conjured up a lot of its own mythology, with secret vampire societies, rules for the afterlife, and lycanthrope rivalries — and, ultimately, a plot that involved the Devil himself.
"Being Human" eventually fell afoul of its own success, ending up with a revolving door of cast members as its actors became successful and left the show, eventually ending up as what philosophers would term the Ship of Theseus, but what Anglophile television fans would recognize as Trigger's Broom: a show with none of the original components remaining. It vanished with a whimper, not with a bang, but is fondly remembered by those who watched it. An American remake lasted for three seasons.
Salem's Lot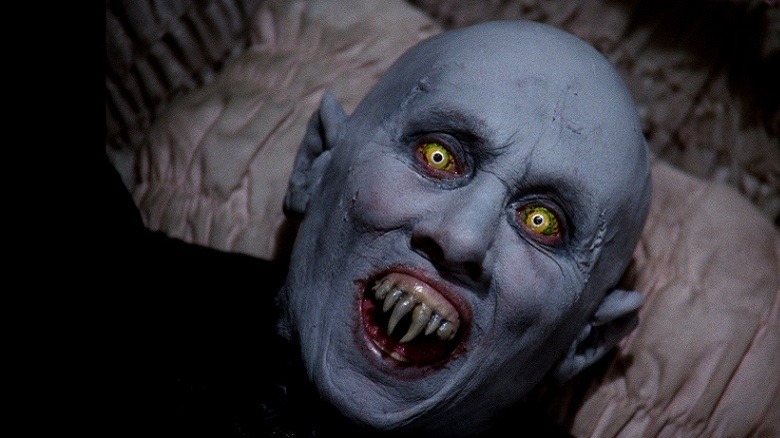 Warner Bros
Adapted from Stephen King's second novel, this TV miniseries ran for two episodes in 1979, and starred David Soul as writer Ben Mears. Returning to his titular hometown to draft a novel about a supposedly evil house from his childhood, Ben finds the building inhabited by Straker, an antiques dealer. When people in the town are found dead, drained of all blood, Ben begins to believe that vampirism — and Straker — are involved.
Memorable for one scene in particular that made an entire generation terrified of tapping on their bedroom windows, "Salem's Lot" is one of the better King adaptations. Much like "Midnight Mass," the plot is driven by bringing something supernatural into a small, close-knit community, juxtaposing the extraordinary with the mundane. It's also worth noting that both the "angel" from "Midnight Mass" and the ancient Vampire in "Salem's Lot" seem physically modelled on the classic creature from "Nosferatu," as brought to (un)life by Max Schreck in the 1922 German expressionist horror classic.
A sequel, "Return to Salem's Lot," was released eight years later, the prequel series "Chapelwaite" launched in August, 2021, and New Line Cinema is releasing a new movie adaptation in 2022.
Eerie, Indiana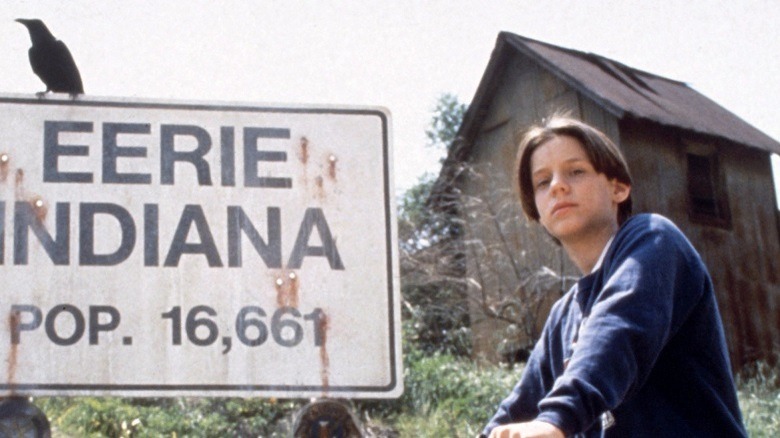 NBC
"Midnight Mass" appreciates the dramatic potential of small, remote communities — the isolation, for one, coupled with a sense of loss and the feeling of something darker bubbling under the surface. "Eerie, Indiana" may have been a children's show, but it is no less sinister for it, predating the "Goosebumps" TV series by several years, and it's still very fondly remembered despite only running for a single season. Kids delight in being scared, and "Eerie, Indiana" positively thrived on spooking them out.
Marshall Teller's family recently moved to the titular town, and the teenager soon realizes that he's living in the supernatural hotspot of the USA. Much like "The X-Files" and "Buffy the Vampire Slayer," "Eerie, Indiana" was a show that adhered to a mystery of the week format, but introduced concepts far deeper and smarter than you'd expect from a television show ostensibly aimed at children. It features immortality gained through Tupperware, a still-living Elvis Presley in hiding, cursed glasses, thinly-veiled Donald Trump parodies, and even manages to pull off the trick of having an episode in which the characters realize that they're on a television show. Even "Twin Peaks" was never that meta.
Dracula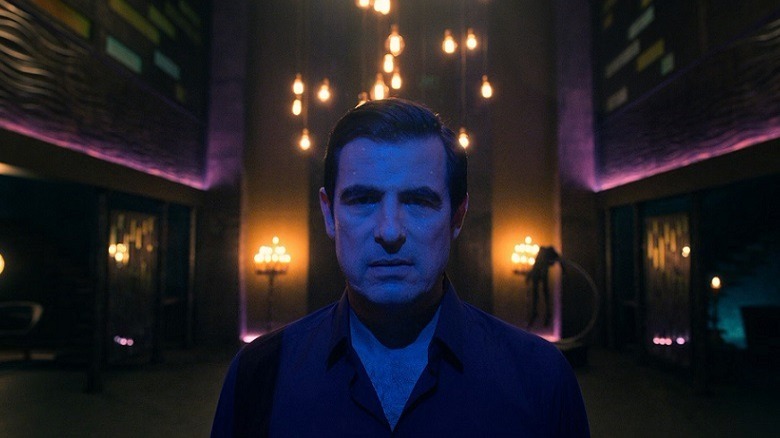 BBC/Netflix
For both a traditional and modern take on arguably the most famous bloodsucker of them all, BBC and Netflix raised the stakes with their recent adaptation of Bram Stoker's classic tale. Danish actor Claes Bang plays the infamous vampire across three episodes, the first two based on segments of the famous novel, and the last taking an altogether more contemporary approach to the material.
Writers Mark Gatiss ("League of Gentlemen") and former "Doctor Who" showrunner Steven Moffat ("Sherlock") take certain liberties with the source material, changing vampire hunter Van Helsing into Sister Van Helsing, who, along with her descendants, is the ever-present thorn in the vampire's side. Despite that, the opening two episodes remain faithful to the book in spirit, only to deviate wildly with a modern-day conclusion that had television audiences torn. 
Still, Bang is pitch-perfect in the role, playing Dracula as a suave and sophisticated gourmand, and Helsing makes for a smart and entertaining adversary. Each episode feels like a self-contained mini-movie, and it's well worth the investment of four and a half hours of your petty mortal lifespan.
Constantine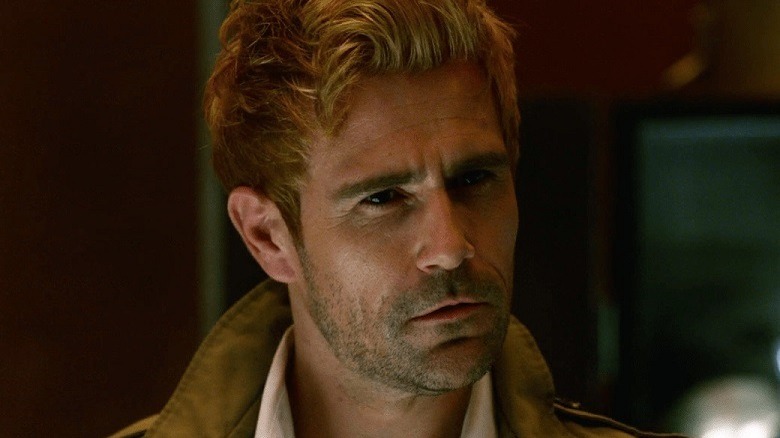 Warner Bros
"Constantine" wasn't the first live action outing for the Merseyside Magus — that honor goes to the 2005 Keanu Reeves movie — but fans were clamoring for a more comics-accurate portrayal of the chain-smoking, blonde-haired, trench-coat wearing cynic from the pages of DC's "Hellblazer." In the form of Welsh actor Matt Ryan, they ended up getting a Constantine who looked like he'd stepped straight out of the comic.
Like "Midnight Mass," "Constantine" brings elements of the supernatural into reality — Constantine is an expert in the arcane arts, an occultist who tries to atone for past sins by saving mankind from supernatural forces that seek to enslave or destroy us. Ultimately doomed to damnation because of his cursed past, the series sees Constantine confront demons, voodoo priests, and fallen angels.
Much like the equally impressive "Swamp Thing" TV series, "Constantine" only managed a single season before being canceled, which was doubly upsetting for comic fans as the show had only just introduced the character of Jim Corrigan, better known as the Spectre. Ryan would go on to play Constantine again on "Legends of Tomorrow," but Constantine has always fared better as the star than as a supporting character.
Ultraviolet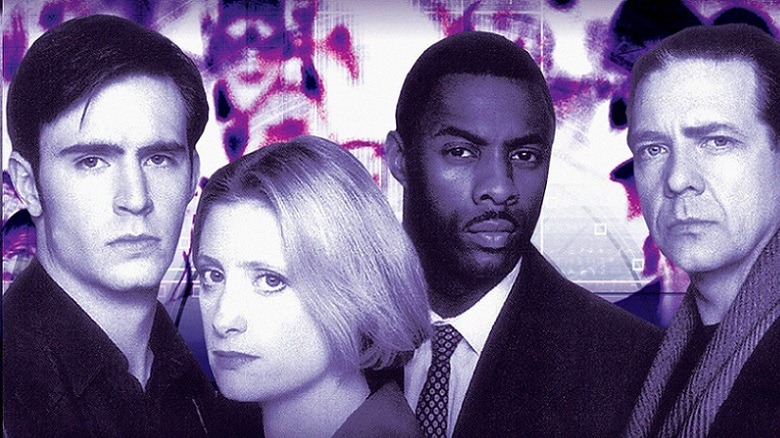 Channel 4
Not to be confused with the Milla Jovovich vampire action movie – or the polish detective show – "Ultraviolet" was a British drama that ran on Channel 4 for a single series back in 1998. It told the tale of Michael Colefield, a Detective Sergeant in the police who – while investigating the disappearance of his friend – ends up being recruited into a secret government organization tasked with hunting and killing vampires.
It's a trope we somewhat take for granted now, but Colefield is the everyman through which we learn the existence of the supernatural. He's less obsessed than his colleagues, more cynical and as he gets deeper in, we, the audience learn the details of his foe alongside him. We learn that the Code 5's (Roman Numerals, see?) have infiltrated all walks of life in London, and there is a whole sub-society of which mortals are painfully unaware. Idris Elba features too in an early starring role as Vaughan, one of Colefield's more fanatical colleagues. It was a show with great premise but, like a great many genre shows of that time, failed to shine, and grab audiences.
But, just like "Midnight Mass," the 'V' word is never uttered once.
American Gothic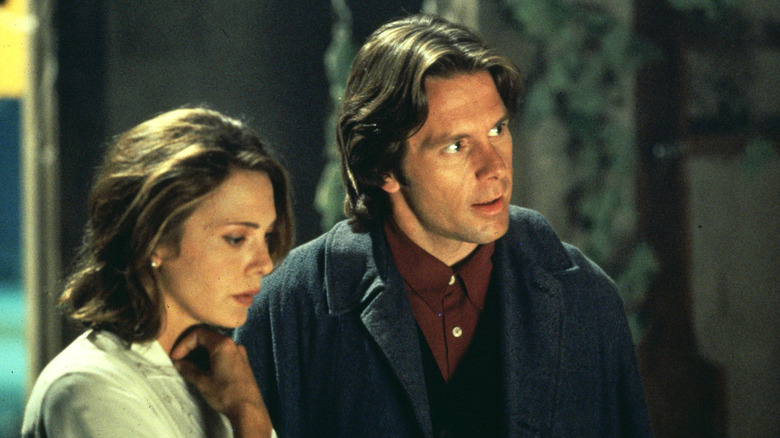 Universal Worldwide Television
If the forces of evil being allowed to wreak havoc in an otherwise tranquil small town grabs you, you could do a lot worse than the 1995 series "American Gothic." Despite only running for a single season, it was an atmospheric show that was way ahead of its time, featuring an incredibly memorable antagonist in the form of Lucas Buck. Buck is the affable sheriff of Trinity, South Carolina when young Caleb Temple learns a horrific secret: Buck is both his biological father, and possibly the Devil himself.
As Buck, Gary Cole is a revelation, a villain that you can't take your eyes off. He's playful, mischievous, malevolent, cunning, and only too willing to corrupt the townsfolk with Faustian pacts — those, of course, never end well. "American Gothic" puts the supernatural front and center, showing it outright rather than hinting at it.
Unfortunately, the network killed the show. Episodes were broadcast out of order, or not shown at all. It turns out the Devil can be beaten after all — all you need are careless network executives. "American Gothic" will never be properly concluded, but is worth watching simply to see what could have been.
The Terror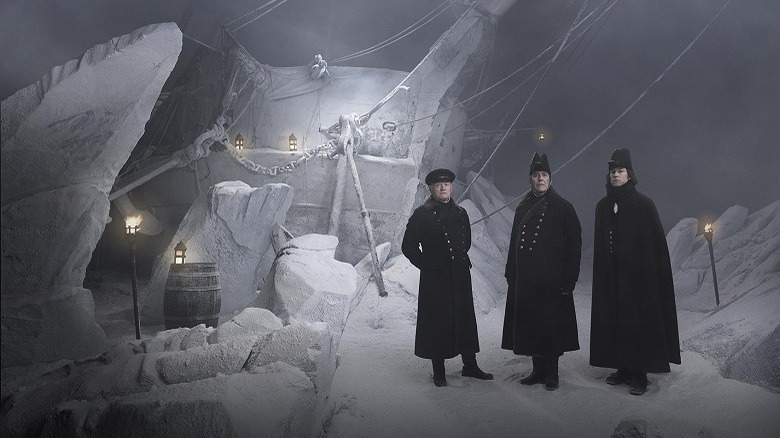 BBC
If you enjoyed the relaxed pace and treacle-thick atmosphere of "Midnight Mass," the first season of "The Terror" might, pardon the pun, float your boat. An adaptation of Dan Simmons' successful novel, "The Terror" is a dramatized account of Captain Franklin's hopelessly doomed attempt to traverse the Northwest Passage in the 19th century.
The Erebus and the Terror were Franklin's two ships. Both set off from England in 1845 but ended up trapped in Arctic ice. None of the 100-strong crew of either ship survived, but little is known about how and why they meet their fates.
The first season of "The Terror" is part historical drama, part horror story, and a 10-episode tale that pieces together what might have happened to both crews. It's a tale of failed human endeavor and of lost faith, with possibly supernatural elements thrown in for good measure. Like the doomed ships embedded in vast banks of ice, "The Terror" is in no rush, taking a leisurely approach to its source material while building the atmosphere and familiarizing the audience with the vast array of characters on board the ill-fated vessels.
The Haunting of Hill House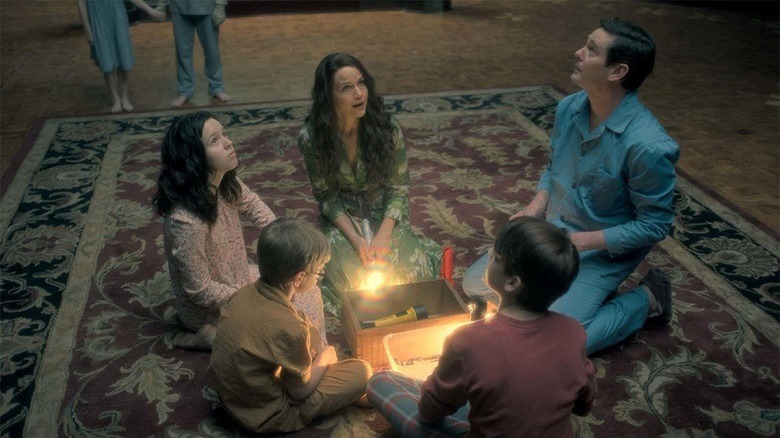 Netflix
Before "Midnight Mass" and before "The Haunting of Bly Manor," Mike Flanagan bought us "The Haunting of Hill House." A very loose adaptation of the 1959 Shirley Jackson novel of the same name, which has itself been filmed and retold on multiple occasions, "Hill House" tells the story of five troubled siblings who suffer the trauma of a haunting at their childhood home.
Spanning two separate timelines that show the siblings as both adults and children, "The Haunting of Hill House" is, at its heart, a drama about family, and the fascinating dynamic between the leads is what holds the series together. "Hill House" shows us that hauntings are not necessarily about the supernatural — the disparate souls in the show are also haunted by grief and loss, and by the sins and mistakes of the past. It's a superlative work by a master of his craft, with all the trademarks that would come to define "Midnight Mass," including complex and interesting characters, storytelling that shows instead of tells, a chilling atmosphere, and enough Easter eggs to reward multiple rewatches.
Preacher
Sony
Jesse Custer, failed preacher in a small American town, becomes the unlikely host for a supernatural being: Genesis, the unholy offspring of an angel and a demon. Suddenly, Jesse finds himself able to issue commands that must be followed, and travels across America's underbelly with two unlikely colleagues — an ex-girlfriend turned assassin, and an Irish vampire — to discover why God has abandoned His creation.
If it's blasphemy and a general wariness of religion that you're after, "Preacher" has you covered. Based on the phenomenally successful comic by Garth Ennis and Steve Dillon, the irreverent television series goes out of its way to offend any sensibilities you may have left. It features appearances by Adolf Hitler, Christ's latest descendant, and an age-old arcane religious order that seeks to manipulate the power that Jesse possesses.
"Preacher" never quite reaches the heady heights of its source material, but it's a small miracle that the television series got made at all, and that it lasted quite as long as it did.
Kolchak: The Night Stalker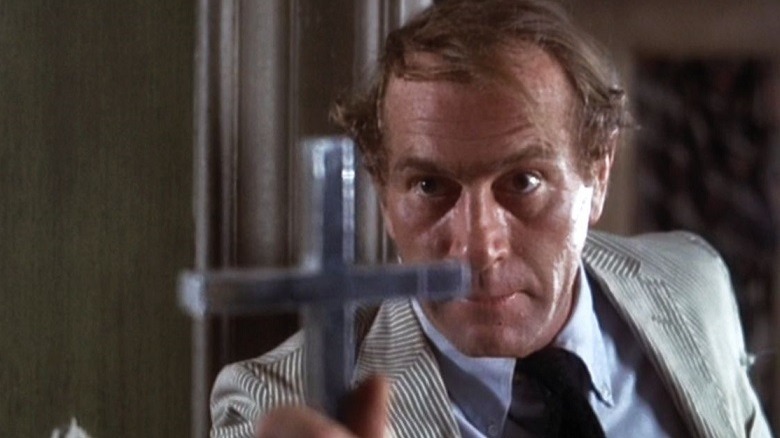 ABC
Lead Carl Kolchak is the spiritual predecessor of the X-Files' Fox Mulder; sardonic, impassioned, and trying to expose the extra-ordinary. "Kolchak: The Night Stalker" ran for 2 TV movies and 20 episodes between 1974 and 1975, covering the adventures of its lead – Kolchak, an investigative reporter investigating crimes with supernatural or alien origins, all to the chagrin of his ever-frustrated editor.
The series was far from a success lasting only a single season but was undoubtedly a huge influence on genre television – hence it's inclusion on this list. Without mainstream shows such as "Kolchak" and the introduction of the 'monster of the week' format, it's highly likely this list would be fairly bare. Kolchak made for a great lead across a selection of varied tales, always thwarted in his quest for truth by the disbelief of his peers. The episode villain list alone reads like a Scooby-Doo rogues gallery; ABC viewers were confronted with zombies, vampires, werewolves, succubae, androids, and bone-marrow sucking aliens.
Kolchak actor Darren McGavin was even asked to reprise his character for the X-Files, but was disinclined to do so – he did, however, appear as a retired FBI agent in several episodes. There was talk of a "Night Stalker" movie spin-off starring Johnny Depp, but that seems to have died a death.
Channel Zero: Candle Cove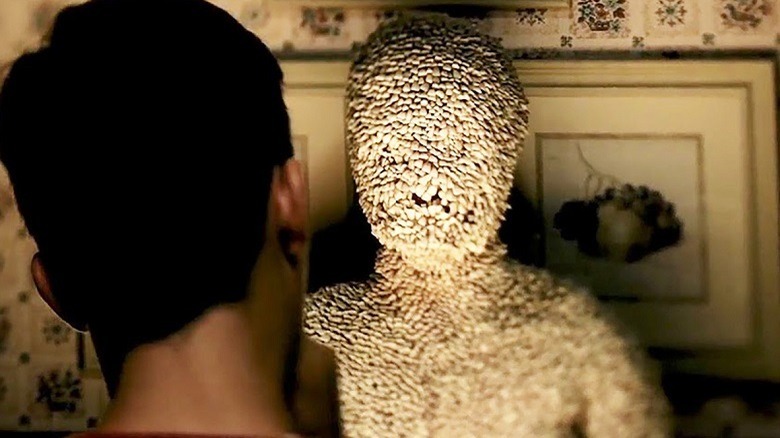 NBC
Mike Painter, a child psychologist, returns to his hometown after a lengthy absence. 30 years previous, his brother was believed to be the victim of a serial killer, but the boy's body never recovered. Upon returning home, Mike wonders whether his younger sibling's disappearance was connected to a weird children's television series that aired at the time.
The first season of "Channel Zero" has the same Stephen King vibe that runs through "Midnight Mass." Like "It," the season takes place over two timelines, one following Mike's investigations in the present day, and the other concerning Mike and his brother's childhoods. The "return of the prodigal son" trope works as well here as it does in "Midnight Mass," allowing us to learn about the town and its people at the same time as its lead, exposing the setting through an outsider's eyes.
All of the seasons of "Channel Zero" are inspired by popular Creepypastas, "Candle Cove" being one of the very earliest. It also has the best and most terrifying creature design seen on TV since "Buffy" gave us the Gentlemen.
Kindred: The Embraced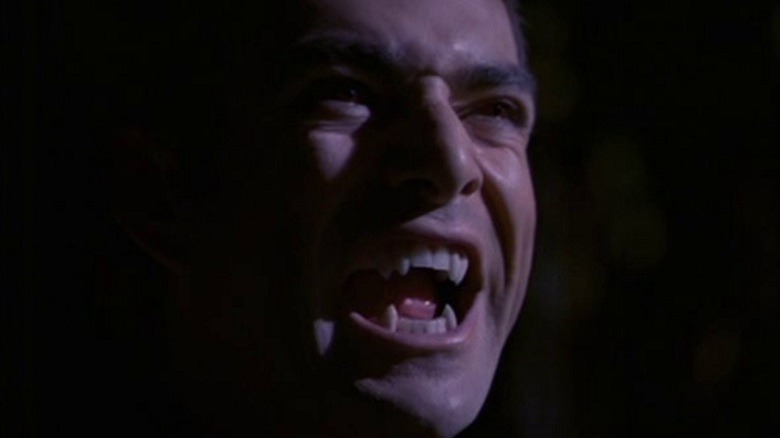 CBS
"Kindred: The Embraced" is an interesting short-lived oddity that lasted for only a single season in 1996. Based on the incredibly popular "Vampire: The Masquerade" tabletop role-playing game, "Kindred" covers the exploits of Detective Frank Kohanek, who discovers that the city of San Francisco is home to various clans of vampires who take great pains to keep their existence a secret.
Part police procedural, part horror, and part "Dynasty" (albeit without the '80s shoulder pads), "Kindred," like the RPG, had an interesting premise: Vampires are under strict orders to adhere to "the Masquerade," disguising themselves as humans lest their secret slip. The vampire clans are all vying for control of the city, and consist of the most beautiful and elegant people — except for the monstrous Nosferatu clan, who more resemble the angel from "Midnight Mass."
Many fans of the RPG considered "Kindred" to be an anemic imitation of the source material, but it was somewhat of a novelty to see a roleplaying universe recreated on the small screen. It's worth seeking out, if only as a novel curio.
American Horror Story: Double Feature Part 1: Red Tide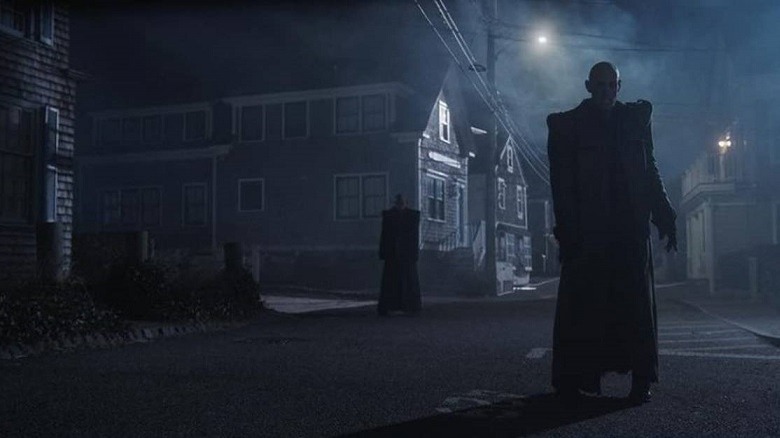 Disney Platform Distribution
Isolated communities are a popular trope in dramatic writing, and it's easy to see why. There's a lot of mileage to be found in people who live in each other's pockets, aware of each other's sordid little secrets and dramas.
When you first fire up "Red Tide," the first half of the "Double Feature" season of "American Horror Story," you'd be forgiven for forgetting which show you're watching. A seaside town? Check. Townsfolk behaving strangely? Check. Strange things out and about at night? Check. It turns out that Provincetown, Massachusetts isn't a million miles away from Crockett Island — and that they're both popular haunts for things with fangs.
However, while religion and faith are the core of "Midnight Mass," in "Red Tide" it's the lure of fame that tempts people away from the path of the righteous. It's a strong story with a fine cast, but, as with most seasons of "American Horror Story," can't quite nail that landing.