Harriet The Spy Trailer: Beanie Feldstein And Jane Lynch Get Animated In Apple TV+ Show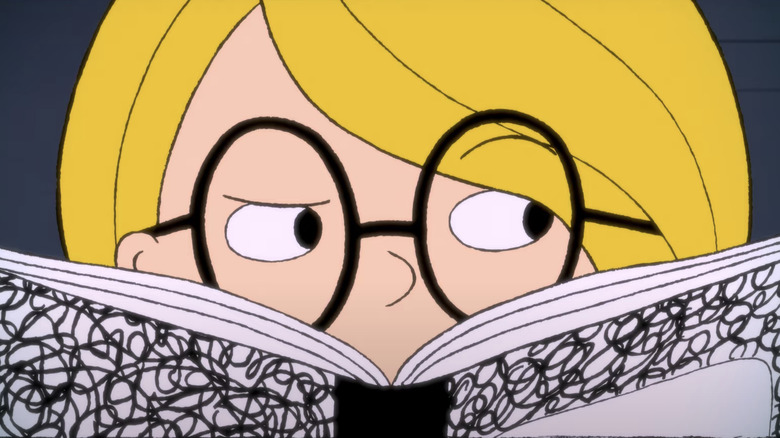 Apple TV+
For precocious girls looking to buck the status quo everywhere, Harriet M. Welsch is a literary icon. Between the original 1964 novel from Louise Fitzhugh to the 1996 Nickelodeon film of the same name starring Michelle Trachtenberg and Rosie O'Donnell, for generations "Harriet the Spy" has been inspiring kids to get into good trouble, follow their passions, question the world around them, and learn that sometimes it's okay to ask for help. 
Today, Apple TV+ released the trailer for its new animated adaptation chronicling the coming-of-age adventures of everyone's favorite unapologetic pre-teen. Produced by The Jim Henson Company, the new series features Beanie Feldstein ("Booksmart," "Lady Bird") as Harriet, and Emmy Award winner Jane Lynch ("Best in Show," "The Marvelous Mrs. Maisel,") as Harriet's no-nonsense mentor and nanny, Ole Golly. 
The first five episodes of the series debut on Apple TV+ on Friday, November 19, 2021, and the second half will return with additional episodes sometime in spring 2022. Check out the trailer for "Harriet the Spy" below.
The Harriet the Spy Trailer
"Harriet the Spy" is set in 1960s New York, the world in which the book was first published. Harriet M. Welsch wants to be a writer, and as Ole Golly says, "a good writer writes what they know." Well, Harriet wants to know everything so she can write about everything, which has led her to pursue a life as a spy. Harriet spies on everyone and everything, much to the dismay of, well, just about everyone in her life. She logs all that she sees on her spying adventures in her trusted composition notebook, and is constantly narrowly avoiding trouble on her quests to see and know it all.
Joining Feldstein and Lynch are Lacey Chabert ("Mean Girls," "All My Children") as the snooty popular girl, Marion Hawthorne, as well as additional voices including Kimberly Brooks, Crispin Freeman, Grey Griffin, Bumper Robinson, and Charlie Schlatter. The theme song for the show, "Smile Real Nice," was written and performed by Australian singer-songwriter Courtney Barnett, who released the track as a single today through Apple Music.
"Harriet the Spy" is written and executive produced by Will McRobb ("The Adventures of Pete & Pete") with Sidney Clifton ("Black Panther" animated series, "Me, Eloise") as producer. Lisa Henson and Halle Stanford executive produce on behalf of The Jim Henson Company with John W. Hyde, Nancy Steingard and Wendy Moss Klein also serving as executive producers, and Terissa Kelton as co-executive producer. Chris Prynoski, Shannon Prynoski and Ben Kalina executive produce for Titmouse Animation Studios.
"Harriet the Spy" premieres Friday, November 19, on Apple TV+