Cult Of Chucky Ended On A Cliffhanger To Set Up The New TV Show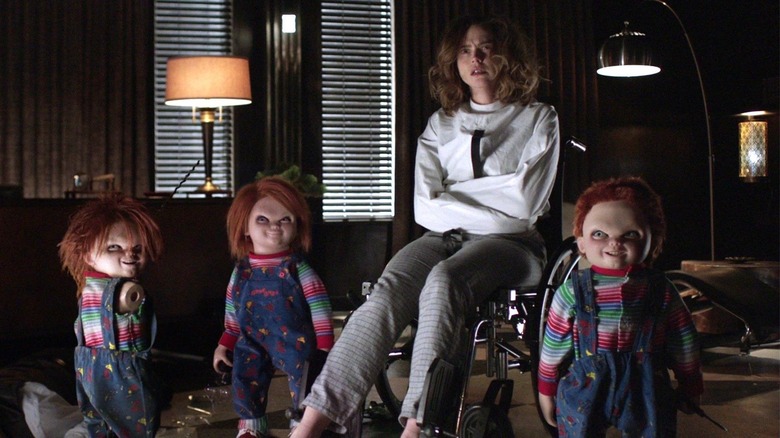 Universal Pictures Home Entertainment
One of the best things about the "Child's Play/Chucky" franchise is that with the exception of the canonically unrelated remake, writer Don Mancini has been behind every single screenplay in the franchise. And for the latter three films, he also served as the director. The "Chucky" franchise is Don Mancini, and because of that, the consistency in lore and storytelling is unmatched compared to other horror heavyweights like "Halloween," or "The Texas Chain Saw Massacre."
In a recent interview with Comicbook.com, Mancini confirmed that the cliffhanger ending of "Cult of Chucky" was an intentional part of the plan leading to the "Chucky" series:
Oh, I had a fairly solid plan [for the "Chucky" TV series] even when I was writing "Cult of Chucky." That's why I deliberately ended that movie with a series of cliffhangers to [leave] all of the major characters with a question mark. It was very "Empire Strikes Back" that way. But I knew that answering those questions and exploring the implications of where we left all of the characters, television was going to be a better place to explore all of that because it's so dense. There's so much going on. So yeah, I was sort of planning it out as back when I was writing "Cult of Chucky" four or five years ago. I'm just a little amazed that it all worked out because it's so rare, you know.
So rare, in fact, because it's literally never happened before.
How did Cult of Chucky End?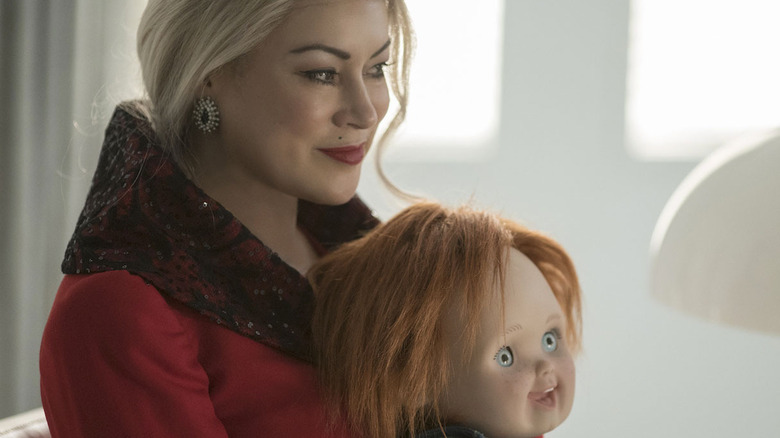 Universal Pictures Home Entertainment
If you're one of those people who tuned out of the "Child's Play" franchise after "Bride of Chucky" and "Seed of Chucky" because you felt they were a little too silly (first of all, how dare?), it will help to seek out the latter two films "Curse of Chucky" and "Cult of Chucky" because they will directly connect to the new Syfy "Chucky" series. The last film showed the Charles Lee Ray-possessed Good Guy doll wreaking havoc in a psychiatric hospital, as well as the reintroduction of actor Alex Vincent as Andy Barclay, the first owner of the Chucky doll.
The film's cliffhanger shows the soul of Charles Lee Ray (Brad Dourif) possessing the body of Nica Pierce (Fiona Dourif). Ray is reunited with his girlfriend Tiffany (Jennifer Tilly), Andy is trapped in a hospital cell, and a post-credits scene has Andy's former foster sister, Kyle (Christine Elise), in charge of monitoring the Chucky doll's severed head with Andy now away. Without the continuation of the upcoming "Chucky" series, the film's ending is pretty bleak for such a fun franchise, but knowing the story will continue to play out in the series is even more reason for excitement.
"Chucky" premieres tonight, October 12, 2021 at 10/9c on USA and Syfy.