Home Sweet Home Alone Trailer: The Home Alone Sequel Comes Gift-Wrapped On Disney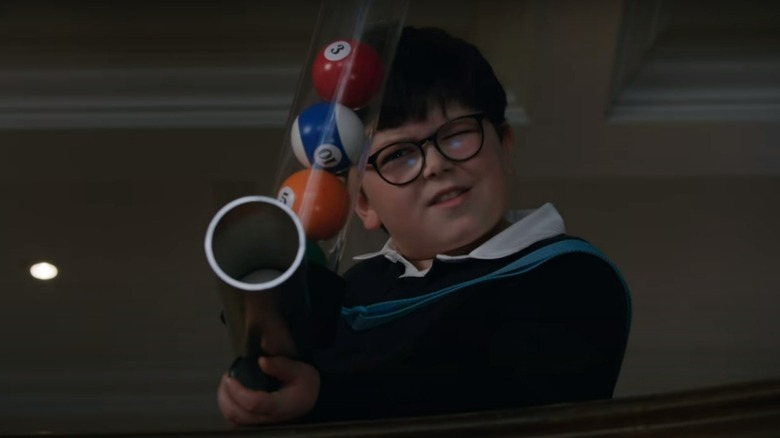 Disney+
Sometimes a franchise from your childhood receives a nostalgic, decade-later continuation and it looks as good as you could have imagined it. Other times, you get what seems like a straight remake of "Home Alone" and the trailer footage mostly makes it appear to be ... more of the same of what we've seen before? That is, until the shot of a uniformed officer wearing a "McCallister" name tag seems to reveal that Buzz from the original movie has become a cop, which is absolutely wild. 
"Home Sweet Home Alone" is the "reimagining" of the 1990 Macaulay Culkin-starring and Chris Columbus-directed movie that I'm not entirely sure anyone was really asking for, full of familiar music cues, gags, references, and even lines of dialogue from the original. Disney+ just released a new trailer for the upcoming holiday film, which you can watch below.
Home Sweet Home Alone Trailer
"Home Sweet Home Alone" is directed by Dan Mazer ("Bridget Jones's Baby," "Dirty Grandpa," "Office Christmas Party") from a script by Mikey Day & Streeter Seidell ("Saturday Night Live"). The film stars Archie Yates ("Jojo Rabbit") as Max, playing the central Kevin McCallister role as the forgotten runt of the family who's accidentally left behind while the rest go merrily on their way to vacation. Ellie Kemper ("The Office," "Bridesmaids," "Unbreakable Kimmy Schmidt") and Rob Delaney ("Catastrophe," "Deadpool 2," "Wrath of Man") step into the shoes of Joe Pesci and Daniel Stern from the original film, starring as the pair of home-invading troublemakers who meet far more than they bargained for. Oh, and this time they're a couple on the hunt for a "priceless heirloom" rather than some opportunistic bandits. 
The rest of the cast includes Aisling Bea ("Living with Yourself"), Kenan Thompson ("Saturday Night Live"), Tim Simons ("Veep"), Pete Holmes ("The Secret Life of Pets 2"), Devin Ratray ("Home Alone"), Ally Maki ("Toy Story 4"), and Chris Parnell ("Anchorman 2: The Legend Continues").
The movie has been described as:
Max Mercer is a mischievous and resourceful young boy who has been left behind while his family is in Japan for the holidays. So when a married couple attempting to retrieve a priceless heirloom set their sights on the Mercer family's home, it is up to Max to protect it from the trespassers...and he will do whatever it takes to keep them out. Hilarious hijinks of epic proportions ensue, but despite the absolute chaos, Max comes to realize that there really is no place like home sweet home.
"Home Sweet Home Alone" comes to subscribers of the Disney+ streaming service on November 12, 2021.