Karl Urban Isn't The Only One Who Wants A Dredd Sequel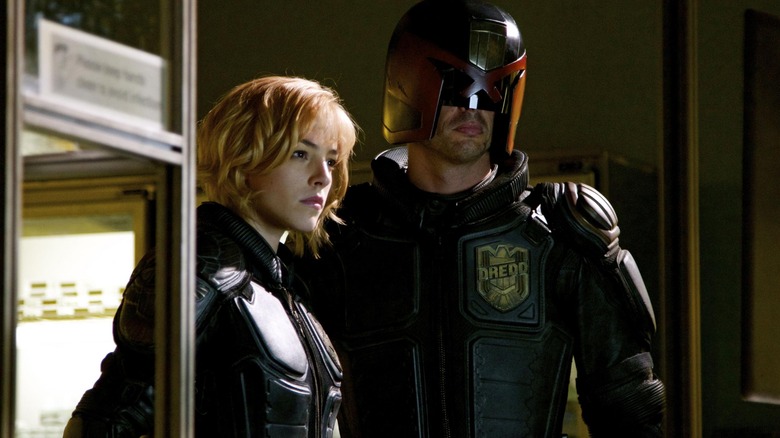 Reliance Entertainment
It's funny to think of how much time, effort, and especially money has been poured into comic book movies throughout the years when they clearly reached their zenith in 2012 with "Dredd." 
The film starred Karl Urban as the eponymous helmeted judge, jury, and executioner, along with Olivia Thirlby as the rookie cop thrown into a situation far beyond what her training could've prepared her for. A hit with critics but rather less so with general audiences at the box office, "Dredd" has since gained quite a cult following who have made it no secret that they believe the film deserves a sequel. Urban has long advocated for a continuation, but now Thirlby is adding her voice in support of a "Dredd" sequel as well.
Judgment Time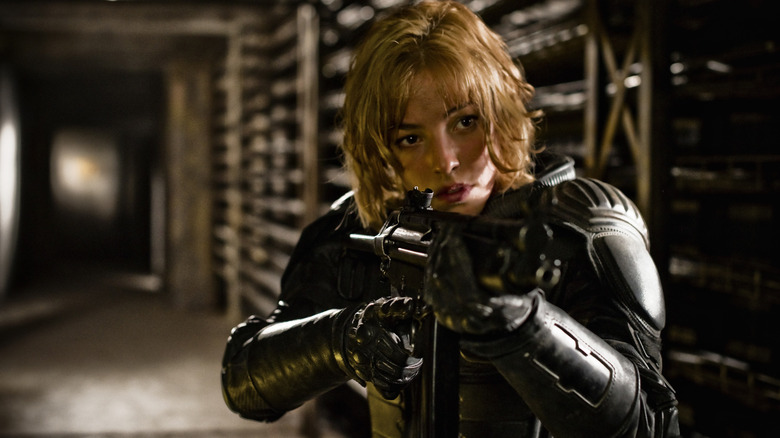 Reliance Entertainment
There are comic book movies, and then there are comic book movies. "Dredd" most definitely belongs in that latter category — directed by Pete Travis ("Vantage Point"), written by sci-fi aficionado Alex Garland ("28 Days Later...," "Sunshine"), and based on the comic strip created by John Wagner and Carlos Ezquerra. 
Garland took the seemingly unstoppable dystopian killing machine and dropped him in a hopeless situation that instantly ratcheted up the tension and stakes: trapped in a high-rise apartment with a rookie partner completely in over her head as the pair battled every minion sent by crime lord Madeline "Ma-Ma" Madrigal (Lena Headey). The tone and ambition was perhaps a bit ahead of its time, but that hasn't stopped everyone from fans to the cast itself from dreaming about a sequel anyway.
Collider caught up with "Dredd" co-star Olivia Thirlby as she promoted the release of "Y: The Last Man," at which point the question of a possible sequel was raised.
"First of all, let me just say, I was always the number one advocate of getting a sequel for Dredd. I love that movie and I love that character. If there is still talk of there being a sequel 10 years later, I am all for it.

"If we're gonna talk about a sequel to Dredd, we have to also whisper to the gods of the film universe that Alex Garland be part of that."
Digging Into Dredd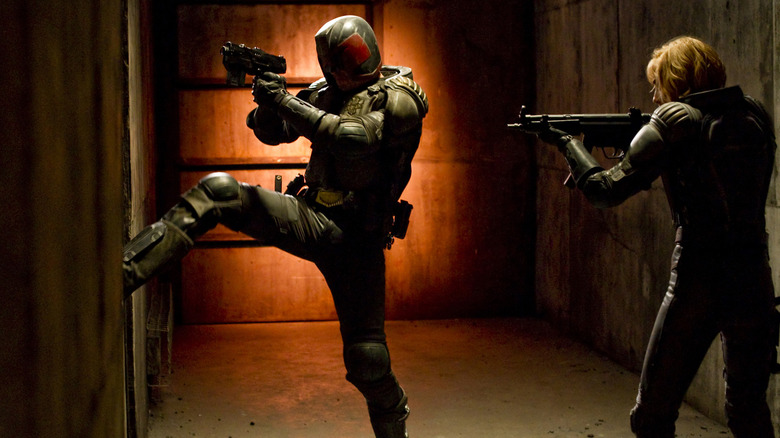 Reliance Entertainment
Thirlby portrayed the character of Cassandra Anderson, a new recruit to the Judges program who faces the ultimate test when she finds herself caught in the impossible life-or-death situation that Garland's script throws at her. It's no surprise that Thirlby is so high on Garland's work on the film, as he has certainly developed a reputation for delivering high-concept sci-fi that is both wildly entertaining and deeply provocative — and features well-written female characters, as well. All three applied with "Dredd," and Thirlby doesn't hesitate to sing Garland's praises:
"I just also have to take a second and shout out Alex Garland because the Anderson that he wrote was so thoughtful and sensitive and nuanced and empowered and powerful, not because she was trying to be Dredd or be like a man, but because she was exactly herself and that journey of her finding herself and her true strength is what I love so much about that movie and what I felt like, as an actor, it was so meaty to lean into that role."
Here's a spoiler warning for anyone may be reading this without having watched the film (in which case you should stop reading this and go watch the film!), but Thirlby's Cassandra survives the onslaught and proves her worth as a Judge by the end of "Dredd" ... until she drops her badge in Dredd's hands and seems to walk away from the program entirely. Collider asked her for her take on that final resounding gesture, to which she responds:
"What that gesture is about at the end, she's bowing out of her ambition. She's bowing out of a drive that she had to be an A student, to be perfect and to be the one who's doing it right. I think she's learned that the world is way too messy for her to have a personal investment in being shiny and important and in control. Whatever that would yield for her in her journey as a person, maybe her journey as a judge, I couldn't say. That would have to be in the mind of whomever was telling her story onward. But I would like to think that she would continue being a judge."
Whether that story continues is still a hypothetical at this point — Urban previously expressed his interest, but didn't seem too hopeful — but even as a standalone, "Dredd" functions as a hell of a thrill ride for any genre junkie out there.