The Wonka Prequel Is A Musical, And Timothee Chalamet Has Started Recording Songs
Big news for fans of reclusive chocolatiers who psychologically test children for fun in a magical factory filled with unfair labor practices! The upcoming prequel based on Roald Dahl's Willy Wonka character from his book "Charlie and the Chocolate Factory" starring Timothée Chalamet has been revealed to be a musical. It's odd, because many seem to be perplexed by the announcement, fully forgetting that both the 1971 film "Willy Wonka and the Chocolate Factory" and the 2005 remake "Charlie and the Chocolate Factory" are both musicals.
Timothée Chalamet revealed in an interview with Time magazine that he has been recording songs for the film at the legendary Abbey Road studio in London where the film is also being shot. "I felt out of my league. Like I was desecrating history," he told Time. 
While Chalamet hasn't gotten a lot of opportunities to flex his vocal skills as much in the public eye, he has a history of musical performance. He's a former student of the historic Fiorello H. LaGuardia High School of Music & Art and Performing Arts where he starred in the musicals "Cabaret" as the lead Emcee (the role made famous by Joel Grey and Alan Cumming) and Oscar Lindquist in "Sweet Charity." There's been no say as to whether or not songs will be featured from the "Charlie and the Chocolate Factory" stage musical from David Greig, Marc Shaiman, and Scott Wittman, but more than likely, these will be wholly original tunes.
The New Face of Wonka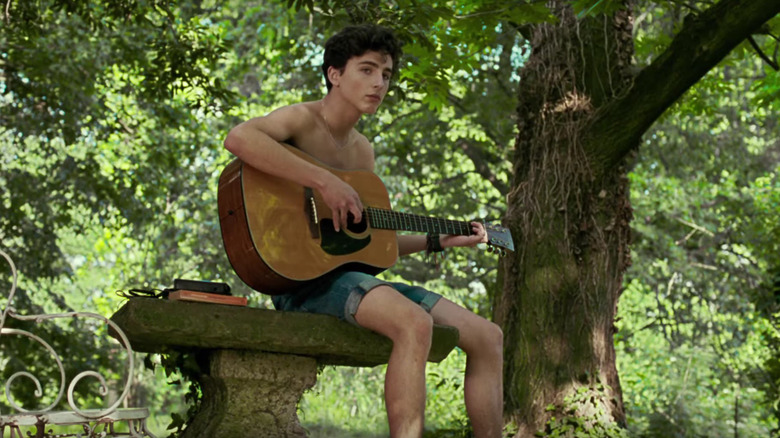 Sony Pictures Classics
In addition to his interview with Time, Chalamet also revealed the new look of the young candy creator, serving some Gonzo in "The Muppets Christmas Carol" realness. Not much has been released about the plot of "Wonka," except that it's a prequel to Dahl's book and the start of an apparent reboot of the franchise. However, the songs for "Wonka" are said to be new, and that the movie comes from an uplifting place. "It's not mining the darker emotions in life," Chalamet told Time. "It's a celebration of being off-center and of being O.K. with the weirder parts of you that don't quite fit in."
WONKA ✨✨🍫 pic.twitter.com/ozaerNtroP

— Timothée Chalamet (@RealChalamet) October 10, 2021
Chalamet is joined by the cast including Keegan-Michael Key, Sally Hawkins, Mathew Baynton, Simon Farnaby, Kobna Holdbrook-Smith, Tom Davis, Jim Carter, and Rich Fulcher. Recently, the prequel also added Rowan Atkinson, and Olivia Colman. The film is being directed by Paul King of the absolutely-perfect-I-will-hear-no-dissenters 'Paddington" film series, and has written the script with "Paddington 2" co-writer, Simon Farnaby.
"Wonka is being produced by David Heyman through Heyday Films with Luke Kelly, and joined by executive producers Michael Siegel and Alexandra Derbyshire. "Wonka" is currently scheduled for theatrical release on March 17, 2023.