Venom: Let There Be Carnage Has A Surprising Crossover With The Matrix Resurrections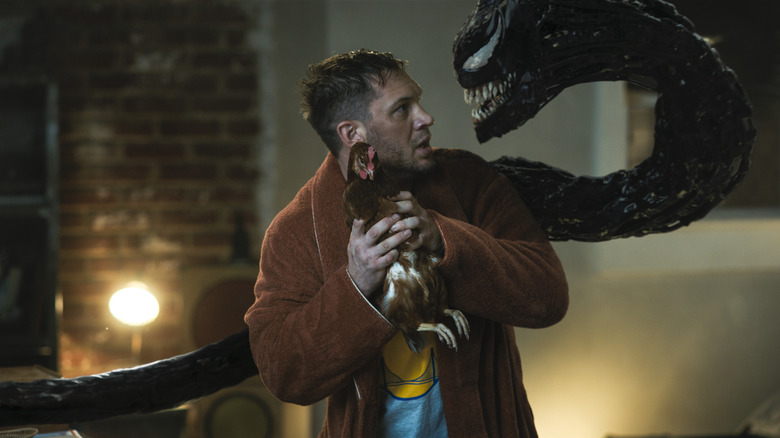 Sony
Is "Venom: Let There Be Carnage" merely part of the fabricated reality of the Matrix? Some helicopters in the film are, at least.
Both "Venom" and the upcoming "The Matrix Resurrections" were shot in San Francisco at the same time, and it seems that some of the shooting from the fourth "Matrix" movie also made its way into "Let There Be Carnage."
The overlap happened at the end of "Venom," when Eddie Brock and Venom (both played by Tom Hardy) are at the top of San Francisco's famous Coit Tower. The two mention being chased by police, which makes the helicopters in the background seem like they're trying to find Brock and Venom. Those helicopters, however, were from a "Matrix" shoot happening at the same time.
Two Filming Shoots, One Set of Helicopters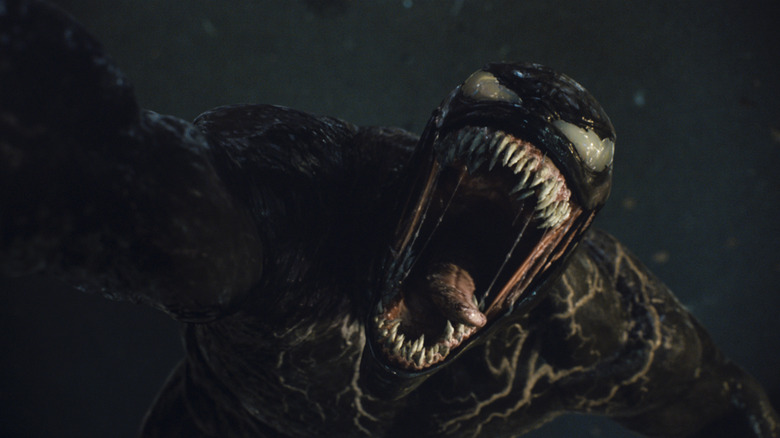 Sony
In an interview with Screen Rant, location manager Christopher Kusiak shared that the "Matrix" and "Venom" production teams were often vying for the same locations, with "Venom" mostly losing out.
"Lots of stuff impacted filming. A lot of our driving shots went away because Matrix controlled all of downtown. We ended up moving a stunt up onto the top of the parking garage because we couldn't get to the areas we wanted because of 'The Matrix'. But if we would've been there first, it probably would've gone the other way."
The two films working in the city, however, did have one benefit for the "Venom" team. "The helicopters were actually on the Matrix movie," Kusiak shared. "'The Matrix' was filming at the same time so we were catching part of their activity on camera."
What are those helicopters doing on "The Matrix" side of things? There's a reasonable chance they're looking for their film's presumed protagonist, Neo (Keanu Reeves). The movie doesn't come out in theaters and on HBO Max until December 22, 2021, however, so we'll have to wait a couple of months to find out for sure. In the meantime, you can check out the latest trailer for it here. In addition to Reeves, "The Matrix Resurrections" also has Carrie-Anne Moss reprising her role as Trinity. Yahya Abdul-Mateen II, Jessica Henwick, Jonathan Groff, Neil Patrick Harris, Priyanka Chopra Jonas, Christina Ricci, Telma Hopkins, Eréndira Ibarra, Toby Onwumere, Max Riemelt, Brian J. Smith, and Jada Pinkett Smith also star in the film. 
If you want to watch (or re-watch) everyone's favorite goofy romantic comedy, "Venom: Let There Be Carnage," you can still see it in theaters.