The Simpsons Treehouse Of Horror XXXII Clip Teases A Segment Inspired By Edward Gorey
With spooky season just around the corner, everyone's favorite Halloween traditions are coming out in full swing. Costumes are being crafted, lovers of candy corn are defending their favorite treat, and "The Simpsons" are unleashing their annual "Treehouse of Horror" episode for the 32nd consecutive year. This year, for the first time ever, "Treehouse of Horror XXXII" will feature five segments instead of the usual three, parodying properties like "The Ring," "Guardians of the Galaxy," "Parasite," "Bambi," TikTok, and more. For fans of something a little more old school, the Halloween special will also feature a segment inspired by the animation style of Edward Gorey.
The segment is titled "Poetic Interlude" and will feature a Vincent Price-esque narrator reading the storybook "The Telltale Bart," chronicling all of Bart's evil wrongdoings during each month of the year, styled like the creepy children's books that made Gorey so beloved.
The Legacy of Edward Gorey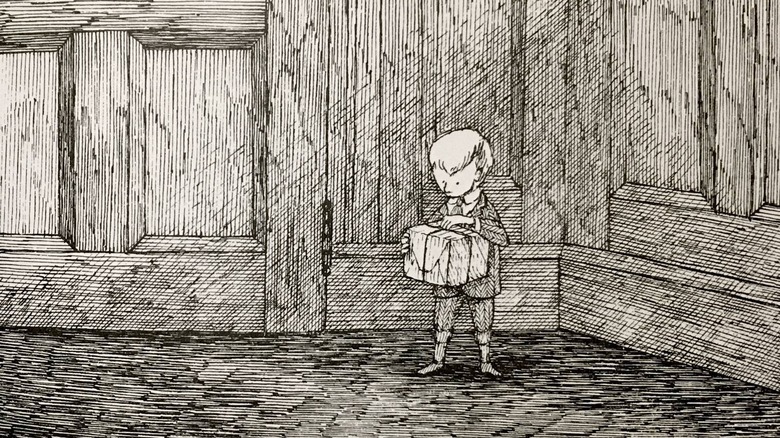 Harcourt Brace Publishing
Gorey was a writer, artist, and Tony Award-winning costume designer known for his trademark pen-and-ink stylings that frequently depicted unsettling or violent scenes in Victorian and Edwardian settings. As a small child, one of the first books I ever received was "The Gashlycrumb Tinies," an ABC book that trades standard "A is for apple" fare with descriptions of their untimely deaths in rhyming dactylic couplets like "A is for Amy who fell down the stairs, B is for Basil assaulted by bears." His books frequently were dismissed as being too dark, but for many children, Gorey's work was their introduction to the harsh realities of existence.
Gorey's work would influence many of gateway horror's most beloved entries like "The Nightmare Before Christmas," "Lemony Snicket's A Series of Unfortunate Events," Rob Reger's "Emily the Strange," and perhaps most obviously, Neil Gaiman's "Coraline." Gaiman is a longtime fan of Gorey's work and even has an original work of Gorey's art proudly displayed in his home. He wanted Gorey to illustrate "Coraline," he said, but he "died the day I finished it."
Gorey passed away in 2000, but his impact and work lives on. Considering the pressure for a show as big as "The Simpsons" to reference work as popular as possible to appeal to such a wide audience, it's refreshing to know the writers still know how to sneak in their niche references to pay respect to some of the genre's historic influencers.
"Treehouse of Horror XXXII" airs Sunday October 10, 2021 on Fox.