Why Netflix's Lost In Space Is Ending — Here's What We Know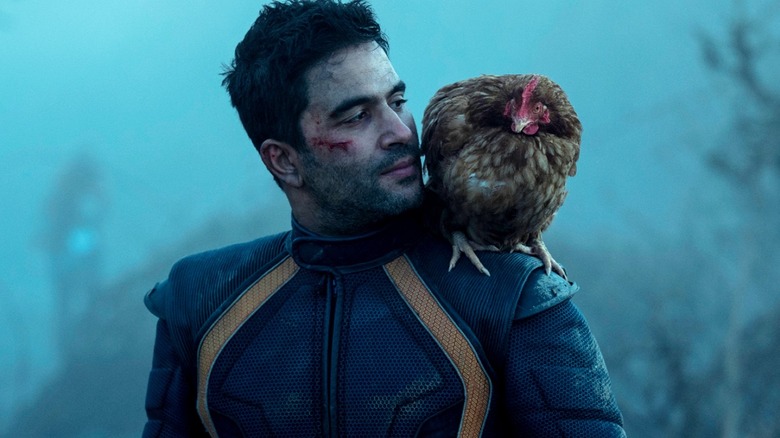 Netflix
Netflix's "Lost in Space" reboot is ending with its third season (check out the season 3 trailer). This news may have been a surprise to fans when showrunner Zack Estrin and Netflix shared the news in March 2020 – before the now-final season even went into production. The decision, however, seems to be one that was planned from the get-go. 
"From the beginning, we've always viewed this particular story of The Robinsons as a trilogy," Estrin said in a statement at the time, explaining: 
"A three-part epic family adventure with a clear beginning, middle and end. It's also worth noting that, with what these characters go through just trying to survive each episode — if anyone deserves to catch their breath before their next mission — it's Will, Penny, Judy, Maureen, John, Don West, Dr. Smith ... and The Robot. And, of course, Debbie the Chicken. So while this chapter of 'Lost In Space' is coming to a rousing conclusion, I'm excited about continuing to explore new stories with my friends at Netflix, and for all of the incredible possibilities that lie ahead."
In the same statement, Netflix execs also expressed their love for the show. Here's what Ted Biaselli, director of Netflix originals, had to say:
We are so thrilled to share more adventures of the Robinson family and see their journey through to what is sure to be an epic finale. We're especially thankful to Zack Estrin [and fellow exec producers] Matt Sazama, Burk Sharpless, Kevin Burns and Jon Jashni for helming "Lost in Space," which has brought viewers a premium action-packed and visually spectacular series that the whole family can enjoy together, and we can't wait for our family audiences to see where season three will lead!
Three Seasons and You're Out
Exclamation points aside, Biaselli's decision to end the show also ties in with Netflix's standard business practices. Netflix is notorious for ending shows after three seasons unless the series is a runaway hit like "Stranger Things." Why? The details involve a bit of a deep-dive into the accounting realm, but essentially the cost structure for productions makes every successive season more and more expensive for Netflix to finance.
The good news for "Lost in Space" fans — besides having a third season to look forward to on December 1, 2021 — is that Estrin is now under contract to make other content for Netflix. What shows or features he will make remains to be seen, but who knows? Perhaps the "Lost in Space" Robot can make a cameo appearance elsewhere.
"Lost in Space" season 3 releases December 1, 2021, on Netflix.