Lost In Space Season 3 Trailer: Even More Danger, Will Robinson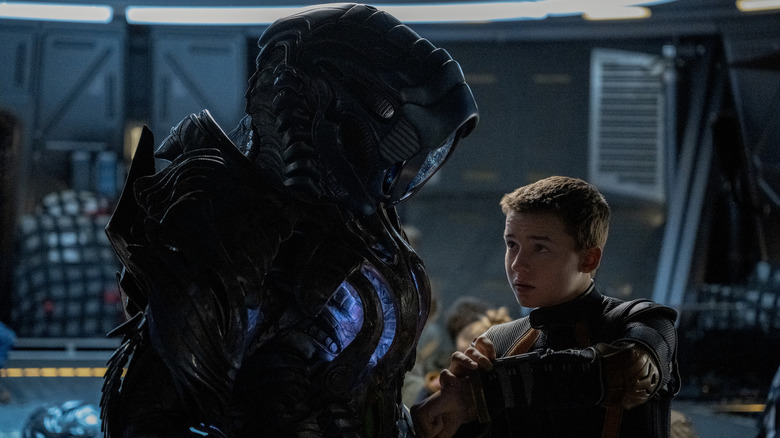 Netflix
Netflix's third and final season of its "Lost in Space" reboot is coming at us on December 1, and we've got a trailer to let us know what we might see in the show's remaining episodes.
Things haven't been going so great for the Robinsons and the other survivors in the 24th Colonist Group. And if this trailer is indication, things will continue to be tough, although the beloved robot, Robot, is still around (and maybe the other good robot, Scarecrow, too). The markedly older Robinson kids are, however, lost in space (again) around an unknown planet while their parents are in another system still dealing with the not-so-nice alien robots.
The season 3 trailer hints at what Will Robinson (Maxwell Jenkins) will do in the final season. He wants to save everyone, understandably, even if that might mean sacrificing himself. Check out the trailer below.
Lost In Space Season 3 Trailer
"I thought I could save everybody," Will says over images of him uncontrollably flailing through space and hitting the hull of his ship. We also see glimpses of the not-so-nice alien robots being ominous and not-so-nice, and all members of the Robinson family in dire straits, albeit in different systems.
Want to know more about what season 3 has in store for us? Check out Netflix's official synopsis:
In the third and final season of "Lost in Space," the stakes are higher than ever and the Robinson family's survival instincts will be put to the ultimate test. After a year of being trapped on a mysterious planet, Judy, Penny, Will and the Robot must lead the 97 young Colonists in a harrowing evacuation — but not before secrets are unearthed that will change their lives forever. Meanwhile John and Maureen — with Don at their side — must battle overwhelming odds as they try to reunite with their kids. The Robinsons will have to grapple with the emotional challenge of not just being lost — but being separated from the ones they love... as they face the greatest alien threat yet.
Netflix's "Lost in Space" was rebooted by showrunner Zack Estrin, with Matt Sazama and Burk Sharpless on board as writers. In addition to Jenkins as Will Robinson, it stars Toby Stephens as John Robinson, Molly Parker as Maureen Robinson, Taylor Russell as Judy Robinson, and Mina Sundwall as Penny Robinson. The third and final season drops on the streaming platform on December 1, 2021.