Sabrina Spellman Is Finally Coming To Riverdale For A Crossover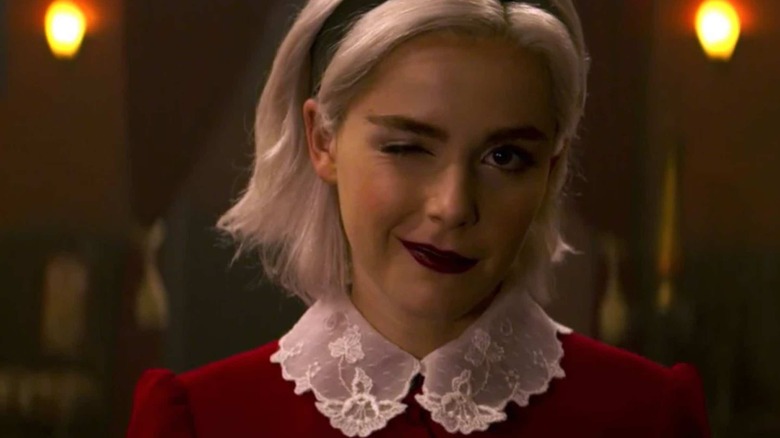 Netflix
Praise the Dark Lord, Sabrina is coming to "Riverdale"! Though Netflix cancelled the spin-off series "The Chilling Adventures of Sabrina," star Kiernan Shipka will reprise her role as the witchy Sabrina Spellman on the upcoming season of the CW series "Riverdale." 
Ruh-Roh, Riverdale
"Riverdale" writer Evan Kyle revealed that Sabrina will be making an appearance on the show while doing a Q&A on The Dipp following the season 5 finale. The Dipp allows fans to ask questions of their favorite stars in a real-time chat for subscribers, and Kyle was answering one such question. Showrunner Roberto Aguirre-Sacasa confirmed the news to Entertainment Weekly:
"We've been talking about having Sabrina visit 'Riverdale' since season 1, so it's thrilling that this is finally happening, as part of our 'Rivervale' special event. It's also perfect that she shows up to help Cheryl Blossom during her hour of greatest need. Everyone on set lost their minds — I think fans will, too. It's really fun and special."
Sabrina (and Shipka) will arrive in Riverdale in the fourth episode of season 6, titled "The Witching Hour(s)." Here's EW's description of the episode:
Cheryl (Madelaine Petsch) is performing a dangerous spell, one that may mean the difference between life and death for a beloved member of the Blossom family, according to a logline description of the episode. Luckily, she's getting a much needed assist from everybody's favorite 20-something witch, the iconic Sabrina Spellman (Shipka), visiting from Greendale in this years-in-the-making crossover.
Something Witchy This Way Comes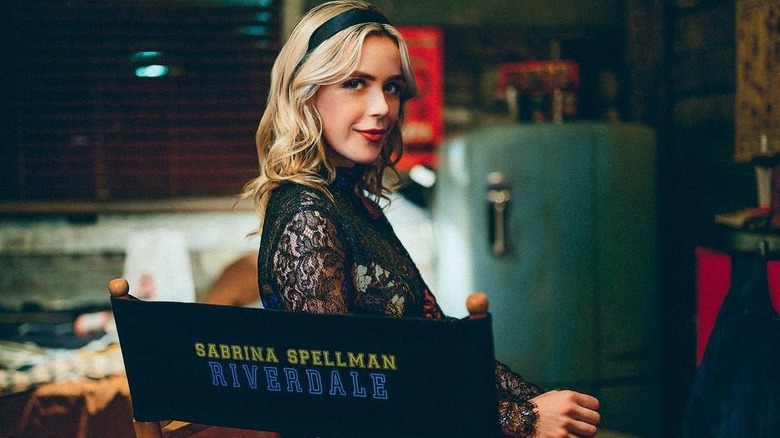 Warner Bros.
Shipka celebrated by sharing a photo from the set of Riverdale on her Instagram, and Warner Bros. quickly followed suit by posting the same picture to their official Twitter. Both commented on the fact that Sabrina would be going from "Greendale to Riverdale" for season 6. 
"The Chilling Adventures of Sabrina" ended on a less-than-satisfying note in 2020 after Netflix canceled the series. The gothic young adult drama was a salacious, satanic blast, but it ended with Sabrina dead as a doornail. That doesn't mean she couldn't be back from the dead, of course, or that "Riverdale" exists at the same time as "Sabrina." The two shows take place in the same universe, but they've never been explicit about how tightly they're connected. Aguirre-Sacasa teased a full-blown "Riverdale" crossover, but that was supposed to happen in the "Occult World of Sabrina" comic series.
No one besides the creatives behind each series knows exactly where the events of "Riverdale" fall on the "Sabrina" timeline, but we'll find out when "Riverdale" season 6 airs on November 16, 2021.