Clips Round-Up: Clarice In Therapy, Alan Tudyk Is Distancing Socially, The Old Ways Exorcizes [Exclusive]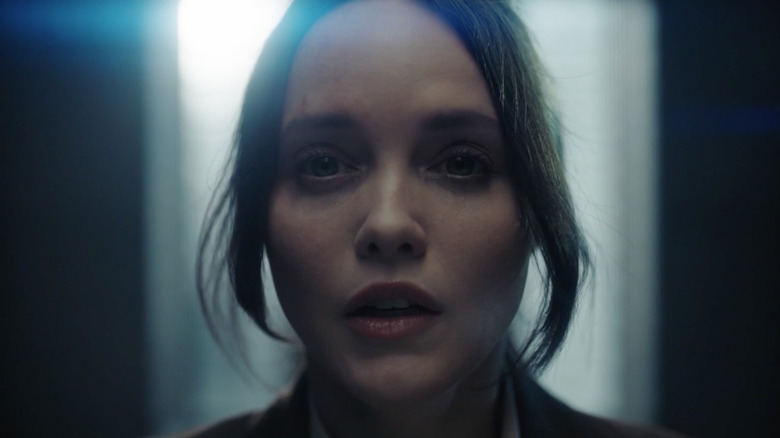 CBS
(Welcome to SlashClips, a series where we bring you exclusive clips from hot new Digital, Blu-ray and theatrical releases you won't see anywhere else!)
In this edition:
Clarice Season 1
Distancing Socially
The Old Ways
Clarice Season 1
Thomas Harris fans were no doubt bummed when CBS could not come to an amicable agreement with MGM to shift their series "Clarice" over to Paramount+ for season 2, thus sadly ending the show after it had already been renewed. Luckily those fans can now pick up CBS Home Entertainment and Paramount Home Entertainment's DVD of the first season, including exclusive deleted scenes, a gag reel, and behind-the-scenes featurettes including the one we have an extended two-minute clip from. In this exclusive clip staff writer Celena Cepriaso and co-executive producer Kenneth Lin discuss Clarice (Rebecca Breeds), her internal battles, and her search for answers through unconventional therapy.
Here's the official synopsis of the DVD special feature this clip comes from, which is titled "Progress In Portrayals":
 Sit with the producers, cast, writers and consultants directly involved in the series' development to dive into the various aspects of the original three decade storyline. Addressing important aspects of the show, the featurette highlights the significance and gravity of tackling the history and difficulties of minorities in the FBI through Clarice's best friend Ardelia, as well as reframing the portrayal of the transgender community.
Distancing Socially
Cinedigm has provided us with a hilarious clip from the very contemporary comedy "Distancing Socially," which is now out on Digital. In the exclusive piece, Rory Scovel plays screenwriter Ben and Alan Tudyk is the incredulous Noel, who is a little confused about the script that Ben has written. Check out the official synopsis:
From writer/director Chris Blake, 'Distancing Socially' takes a humorous look at love, friendship, and the idea that a world of increased connectivity naturally allows for greater miscommunication. Composed of a series of comical vignettes shared across a telecommunications app, the film focuses on the everyday problems of a group of loosely connected characters that play out virtually across a world in lockdown. Jessika Van ("The Messengers"), Melanie Chandra ("Code Black"), and Connor Paolo ("Gossip Girl") round out the top-billed cast. The film also stars Emma Fitzpatrick, Blythe Howard, Ted Welch, Jay Larson, Graham Outerbridge, Dawan Owens, and up-and-comers Sierra Katow, Matthew Hancock, and Willie Macc.
The Old Ways
Dark Star Pictures has provided us with this creepy little moment from their exorcism movie "The Old Ways," wherein we find Cristina (Brigitte Kali Canales of "Fear the Walking Dead") being tormented by a very unexpected source. The film arrives on Digital, DVD and Blu-ray on October 12, 2021.
Here is the official synopsis:
Cristina, a journalist of Mexican origin, travels to her ancestral home in Veracruz to investigate a story of sorcery and healing. There, she is kidnapped by a group of locals who claim she's the devil incarnated. Brigitte Kali Canales, Andrea Cortés, and Julia Vera star.