The No Time To Die Crew Strapped IMAX Cameras To Dirt Bikes For One Key Scene [Exclusive]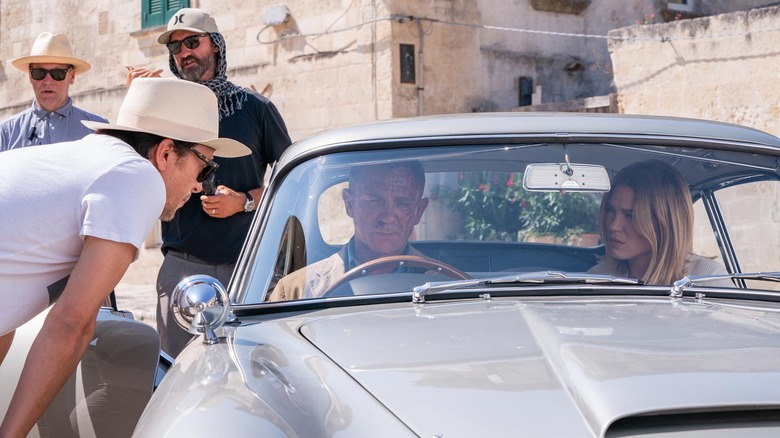 MGM
Daniel Craig's James Bond is getting the send-off of a lifetime, with a globe-trotting swan song that offers as much emotion as it does spectacle. So what better way to capture all that rich, stunning emotion than on a giant, towering screen? "No Time To Die" is days away from hitting theaters in all its IMAX glory, so we got some details on what it took to create such a massive film.
Cinematographer Linus Sandgren spoke to /Film's Jack Giroux about working with IMAX cameras on "No Time to Die," and ultimately concluded that they were "gorgeous" to use. Sandgren appreciated how immersive the format makes the overall experience, saying, "it's just so big, the image, and you're inside of it. I'm happy we did it." But shooting with the massive cameras that still use film isn't all fun and games. Sandgren went on to discuss the many challenges of the process, some of which came from the simple question of how to hold and mount the cameras. Sandgren said:
"They are big and bulky and daunting, when you see them first time. I had experience working with them a little bit, but really on crane and tripods. So we initially thought that we were going to use them and do mostly dolly shots and crane shots, but then we're in Matera. We got to travel fast through those alleys in stone."
Bond has a thing for Italy, so it's no surprise to see him racing down the bumpy stone alleys of Matera. Brief glimpses in the trailer show off what's sure to be a thrilling chase through the winding streets of the small, Italian town. That's exactly where the problem arose for Sandgren and the crew: how do you get those bulky, awkward cameras moving quickly beside the Aston Martin DB5? 
To put it lightly, they had to get creative. And after a quick brainstorming session, they found a very practical solution ... Put the cameras on dirt bikes.
Dirt Bikes Play A Crucial Role in No Time To Die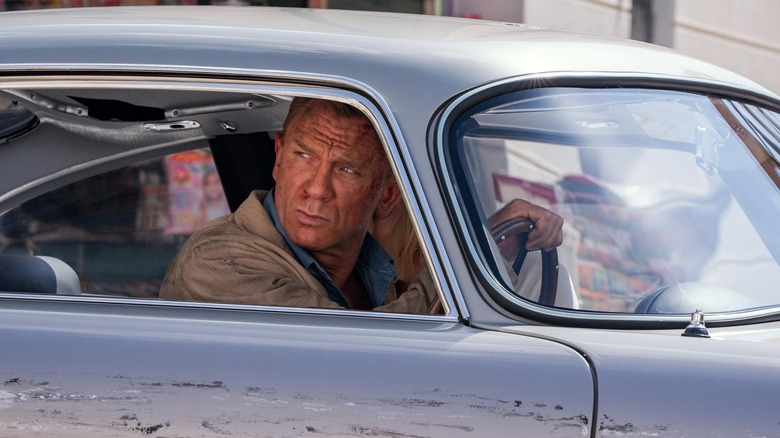 MGM
According to Sandgren here's how it went down:
So we put it on dirt bikes, the camera, and it worked. And people were like, "Oh, it actually works." And we got underwater housing for it, shot underwater. We also started to use it handheld, because in Matera as well, we wanted it to be handled. So we tried. And the operators were like, "Actually works."
Don't google how much an IMAX camera costs, you definitely don't want to know. But they're insurable for up to half a million dollars. Also, there's only 26 of them in the world.
To make matters even more chaotic, Sandgren mentioned that there were so few to go around that they ended up sharing with Christopher Nolan and Hoyte van Hoyetma, who were shooting "Tenet" at the same time. A person can't help but wonder if Nolan knew that their shared cameras — which happen to be some of Hollywood's largest, heaviest, and most expensive — were being strapped to the back of a dirt bike. A dirt bike.
To his credit, and perhaps due to pure insanity, Sandgren takes it all in stride, very nonchalant about the idea of biking down the road, in the midst of a big Bond stunt, with an insanely expensive camera just strapped in for the ride. He made no mention of the way this little workaround surely added immense pressure to the shoot given that the cameras use expensive-to-process film, leaving the margin for error pretty damn small. 
But never mind all that! The important takeaway is that strapping some very heavy and wildly expensive equipment to the back of a dirt bike and even putting said equipment underwater (!!!) will pay off in epic fashion when "No Time To Die" hits theaters. In fact, the whole dirt bike experience was a crucial part of the team getting comfortable shooting IMAX scenes. Once you do something that dangerous, nothing can shake you! It allowed them to delve right into even bigger, more ambitious shoots, of which Sandgren said:
"Eventually towards the end of the production, we shot a big IMAX sequence as well. It was almost like the easiest thing. Everyone was just like, "Oh, let's just shoot IMAX." No one was worried anymore. It was super easy. Reloads were fast. Everything. When you learn something, you adapt, and you learn how to use it."
You can't actually see the dirt bikes in action, but you can see the epic scene they helped capture once "No Time To Die" hits theaters on October 8, 2021.