Trainspotting Sequel TV Series In The Works, Robert Carlyle To Return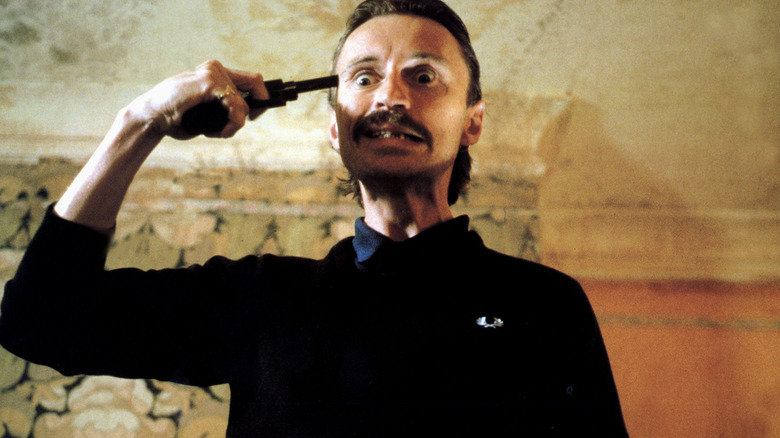 PolyGram Filmed Entertainment
Begbie's back, baby! That is to say, Robert Carlyle ("Stargate Universe") is reprising his role as Francis Begbie, the most rotten man in all of Scotland. 
Deadline reports that Carlyle will executive produce and star in a TV series based on the "Trainspotting" novel sequel, "The Blade Artist." The six-part series is being produced by Buccaneer Media. Carlyle and Welsh are executive producing alongside Buccaneer Media CEO duo Tony Wood and Richard Tulk-Hart. No streaming service or network is yet attached.
When asked about his involvement in the project, Welsh said:
"Begbie is Begbie and Robert is the long-term friend and collaborator who inspirationally brought the character to life with his incendiary portrayal. To say I'm excited at us reuniting creatively on this project is obviously something of an understatement."
For his part, Carlyle said that the prospect of working with Welsh and portraying Begbie once more is "an absolute gift."
From T2 to The Blade Artist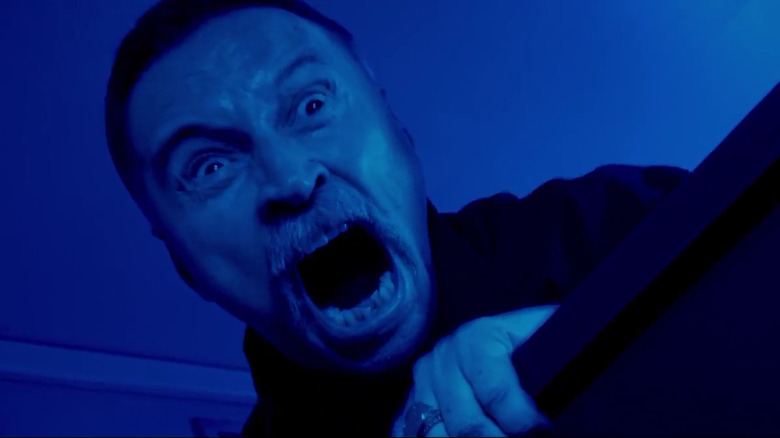 Sony Pictures
It's been more than 25 years since Carlyle first debuted as the heinous Francis Begbie in Danny Boyle's movie "Trainspotting." Begbie is a violent, angry man who doesn't pay attention to anyone or anything that doesn't benefit him. (His most famous scene in the first film shows him tossing a glass off a balcony and bloodying a girl's face.) He reprised the role in Boyle's 2017 sequel, "T2: Trainspotting," which once more pits him against Renton (Ewan McGregor), Spud (Ewen Bremner), and Sick Boy (Jonny Lee Miller). 
"T2" doesn't exactly follow Irvine Welsh's novel sequel to "Trainspotting," "Porno," and that's probably for the better. "Porno" is a fiercely funny novel, but some of it simply couldn't work as a follow-up to the film version of "Trainspotting." It does bring up some questions about how "The Blade Artist" will fit into the filmed adaptations so far, or if it will stand on it own as a unique adaptation. 
"The Blade Artist" was published in 2016 and follows Begbie under the assumed name of Jim Francis. He's living in California and has reformed himself, two decades after the events of "Trainspotting." But when his son is murdered and he returns to Scotland for the funeral, his past comes back to haunt him. Old habits die hard, and Begbie's violent tendencies are as old as he is. 
Here's the synopsis for the novel "The Blade Artist," to give you a better idea of what we're in for:
Jim Francis has finally found the perfect life – and is now unrecognisable, even to himself. A successful painter and sculptor, he lives quietly with his wife, Melanie, and their two young daughters, in an affluent beach town in California. Some say he's a fake and a con man, while others see him as a genuine visionary. But Francis has a very dark past, with another identity and a very different set of values.

When he crosses the Atlantic to his native Scotland, for the funeral of a murdered son he barely knew, his old Edinburgh community expects him to take bloody revenge. But as he confronts his previous life, all those friends and enemies – and, most alarmingly, his former self – Francis seems to have other ideas. When Melanie discovers something gruesome in California, which indicates that her husband's violent past might also be his psychotic present, things start to go very bad, very quickly.