Edwards Scissorhands House In Florida Has Been Turned Into A Museum For The Movie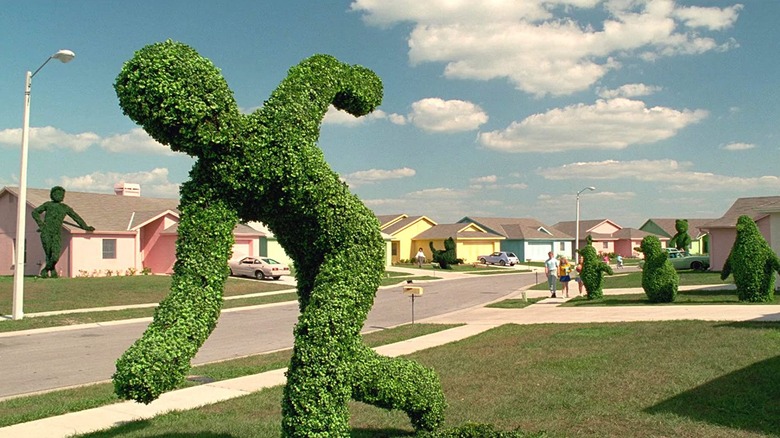 Twentieth Century Fox
There are a few movie locations that are genuinely worth some kind of pilgrimage. We're not the Michelin of movies, but if we were to come up with a list of places worth the visit, we could easily fill it with spots like the hotel from the "The Shining" or all of the castles they used for the "Harry Potter" movies or that random baseball diamond where they shot "Field of Dreams." No matter what genre you're into, you can craft a whole vacation around seeing the places where your favorite movies were filmed. And if your genre of choice is Tim Burton movies circa 1990, we've got some good. 
The periwinkle pastel home where a young Winona Ryder and heavy metal, but in a sad way, Johnny Depp find love in Burton's "Edward Scissorhands" has been transformed into a living museum of the movie, complete with wild topiaries and a recreation of the film's kitchen wallpaper. The current owners, Joey and Sharon Licalzi, bought the house in 2020 for $230,000 outside of Tampa, Florida, and have officially opened the delightfully named (and entirely free) Scissorland up to Scissorfans everywhere. 
Mall goths unite, we're going home.
Welcome to Scissorland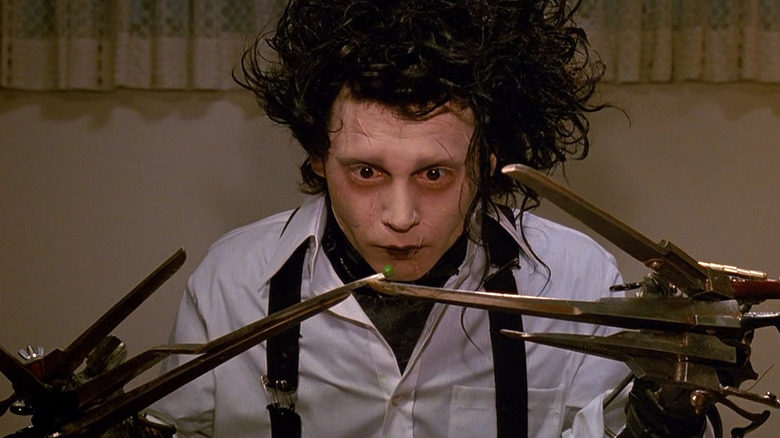 Twentieth Century Fox
Beyond the Scissorhands-inspired garden and kitchen wallpaper, the Licalzi's are actively collecting memorabilia from the film and have amassed a small army of collectibles, including an "Edward Scissorhands" t-shirt that was given as a gift to everyone in the neighborhood after filming wrapped. Once the weather cools down and they figure out all of the logistics, they even plan to have free screening parties for small groups of people in the backyard.
"People cry," said Licalzi in an interview with WFLA. "Well, I mean our FedEx guy cried in the garden. We've had a father and a daughter [shaking] in the kitchen. I'm telling you, it's really bizarre." 
Surprisingly, most of "Scissorhands" was shot on location in Tampa. From the multicolored neighborhood where Depp's character spends the majority of the film to the off-beat '50s looking locations like the mall where a neighbor tries to seduce Edward, you can plan a trip to Florida and visit it all. While most of the houses in the neighborhood are no longer painted in those wild pastels, the neighborhood still looks delightfully suburban and would still make for a damn good 'gram.
Interested in visiting the house and grabbing your picture in the garden? Just message the homeowners on Instagram to book an appointment and make a whole trip out of it.