The Tragedy Of Macbeth: Release Date, Cast, And More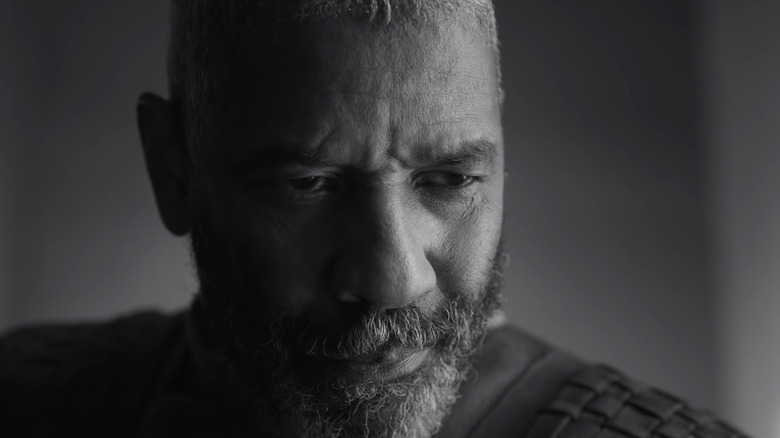 A24
(Welcome to ...And More, our no-frills, zero B.S. guide to when and where you can watch upcoming movies and shows, and everything else you could possibly stand to know.)
Brace yourselves for some whiplash, because we have a double-whammy of good news and bad news for you. The very obvious good news is that there's going to be a "Macbeth" adaptation from a Coen brother that's starring Denzel Washington and Frances McDormand as the two leads. Seriously, soak in and appreciate that sentence because that's utterly and completely wild! The bad news is that only Joel Coen will be directing this, as his brother Ethan seems content to focus his energies elsewhere for now. Much like Lana Wachowski forging ahead with "The Matrix Resurrections" without Lilly at her side, this can't help but feel a little bittersweet. Once we have this film in front of us, however, we're betting we'll get over that slight disappointment real quick. Without further ado, you have questions about "The Tragedy of Macbeth" and we have answers. Read on for everything you need to know about this latest high-profile Shakespeare adaptation.
The Tragedy of Macbeth Release Date and Where You Can Watch It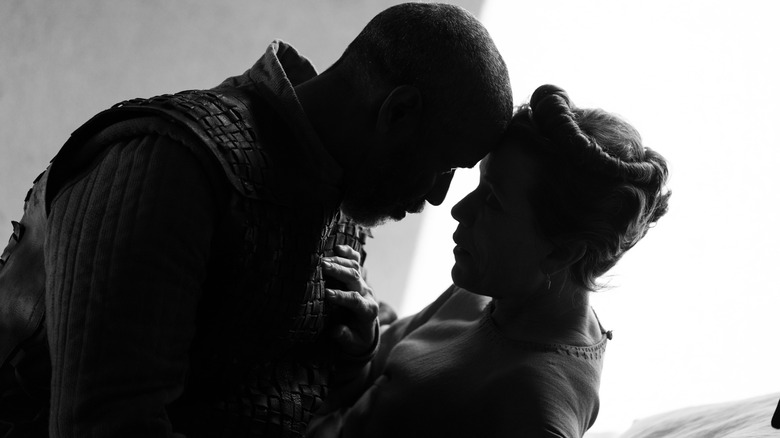 A24
What could possibly be more fitting than Macbeth and Christmas? "The Tragedy of Macbeth" is set for a limited release in theaters on December 25, 2021 before making its streaming debut on Apple TV+ on January 14, 2022. "The Tragedy of Macbeth" held its world premiere at the 2021 New York Film Festival on September 24, 2021 (you can read Hoai-Tran Bui's review here) and is scheduled to close out the London Film Festival on October 17, 2021.
What Is The Tragedy of Macbeth?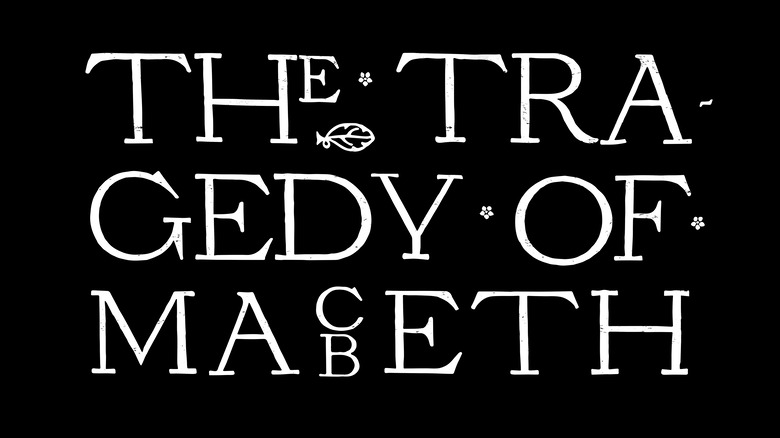 A24
Alright folks, gather 'round because we're about to go over some junior high English literature material again. "The Tragedy of Macbeth" is the latest film adaptation based on the classic play, originally written by some guy named William Shakespeare. The story revolves around the eponymous Macbeth and his unquenchable lust for power at all costs, further encouraged by his wife Lady Macbeth. Many adaptations have come and gone over the decades with varying degrees of success, but "The Tragedy of Macbeth" sets itself apart through its casting, the conscious decision to film the movie in black and white, and the focus on the crime thriller aspect of the story. Simply put, we're expecting big things from this film. No pressure or anything!
The Tragedy of Macbeth Director, Writer, and More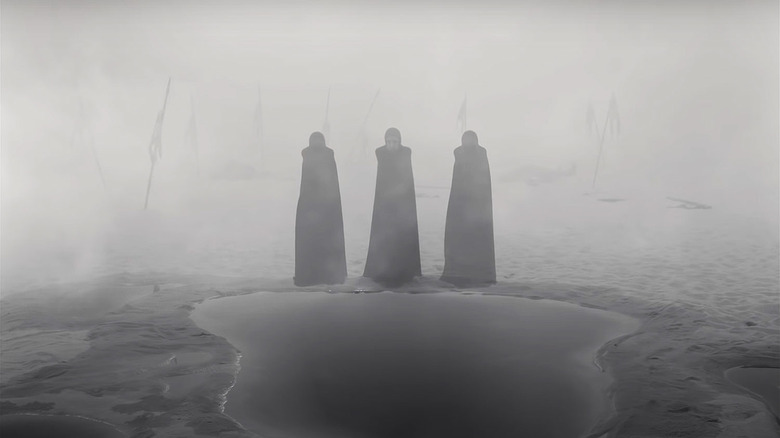 A24
As noted earlier, Joel Coen will be writing, directing, and producing "The Tragedy of Macbeth" solo without his brother Ethan for the very first time in both of their careers. Star Frances McDormand also produces, speaking to her level of involvement in crafting the character and performance of Lady Macbeth. Regular Coen collaborator Carter Burwell ("Fargo," "In Bruges," "Carol") will once again return to compose the music for "The Tragedy of Macbeth" and the cinematography will be handled by Bruno Delbonnel ("Amélie," "Inside Llewyn Davis," "The Ballad of Buster Scruggs"), who is also no stranger to the Coens.
The Tragedy of Macbeth Cast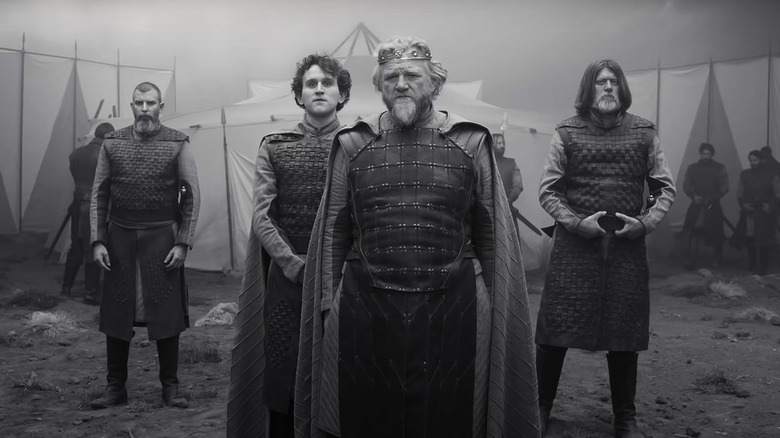 A24
Whenever directors cast their movies and it perfectly aligns with Film Twitter's tastes, it can either be a really good thing or really, really bad. This is an example of the former, thankfully, as I can't imagine anyone of sound mind who would be underwhelmed by the casting of Denzel Washington as Macbeth and Frances McDormand as Lady Macbeth. Remarking on the creative thinking that went into casting actors of their ages in these roles, McDormand previously explained:
"We're calling it The Tragedy of Macbeth, which I think is an important distinction. In Joel's adaptation, we are exploring the age of the characters and our adaptation the Macbeths are older. Both Denzel and I are older than what is often cast as the Macbeths. We're postmenopausal, we're past childbearing age. So that puts a pressure on their ambition to have the crown. I think the most important distinction is that it is their last chance for glory."
The rest of the cast includes Corey Hawkins as Macduff, Brendan Gleeson as King Duncan, Harry Melling as Malcolm, Bertie Carvel as Banquo, and Kathryn Hunter as the witches. Regarding Hunter portraying all three witches, Coen has stated that she "embodies all of the witches. The witches in this adaptation are birds. They are sort of battlefield scavenger birds. They morphed, in a way, from being natural birds to be the actress Kathryn Hunter. That was one of the most fascinating and I think interesting and fulfilling parts of the production for both Fran and I on how that was going to work in the movie. So the witches occupy a big space in this story as well." Yeah, we cannot wait for this movie.
The Tragedy of Macbeth Trailer and Synopsis
Denzel Washington and Frances McDormand star in Joel Coen's bold and fierce adaptation; a tale of murder, madness, ambition, and wrathful cunning.