The 14 Best '80s Halloween Movies To Watch This Spooky Season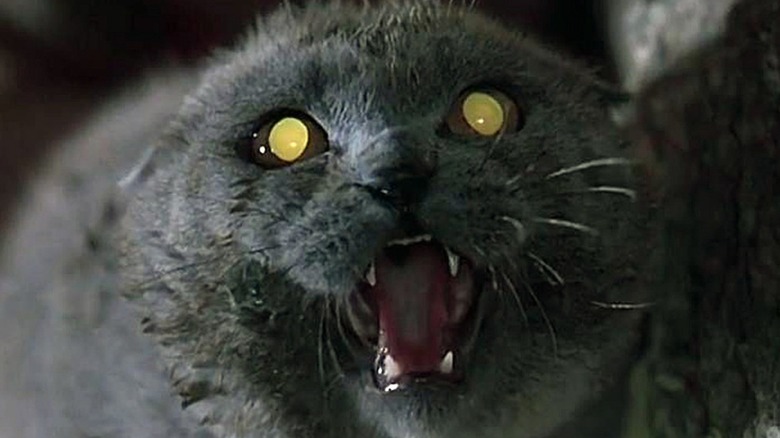 Paramount Pictures
The '80s is a decade that conjures up a great deal of nostalgia. For many of us who grew up in the era, Friday nights were often spent perusing the local video store for the latest VHS releases. And when Halloween rolled around, we'd head to the horror section to make our picks, seeking something a bit spookier to match the season. 
This year, as autumn kicks into high gear, you might find yourself in the mood to relive those simpler times by cueing up some classic '80s Halloween fare. Well, if you need some suggestions, look no further. We're here to make your life easier, folks. Grab some candy, light a pumpkin-spiced candle or two, dim the lights, and settle in for a spine-tingling good time, with your choice of the best '80s Halloween movies to watch for spooky season.
Halloween 2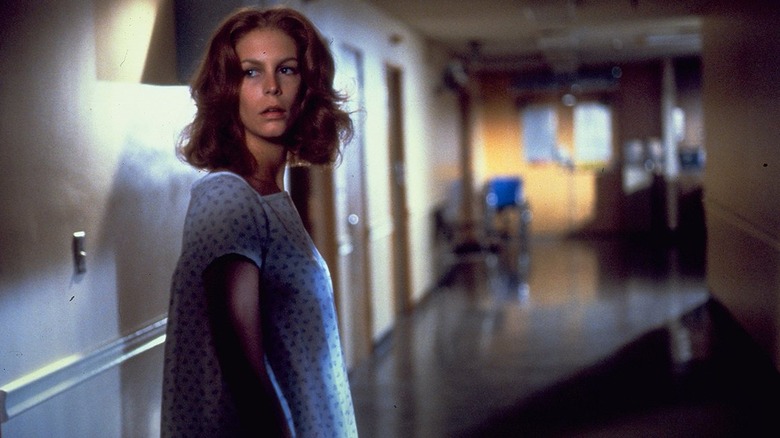 Universal Pictures
When it comes to quintessential Halloween movies, John Carpenter's "Halloween" is surely near the top. So too, then, are its '80s-made sequels. "Halloween 2" picks up right where the first film leaves off: on Halloween night, with Laurie Strode (Jamie Lee Curtis) being taken to Haddonfield Memorial Hospital while Dr. Sam Loomis (Donald Pleasance) continues his pursuit of Michael Myers (Dick Warlock) after shooting him the end of "Halloween." 
A large part of "Halloween 2" takes place in the hospital, and the movie features several memorable scenes of unfortunate medical staff being killed. It also introduces a new piece of lore to the series: Laurie is actually Michael's sister. While Carpenter and Debra Hill returned as producers, Carpenter handed the director's reins over to Rick Rosenthal, who, along with returning cinematographer Dean Cundey, manages to imbue the sequel with the same eerie atmosphere and terrifying suspense as its predecessor, making it an excellent choice for a spooky season watchlist.
Halloween III: Season of the Witch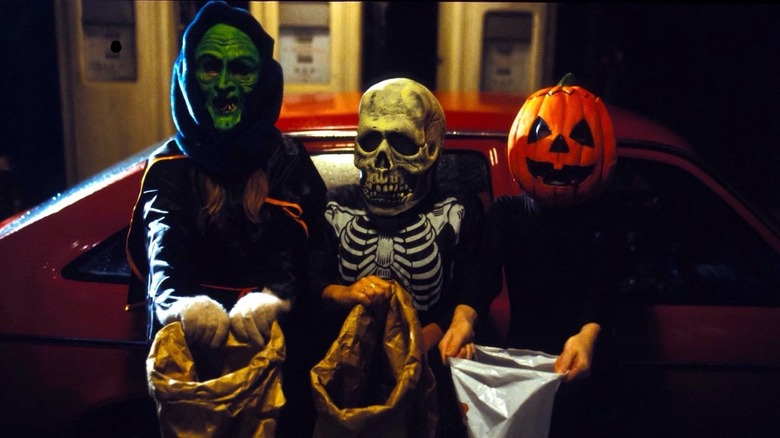 Universal Pictures
The next film in the "Halloween" franchise is something of an anomaly, as it's the only film in the series that does not feature Michael Myers. Instead, "Halloween III: Season of the Witch" operates as a standalone seasonal tale produced once again by John Carpenter and Debra Hill, who imagined that the franchise could operate as an anthology focusing on different stories set on Halloween night. 
Written and directed by Tommy Lee Wallace, "Halloween III" stars Tom Atkins as Dr. Daniel Challis, who becomes drawn into a mystery involving a toy company named Silver Shamrock Novelties, makers of children's Halloween masks. Daniel traces the masks to their central factory, where he discovers that the company's owner, Conal Cochran (Dan O'Herlihy) is actually a pagan warlock with a sinister plan that involves sacrificing children en masse on Halloween night using his murderous masks. 
Featuring robots, witches, spooky masks, snakes, bugs, innocent trick-or-treaters, a score by John Carpenter, and one of the most memorable jingles in horror history, "Halloween III: Season of the Witch" is a truly unique and terrifying take on the spooky holiday.
The Evil Dead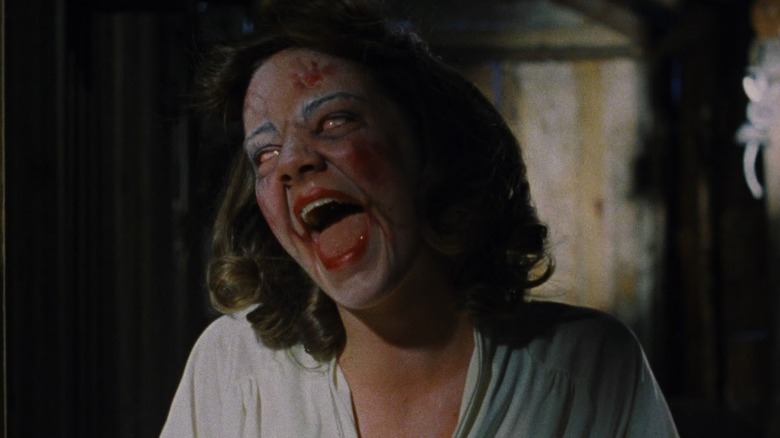 New Line Cinema
Sam Raimi's "The Evil Dead" may not be explicitly set on Halloween, but it takes place at a creepy cabin in an autumnal woods. That's close enough for us. Plus, the film features the Necronomicon, aka the Book of the Dead, first imagined by H.P. Lovecraft, which in this case is inadvertently used to summon demons who possess a group of unsuspecting friends on an ill-fated fall vacation. What could be more Halloween-y than that? 
Notable for its frenetic style and gonzo low-budget special effects and gore, "The Evil Dead" leads viewers on a descent into chaos as the group of friends, led by the heroic Ash (Bruce Campbell), fall victim to the demonic forces in the cabin as they try to survive the terrifying night. "The Evil Dead" was unleashed upon the world on October 15th, 1981, and was considered among the grisliest films of its era, leading to it being dubbed a "video nasty" in the UK. It's since gained cult status and spawned a wildly successful franchise, including the even more inventive, more gonzo, and more humorous sequel, "Evil Dead 2."
Poltergeist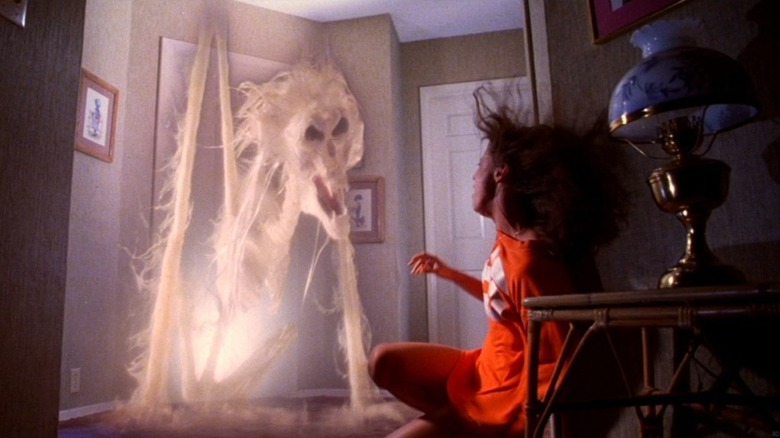 MGM/UA
"Poltergeist" does take place on and around Halloween, but that's only a small part of its spooky appeal. The classic Steven Spielberg-produced, Tobe Hooper-directed ghost story centers on the suburban Freeling family, whose lives gets turned upside down when they that discover their housing development is haunted. 
The youngest Freeling daughter, Carol Anne (Heather O'Rourke) is the first to make contact with the entities. After conversing with the television static, she eerily proclaims, "They're here." Other memorable moments include son Robbie (Oliver Robins) wrestling with an evil tree, an investigator peeling off his own face, and an iconic chair-stacking scene with Carol Anne and her mom, Diane (JoBeth Williams). When Carol-Anne is taken to another dimension by an entity known as "the Beast," a medium named Tangina (Zelda Rubinstein) sends Diane to rescue her. 
"Poltergeist" offers tangible scares made believable thanks to the relatable family at its heart. While there is some debate among film fans and historians as to how much directorial control Hooper actually had, the result remains one of the classic chillers and belongs in your Halloween rotation.
Ghostbusters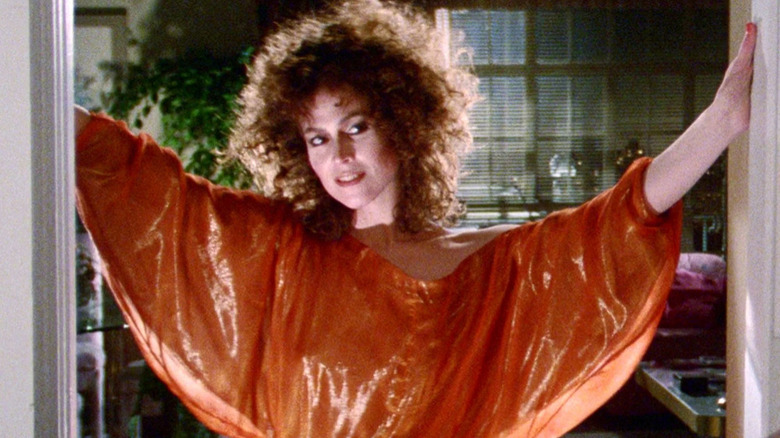 Columbia Pictures
"Ghostbusters" leans more into comedy than horror, but it has a ton of fun with its specter-centric storyline, making it a raucous, family-friendly choice that'll lighten up any spooky season. The classic movie launched a billion-dollar franchise, and made household names out of Slimer, Zuul, and the Stay Puft Marshmallow Man, with its tale about a group of paranormal investigators led by Peter Venkman (Bill Murray) who try to save New York City from a spectral outbreak.
Ivan Reitman directed the iconic film, which also stars Dan Aykroyd, Harold Ramis, Ernie Hudson, and Annie Potts. Sigourney Weaver also appears as Dana, the victim of a haunting who begins dating Venkman only to become possessed by a demi-god named Zuul, while Rick Moranis plays her nerdy neighbor, Louis Tully, another victim of the supernatural. And then, of course, there's the movie's classic theme song by Ray Parker Jr., who famously asks the important question, "Who you gonna call?"
Pet Sematary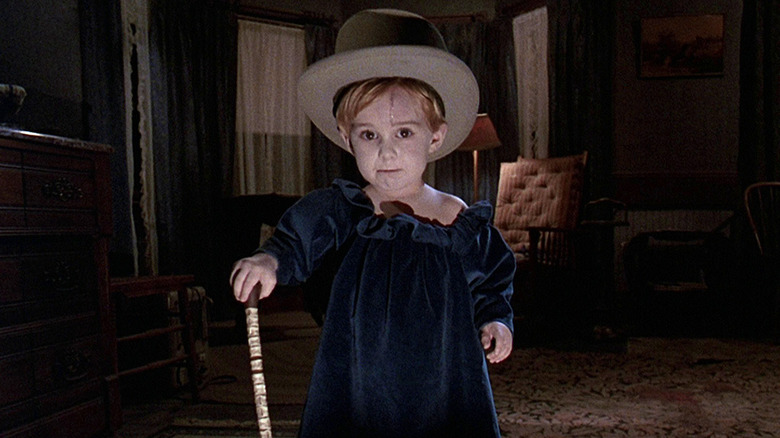 Paramount Pictures
"Pet Sematary," the Mary Lambert-directed adaptation of Stephen King's terrifying novel of the same name, is partially set around Halloween, and makes a perfect spooky season watch thanks to its dark themes and eerie ambience. The story is about the Creeds, who move to a small town in Maine where they soon discover that "sometimes, dead is better." 
After the family's beloved pet cat, Church, gets hit by a semi-truck, neighbor Jud Crandall (Fred Gwynne) tells dad Louis (Dale Midkiff) to bury him in a nearby Miꞌkmaq cemetery. When Church shows up "alive" (but decidedly creepier and less chill), it's only the beginning of the terror. Soon, the Creeds' youngest son, Gage (Miko Hughes), also gets run over. You can probably guess what happens next. 
In addition to its themes about death and letting go, "Pet Sematary" features many spooky elements, such as a talkative, brains-oozing ghost named Victor Pascow (Brad Greenquist), and Zelda (Andrew Hubatsek), the long suffering teenage sister of Rachel Creed (Denise Crosby) who had spinal meningitis and was kept hidden in the attic by her family.
Creepshow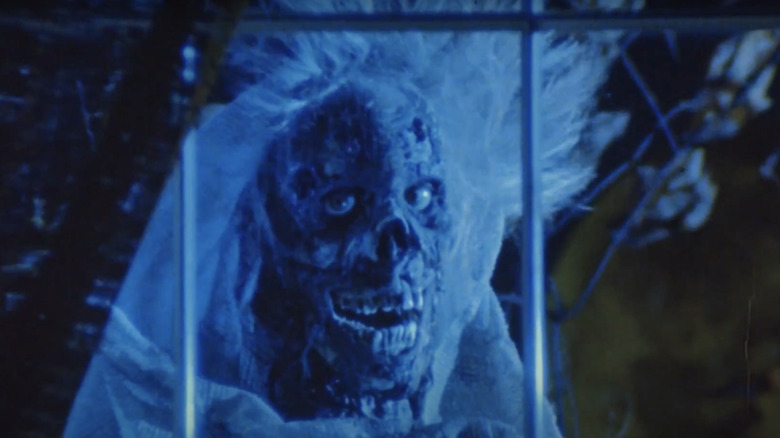 Warner Bros.
George A. Romero's "Creepshow" is a fun and spooky horror anthology featuring five individual tales of terror written by Stephen King, bookended by segments starring King's son, "Locke & Key" co-creator Joe Hill, as a boy named Billy whose father (Tom Atkins) admonishes him for reading a horror comic titled "Creepshow." 
Each segment, framed as a chapter from the comic, contains a unique story. "Father's Day" is about a dysfunctional family whose murdered father seeks revenge. "The Lonesome Death of Jordy Verrill" stars King himself as a backwoods loner whose encounter with a fallen meteorite leads to the growth of a strange plant. "Something to Tide You Over" follows a jealous, wealthy man (Leslie Nielsen) who drowns his wife and her lover (Ted Danson), and lives to regret it. "The Crate" is about an ancient crate discovered under a university staircase that contains a killer creature, and "They're Creeping Up on You" tells the tale of a germaphobe who is forced to confront his worst fears in the form of a growing swarm of cockroaches.
Fright Night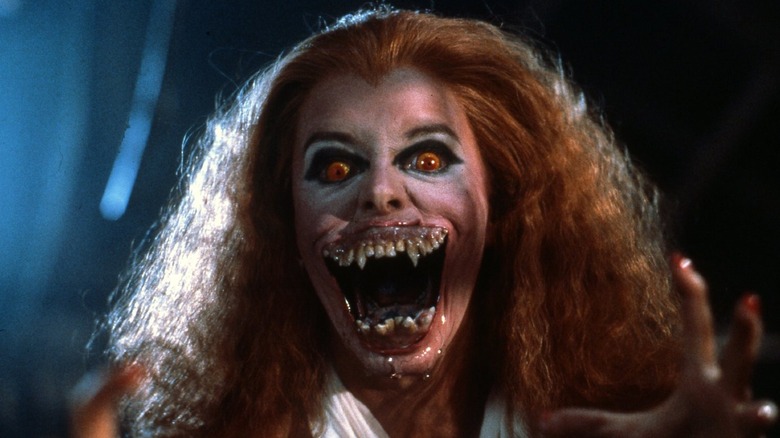 Columbia Pictures
"Fright Night" is Tom Holland's campy vampire-next-door romp that brings the spooky to a suburban teen, Charley Brewster (William Ragsdale), a horror fan whose favorite television program, "Fright Night," is hosted by Peter Vincent (Roddy McDowell), a former actor who played a vampire hunter on the silver screen. 
When a mysterious stranger named Jerry Dandridge (Chris Sarandon) moves in next door, Charley begins to suspect that he lives next to a vampire. Along with his girlfriend Amy (Amanda Bearse) and best friend Ed (Stephen Geoffreys), Charley enlists the reluctant Peter's help to take Jerry down. But Jerry has other plans involving Amy, who happens to look just like his long-lost lover. 
With a special effects team led by Richard Edlund ("Poltergeist," "Ghostbusters"), and memorable performances all around, "Fright Night" is a visual feast for horror fans and a frightfully delightful homage to classic horror films, with plenty of scares and fun.
The Monster Squad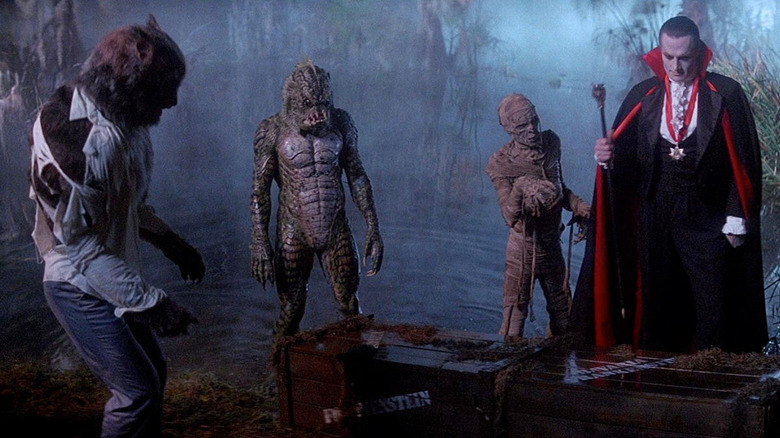 Tri-Star Pictures
Speaking of nods to classic horror, the tween-friendly "The Monster Squad" centers around a club of young monster fanatics led by Sean Crenshaw (Andre Gower) who come face-to-face with their spooky idols after stumbling upon the diary of Abraham Van Helsing. The kids soon learn that Count Dracula (Duncan Regher) and his cohorts, the Mummy, the Gill-man, and the Wolf Man, seek to plunge the world into darkness, and it's up to the fearless kids to save the day.
Directed by Fred Dekker, who co-wrote the script with Shane Black ("Lethal Weapon"), "The Monster Squad" is a fun Halloween movie that celebrates monsters (particularly those of the classic Universal variety), adventure, and the kid in all of us. No, it wasn't a hit when it was first released, but over time (and many VHS rentals) it has become a cult classic — which, for this sort of thing, really feels perfect.
Beetlejuice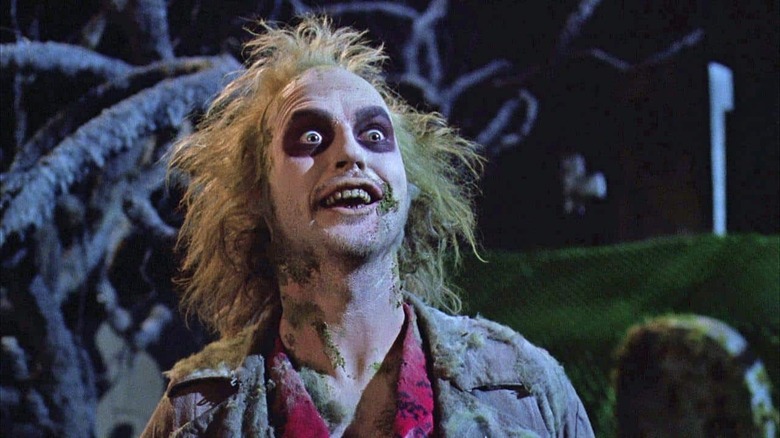 Warner Bros.
It's showtime! "Beetlejuice" features one of cinema's most mischievous ghosts in its titular character, Beetlejuice (Michael Keaton), the self-proclaimed "ghost with the most" who rises from the great beyond to help the newly-deceased Maitland couple (Geena Davis and Alec Baldwin) rid their home of its new, non-dead residents, the Deetz family. However, the troublemaking Beetlejuice becomes a nuisance when he decides he wants to marry the Deetz' morbidly-inclined daughter, Lydia (Winona Ryder), and kill off her parents (Catherine O'Hara and Jeffrey Jones) instead of merely scaring them away. 
Beetlejuice won an Academy Award for best makeup, while Keaton received a best actor award from the National Society of Film Critics for his zany, over-the-top performance. With a spooky score by Danny Elfman, inventively macabre production design, and memorable characters and creatures, "Beetlejuice" is a ghostly good time for the whole family.
An American Werewolf in London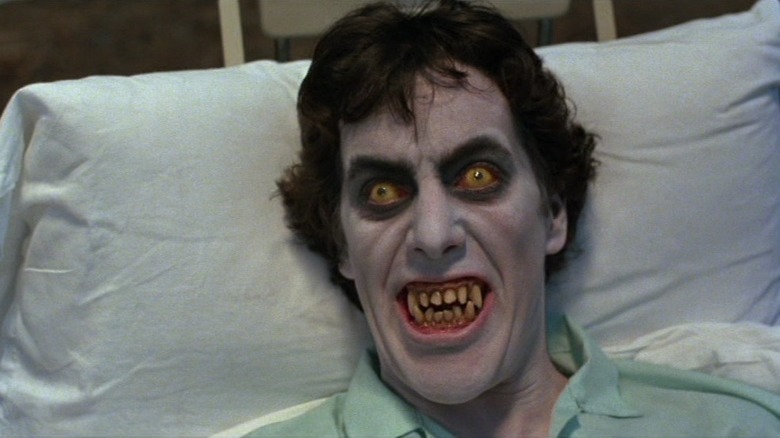 Universal Pictures
Eerie moors, full moons, and werewolves all evoke Halloween. If only the backpacking protagonists of John Landis' "An American Werewolf in London" had heeded the locals' warning to "stay off the moors" and "beware the moon" after leaving the Slaughtered Lamb pub! 
But instead, American city slickers David (David Naughton) and Jack (Griffin Dunne) find themselves attacked by a werewolf, leaving Jack dead and David injured. As David shacks up in London with a nurse, Alex (Jenny Aguttar), he begins to experience terrifying nightmares and extreme physical changes, and eventually must face the realization that he is becoming a monster himself. 
Rick Baker won one of his seven Academy Awards for best makeup for his work on "An American Werewolf in London," which features one of cinema's most intense werewolf transformation sequences, along with a humorously grisly decomposing Jack, who haunts David's dreams. Equal parts funny and scary, "An American Werewolf in London" is a Halloween classic for a reason.
The Changeling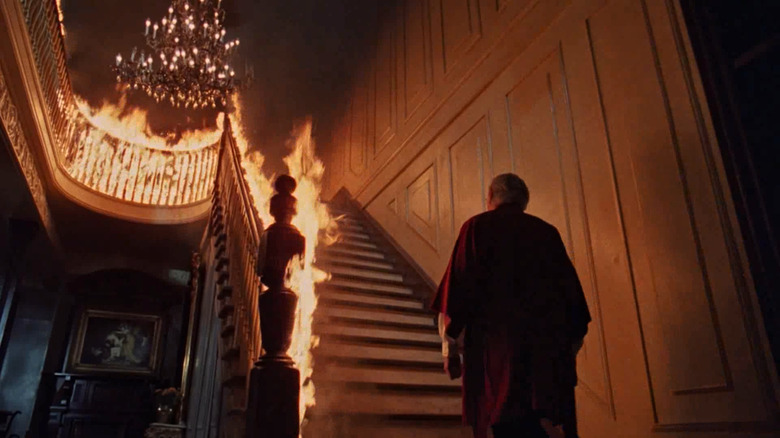 Pan Canadian Film Distributors
If you like spine-tingling ghost stories and big, spooky haunted houses, "The Changeling" is the perfect Halloween movie for you. Peter Medak's influential classic has been praised by the likes of Guillermo del Toro, who called it a "masterpiece," and Martin Scorsese, who considers it one of the scariest movies of all time. 
This slow-burn chiller features George C. Scott as John Russell, a composer whose family is killed in a car accident during a vacation, which leads him to move into a remote Victorian mansion. It's not long before Russell discovers that the house is haunted, which leads him on a twisty mystery to uncover the truth behind a decades old murder. 
Soundtrack, ambiance, suspense, and psychological torment go a long way here, in addition to Scott's solidly mournful performance. There's no question that "The Changeling" is a seminal ghost movie, and some have noticed its similarities to another classic of the genre, "The Ring."
The Lost Boys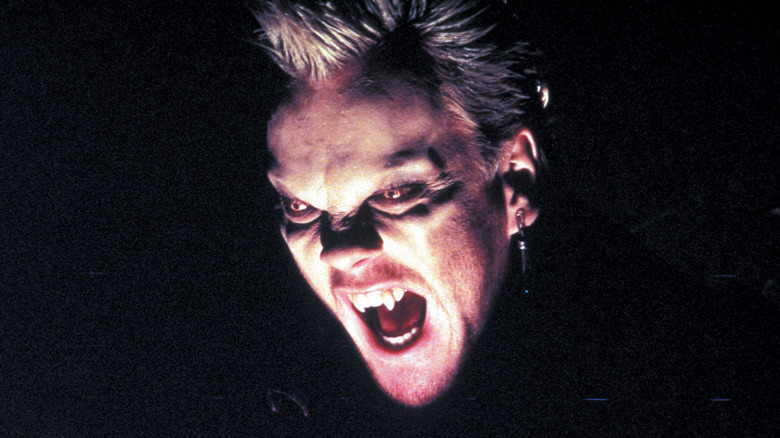 Warner Bros.
Joel Schumacher's "The Lost Boys" epitomizes '80s horror chic with a cool modern-Gothic aesthetic targeted at the teenage crowd. When the young Sam Emerson (Corey Haim) and his older brother Michael (Jason Patric) move to the coastal town of Santa Carla with their mother Lucy (Diane Wiest), they have no idea that the place happens to be overrun with leather-clad teenaged vampires. 
While Michael joins the cool kids' vampire crew, fronted by the enigmatic David (Kiefer Sutherland), young Sam conspires with the geeky, comic book-loving Frog brothers (Corey Feldman and Jamison Newlander) to kill the undead clan's leader (Edward Herrmann). A seaside amusement park, an underground lair, a cool soundtrack, a sexy sax man, and memorable lines like, "My own brother, a goddamn, s**t-sucking vampire — you wait till mom finds out, buddy!" round out the ghastly fun.
Something Wicked This Way Comes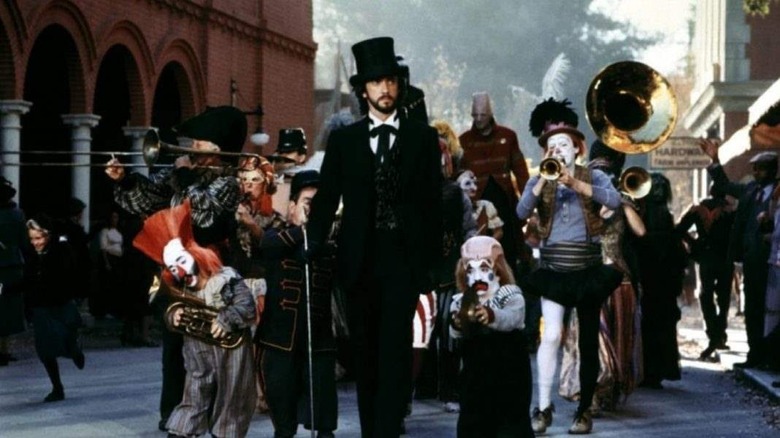 Buena Vista Distribution
If you're looking for something a little different to watch this Halloween season, the autumn-centric dark fantasy "Something Wicked This Way Comes" is another "family friendly" film that fits the bill. Fair warning, though: For a Disney film whose intended target audience is presumably children, "Something Wicked This Way Comes" is surprisingly dark. 
Adapted from Ray Bradbury's novel of the same name, "Something Wicked This Way Comes" centers on an ominous carnival led by the enigmatic Mr. Dark (Jonathan Pryce) that stops at a small midwestern town. When two 13-year-old friends, Will Halloway and Jim Nightshade, discover that Mr. Dark is granting wishes to the townsfolk at a terrible cost, the boys, along with Will's father Charles (Jason Robards), must try and stop the evil without succumbing to Mr. Dark's sinister charms. With a fitting fall setting, lots of spooky visuals, and a menacing performance by Pryce, "Something Wicked This Way Comes" is a unique Halloween treat.