The Mandalorian Star Ming-Na Wen And Missi Pyle Join Jukebox Musical Glitter & Doom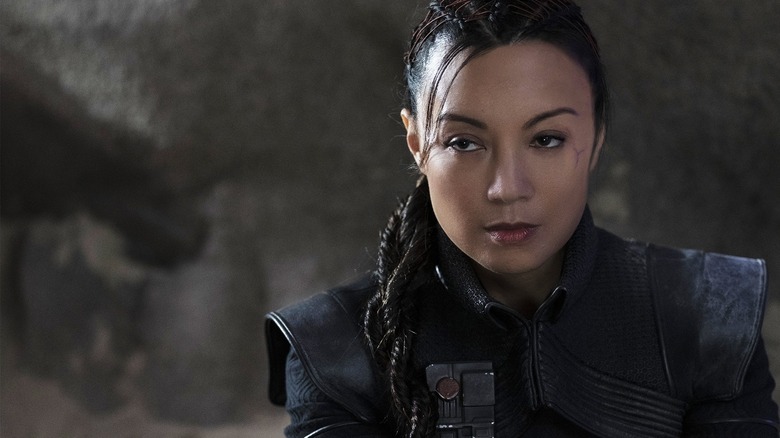 Disney+
Do you ever hear a movie news story and worry that you might be living in your own version of "The Truman Show" because it speaks to you so deeply? That was my feeling when I learned about "Glitter & Doom," a new jukebox movie musical highlighting the legacy of Indigo Girls. The premise alone is enough to get me to buy opening night tickets, but the newest casting announcement is inspiring me to camp out in front of my local theater to make sure I'm the first in line.
Ming-Na Wen, star of "The Mandalorian" and "The Joy Luck Club," has joined the cast, alongside character actor royal, Missi Pyle ("Galaxy Quest," "Josie and the Pussycats," "Y: The Last Man"). While many are already familiar with Ming-Na Wen's breathtaking voice as Fa Mulan, many may be surprised to know that Missi Pyle is also a gifted vocalist, singing as one part of the country duo Smith & Pyle with fellow actress Shawnee Smith ("Saw," "Becker").
What is Glitter and Doom About?
"Glitter & Doom" is being described as a fantastical summer romance set to the music of Indigo Girls. The film follows a musician who uses charisma as a means to hide his true feelings and a carefree guy planning to run away and join the circus as the two meet and fall in love at first sight. With a timer set for 29 days before their lives change forever, the duo must see if this love is truly one meant for a lifetime. The film is in production in Mexico City and will star newcomers Alex Diaz and Alan Cammish as the titular "Glitter & Doom."
Diaz and Cammish are joined by comedian and butch lesbian icon, Lea DeLaria ("Orange is the New Black," "Edge of Seventeen"), with cameo performances from fellow LGBTQIA+ legends, including Tig Notaro and Amy Ray and Emily Sailers of Indigo Girls. Ming-Na Wen is set to play the role of Ivy, and details regarding Pyle's character have yet to be released.
Who Are Indigo Girls?
For the uninitiated, Indigo Girls are one of the most influential queer music acts of all time. Before there was Tegan and Sara, there was Amy and Emily. With a career spanning over 35 years, Indigo Girls have recorded sixteen studio albums (seven gold, four platinum, one double platinum) and sold more than 15 million records. In the years since their heyday, the duo have become decorated activists, working on LGBTQIA+ advocacy, with Imagination Library for equitable education, El Refugio for immigration reform, death penalty reform, and rights for Indigenous American communities. The two also co-founded the nonprofit Honor the Earth, dedicated to the survival of sustainable Native communities, Indigenous environmental justice and green energy solutions.
Indigo Girls have been nominated for seven Grammy Awards, and won Best Contemporary Folk Recording in 1990 for their eponymous album. The duo was also nominated for Best New Artist the same year but lost to Milli Vanilli who eventually had the award revoked for lip-syncing. Both Ray and Sailers have long identified as lesbians and their influence on lesbian culture over the last 35 years is immeasurable.