Ozark Season 4: Everything We Know So Far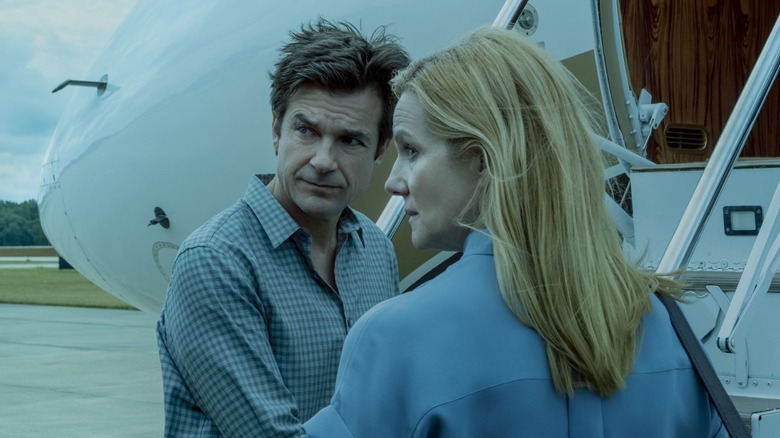 Netflix
Every season of "Ozark" finds a way to completely upend any and all possibility for the Byrdes to escape their current criminal standing. In fact, sometimes all it takes is a single episode for the Byrdes to find themselves scrambling for survival, and as the series enters its final chapter, this is sure to remain true. The third season of "Ozark" ended with Wendy (Laura Linney) and Marty (Jason Bateman) literally covered in blood and deeper into the lion's den than they ever envisioned. The show has only 14 episodes left and somehow, their story must come to a close. Here's hoping there's a lot less blood involved, but honestly, the odds aren't looking great for our favorite family of criminals.
When and Where to Watch Ozark Season 4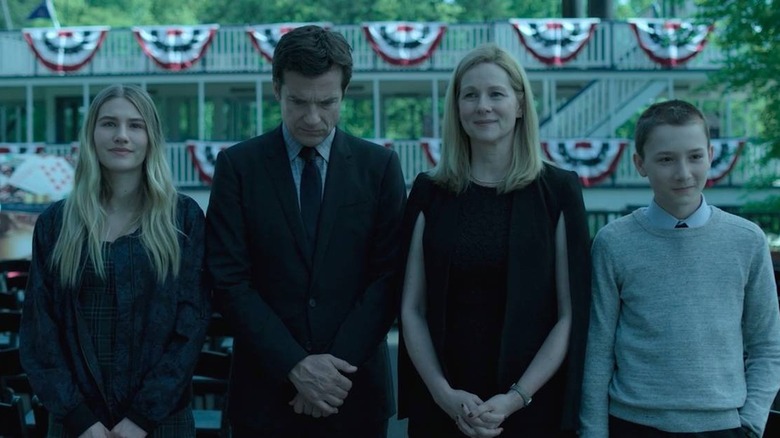 Netflix
"Ozark" Season 4 premieres exclusively on Netflix, but arrives in two separate parts. The "super-sized" fourth season consists of 14 episodes, rather than the show's usual 10. Both parts are set to premiere in 2022, but their official release dates have yet to be announced. Filming for the fourth and final season is scheduled to conclude on October 8, 2021.
What We Think Ozark Season 4 Will be About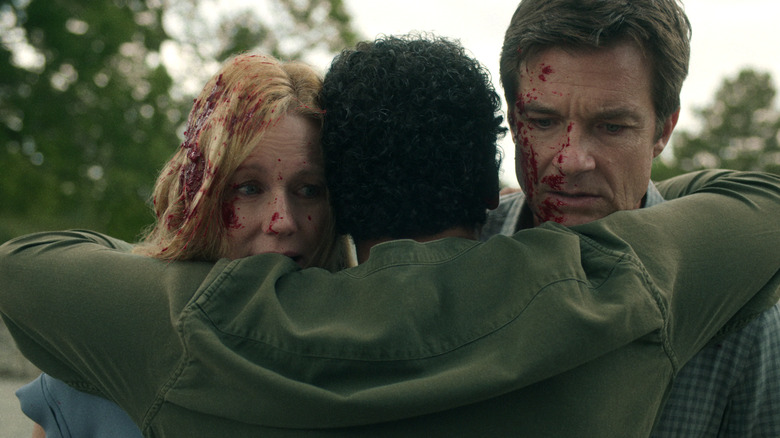 Netflix
"Ozark" has a lot of work to do in its final hours. On top of dealing with all of the lingering consequences of the Byrde's battles thus far, there are the emerging threats they face from the likes of Omar Navarro (Felix Solis), Darlene Snell (Lisa Emery), Maya Miller (Jessica Frances Dukes) and Frank Cosgrove Sr. (John Bedford Lloyd). Not to mention the matter of raising their children — seriously, I hope you didn't forget about Jonah and Charlotte. Marty and Wendy forget about them all the time, and that's sure to bite them in the butt as things draw to a close. This last season is tasked with working through the trouble they're already in and finding a suitable end to their story. 
Season 3 saw Navarro choose the Byrdes over his cartel lawyer, Helen Pierce (Janet McTeer), deciding that her services could easily be provided by anyone else while Marty and Wendy were offering something grander. They spent the season proving that they could launder money as no one else could, plus they promised to have flipped an FBI agent to his side. So they ended the season shaken and covered in Helen's blood, forced to accept this new, closer relationship with all the life-threatening risks it entailed.
Meanwhile, back in the Ozarks, the consequences of their actions were being confronted by the rest of the cast. Ruth (Julia Garner) has chosen to align herself with Darlene Snell, having discovered the truth of Ben's death and Wendy's involvement. Come season 4, the Byrdes and the Navarro cartel will have a fierce opponent in the Snells heroin empire. Of course, Darlene has plenty else to deal with — she has a very complicated relationship with hothead mob boss Frank Cosgrove Sr. after shooting his son in the groin. (That very bad news for Frank was a big deciding factor in Ruth's decision to defect to Darlene.) Whether or not they'll do business with Frank or remain enemies has yet to be decided. Best case scenario for the Byrdes: their enemies destroy each other. But when have they ever been that lucky?
Back home, Jonah just discovered the truth behind his uncle's death after threatening to murder Helen Pierce, who he believed was to blame. This alters his already complex relationship to his parents — and this is info he could very easily share with his sister, Charlotte. The fourth season will likely spend time dealing with where the Byrde's go from here, and how their children factor into it all. The illusion of keeping them innocent was shattered way back in season 1, but even then there seemed to be some hope of keeping them at a distance. But with Charlotte apprenticing with her mother and Jonah now privy to his mother's darkest truth, finding time for parenting might be absolutely crucial.
What We Know About The Cast of Ozark Season 4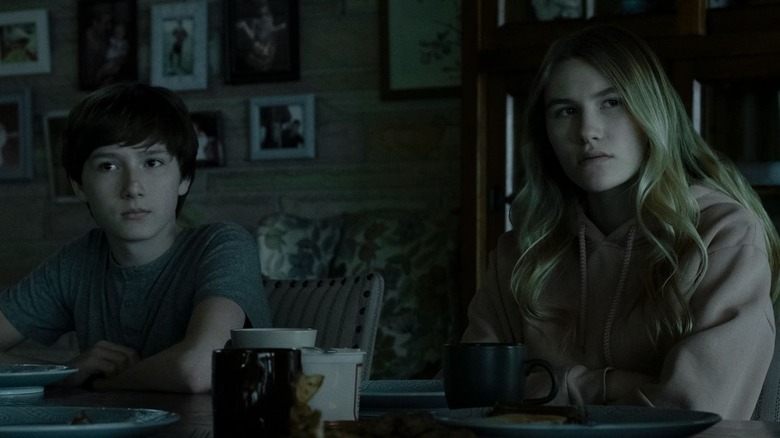 Netflix
The fourth season sees the return of the core cast, including Jason Bateman as Marty Byrde, Laura Linney as Wendy Byrde, Sofia Hublitz as Charlotte Byrde, Skylar Gaertner as Jonah Byrde, Julia Garner as Ruth Langmore, and Lisa Emery as Darlene Snell. Expect new faces in Veronica Falcón, Ali Stroker and Bruce Davison.
How Will Ozark End?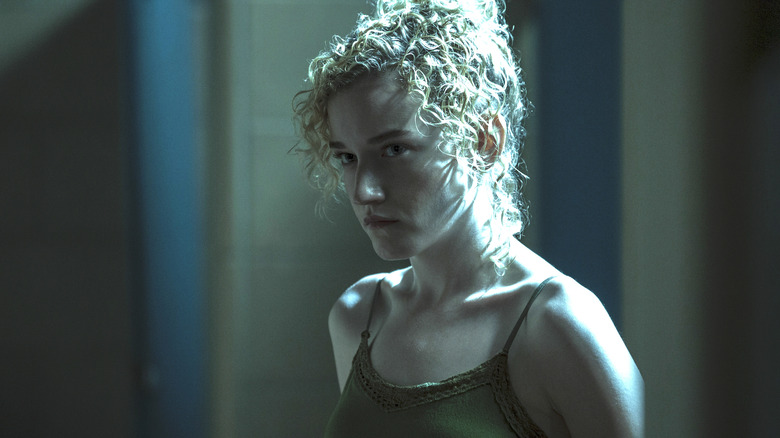 Netflix
The Byrdes have some big decisions ahead of them. They spent the earlier seasons working for the cartel, whilst keeping one foot out — with hopes of eventually escaping and settling down where they could never be found. But now that they've seen what Navarro does to even those who do satisfy him, running away might be the best option. It's hard to imagine going somewhere he won't find them, but maybe the help of FBI Agent Maya Miller is what they need. Beyond the Byrdes, Ruth has a chance to build something of her own, separate from them, and hopefully escape from the lethal cartel business they brought into her life. 
So how will everything shake out? Having already read the ending of the series, Jason Bateman spoke to Indiewire last year and said:
"I do know where everything is going to end. I was interested in the big question he has the opportunity to answer: Are they going to get away with it, or are they going to pay a bill? What does he want to message to the audience about the consequences of what the Byrdes have done – or lack thereof? We had some great conversations about that... specifically, what kind of happens at the end of the last episode: I know, and it's great."