Yes, Of Course There Are Squid Game Halloween Costumes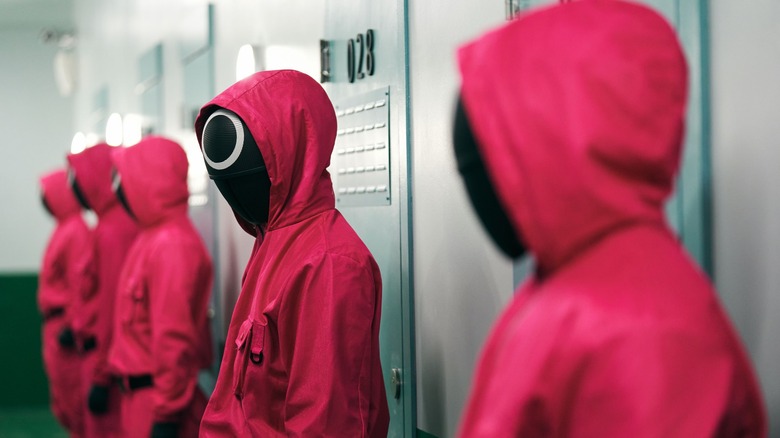 Netflix
We may receive a commission on purchases made from links.
There's a crisp edge to the air, the leaves are falling, and you're steadily increasing the amount of pumpkin-flavored items you consume in a day, almost as if building up a strange immunity to some sort of gourd-based poison ... It's autumn, baby! 
The signs of fall are all around us, including a sudden increase in buck wild Halloween costume production. Thankfully, it's not 2004 and you don't have to rely on a half-abandoned Spirit Halloween store that's popped up in the old Payless location of your local mall to pick up a truly excellent costume — we have the internet for that now! And this holiday season, the internet has absolutely delivered. 
If you fell into a short-lived coma recently, you may have missed that "Squid Game," a South Korean survival-horror series directed by Hwang Dong-hyuk, has blown the hell up in popularity. According to the powers that be at Netflix, the nine-episode series is on its way to becoming the most-watched Netflix show ever, and with Halloween just around the corner, costume companies are not sleeping on this overnight sensation. It doesn't hurt that the show's visual hallmarks are both immediately recognizable and pretty basic at the same time, making for a costume that is perfectly of the moment and also incredibly easy to produce or even DIY at home.
DIY or Die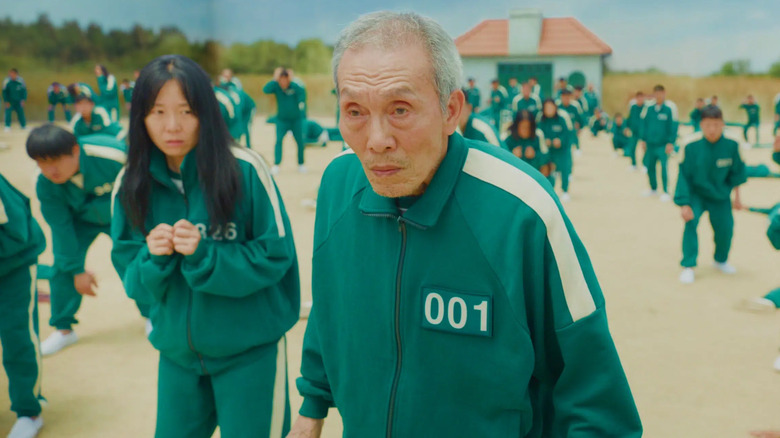 Netflix
When it comes to the costumes of "Squid Game," none are more recognizable (or more comfortable), than the striped green tracksuits worn by the players. The sweats from the Amazon store will run you between $30 and $80. I have no idea why some of them are cheaper than others, but that kind of chaos feels in line with the source material, so we're going for it. If you're willing to go a little DIY, I'd go with these bad boys (which are $26) and in some white fabric iron-on numbers. You could even get a little gritty with it and just use some white duct tape. There's also this sexy ladies version ($30-$40), which I'm seriously considering purchasing. Pair it with some platform sneakers and you're in business. 
I like to think that if you showed up at a Halloween party dressed up as a sexy "Squid Game" contestant, you would immediately garner both fear and respect. You'd win the party.
If dressing up as a player isn't your speed, you can also grab one of those sweet (and mysterious) red guard costumes. This seller has one with a sad-looking face mask for $27 to $54, but you could also grab this much better-looking mask for $19 and then hit up your local thrift store for a bright pink windbreaker. 
You know they'll have one in stock, it's always there.
The Most Horrifying Squid Game Costume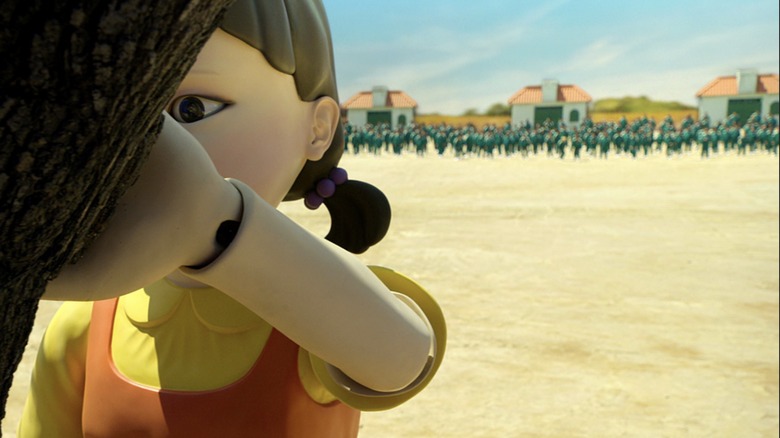 Netflix
Variety is even taking the DIY "Squid Game" costumes to the next level with their red light, green light costume suggestion. We highly recommend memorizing the horrifying song this animatronic statue sings in the show, so you can truly terrorize your friends and family. I mean, is it really a Halloween costume if it doesn't haunt at least one person's nightmares?
No matter which "Squid Game" costume you decide to go with, this is gearing up to be your most comfortable Halloween ever. Embrace it, because next year we'll be punished with some sort of elaborate costume du jour that requires multiple wig changes and impossible-to-walk-in shoes. Mark my words.