Superhero Bits: The Batman And Echo Rumors Swirl, James Gunn Trolls Guardians Of The Galaxy Fans & More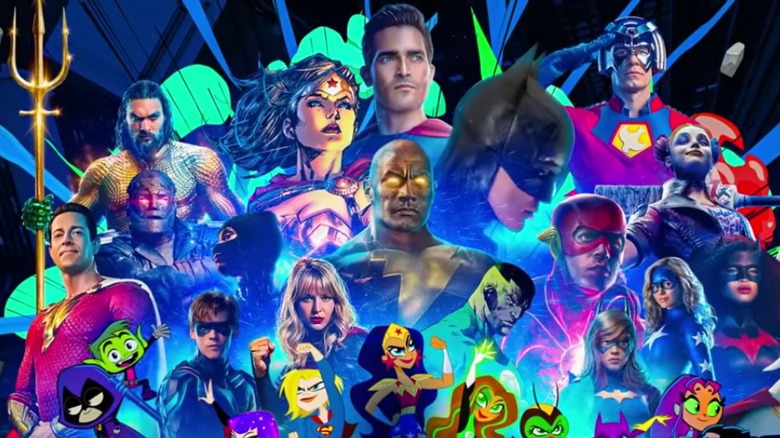 DC
(Superhero Bits is a collection of stories, updates, and videos about anything and everything inspired by the comics of Marvel, DC, and more. For comic book movies, TV shows, merchandise, events, and whatever catches our eye, this is the place to find anything that falls through the cracks.)
In this edition of Superhero Bits:
The "Daredevil" cast may be making a comeback
"The Batman" sequel may already have gotten the green light
We'll be seeing more of Joel McHale on "Stargirl"
Joel McHale is Now a Series Regular on Stargirl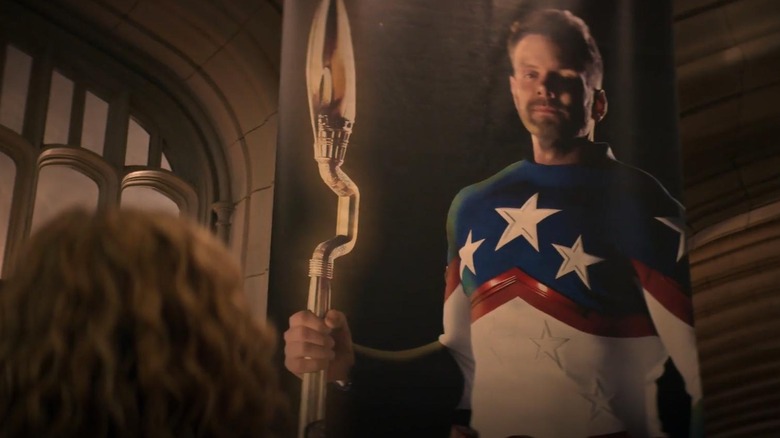 Warner Bros.
Good news for both "Stargirl" fans and those who enjoy Joel McHale. As reported by TVLine, the "Community" actor has officially been bumped up to series regular for season 3 of the DC show, which airs on The CW. McHale has appeared in several episodes, including the premiere, as Sylvester Pemberton/ Starman. But it appears we are in for more Starman in the future.
Harley Quinn vs. Harley Quinn
The HBO Max YouTube channel has released a video pitting both Margot Robbie's Harley Quinn from "The Suicide Squad" and "Birds of Prey" and Kaley Cuoco's Harley Quinn from the "Harley Quinn" animated show against one another. Sort of. It's more of a fluffy comparison of the two versions. But it might be a fun time killer for hardcore fans of one Harleen Quinzel.
Thor's Hammer Has Gone Missing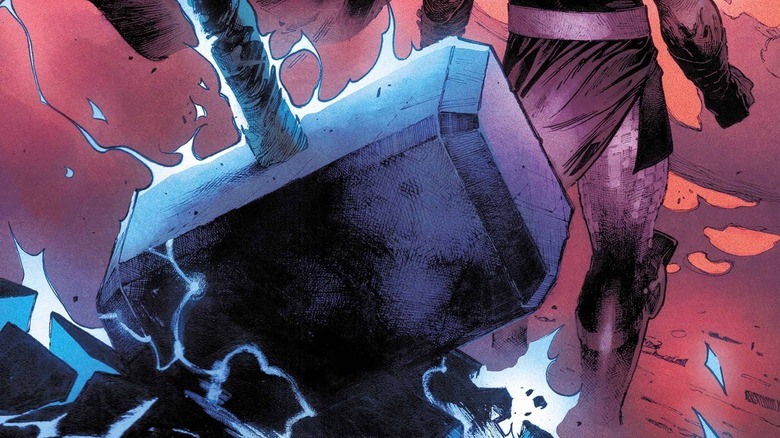 Marvel
Warning: spoilers will follow for "Thor" #17. Those who are reading the series or intend to should avert their eyes. Everyone else, know that the God of Thunder's trusty hammer Mjolnir is missing! As reported by ComicBook.com, in the issue's final moments, The Avengers discover that Thor's hammer has been stolen from their headquarters. Who hath stolen the mighty weapon? And who is worthy of such a task? That is the big question, and it will presumably be answered in "Thor" #18, which hits stands on October 20.
Doctor Strange In the Multiverse of Madness Crew Hat
While we wait for some real information regarding "Doctor Strange in the Multiverse of Madness," have a look at this crew hat that has been making the rounds online. Fans will surely notice the influence Scarlet Witch is having on the design, and Elizabeth Olsen is indeed reprising her role from "WandaVision" in the upcoming MCU sequel. Feel free to speculate amongst yourselves as to what this could mean.
Will Marvel's Echo Be Akin to Daredevil Season 4?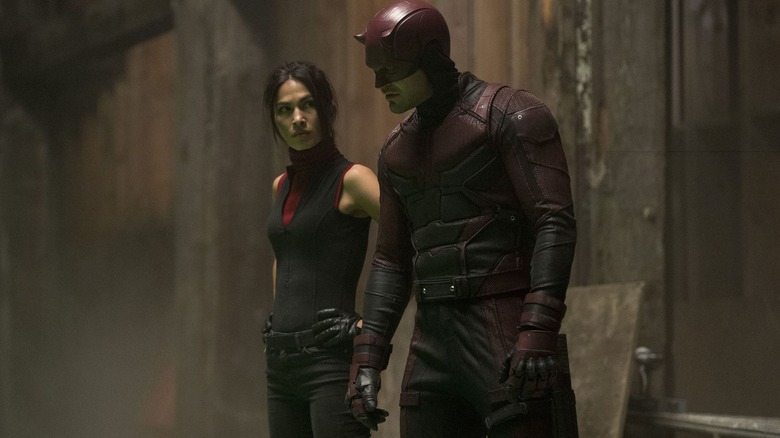 Netflix
It's rumor time! Several sources, such as MCU News & Leaks, have suggested that the cast of Netflix's "Daredevil" will return in Marvel's "Echo" series, a spin-off of the upcoming "Hawkeye" Disney+ show. Daniel Richtman, referenced in this tweet, reportedly even went so far as to liken this to the "Daredevil" season 4 we never got. Do these rumors have any truth to them? Hard to say, though it is worth noting that Richtman's track record is quite good. Just don't get your hopes up quite yet. If Charlie Cox shows up in "Spider-Man: No Way Home," then we might have reason to celebrate.
James Gunn's Expert-Level Guardians of the Galaxy Easter Egg Troll
I just posted the big Guardians Easter egg on Facebook for everyone to see.

— James Gunn (@JamesGunn) October 4, 2021
As many of you may have noticed, Facebook, Instagram, and seemingly much of the internet, has been down. James Gunn decided to take the opportunity to make one heck of a joke about it on Twitter, which seems to still be working. Gunn jokingly posted that the final, undiscovered Easter egg in 2014's "Guardians of the Galaxy" was posted to his Facebook page. But the outage was still happening. Get it? Well played, sir.
Lexus and Marvel Team Up for an Eternals Commercial
Marvel's "Eternals" hits theaters next month. That means we're about to see the marketing campaign rev up in a big way. Pun intended! To that end, we have a brand new Lexus commercial starring none other than Kumail Nanjianai, who plays Kingo in the movie. It doesn't offer much new footage or anything like that, but it's a sign that the movie is soon to be upon us. Check out the full spot above.
The Batman Sequel Already Given the Green Light?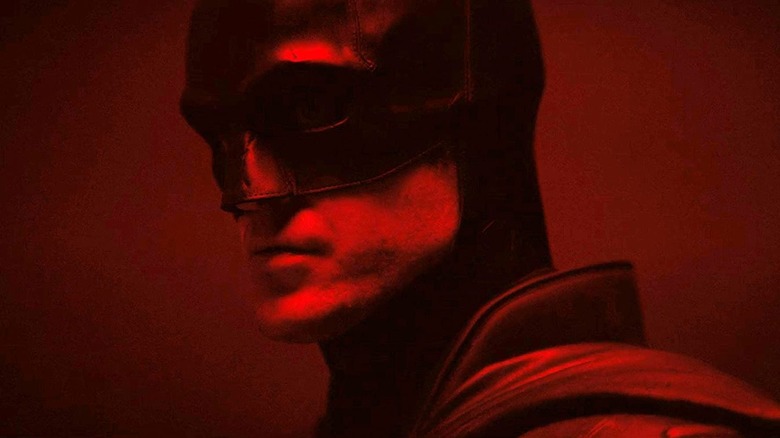 Warner Bros.
Back to the rumor mill we go! Director Matt Reeves' "The Batman" is set to hit theaters in March. Warner Bros. and Reeves hope it will be the start of a new trilogy for Robert Pattinson's take on the Caped Crusader. Well, according to both Daniel Richtman and Batman on Film, the sequel has already been given the green light. For the time being, this should still be regarded as a rumor. These are two sources with pretty decent track records, but take this with a grain of salt for now.
DC FanDome Teaser Promises Lots of Famous Faces
Lastly, DC FanDome is nearly upon us. The second installment of DC's massive online convention will, presumably, be even bigger than last year's inaugural edition. A new tease is filled with famous faces who will be participating, so we can expect to see lots of footage and news regarding movies like "The Flash," "Black Adam," "The Batman," and more DC Comics projects. Be sure to check out the teaser above, and tune in for our coverage of DC FanDome on October 16.