The 13 Best Comedy Shows On Amazon Prime Right Now
Amazon Studios
Although Amazon was a few steps behind Netflix when it came to launching its own streaming service, Amazon Prime Video has established a foothold in the streaming world and remains competitive in debates over which services to keep, and which to jettison. This is due, in large part, to the impressive catalog of television comedies that Amazon has built over the past few years. Some of these titles are network and cable favorites that have found a second home on Amazon, while others are Amazon Prime originals, conceived and birthed as part of Bezos' master plan to develop vertical integration while racking up Emmy awards.
But it doesn't matter if you're turning to Amazon to watch a beloved classic or a hidden gem that's been all but forgotten by everyone but a small, yet devoted, fanbase. If you're looking for your new binge-watch obsession, it stands to reason that they you might find it here. At the very least, you'll certainly laugh a lot while searching.
Catastrophe
Channel 4
Some of the best comedies these days rely on a collaboration between American talent and their neighbors across the pond ("Ted Lasso", anyone?). With that in mind, "Catastrophe" is a cross-Atlantic partnership in pretty much every way possible. It stars Irish actress Sharon Horgan and American comedian Rob Delaney, both of whom created and wrote "Catastrophe" together. They play a pair of casual lovers who, after a brief fling, discover that Sharon is pregnant and that they're about to be parents.
Despite their relationship being barely a relationship, Rob moves to London so that they, almost complete strangers, can have a proper go of it. Their unconventional love story is the heart of "Catastrophe," but the show also features inspired supporting performances from actors such as the late great Carrie Fisher, who played Rob's mother in what would be her final television role.
The Inbetweeners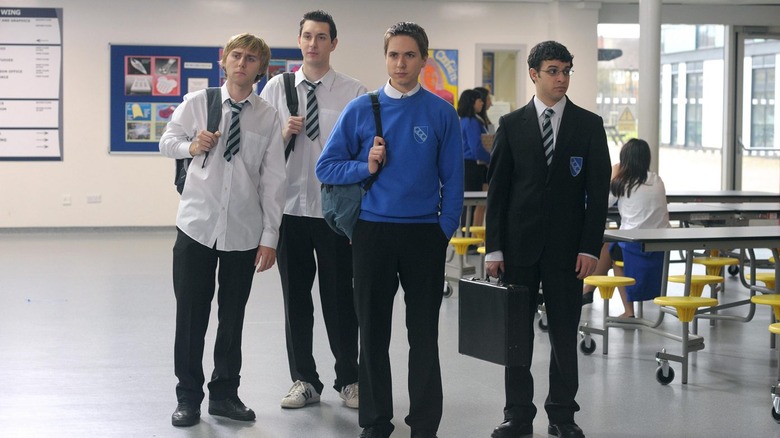 Channel Four Television Corporation
If "Skins" is the reality-show version of high school, "The Inbetweeners" much more closely resembles actual reality. A coming-of-age dramedy originally broadcast on E4, "The Inbetweeners" revolves around the lives of four teenage boys who attend a local comprehensive school and deal with the typical struggles of friendship, sex, divorce, sex, and also more sex (the boys are pretty much obsessed with sex, is the point we're trying to make). 
You might assume that a show about the mundane lives of a bunch of kids in suburbia might not be inherently cinematic, but "The Inbetweeners" manages to capture the intensely relatable, almost universal, feeling of being a teenager and having nowhere to go and nothing to do but hang out with your friends. It ran for three seasons on British television and was popular enough to spawn two movies, both of which were very successful, and an American remake, which was very unsuccessful.
Scrubs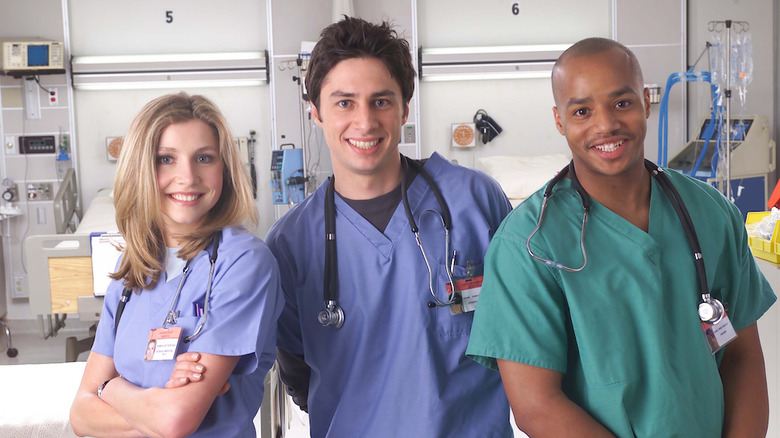 Disney–ABC Domestic Television
Where "ER" thrives on the melodrama of life in the medical profession, "Scrubs" focuses instead on the personal connections forged between the doctors, residents, and staff at a teaching hospital. Central to the show's success is the relationship between JD (Zach Braff) and Turk (Donald Faison), who begin the show as medical interns and long-time best friends. Their bond is incredibly close. Would some people call it codependent? Maybe. But without the two of them bouncing off one another, there's no way "Scrubs" would have been anywhere near as popular as it was. 
"Scrubs" ran for seven seasons on NBC before being cancelled and promptly picked up by ABC, its home for its last two seasons — arguably past its prime. But despite the listlessness of its last few years, "Scrubs" is well worth a re-watch, if only for the pitch-perfect interplay between its large ensemble of comedic actors.
Bottom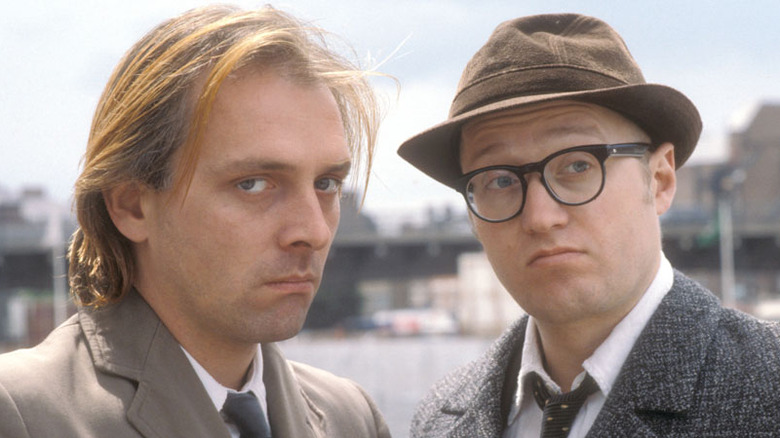 BBC2
If you're watching "Bottom" on Amazon, congratulations: You have sterling taste. Released in the early '90s, "Bottom" is a collaborative effort between British comedians Rik Mayall and Adrian Edmondson, who had been working together as a double act since their university days in the late '70s, and who starred together in the subversive '80s classic "The Young Ones," a show that defined counterculture TV programming for a generation. 
On "Bottom," Mayall and Edmondson play a pair of aimless, almost grotesque roommates whose complete refusal to participate in anything approaching polite society verges on nihilistic. Although "Bottom" never reaches the creative heights of "The Young Ones" (to be fair, how many shows did?), it is nonetheless an engaging and darkly hilarious television series, one that is frequently regarded amongst the greatest British sitcoms of the 20th century.
Mr. Bean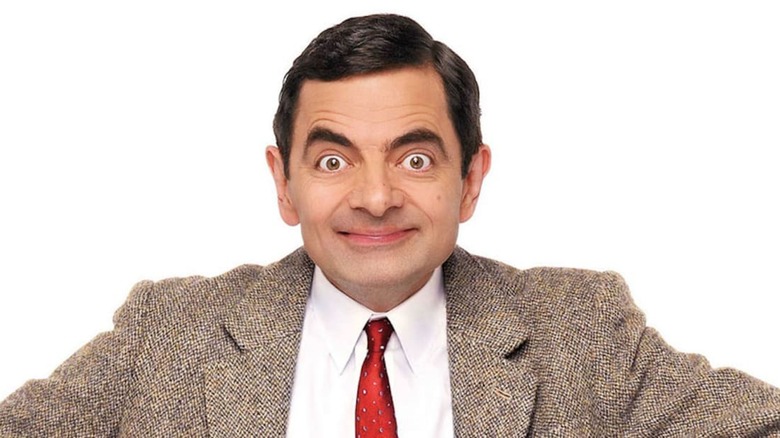 Tiger Aspect Productions
"Mr. Bean" is not just a popular television show. In Britain, it's a full-on institution. Even if you've never seen a full episode, when you see an image of Rowan Atkinson in his silly little suit, you immediately know which character you're looking at. Mr. Bean seems partly inspired by the childlike antics of Pee-wee Herman and Peter Sellers, while also channeling the physical comedy of silent film comedians like Charlie Chaplin and Buster Keaton. His entire approach to the world is buffoonish but charmingly innocent — he leaves chaos in his wake at every turn, but he clearly means well. 
Although "Mr. Bean" aired for only fifteen episodes in 1990, the character lived on well beyond this program. Atkinson originally conceived of Mr. Bean in the early '80s, and the popularity of the character spawned both an animated series and two feature-length films. So, if you enjoy "Mr. Bean," there's plenty more to watch when you're done.
Psych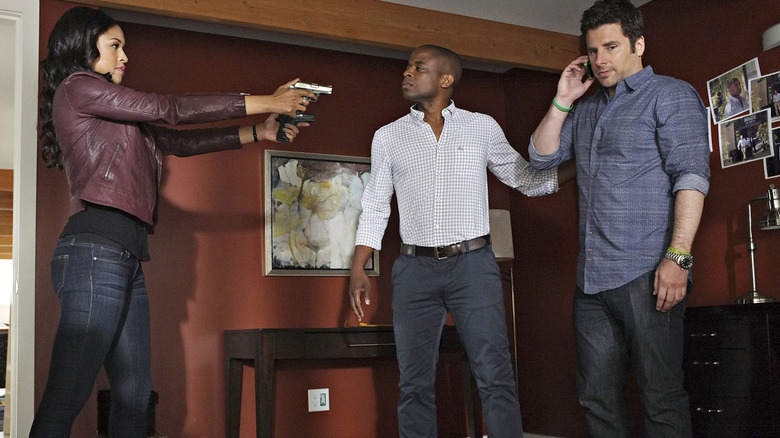 NBCUniversal Television Distribution
Which is easier to believe: That someone actually possesses Sherlock Holmes-like powers of observation and deduction, or that they're psychic? On "Psych," Shawn (James Roday Rodriguez) is the former pretending to be the latter. One day, while solving a crime (as one does), he runs afoul of the local police department, who believe that anyone with as much information about the case as he has must be involved in the crime. Shawn convinces the cops that he's a psychic, but there's a catch: Now he's stuck keeping up the act, working as a consultant for the Santa Barbara PD. 
"Psych" is a riff on a traditional police procedural, but with a healthy dose of the absurd to keep it fresh. The chemistry between Shawn and his childhood best friend Gus (Dulé Hill) is electric, and a huge part of why the show stayed on the air for so long. "Psych" ran for eight seasons and spawned multiple TV films that allowed fans to check back in with their favorite characters, as well as a two-part musical special.
The Tick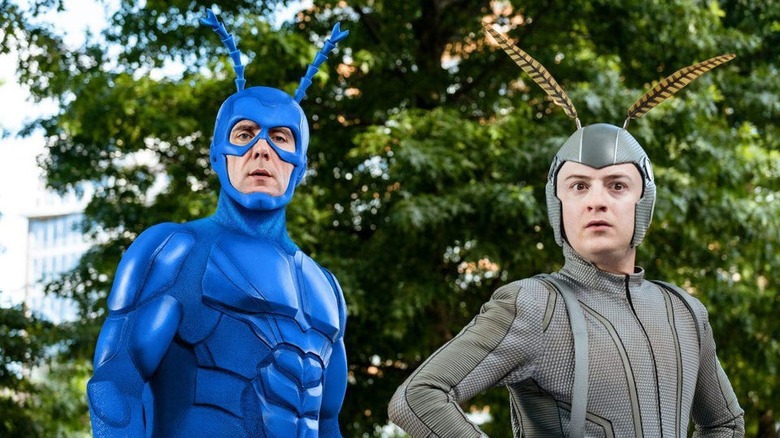 Amazon Studios
The version of "The Tick" produced by Amazon was but the most recent incarnation of the famously off-kilter amnesiac do-gooder. Originally created as a parody of American superheroes, "The Tick" began as a comic released in the '80s, which was then adapted into an animated show in 1994, followed by a live-action series starring Patrick Warburton and a video game. The latest iteration, which debuted in 2016, stars Peter Serafinowicz as the titular Tick and Griffin Newman as his faithful, anxiety-ridden sidekick, Arthur. 
Throughout its entire run, "The Tick" walked a thin line between comic book-style action, an offbeat sense of humor, and genuine emotional beats. Arthur in particular was given a more complex backstory and much more depth than his previous incarnations received, allowing Newman to really make the role his own. Although "The Tick" was canceled by Amazon after just two seasons, it deserved many more, and in years to come will likely develop a legacy as a show that got the axe far too early.
The Office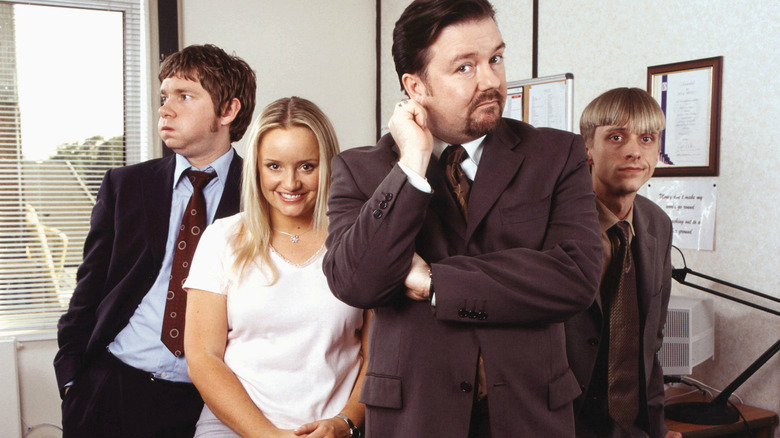 BBC Worldwide
Buckle up, kids. Things are about to get awkward. Like, painfully awkward. "The Office" is the original documentary-style sitcom, in which a crew of filmmakers interview the white-collar employees during their day-to-day lives at a paper company, led by regional manager David Brent (Ricky Gervais), whose obliviousness verges on malicious. 
Although the American remake of "The Office" starring Steve Carell was immensely popular — and is sometimes even considered to be superior to the original (not the first time that has happened) — the UK version of "The Office" has a lot going for it as well. While Carell's Michael Scott gradually softened over time, Gervais luxuriates in David Brent's most irritating traits. Furthermore, the antics of Tim (Martin Freeman) and Gareth (Mackenzie Crook), the British equivalents of Jim and Dwight, put the UK edition of "The Office" in a league of its own.
Community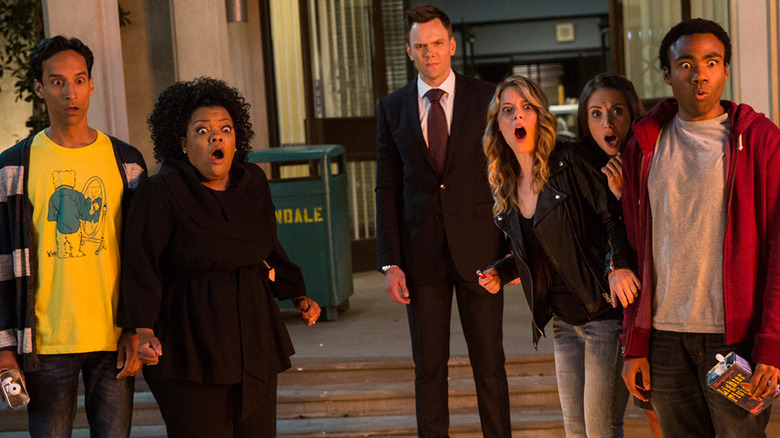 Sony Pictures Television
Some of the best comedies are the ones that take a little bit of time to find themselves. Over the course of the 1st season, the creative team learns what works and what doesn't, and adjusts accordingly until it finds something really special.  That's what "Community" does. Some of its charms are apparent in the pilot, but over the course of the 1st season and a half, the show comes into its own, wriggling its way into our hearts. 
"Community" is an ensemble comedy starring a cast of misfits at a community college, who meet and become friends while studying together for an introductory Spanish class. But it didn't always have the easiest go of it. During its 3rd season, "Community" was removed from NBC's lineup, with its future unclear until a fan-led campaign prompted the network to commit to a 4th season, albeit without showrunner Dan Harmon and controversial star Chevy Chase. After being cancelled by NBC, Yahoo came out of nowhere and renewed it for a 6th and final season, bringing the cult favorite to a respectable close.
Chuck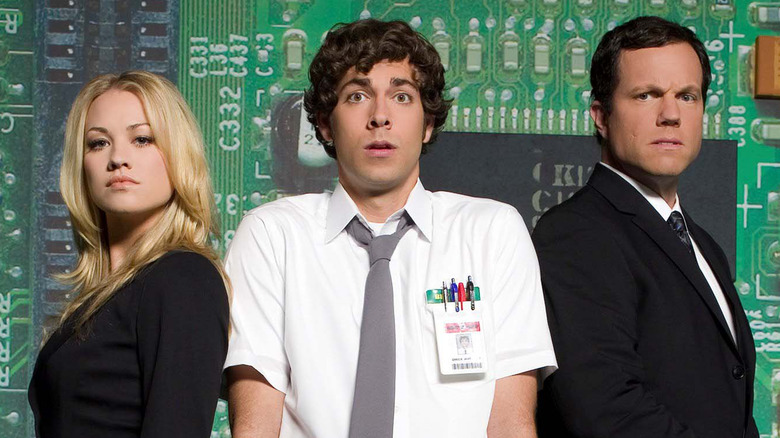 Warner Bros. Television Distribution
"Chuck" follows in the footsteps of "Get Smart" as a clever, inventive comedy series about spies. It stars Zachary Levi as Chuck Bartowski, an incredibly smart but unmotivated retail employee still reeling from getting kicked out of Stanford years earlier and losing his girlfriend to his college best friend, Bryce Larson (Matt Bomer). But Chuck gets a boost of motivation when he accidentally downloads the Intercept, a computer program that gives him instant access to all of the CIA's top-secret intel, directly into his brain. 
All of a sudden, Chuck is a government asset, complete with CIA and NSA handlers who struggle to keep him alive as he learns how to use his new skill set and fight off attacks from nefarious forces. "Chuck" is the rare show that balances action and comedy perfectly, creating believably tense scenarios while still maintaining a lightness of touch, largely thanks to Levi's affable lead performance.
The Marvelous Mrs. Maisel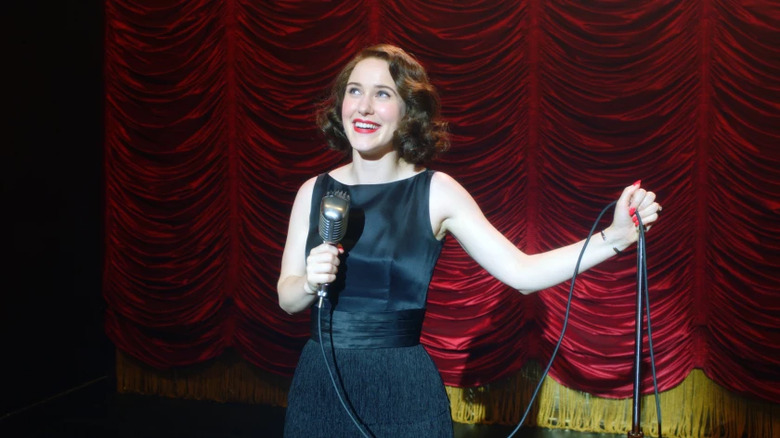 Amazon Studios
Simultaneously brash and glamorous, "The Marvelous Mrs. Maisel" represents the upper echelon of Amazon's original programming. It stars Rachel Brosnahan as Midge Maisel, a wealthy Jewish housewife living on the Upper West Side in the '60s who, after being blindsided by her husband's infidelity, decides on a whim to embark on a career in comedy. 
Midge is naturally charming and has a razor-sharp sense of humor (really, she wields it like a weapon that she doesn't always know when to sheath), but women were not exactly commonplace in stand-up at the time, especially not with the frequently ribald antics that Maisel relies on (during one of her very first drunken sets, she takes her top off and is promptly arrested for lewd behavior.) Although Brosnahan is at the center of the show (and has the Emmys to prove it), the greatest strength of "The Marvelous Mrs. Maisel" lies in its powerhouse ensemble cast, especially Alex Borstein as Midge's manager, Michael Zegen as her estranged husband, and Marin Hinkle and Tony Shalhoub as her neurotic parents.
Being Human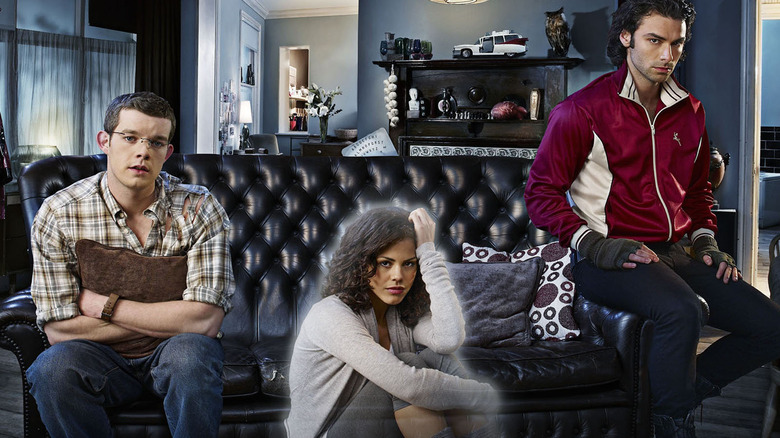 BBC
The concept of "Being Human" almost sounds like the set-up for a Halloween-themed joke: "A ghost, a vampire, and a werewolf walk into a bar..." But in the universe of "Being Human," these three supernatural creatures not only exist — they're roommates! 
Starring Aidan Turner, Russell Tovey, and Lenora Crichlow (as the vampire, werewolf, and ghost, respectively, although each would leave and be replaced by the time the show reached its later seasons), "Being Human" was always successful at highlighting the inherent absurdities in the day-to-day lives of people who are also afflicted with paranormal qualities, finding humor in the moments that juxtapose the hopelessly mundane with the mystical. 
But "Being Human" is also impressive because, while normally comedies find success when people become attached to their characters, "Being Human" was able to survive losing each of its three leads, with the newcomers (Michael Socha, Damien Molony, and Kate Bracken) fitting seamlessly into the production and bringing their own unique energy to the roles.
Fleabag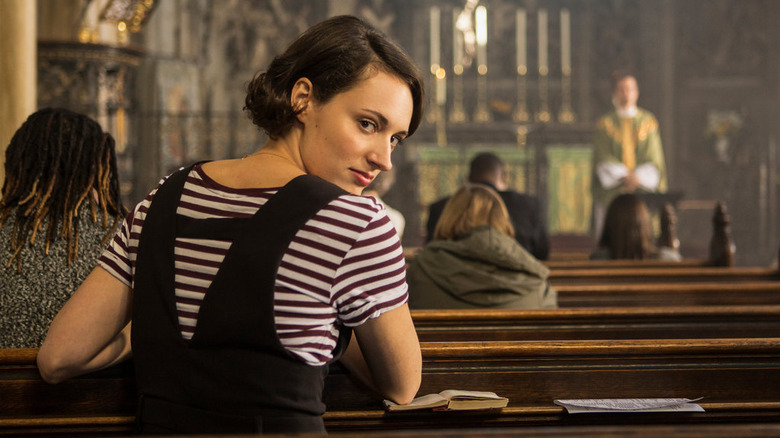 BBC Studios
"Fleabag" is one of those shows that seems to connect with everyone. Its first season came out with guns a-blazin', proudly proclaiming exactly what it was, and its second season went even harder, developing each character and giving even the most ridiculous among them a tremendous amount of depth. There are characters that pop into "Fleabag" for five minutes and leave a mark, which is a testament to Phoebe Waller-Bridge's top-class writing. 
In the show, Waller-Bridge stars as an upper-middle-class misfit known only as Fleabag, a woman who uses sex and pure, unadulterated drama as an escape from the grief and trauma she experiences after losing both her mother and her best friend. She's a complete train wreck, yet we root for her; her frequent glances to the camera conspiratorially break the fourth wall, bringing us into the mess on her side. To be completely transparent, if all "Fleabag" did was gift us with the incomparably sexy priest played by Andrew Scott, well, that would be enough to merit a spot on this list.