Tick, tick...BOOM! Trailer: Lin-Manuel Miranda Directs Andrew Garfield In A New Musical About The Creator Of Rent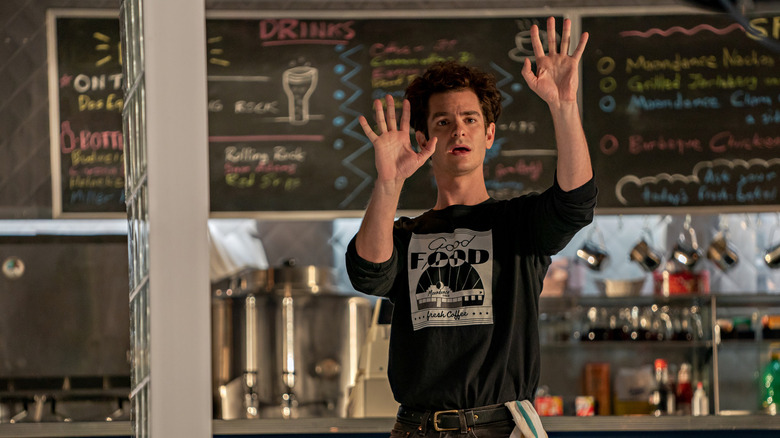 Netflix
Lin-Manuel Miranda continues his quest for world domination by now making his feature directorial debut. Miranda has been responsible for several successful works, but the Netflix musical "tick, tick...BOOM!" marks the first time he's helmed a feature film. Based on the musical of the same name by Jonathan Larson, "tick, tick...BOOM!" follows Larson, as played by Andrew Garfield, as he struggles to write what would become the hit musical "Rent." Larson performed  "tick, tick...BOOM!" as a solo piece, but after his death in 1996, the work was revamped into a three-act play. And now it's a movie that Netflix surely hopes will get some awards season love. Watch the "tick, tick...BOOM!" trailer below. 
tick, tick...BOOM! Trailer
On January 25, 1996, the day of the first Off-Broadway preview performance of "Rent," the musical's creator, Jonathan Larson, died at the age of 35. Larson would not live to see his creation become a massive hit – the 11th longest running show in Broadway history. Now, Larson's story gets the biopic treatment, in musical form. The Netflix film "tick, tick...BOOM!" follows Larson "On the cusp of his 30th birthday, a promising young theater composer navigates love, friendship, and the pressures of life as an artist in New York City."
Andrew Garfield plays Larson, and Lin-Manuel Miranda makes his directorial debut helming the film, which also stars Alexandra Shipp, Robin de Jesús, Joshua Henry,Mj Rodriguez, Bradley Whitford, Tariq Trotter, with Judith Light, and Vanessa Hudgens. Larson wrote "tik, tick...BOOM!" as a one-man show, and after his death, playwright David Auburn reworked the material as a three-actor piece that premiered Off-Broadway in 2001. And now it's a movie. 
Here's the film's synopsis: 
Pulitzer Prize and Tony Award winner Lin-Manuel Miranda makes his feature directorial debut with tick, tick...BOOM!, an adaptation of the autobiographical musical by Jonathan Larson, who revolutionized theater as the creator of Rent. The film follows Jon (Academy Award nominee and Tony Award winner Andrew Garfield), a young theater composer who's waiting tables at a New York City diner in 1990 while writing what he hopes will be the next great American musical. Days before he's due to showcase his work in a make-or-break performance, Jon is feeling the pressure from everywhere: from his girlfriend Susan, who dreams of an artistic life beyond New York City; from his friend Michael, who has moved on from his dream to a life of financial security; amidst an artistic community being ravaged by the AIDS epidemic. With the clock ticking, Jon is at a crossroads and faces the question everyone must reckon with: What are we meant to do with the time we have?
But...Do People Want More Musicals Right Now?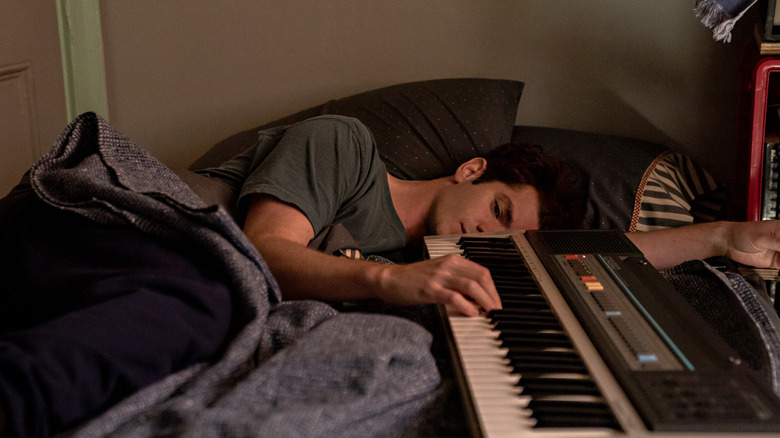 Netflix
The movie musical is in a weird place right now. Ever since Universal unleashed "Cats" on us in 2019, it's felt like new movie musicals have become doomed. Another Lin-Manuel Miranda musical, the much-hyped "In the Heights," underperformed drastically at the box office. And Universal – who also distributed "Cats" – clearly hoped "Dear Evan Hansen" would be a big awards season contender, only to be taken aback when critics tore the movie apart (that's not to say it won't still pick up some awards). 
Now, here comes "tick, tick...BOOM!" Will this go over better with audiences? Or will it also end up being considered a disappointment? In any case, there's still another musical on the way after this – Steven Spielberg's big "West Side Story" remake. I have faith in that one, simply because it's a Steven Spielberg movie. But it really does seem like the movie musical needs a major overhaul in order to continue. Whether or not that happens is another matter.
"tick, tick...BOOM!" arrives in In select theaters on November 12, 2021 before hitting Netflix on November 19, 2021.