Why Swamp Thing Was Canceled So Quickly — Here's What We Know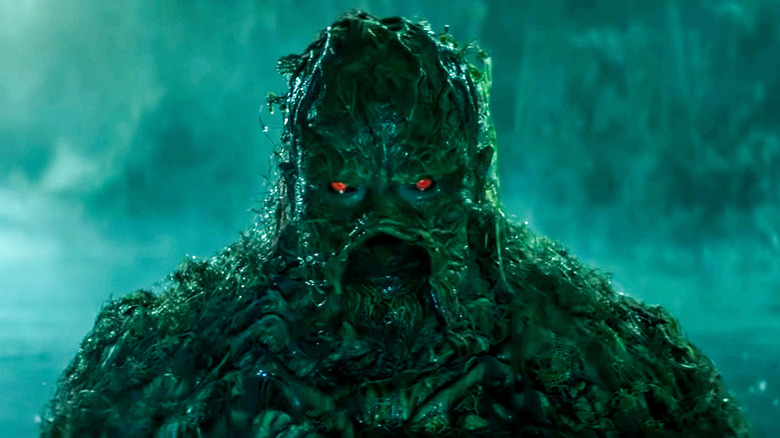 The CW
In 2019, DC fans were stunned when it was announced that "Swamp Thing" was canceled only five days after the first episode debuted. The series premiered on DC's streaming service, DC Universe, which has since evolved into DC Universe Infinite, and had earned predominantly positive reviews at the time of cancelation. 
Unfortunately, "Swamp Thing" was quickly doomed to become a one-season wonder — and in a swirling mess of rumors and debunked theories, many fans are still left wondering just why the show was canceled. 
What Was Swamp Thing About?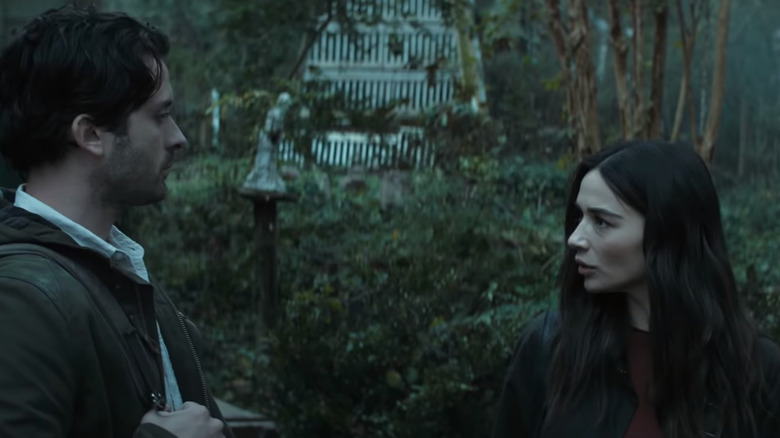 The CW
From Warner Bros. TV and produced by James Wan, "Swamp Thing" (which is based on the DC comic book of the same name) followed scientist Abby Arcane on her trip home to Louisiana to investigate a deadly swamp-borne virus. She develops a close relationship with disgraced scientist Alec Holland, who tragically dies, but Abby soon discovers the real effects of the swamp after a gigantic swamp creature emerges and claims to be Holland.
"Swamp Thing" was originally slated for 13 episodes, but during the show's production Warner Bros. Television cut the order down to 10 episodes. Virginia Madsen (who played Maria Sunderland) wrote in a since-deleted Instagram post, "I'm beyond sad. What a terrible decision. We have been cut to the core by those who have never set foot into the Swamp. And despite the rule I am going to use the hashtag. #swampthing."
The full cancelation wasn't announced until after the first episode of "Swamp Thing" released, baffling audiences and the show's producers alike. When the news broke, "#SaveSwampThing" began trending and James Wan took to Instagram to express his shock and dismay over the decision.
DC Universe released the remaining nine episodes, and in May 2020 The CW acquired the broadcasting rights to the series. Many hoped that the network would #SaveSwampThing and revive the show for a second season. Unfortunately, The CW's chairman and CEO, Mark Pedowitz, said in January 2021 that it's highly unlikely the show will return — though he also said that the character may appear in a different form (per Deadline).
Why Was Swamp Thing Canceled?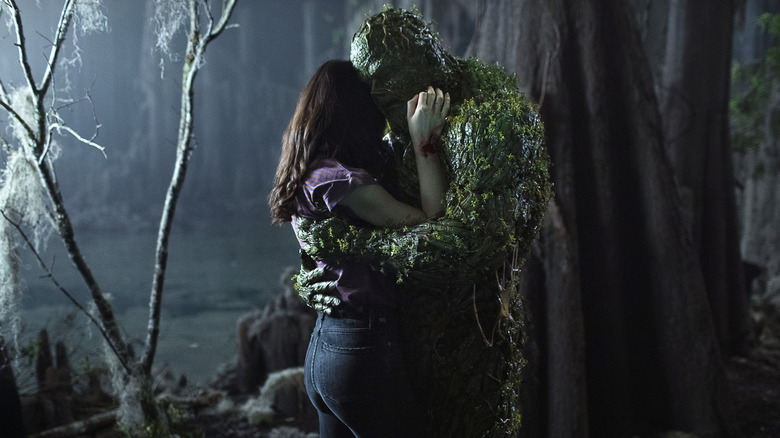 The CW
According to an interview with an anonymous producer at Business Insider, the cancelation of "Swamp Thing" came completely out of left field. "We walked away with the sets standing," the producer said. "We didn't tear them down and go home." The article also noted that "Swamp Thing" had originally been crafted with a three-season arc in mind, with the potential to go further (if the show was a hit) in the form of a "Justice League Dark" collaboration.
When "Swamp Thing" was first canceled, rumors began circulating about financial troubles, claiming the cancelation was due to a shortfall in tax incentives. This rumor was refuted, but not before a variety of news outlets ran with it like it was fact and confused fans everywhere. It seemed that despite the promising reviews, insiders were convinced the show was not going to be as successful as needed to keep it moving forward, and chose to pull the plug before losing millions in investment money. This is unfortunately also unsubstantiated, as a community post on the DC Universe website at the time of cancellation read, "We appreciate there are questions as to 'why,' but unfortunately we are not in a position to answer at this time."
The most likely reason was the fact the DC Universe streaming service wasn't built to last. Between DC Universe Infinite absorbing the service and Warner Bros.' future deal with HBO Max, it seemed best to throw this swampy baby out with the bathwater. It's a shame, because "Swamp Thing" was legitimately good and in an age where horror television continues to thrive, a weekly monster series was exactly what horror fans were missing.