Every Paul Greengrass Film Ranked From Worst To Best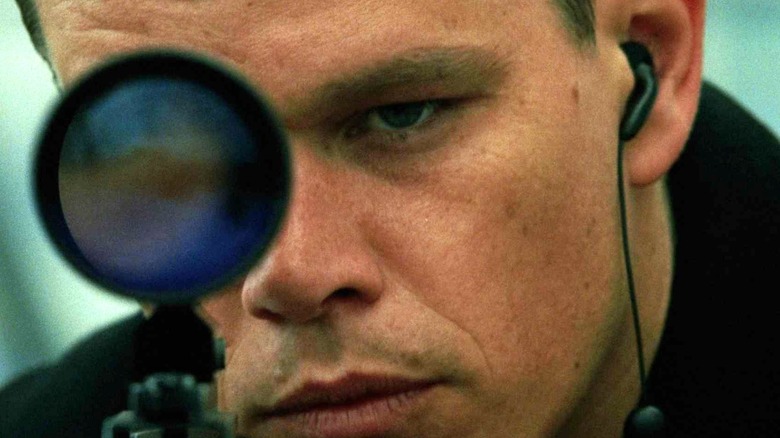 Universal
Paul Greengrass is one of those directors who has a type — or, rather, a couple of very specific types. On one hand, he's a guy who dramatizes real-life tragedies, mining the events for all of their heightened emotions. However, where other filmmakers sometimes allow the epic scale of these true stories to eclipse the characters, Greengrass never loses sight of the humanity at the center. 
Still, his films often raise a difficult question: At what point does it stop being too soon to make a film about something real, especially an event that ruined the lives of the people involved? At what point are we dining out on other people's suffering, using it to make a profit at the box office? Greengrass deals with this as sensitively as possible, but the issue is ever-present in his work. 
Greengrass' other filmmaking passion, it would seem, is the character of Jason Bourne. He revisits Bourne ... a lot. But we'll get there.
11. The Theory of Flight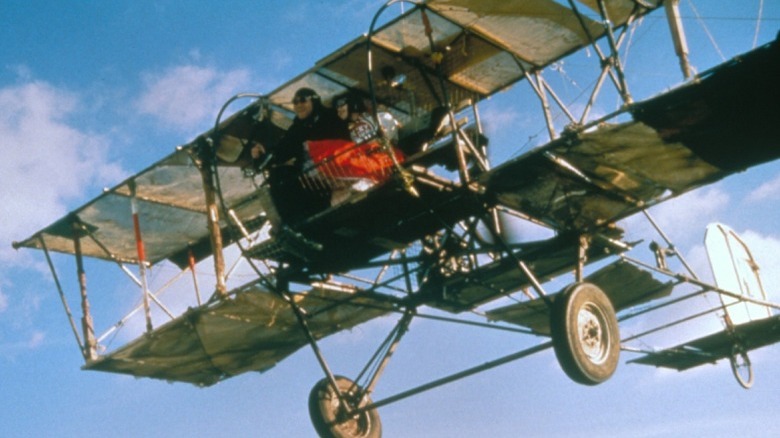 Buena Vista
"The Theory of Flight" was released in 1998 and stars the always-delightful Helena Bonham Carter and Kenneth Branagh. Bonham Carter plays Jane, a woman who has been diagnosed with ALS and is quickly losing both her ability to function independently and also her patience with the string of caretakers tasked with tending to her. Branagh plays Richard, a man whose hobby is building flying machines. After one of his attempted flights goes badly wrong, Richard is sentenced with community service, which consists of watching after Jane. 
Theirs is an unlikely love story. Jane is horrified of dying a virgin, and Richard decides that the best option is to hire a gigolo, which he will rob a bank to pay for. Still with us? "The Theory of Flight" has an interesting concept and both of the lead performances are quite good, but it still resorts to many of the clichés that plague most films about people with disabilities.
10. Green Zone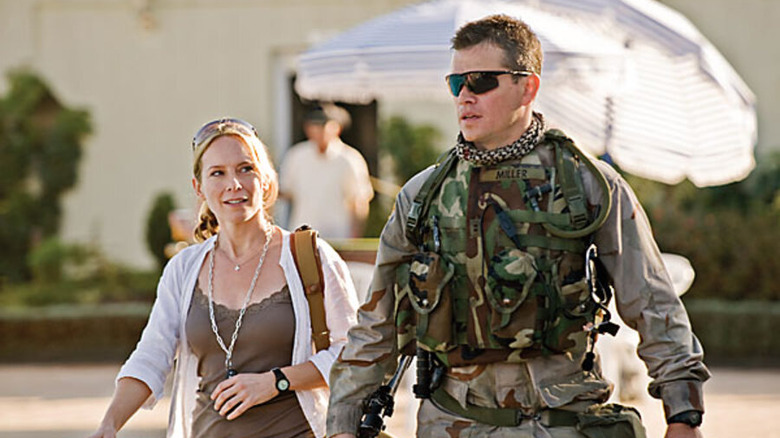 Universal
An action film involving a search for the elusive weapons of mass destruction in Iraq — what could possibly go wrong? 
To give "Green Zone" some credit, it's not like it's trying to glorify the fact that the US government lied about WMDs so that it would have an excuse to invade Iraq. In fact, Matt Damon stars as a US soldier who is desperately trying to uncover the truth, and is blocked at every turn by the machinations of the US Department of Defense. "Green Zone" very much paints the members of the military as the good guys, and the shadowy governmental authorities as the bad ones. 
Still, while his heart is undeniably in the right place, this feels like too big of a challenge for Greengrass' generally idealistic storytelling. He thrives when producing content that is relatively simple but clear as a bell. Wading into the Iraq War, of all things, might have been overly ambitious.
9. Jason Bourne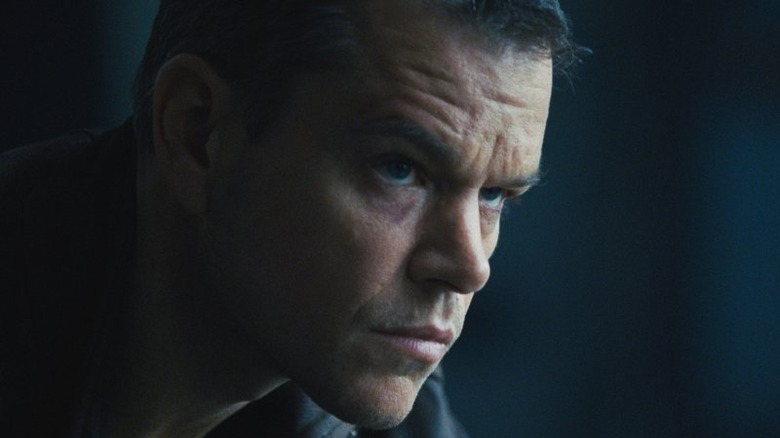 Universal
Paul Greengrass may not have been the original director of the Jason Bourne franchise, but it's clear that he's sticking with it until the bitter end. "Bourne" is the fifth installment in the series, and the third Bourne film that Greengrass directed. 
After taking handing the reins to Jeremy Renner for "The Bourne Legacy," Matt Damon is back, reprising his role as the enigmatic Jason Bourne. Fully recovered from the amnesia he suffered in the previous films, this Bourne leads an isolated existence and is still on the run from the CIA. But, as is always the case with these movies, Bourne ends up getting sucked back in against his will. 
"Jason Bourne" was successful at the box office, but while fans of the series may have had no complaints, it's hard to escape the feeling that this is an unnecessary retread of material we've already seen in prior installments of the series.
8. Resurrected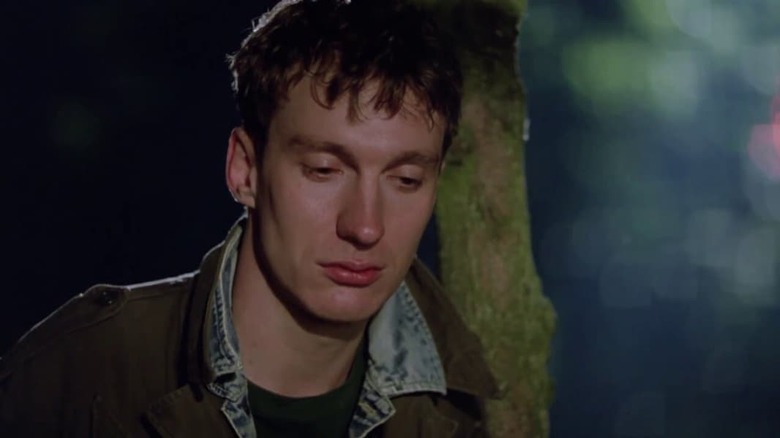 Pathe
It is unsurprising that, for his debut film, Greengrass would begin with a movie based on a true story. "Resurrected" explores the experiences of a British soldier (David Thewlis, in one of his earliest film roles) who was missing and presumed dead in the Falklands, only to reappear weeks after the end of the war, leading to accusations of desertion and cowardice by the British army. Members of his community turn on him, and his fellow soldiers regard his actions as the gravest possible betrayal. 
"Resurrected" is not a particularly well-known film, and it didn't receive a wide release in either the United Kingdom or the United States. Still, Greengrass' directing skills and the sense of empathy he brought to the production were enough to give him a foothold in the industry, although he would not direct his sophomore effort for another nine years.
7. The Bourne Supremacy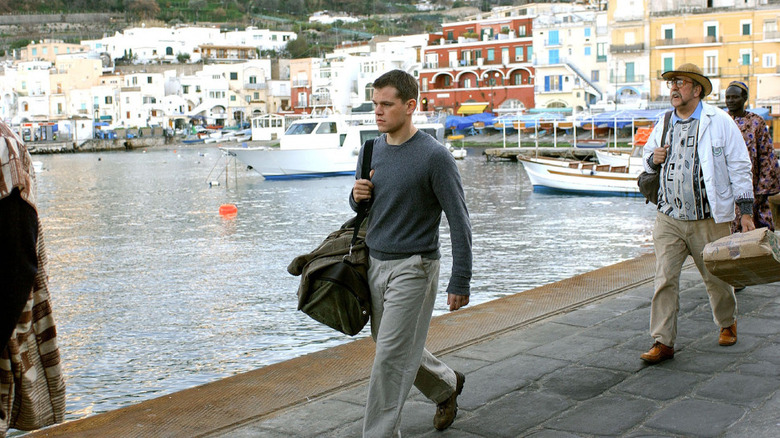 Universal
After "The Bourne Identity" was a massive hit, the sequel "The Bourne Supremacy" was quickly put into production, with director Doug Liman passing the torch to Paul Greengrass. Audiences had fallen in love with the mysterious Bourne, who was still attempting to uncover the secrets of his past amidst a perpetual manhunt orchestrated by the CIA. 
In "The Bourne Supremacy," Bourne is attempts to start a new life with his girlfriend Marie (Franka Potente), who is accidentally killed by CIA operatives with a bullet meant for Bourne. Bourne understandably goes scorched earth, and "The Bourne Supremacy" deals with the fallout of this little mix-up. 
Unlike a lot of sequels, this is a logical continuation of the plot established in the original film, and although "The Bourne Supremacy" does have moments that feel like it's a run-through of the greatest hits of "The Bourne Identity," there's enough originality here to make "The Bourne Supremacy" a worthy follow-up.
6. The Bourne Ultimatum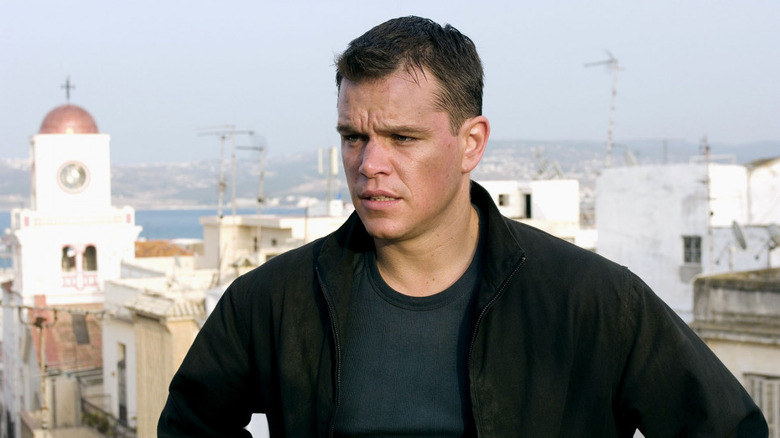 Universal
Go ahead and take a minute: Try to think of a series in which the third film is the best. It doesn't happen very often. But many people consider "The Bourne Ultimatum" to be the top film in the Jason Bourne franchise. Of all them, it made the most at the box office, and was the only one to not only be nominated, but to actually win a handful of Academy Awards — it took home trophies for best film editing, best sound mixing, and best sound editing. 
In the movie, Jason Bourne continues his journey to recover his lost memories and blow the whistle on the CIA operatives who have been trying to kill him for the better part of three films. "The Bourne Ultimatum" is widely regarded as the rarest of all beasts: an intelligent action thriller, one that peppers its dynamic fight sequences with an honest-to-goodness plot. 
5. Bloody Sunday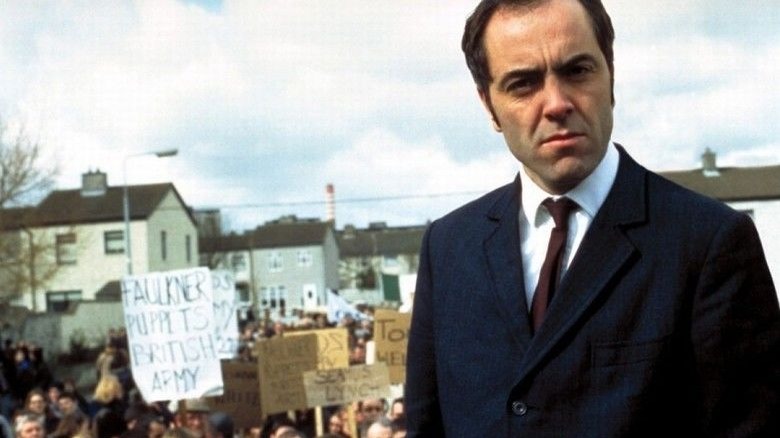 Paramount
If you want to know who Paul Greengrass is as a director, "Bloody Sunday" is a good place to start. It's a faithful recreation of the events of Bloody Sunday in Derry, Northern Ireland, when British soldiers shot dozens of unarmed civilians as they took part in a protest. It stars James Nesbitt as the Irish nationalist responsible for organizing the march, which ultimately led to extreme, largely one-sided violence. 
This production, grounded in the blistering reality of authentic tragedy, shows Greengrass' early fascination with creating narrative films that capture the energy of real-life devastation and misery. It would also catch the eye of influential Hollywood producers; Greengrass was asked to direct "The Bourne Supremacy" on the strength of his work in this film, which led to the high-profile career he has developed in the years since. Greengrass' reputation for capturing action with a sense of chilling immediacy begins with "Bloody Sunday."
4. United 93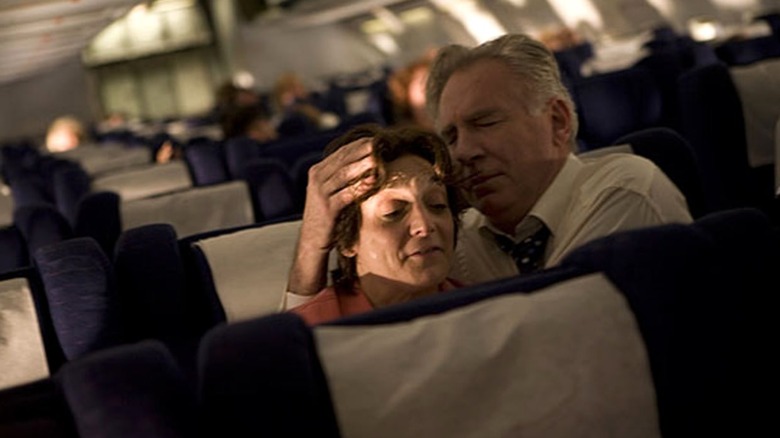 Universal
When we talk about the moral ambiguity of exploiting real-life tragedy in film, "United 93" is one of the first movies that comes to mind. Released just a few years after 9/11, "United 93" is the story of the passengers on a hijacked plane who worked together to regain control of the cockpit and executed a crash landing, sacrificing themselves so that the plane would not reach its intended target. 
Obviously, this is an emotionally devastating story, one that highlights the best of humanity on a day that would become known for its worst. And because people have a strong reaction to the events that "United 93" depicts, there was every possibility that this could have gone very badly, with audiences rejecting it for any number of reasons. 
But instead, "United 93" was embraced. Although there was some criticism in regards to historical accuracy, for the most part "United 93" was considered a fitting tribute to the heroes of the real-life flight, keeping their heartbreaking sacrifice alive for future generations to learn about.
3. News of the World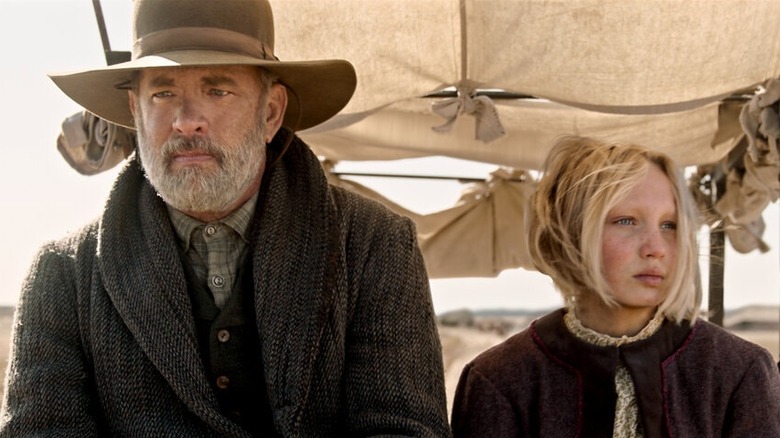 Universal
"News of the World" is interesting, because as much as it takes a step away from Paul Greengrass' usual habit of highlighting real-life stories, it also features a character (played by Tom Hanks) who makes a living traveling around the country providing dramatic recitations of the news, arguably acting as a predecessor for Greengrass himself. 
Hanks is cast as a would-be father figure, Captain Jefferson Kyle Kidd, who is tasked with transporting an orphaned girl named Johanna to her extended family, only to grow attached to her in his own way. It's a quietly moving story, as two isolated figures who are both set apart from society — Kidd by choice, Johanna by the fact that she lost her community twice over, first when her birth parents were killed in a raid, and then again when the Kiowa who raised her were killed in turn — learn to communicate with one another. Grounded by powerful performances from Hanks and newcomer Helena Zengel, "News of the World" offers proof that Paul Greengrass is no one-trick pony.
2. 22 July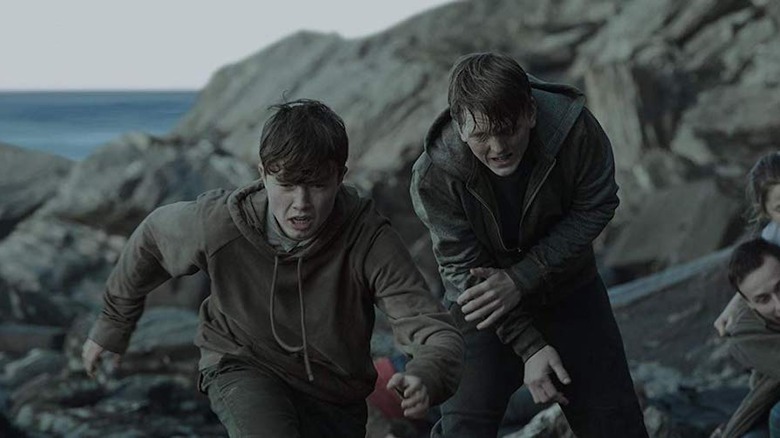 Netflix
Another day, another devastating Greengrass docudrama. "22 July" captures the too-terrible-for-words events of July 22, 2011, when a Norwegian terrorist opened fire on a group of students on the island of Utøya, killing 77 people, most of whom were children. It was an unprecedented attack in the typically peaceful country, and one that sent shockwaves around the world thanks to its perpetrator's extreme right-wing ideology. 
Greengrass shows the tragic events of that day in excruciating detail, centering his narrative on the experiences of the children: how they lived, how they died, and how those left behind coped with their guilt at having survived. Unlike many of his historical films, Greengrass expands the scope of "22 July," depicting not just the attack itself, but also its aftermath, revealing the deep scars carried by everyone involved. But Greengrass' work never sensationalizes their pain, instead providing a release valve for lingering anguish.
1. Captain Phillips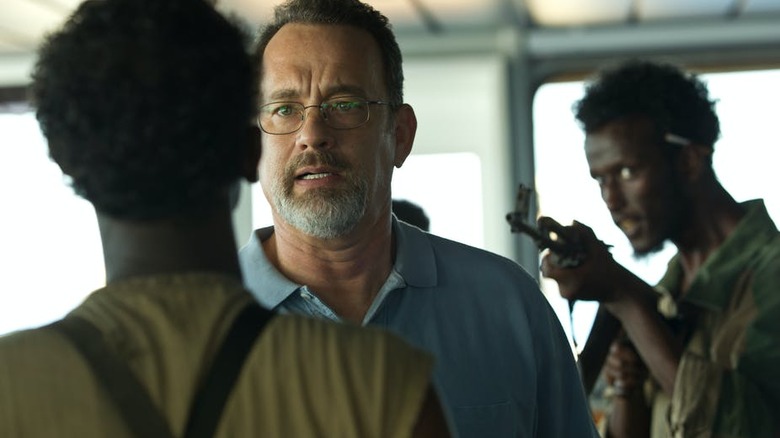 Sony Pictures
We all know that Tom Hanks is a good actor — his two consecutive Academy Awards in the early '90s stand as testament to that fact. But he's also one of the last remaining movie stars, which means that when we watch a Tom Hanks film, we're more or less expecting to see some iteration of the congenial Tom Hanks persona on screen. "Captain Phillips" is a testament to the fact that when given the opportunity, Hanks can not only be America's Dad; he can also act his pants off. 
When sailing a merchant vessel off the coast of Somalia, Captain Phillips' boat is boarded by pirates who hold him and his crew hostage. He attempts to negotiate with them, but his primary concern is keeping everyone under his command safe during this ordeal. "Captain Phillips" was nominated for six Academy Awards, and it deserves them all, for two specific reasons. One: The incredible performance from Barkhad Abdi as the lead pirate Abduwali Muse, who is amazing here, especially since he had never acted before. Two: The sequence at the end of the film, after Phillips has been rescued and Tom Hanks dissolves into an unbelievably vulnerable display of shock and trauma. The price of admission is worth it for that scene alone.