Wolf Trailer: George MacKay Is Hungry Like The Wolf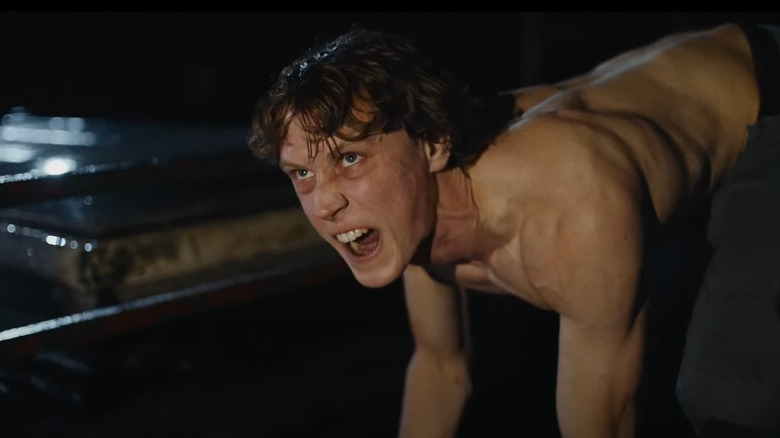 Focus Features
The trailer for writer and director Nathalie Biancheri's "Wolf" is here, and it looks like a weird one. George MacKay's character Jacob apparently thinks he's a wolf, and not in the fursuit-wearing kind of way — he crawls around on all fours and snarls and growls. The good news is, there's a special school for individuals like him. The bad news? A romance with a girl who thinks she's a wildcat (Lily-Rose Depp) could make his whole life come tumbling down. 
A Film About Feeling Feral
The story for "Wolf" sounds kind of like a reverse version of Yorgos Lanthimos' "The Lobster," where people were turned into animals if they couldn't find love. In "Wolf," Jacob eats, sleeps, and lives like a wolf. His family doesn't approve, so they send him to a special clinic for people with similar animalistic tendencies. He and the other animal-bound individuals are subjected to radical attempts at curing their condition, which may or may not do anything. It's there he meets the mysterious Wildcat (Depp), and their friendship becomes a serious case of infatuation. There's just one problem: wolves and wildcats aren't exactly compatible. Will Jacob renounce his wild self for love?
In addition to MacKay and Depp, "Wolf" features "The World's End" star Paddy Considine and "Woman on the Verge" star Eileen Walsh. "Wolf" was written and directed by Biancheri, who previously made the romantic nightclub drama "Nocturnal." It was produced by Jessie Fisk and Jane Doolan. "Wolf" was the first independent film supported by Screen Ireland to shoot during the COVID-19 pandemic.
Here's the official synopsis for "Wolf":
Jacob (George MacKay) believes he is a wolf trapped in a human body, a real-life condition known as species dysphoria. When his distraught family send him to a clinic which specialises in the treatment of the disorder, he meets the other patients – Duck (Senan Jennings), Squirrel (Darragh Shannon), Horse (Elsa Fionuir), Parrot (Lola Petticrew), Spider (Amy Macken) and German Shepherd (Fionn O'Shea) – who all self-identify as another species.

Together they are forced to undergo increasingly extreme forms of "curative" therapies at the hands of The Zookeeper (Paddy Considine), whose methods are unconventional and cruel. The only respite to this ever-growing restlessness is the enigmatic Wildcat (Lily-Rose Depp) with whom he roams the hospital in the dead of night. The two form an improbable friendship that develops into infatuation. But can he renounce his true self for love, and will he ever be able to deny the being inside?