14 Films To Watch If You Loved Candyman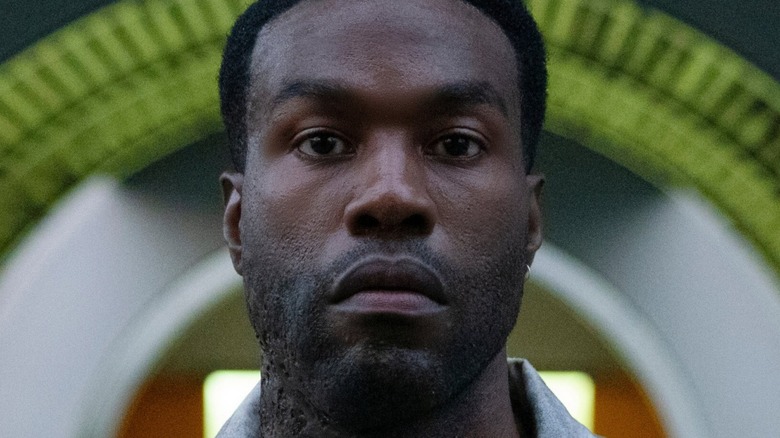 Universal Pictures
The internet is buzzing with thoughts about Nia DaCosta's reboot of the legendary slasher film "Candyman." Told from the perspective of a Black filmmaker and produced by Jordan Peele, "Candyman" tells a complex story about cycles of Black trauma and the use of art as both a coping mechanism and a form of record keeping. 
Yahya Abdul-Mateen II plays Anthony McCoy, a struggling artist who discovers the myth of Candyman and uses the urban legend as the inspiration for his new exhibit. But, in treating the story as nothing more than a cash grab, McCoy becomes a victim of the bee-covered, hook-handed spirit. Blood covers the walls of art galleries, and the façades of gentrified Chicago neighborhoods are stripped away. DaCosta's vision is drastically different from the one Bernard Rose' crafted in the original 1992 film, as she is better equipped to tell a story about racial dynamics in Chicago that doesn't feel whitewashed.
After watching DaCosta's film, you may be hungry for more Black horror, or more horror films about the ghosts that haunt the dark corners of the city. From movies that examine urban legends to celebrations of Black voices in the horror, there is a wide range of choices that will satisfy any horror fan looking for something the deviates from the norm. Here are just a few.
Little Woods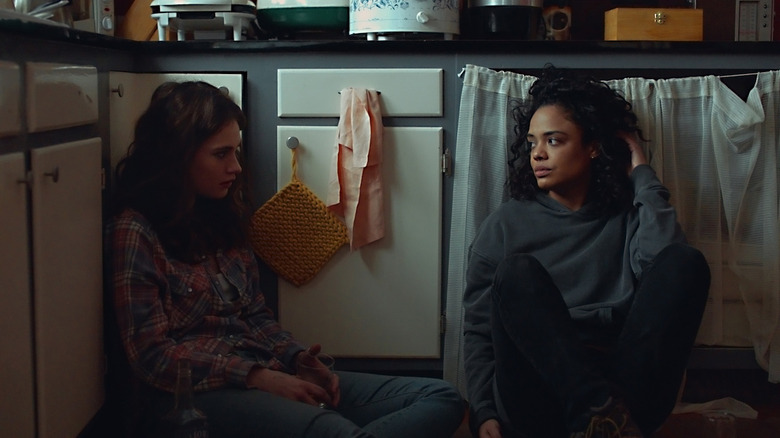 Neon
This may not be a horror movie, but if you liked Nia DaCosta's "Candyman" then you need to watch her 2019 directorial debut, "Little Woods." The film stars Tessa Thompson as Ollie, a woman caught smuggling pills over the border to help care for her ailing mother. But when her mother dies, Ollie's estranged sister Deb (Lily James) appears at her front door with a little boy — and another on the way. 
Deb is trying to escape an abusive ex, but has no money to feed her family or receive the medical care she needs. On top of everything else, the bank is foreclosing on their mother's house. Ollie devises a plan to lower the house's down payment and get the bank their money so that Deb can take the house and use it to provide a better life for her kids. 
"Little Woods" is a devastating film, and illustrates DaCosta's ability to create deeply emotional experiences that speak to the larger struggles of the human experience. "Little Woods" also features phenomenal performances from Thompson and James. While this film is incredibly different from "Candyman," both show DaCosta's talents as a director, and her the attention to detail she pays to her characters.
Candyman: Farewell to the Flesh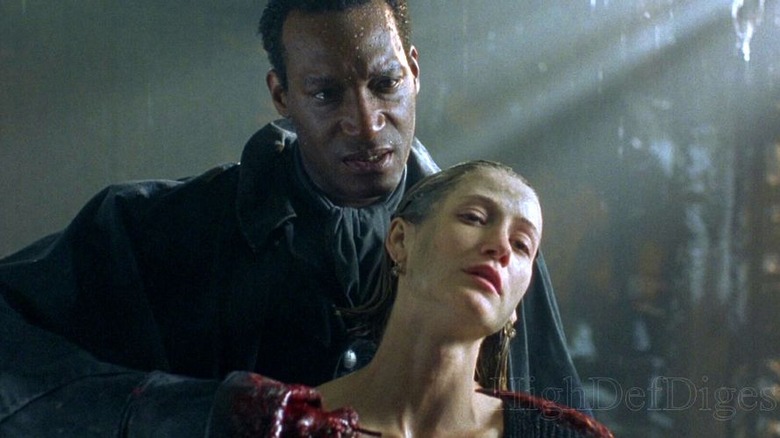 Gramercy Pictures
While the first two sequels to the original "Candyman" are not the peak of horror cinema, they're still worth watching. The second Candyman film, "Candyman: Farewell to the Flesh," finds the hook-handed spirit, played again by Tony Todd, in New Orleans. Candyman kills a professor who summons the ghost in the customary way: saying his name five times in the mirror. Ethan Tarrant (William O'Leary) is blamed for the murder, and must stand trial for the crime. 
Meanwhile, Ethan's sister Annie Tarrant (Kelly Rowan) begins hearing rumors about Candyman from her students. She recites his name to prove that he's just an urban legend, but her plan backfires, and Candyman appears and terrorizes her family during Mardi Gras. 
"Candyman: Farewell to the Flesh" doesn't share much in common with its predecessor — Todd was the only member of the original cast to return to the franchise. But while the films feel very different, this sequel builds on the lore of Candyman and his legacy. Fans of the original will also be excited to know "Candyman: Farewell to the Flesh" is much gorier, leaning more heavily into bloody violence.
Candy: Day of the Dead
Artisan Home Entertainment
Sadly, the "Candyman" films continued to have diminishing returns with the release of 1999's "Candyman: Day of the Dead." The film takes place in 2020, 20 years after the events of the second film. Caroline (Donna D'Errico), Annie's daughter (and a direct descendent of Daniel Robitaille, who became Candyman after his death), has grown up and works in the art world. After accidentally summoning Candyman, Caroline is haunted by the spirit, who wants her to experience the rage that courses through his paranormal veins. He begins to kill on her behalf, implicating Caroline in a string of horrific murders. 
Tony Todd returns again as Candyman, continuing to show off his acting chops as the memorable horror villain. "Day of the Dead" has a stronger connection to "Farewell to the Flesh" than the first sequel does to the original, with more tangible links between characters. It's also the weakest film in the franchise by a long shot, but it's a good watch for completionists, or those who are interested in Candyman lore.
Hellraiser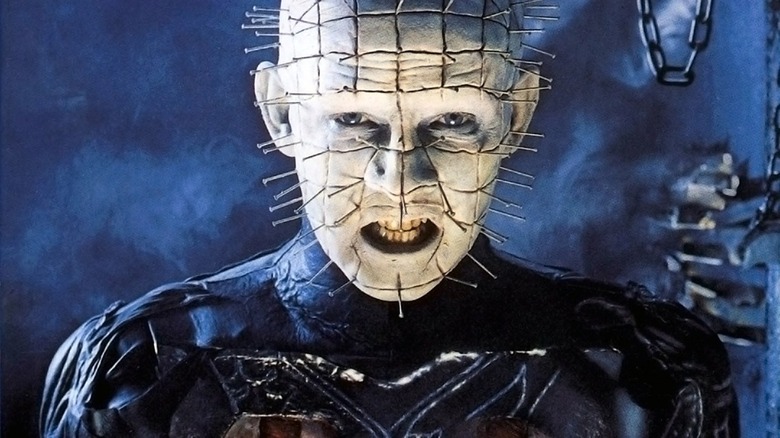 Entertainment Film Distributors
Just like "Candyman," the 1987 film "Hellraiser" was born from the haunted mind of Clive Barker, who also directed the film. Here, Barker gets weird with a group of sadomasochistic extra-dimensional beings called Cenobites who love both pleasure and pain. They are summoned by Frank Cotton (Sean Chapman), a man searching for his next sexual high. But Frank doesn't understand what he's about to unleash when he meets the creatures, led by the iconic Pinhead (Doug Bradley). 
While "Candyman" and "Hellraiser" are very different films, both feature lead characters who suffer from their own hubris, as well as assumptions about things they claim to understand but really don't. Just as Helen Lyle arrogantly investigates Candyman, Frank plunges headfirst into a world that's wilder than he could ever imagine. In addition, "Hellraiser" features incredible creature designs by Bob Keen, who also worked on "Candyman." Every one of the Cenobites is a grotesquely seductive being that is both repulsive and fascinating, sneering and chomping their teeth on screen.
The People Under the Stairs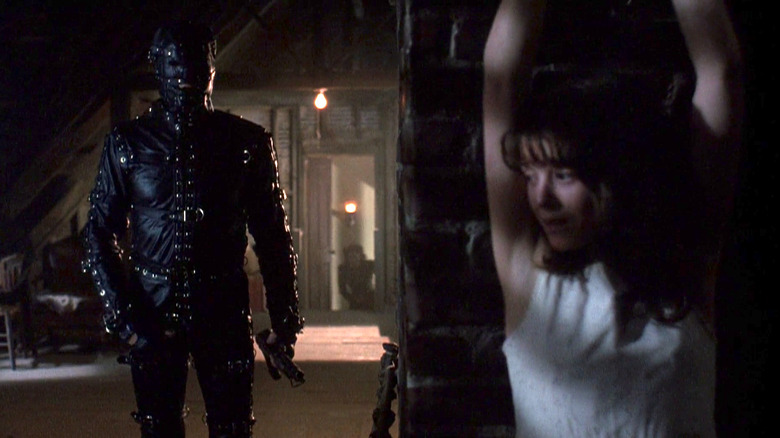 Universal Pictures
If you're going to watch any movie on this list, make it "The People Under the Stairs." Wes Craven's 1991 film is a poignant commentary on not only the abusive power of landlords, but about the façade of the American dream as represented by the suburbs. 
Poindexter (Brandon Adams), nicknamed Fool, is a young boy who lives in a poor LA neighborhood with his family. Their apartment is small and rundown, but it's home — at least until the landlords, a rich white family that lives in an affluent neighborhood, decide to evict them. Young Fool pairs up with Leroy (Ving Rhames) to break into the landlords' home, but what they find is incredibly disturbing. The couple, who call each other Mommy (Wendy Robie) and Daddy (Everett McGill) are not a married couple, but incestuous siblings who have left their cannibalistic progeny beaten and abused in their basement.
"The People Under the Stairs" is a wild ride that's horrifying, funny, and speaks volumes about how rich white folks see Black people as commodities rather than actual people. Such a wide array of tones would be disastrous in the hands of most directors, but for Craven this is just another exercise in the power of horror.
Get Out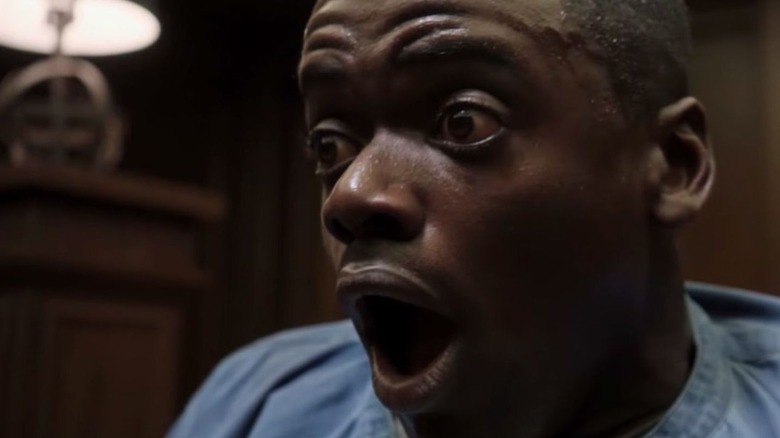 Universal Pictures
"Candyman" producer Jordan Peele helped usher in a new era of horror cinema, one in which Black filmmakers are given the opportunity to tell their stories while making incredible movies. Peele himself, previously known primarily for his sketch comedy career, burst into the horror world with his 2017 directorial debut, "Get Out." 
The film follows an interracial couple, Chris (Daniel Kaluuya) and Rose (Allison Williams), as they visit Rose's parents for the first time. The kicker: Rose hasn't told her parents that Chris is Black. As they stumble their way through an awkward first meeting, Chris begins to realize something is off, and as the trip unfolds, Chris learns what Rose's family and their neighbors do to any Black person they manage to trap in their web. 
"Get Out" isn't afraid to call out the blatant racism, hypocrisy, and microaggressions that the Black community faces on a daily basis from white people who call themselves allies. It was one of the films that marked a massive shift in the world of horror, one that is slowly moving towards a more diverse and inclusive field.
Us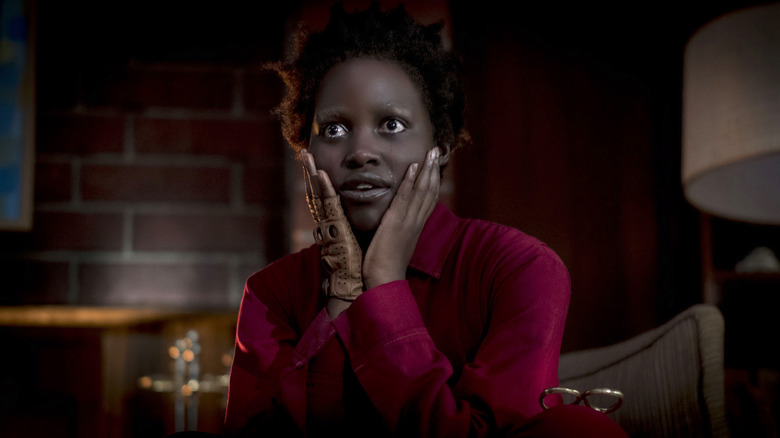 Universal Pictures
Peele's follow-up to "Get Out" is a much more cerebral and complex film that shows off his gifts for writing and worldbuilding. In "Us," Lupita Nyong'o plays Adelaide, an anxious mother on a vacation with her husband Gabe (Winston Duke) and kids Zora (Shahadi Wright Joseph) and Jason (Evan Alex). 
As the family settles into its waterfront home, a group of strangers descends upon them. But this isn't just a random group of masked assailants — these are doppelgängers dressed all in red. They look exactly like each member of Adelaide's family, with Red (also played by Nyong'o) as her sadistic counterpart. As her husband and children fight for their lives, Adelaide uncovers a massive conspiracy right underneath their feet. 
Besides the wild twists and turns "Us" takes, it also is the rare horror film that puts a Black family at its center while not making their story solely about race. Instead, "Us" affords Black characters the same privileges white characters have always had in horror: survival.
Tales from the Hood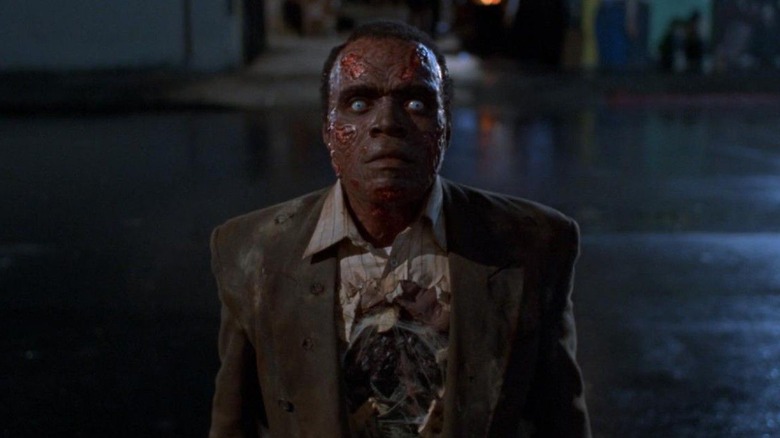 Savoy Pictures
"Tales from the Hood" is an anthology that mixes horror and comedy, and that also grapples with issues faced by the Black community, including addiction, violence, poverty, and abuse. The story begins when four young dealers travel to a funeral home in search of drugs. There, the director Mr. Simms (Clarence Williams III) beckons them inside — all they have to do to get their stash is follow him. He walks them past mangled bodies, and begins explaining how each poor soul ended up in his mortuary. 
This is where the individual segments come in. This is not an anthology that's interested in subtly; director Rusty Cundieff and producer Spike Lee create an in-your-face experience that's both incredibly entertaining and incredibly outspoken. For example, one story features a young boy trying to fight back against his mom's abusive boyfriend, while another is about a racist white senator getting what he deserves. In addition, Williams makes an incredibly creepy host as he guides his unsuspecting audience through a house of horrors.
Urban Legend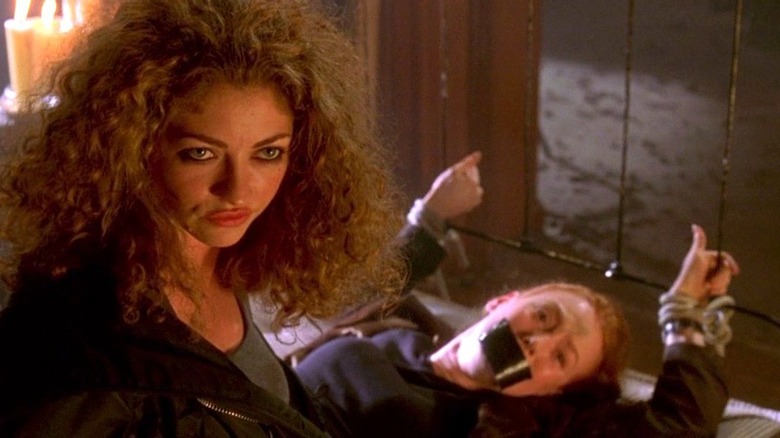 Sony Pictures Releasing
The release of "Scream" in 1996 unleashed an era of copycats that tried to capitalize on the hunger for meta-slashers that paid homage to the '80s classics while putting a modern twist on the genre. Enter "Urban Legend." Unlike Ghostface or a Michael Myers, the killer in "Urban Legend" doesn't have one single identity. Instead, it takes the form of different urban legend for each victim, including Bloody Mary, or the rumor that eating pop rocks while drinking soda will make your stomach to explode. There's no single motivation; for the killer, it's all a big show. 
If you're looking for a horror movie with an ending that goes completely off the rails, then this is the film for you. "Urban Legend" boasts a stacked cast of young '90s hotties, including Jared Leto, Tara Reid, Joshua Jackson, Alicia Witt, and Rebecca Gayheart. To up the horror cred, both Robert Englund ("A Nightmare on Elm Street") and Brad Dourif ("Child's Play") make guest appearances, serving up a delicious side of fan service for horror aficionados.
Ganja & Hess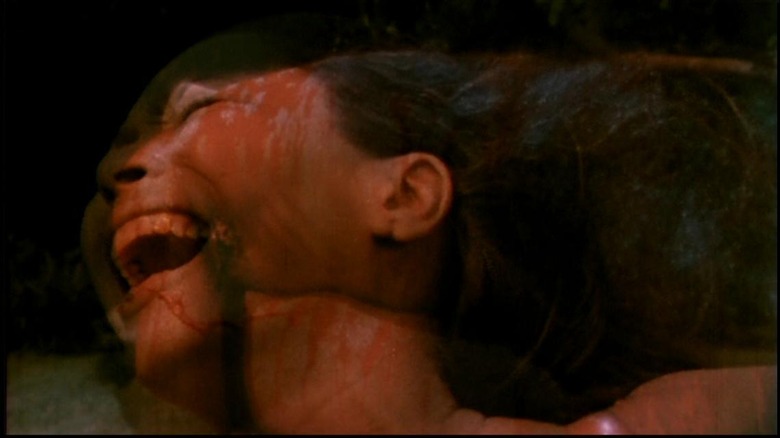 Kelly-Jordan Enterprises
Bill Gunn's experimental vampire movie "Ganja & Hess" is not just a movie, but an experience that oozes a tense, uncomfortable atmosphere. Hess Green (Duane Jones) is an anthropologist studying ancient African blood-drinkers. After his assistant George Meda (Gunn) stabs Green with one of the civilization's ceremonial daggers, he discovers that bacteria on the blade have transformed Hess into a vampire. When Meda's wife Ganja (Marlene Clark) comes looking for George, she and Hess engage in a passionate love affair. 
While Hess initially keeps his taste for blood a secret, Ganja discovers the truth — but instead of running away in fear, she agrees to become a vampire and live forever. However, the life of a vampire is lonely, even with an undead companion. "Ganja and Hess" delves into vampire psychology, but not just through dialogue. Gunn also utilizes hazy, dream-like montages to depict Hess's own troubled mental state as he tries to reconcile his new station in life — and death.
The Invitation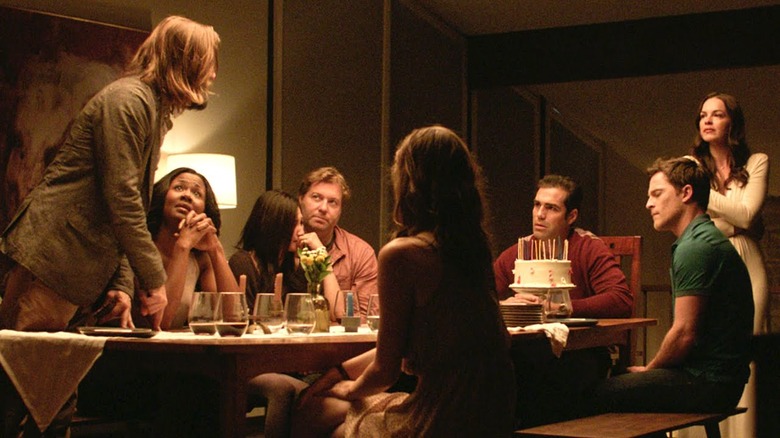 Drafthouse Films
When your boyfriend invites you to dinner with his ex-wife and her new husband in the home where they used to live, you probably should say no. And yet, in Karyn Kusama's "The Invitation," Kira (Emayatzy Corinealdi) wins the girlfriend of the year award as she joins her partner Will (Logan Marshall-Green) for what is perhaps the most uncomfortable and deadly dinner party of all time. 
Once they arrive, Kira and Will immediately realize that something is wrong. Will's ex Eden (Tammy Blanchard) and her husband David (Michiel Huisman) are part of a cult called the Invitation, and they want their guests to join them. And no, I don't mean they want people to join the mailing list. Anyone who resists the Invitation faces a violent demise, but Kira and Will refuse to submit. They fight their way through wealthy cultists and a giant house, all while Will confronts his past trauma. 
But while Will is the film's central focus, not enough credit is given to Kira, who is one of the few who survives the dinner party from hell. In horror, Black characters are often among the first to die. But here, Kira is a survivor, making her a "final girl" of sorts.
Poltergeist III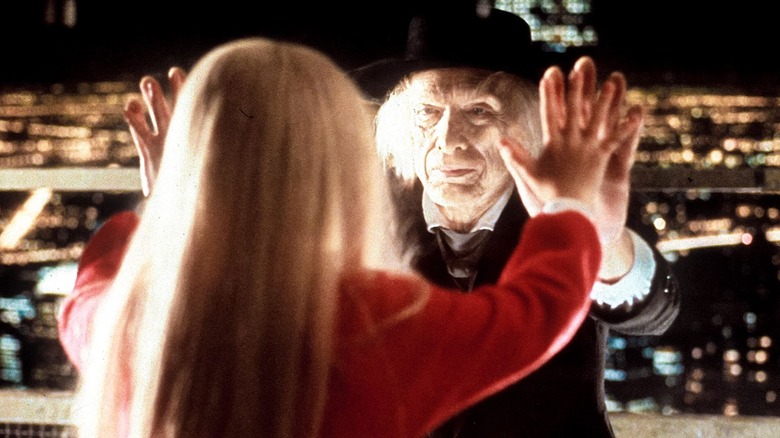 MGM/UA Communications Co.
This may be the dark horse on this list, but it's here for a reason. "Poltergeist III" is one of the few ghost stories that takes place in the city. Urban settings are not often the backdrop for tales about spirits, as they more often occupy isolated gothic mansions in the countryside. But cramped spaces, like an apartment building, with few places to hide from malevolent forces? Chef's kiss. 
That's why I love "Poltergeist III," which takes place in the Chicago high-rise where the adorable Carol Anne (Heather O'Rourke) is staying with her aunt (Nancy Allen), uncle (Tom Skerritt), and cousin (Lara Flynn Boyle). But the ghost trying to find her, Reverend Henry Kane, uncovers her location and possesses practically the entire building. Sure, "Poltergeist III" is not Tobe Hooper's "Poltergeist," but it's still a goopy good time that delivers on the franchise's signature scares. There's a particularly great scene involving a parking garage and a seemingly bottomless pool of water.
The Ring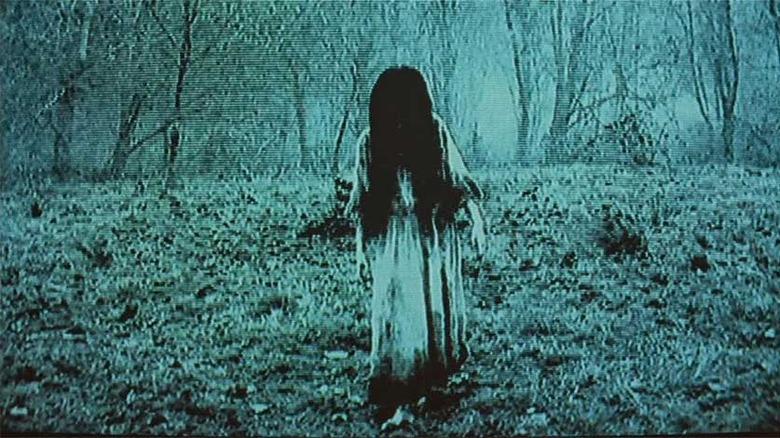 DreamWorks Pictures
Creepy spirits have a thing about numbers and rules. According to Samara in Gore Verbinski's "The Ring," for example, you have seven days to live after watching a cursed videotape. Rumors about the tape spread at a Seattle high school as students keep dying under strange and tragic circumstances. Journalist Rachel (Naomi Watts) begins to investigate after her niece's death. But as Rachel watches the tape, she discovers that she's been cursed herself.
Rachel quickly searches for the root of the evil, trying to save herself, her ex, and her son. In so doing, she uncovers the tragic history of a young girl named Samara, who is notorious for the long, wet, black hair that hangs over her face as she climbs out of a well. "The Ring" is a film that penetrated our collective consciousness in the early '00s, leading to group trauma as we saw the movie, heard about the movie, or even just watched its trailer. Simply whispering "seven days" is enough to throw any millennial into a panic.
My Bloody Valentine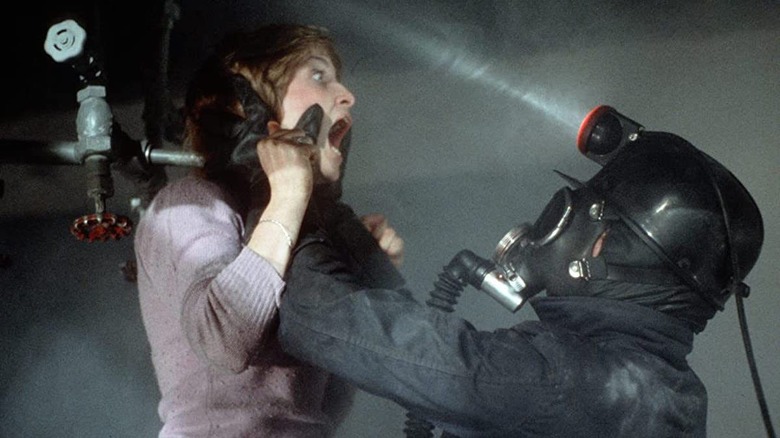 Paramount Pictures
Everyone loves a good urban legend. "My Bloody Valentine" is 1981 slasher film that takes place in the small Canadian mining town of Valentine Bluffs. Years ago, miners were left underground during the annual Valentine's Day dance after being trapped by an explosion. Henry Warden, the only survivor, ate his coworkers' remains to survive. After he was rescued, Warden slaughtered the supervisors who abandoned their posts to attend the dance, vowing to kill if the event was ever held again.
Now, 20 years later, the festivities have been reinstated, and the town's youth are bubbling with excitement. But a figure in a gas mask, armed with a pick axe, begins killing residents one by one. With each murder, the masked fiend leaves a macabre Valentine for the police, taunting them about their inability to find the culprit. 
"My Bloody Valentine" is a nasty little slasher that plays with our expectations regarding urban legends. Just make sure you seek out the gore cut, which really shows off the film's practical effects — the theatrical release removed many of the big, bloody reveals, making the film feel flat and incomplete.