Robert Downey Jr Thinks This Is His Best Role – And He's Right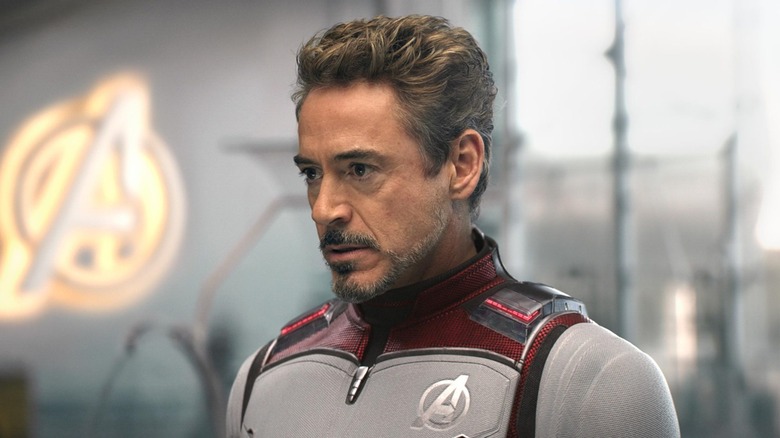 Marvel Studios
After pulling off the 2008 double whammy of starring in the blockbuster "Iron Man" and getting nominated for an Oscar for the hit comedy "Tropic Thunder," it was official: Robert Downey Jr. became a superstar. This was a particularly crazy development because by that point the son of famed underground filmmaker Robert Downey Sr. had been appearing onscreen for decades, and had only a few years before been considered a drug burnout, box office poison, and an all-around lost cause.
Of course he did not let his past demons get in the way of a meteoric career resurgence that saw him leading the MCU to record breaking box office culminating in 2019's "Avengers: Endgame," the most successful film of all-time. Along the way he scored more hits in the "Sherlock Holmes" franchise and the comedy "Due Date." In the years prior to this run, he had made a name for himself by giving electrifying performances in movies like "Zodiac," "Natural Born Killers," "Wonder Boys" and his Oscar-nominated title role in "Chaplin." But during a 2020 appearance on "The Joe Rogan Experience" podcast, Downey Jr. made a case for the movie he considers to be his absolute best: 2005's noir action-comedy "Kiss Kiss Bang Bang." 
"It wound up being a calling card."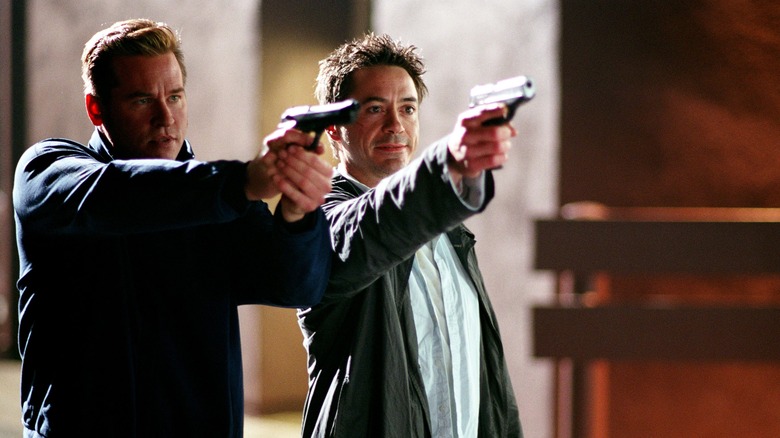 Warner Bros. Pictures
Here's the exact quote that Downey Jr. told Rogan about writer/director Shane Black's "Kiss Kiss Bang Bang," which cratered at the box office when it closed its worldwide run with a measly $15 million:
"'Kiss Kiss Bang Bang,' which is, I think, in some ways the best film I've ever done. It wound up being a calling card. It came out, and it bombed, but Jon Favreau saw it, and he said, 'This guy could do an action movie.' And so that wound up being my calling card into the Marvel Universe."
But it was more than a calling card. His role as a New York thief who lucks into a Hollywood screen test in LA only to get mixed up with a gay detective (Val Kilmer) and an old flame (Michelle Monaghan) in an elaborate murder plot was a front-to-back joy. The movie showcased Downey Jr.'s charm and charisma, and made him look good holding a gun. His witty repartee with Kilmer was so sparkling that the two eventually reunited for a Planters Peanuts commercial.
Troublemakers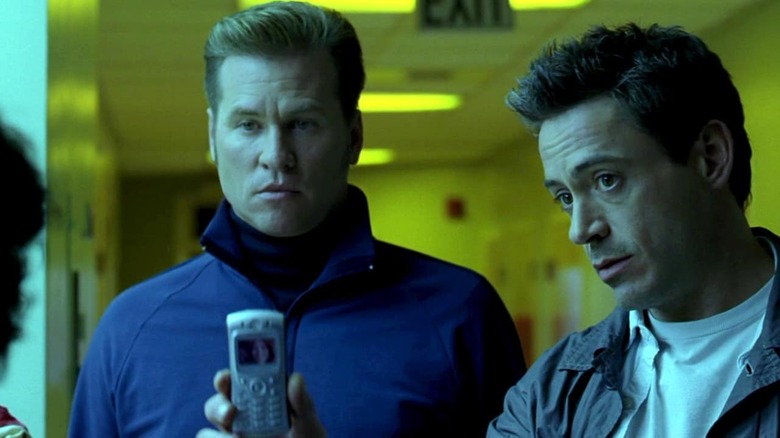 Warner Bros. Pictures
Even with its modest $15 million dollar budget, "Kiss Kiss Bang Bang" was still a shaky proposition given that the principal talent involved were all fallen angels of sorts. Downey Jr.'s drug arrests and jail time had forced many producers to wash their hands of him. Even when Woody Allen wanted to cast Downey in 2004's "Melinda and Melinda," he had to be dropped from the cast because his insurance premium was too costly. Johnny Knoxville was considered to play the part of Harry Lockhart before they rolled the dice on Downey.
Long before the sympathy generated by the recent documentary "Val," the Juilliard-trained Val Kilmer had developed a reputation as a difficult handful. The bad blood between him and Joel Schumacher on "Batman Forever" was enough to recast the Caped Crusader for the next film. His bad boy antics on "The Island of Doctor Moreau" (including reportedly burning a cameraman with a cigarette) got the original director fired and invoked the fury of replacement John Frankenheimer. By 2005, the man who was on top of the world a decade earlier was circling the direct-to-video drain. Kilmer wasn't even the first choice for the role of Detective Gay Perry, as Black had originally courted Harrison Ford for the part. 
And then there was Shane Black. In the late '80s and early '90s Black had been a wunderkind screenwriter, penning hit after hit like "Lethal Weapon" and "The Last Boy Scout" and getting paid record sums for those specs. But after "Last Action Hero" and "The Long Kiss Goodnight" tanked, and stories of his party boy antics became tabloid fodder, Black took a sabbatical for several years to regroup. He set his sights on staging not only a screenwriting comeback, but also a directing debut.
A Hybrid to Kill For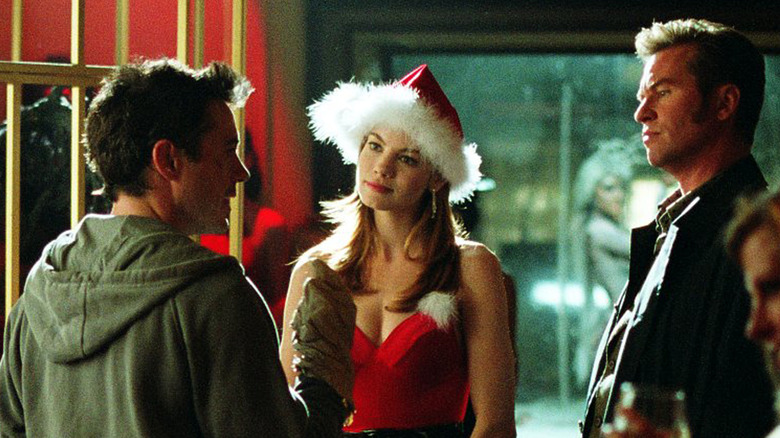 Warner Bros. Pictures
So with all those iffy elements, why did "Kiss Kiss Bang Bang" turn out so well? Perhaps it's because all three involved had something to prove, and a dynamite script that not only had the trademark Black-isms (action and quips) but also a love story with real heart at the center. As Black explained to GQ in 2016, the screenplay was born out of his need to branch out from his usual schtick, becoming something of a genre-bender: 
"I sat down with my idol and mentor at the time, James Brooks, who had done 'Broadcast News,' 'Terms of Endearment,' all those films. And I started writing what I thought was going to be a heartfelt romance—a quirky story of two kids in L.A... By 80 pages, he read it one day and said, 'Um, I really think you lost the thread here, man. I don't know where you're going with this.' But he did say there was good stuff in there... And I remember distinctly the moment looking at this big monster laid out before me where I said, you know, 'F**k it. I have to put a murder in it.' And so I put in the gay detective that Val Kilmer eventually played, and I put in a murder. And it became 'Kiss Kiss Bang Bang.' Which is why it's sort of a hybrid. It's half romantic comedy and half murder mystery. All that romantic stuff is leftover from my attempt to be James L. Brooks, basically."
The Gift That Keeps on Giving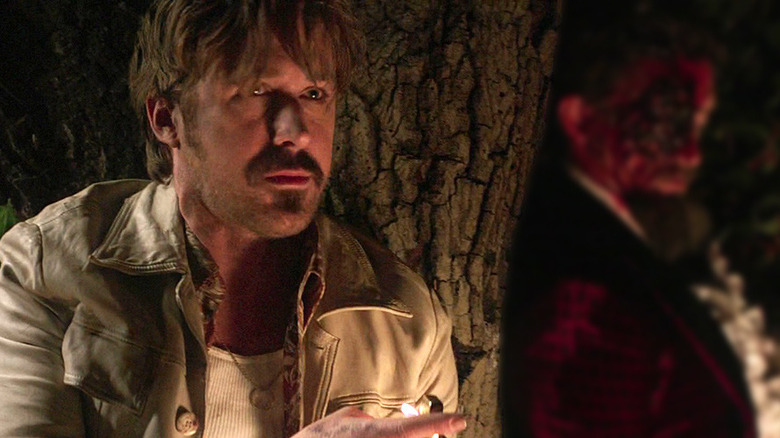 Warner Bros. Pictures
It's ironic that "Kiss Kiss Bang Bang," like many of Black's other films, takes place on Christmas, as it ultimately became the gift that kept on giving. When it screened out of competition at the 2005 Cannes Film Festival, the buzz surrounding it was enough to land Downey Jr. a central part in David Fincher's "Zodiac." The film also earned excellent reviews, and I have a distinct memory of seeing it at an early pre-release screening where it played like gangbusters and ended with a standing ovation. Anyone sitting at that screening would have thought the movie was gonna make $100 million dollars, but for whatever reason that just didn't happen when it opened in October of 2005. 
Why the film failed at the box office is anyone's guess, whether the studio failed to support it or if Downey and Kilmer just weren't draws at the time. This was when I was just beginning my movie journo career in the Washington DC area, and I was attending another junket happening at the same time as the "Kiss Kiss" junket. I remember Downey Jr. standing in front of the hotel, smoking a cigarette and chatting casually with the doorman. Once he skyrocketed to the stratosphere with "Iron Man" those "standing outside not being bothered days" were long over. 
Even though it was directed by Jon Favreau, Black also had a hand in the first "Iron Man" movie's success, doing an uncredited script polish, including reworking the hilarious press conference scenes. When it came time for "Iron Man 3," Downey Jr. paid the favor forward and got Black to co-write and direct that outing, which grossed over $1 billion dollars. Downey Jr. even has a sneaky cameo as the corpse of porn producer Sid Shattuck in Black's 2016 flick "The Nice Guys." Even with all those career highs, "Kiss Kiss Bang Bang" 16-years later remains one of the best modern neo noir comedies right alongside "The Long Goodbye" and "The Big Lebowski," and its reputation will likely only grow in value as the years go on.