The Daily Stream: Jellystone! Is A Hilarious Saturday Morning Cartoon For Weirdos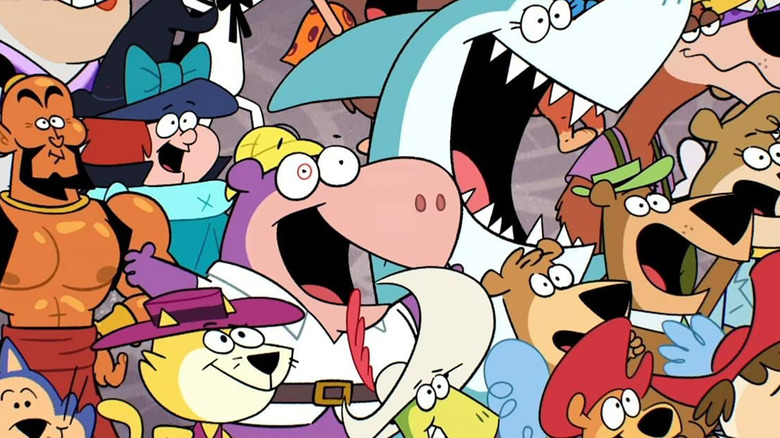 HBO Max
(Welcome to The Daily Stream, an ongoing series in which the /Film team shares what they've been watching, why it's worth checking out, and where you can stream it.)
The Series: "Jellystone!"
Where You Can Stream It: HBO Max
The Pitch: "Jellystone!" is a modernized interpretation of the Hanna-Barbera characters we all know and love, but injected with an unhinged sense of humor that's never been seen before in the city of Jellystone. Join in as Yogi Bear, Huckleberry Hound, Top Cat, Magilla Gorilla, El Kabong, Augie and Doggie Daddy, and so many more live, work, play, and obliterate their little town together.
Why It's Essential Viewing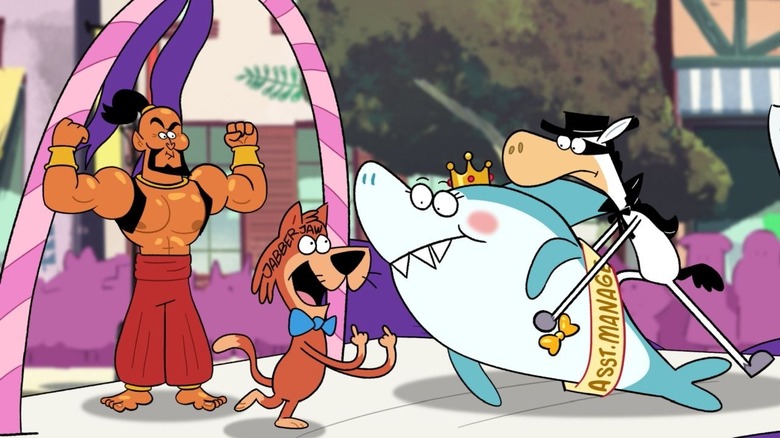 HBO Max
The world of Hanna-Barbera has been a part of our lives for generations. Whether you were old enough to watch shows like "The Funky Phantom" and "The Great Grape Ape Show," when they aired or caught the reruns of the classic shows on Cartoon Network, chances are you're at least vaguely familiar with the characters of "Jellystone!" Rather than focus on the Flintstones or the crew from "Scooby-Doo," "Jellystone!" highlights less canonical characters that audiences may not have as much nostalgic attachment to, making them ripe for revision and reinterpretation. For example, Jabberjaw is no longer a shark echo of Curly Howard of "The Three Stooges," and is instead a talkative, boy-crazy shark lady voiced by Niccole Thurman. Yogi Bear isn't quite smarter-than-the-average-bear despite being the town's doctor, and Doggie Daddy is now the most over-the-top supportive single dad for his little girl, Augie.
"Jellystone" is taking the world of Hanna-Barbera and throwing it into absolute anarchy, while still celebrating these nearly 70 year-old-characters. For audiences of a certain age, the late-night fare of Adult Swim served as a perfect primer to become the target demographic for "Jellystone!" Almost like a continuation of shows like "Space Ghost Coast to Coast" and "Harvey Birdman," the humor and character work of "Jellystone!" fits right at home with these more adult revisions of Hanna-Barbera, but still manages to be appropriate for even the youngest of viewers. Show creator C.H. Greenblatt ("Chowder," "Harvey Beaks") accomplished a genuinely impressive feat to have breathed fresh life into this world.
Characters to Look For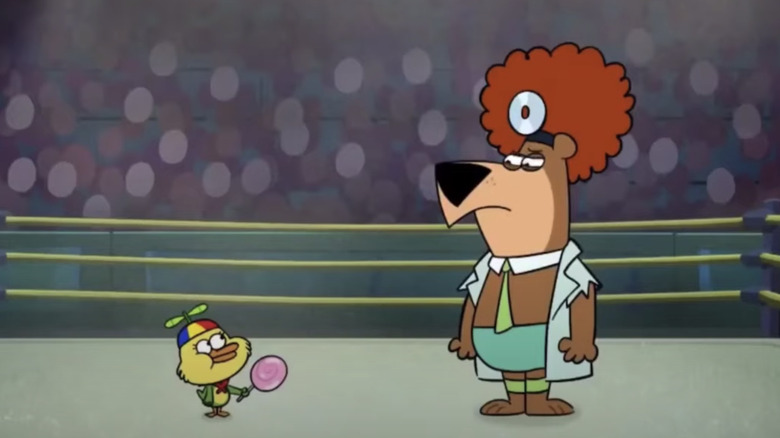 HBO Max
I don't mean to sound dramatic, but I would give my life to protect the "Jellystone!" version of Yakky Doodle. For the uninitiated, "Yakky Doodle" was a cartoon duck created for "The Yogi Bear Show" back in 1961. The little duckling shared a similar speech pattern to Disney's Donald Duck, and he had a protector in the form of Chopper the bulldog. Yakky frequently found himself in harm's way and BFF Chopper was his sworn protector. In "Jellystone!," Yakky Doodle is voiced by child actor Katie Grober and Chopper is now Yakky's adoptive mother voiced by Angelique Perrin. Chopper runs a Chuck E. Cheese style restaurant called The Cattanooga Cheese Explosion and is styled in a way that would imply that this bulldog single mom is also a butchy queer bull. I love them so much I want to scream.
Thomas Lennon ("Reno 911," "The State") voices the new version of Top Cat, who's pretty true to the original character with the spice of modern humor. Lennon is perfectly cast and manages to convert a beloved character into something that feels innovative. His get-rich-quick schemes are still present, but his gang of alley cats have much more defined personalities, allowing Lennon to shine as he bounces off of all of them. Greenblatt lends his voice to Top Cat's right hand man, Benny the Ball and his dimwittedness has been reframed as childlike ignorance in the best ways possible.
The changes to the characters are important, not just for the sake of expanding the range of humor, but also for the sake of balance. Hanna-Barbera cartoons lean heavily male and adding more non-male characters makes the world feel more complete.
A Show For All Moods
When it comes to television, some shows can only be enjoyed within very specific parameters. No offense to something like "The Handmaid's Tale," but that's the last thing I want to watch when I have friends over or when I'm feeling particularly depressed. "Jellystone!" is the type of show that's wonderful no matter how you're feeling. It's a great pick me up on sad days and keeps the good feelings flowing on good days. It's a show you can watch alone and laugh at on your couch, or great background fodder when you have friends over (safely, of course). It's just as funny when you're stone-cold sober as it is when you're feeling the influence of something else, and it's just as enjoyable on a Saturday morning as it is during the witching hour.
Not many people have been singing the praises of "Jellystone!" mostly because not a lot of people even know the series exists. Before the show's premiere, HBO Max renewed it for a second season, and I'm counting down the days for a release date announcement. The next time you're feeling some kind of way and need a short escape from the world, do yourself a favor and take a trip with some childhood favorites to "Jellystone!"
No pic-a-nic basket necessary.