Curb Your Enthusiasm Season 11 Teaser Reveals October Premiere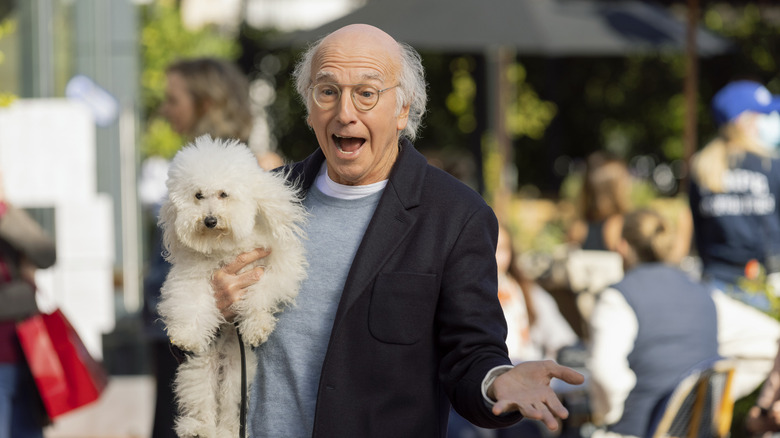 John P. Johnson/HBO
Don't get too excited, but the eleventh season of "Curb Your Enthusiasm" is returning to HBO on October 24, 2021 at the very specific time of 10:40 P.M. Eastern and Pacific.
The Emmy and Golden Globe-winning comedy is coming for us once again, and while the teaser doesn't give us any specifics, it does promise that what we love about the show, specifically Larry David being, well Larry David, will stay the same.
"Believe me, I'm as upset about this as you are," David said previously in a statement announcing that HBO had greenlit another season of the show. "One day I can only hope that HBO will come to their senses and grant me the cancellation I so richly deserve."
HBO didn't cancel the show, and in fact has put together a short teaser to commemorate the news of the series' return date. Check out the teaser below, which gives homage to "2001: A Space Odyssey" as well as the impressive roundness of David's head.
Curb Your Enthusiasm Teaser
"The world has changed," read the words from the teaser. "He hasn't." That's great news for fans, as the curmudgeonly Larry David has provided comedic relief already for 10 seasons and 100 episodes. Season 11 will bring us an additional 10 episodes of comedy, something we could all use right about now. 
The teaser's words also hint that season 11 might take place in a pandemic world and potentially address all things Covid head on. Is it too soon to make jokes about the pandemic? I don't think so — people benefit from laughter in even the darkest moments, and the type of humor "Curb Your Enthusiasm" provides I think would be a welcome salvo to these Covid days.
David also only does seasons of "Curbed" when he feels like it, which suggests that he specifically wanted to do a season, at least in part, to comment on the pandemic we've all been struggling to get through.
"Curb Your Enthusiasm" stars "Seinfeld" co-creator David as a heightened version of himself along with Susie Essman ("Broad City"), Jeff Garlin ("The Goldbergs"), Cheryl Hines ("Suburgatory"), J.B. Smoove ("Mapleworth Murders"), Ted Danson ("The Good Place"), and Richard Lewis ("Anything But Love").
The first episode of season 11 premieres on HBO on October 24, 2021 at 10:40 P.M. Eastern and Pacific. Subsequent episodes drop each Sunday at 10:30 P.M. Eastern. Episodes will also be on HBO Max after their HBO release.