James McAvoy Would Love To Play A Young Captain Picard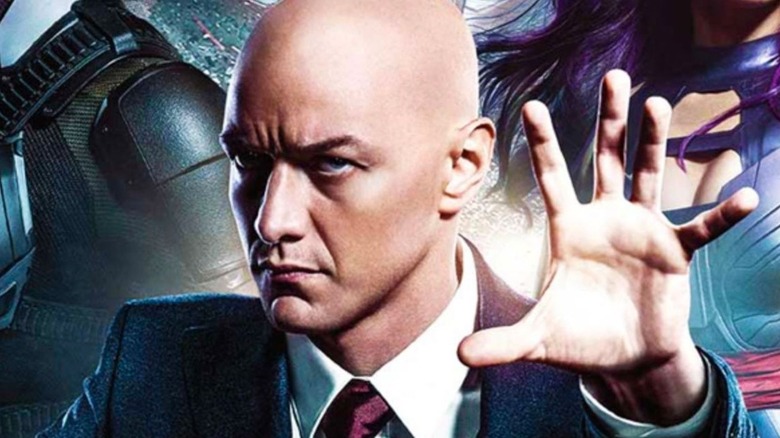 Fox
In an interview with Collider to promote his work in the "Sandman" Audible audio drama, actor James McAvoy revealed that while he has zero interest in playing Professor Charles Xavier ever again, he would love to take on another famous Patrick Stewart character: Captain Jean-Luc Picard from "Star Trek: The Next Generation."
McAvoy has had quite a varied filmography. He's played superheroes like Professor Charles Xavier in the "X-Men" movies, the multi-faceted and multiple-personality-filled supervillain Kevin in "Split" and "Glass," and all manner of spies, cops, criminals, and more. When the folks at Collider asked if there was a dream role that McAvoy hadn't gotten to play yet, he had an immediate answer:
"I mean, I've often talked about loving 'Star Trek', and jokingly, but also kind of seriously been like, if you ever want to do a young Jean-Luc Picard, I'm your man. But I'm probably getting close to being too old to do a young Jean-Luc Picard now. So there's that."
Boldly Going Where McAvoy Has Sort Of Gone Before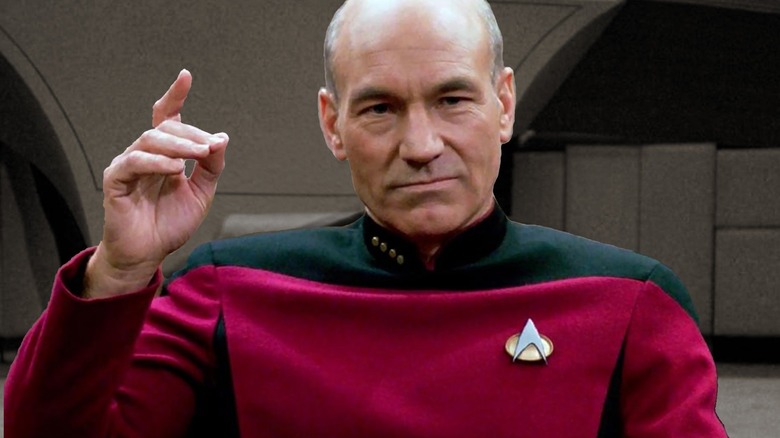 CBS
While McAvoy may think he's getting too old to play young Jean-Luc, it's something fans would probably clamor to see. And besides, we live in a bold new world of remakes and reboots. McAvoy mused:
"I mean, I remember when they made 'Lord of the Rings,' the first time. You have to say the first time, because Amazon is doing it again. I remember me and my mate, Ross, just sitting in a pub and just being like, What's the point of becoming an actor? They've already made the best story ever written. And so there was that out the window. But then, now we live in the land of remakes, so there's always a chance. There's always a chance that you're going to get on a show. But the only one that comes to mind is Star Trek, I think. I've always loved it. Always."
McAvoy knows that he's the right man for the job, but maybe that's part of the problem. He already played a younger version of Stewart, and even shared the screen with him in "X-Men: Days of Future Past." Who knows, maybe Stewart could bump into his younger self on the next season of the "Picard" series.
"I've successfully been Patrick, actually, and balded up, although maybe again, the young Jean-Luc wouldn't be bald. But yeah, no, maybe I'm overqualified for it, though," he said. "That's the other thing. Do you know what I mean? It's too easy, it's too obvious a choice. So maybe that turns people off from it."
Never Say Never to More Professor X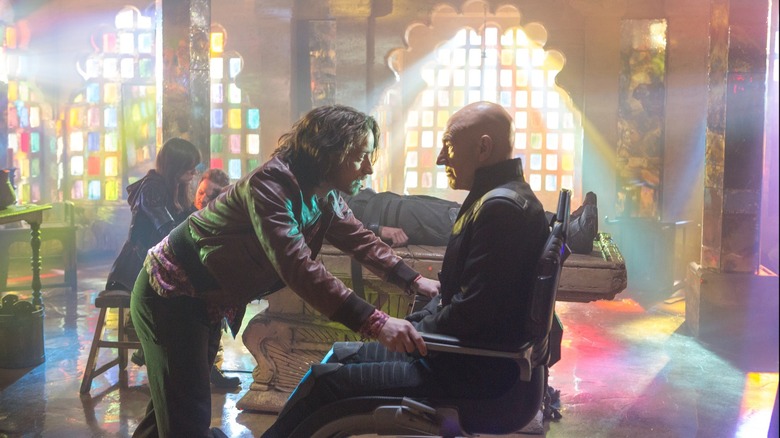 20th Century Fox
Fans of McAvoy's turn as the mutant leader Professor Charles Xavier, or Professor X, might be a bit disappointed he's essentially retired from the part. While McAvoy said he's not swearing off the role completely, he feels as if he's finished with the character:
"I feel like I got to explore, not everything I wanted to explore, because there's always more, surely, but I got to explore a ton of Professor X, and I feel quite satisfied with what I got out of him as a performer. It's not to say that you don't ever want to, you never want to come back, and you never want to do it again, and all that kind of stuff. You never say never, as I believe James Bond once said. But I'm not chomping at the bit. I'm not going to be gutted and desperately sad if it never happens again."
Whatever role McAvoy takes on next, I'll be there to watch him. Who knows? Maybe he'll pop up in "Star Wars" or the MCU. McAvoy on "The Mandalorian?" Yes, please.