You Can Buy The Conjuring House For $1.2 Million, But It's Probably Not A Good Idea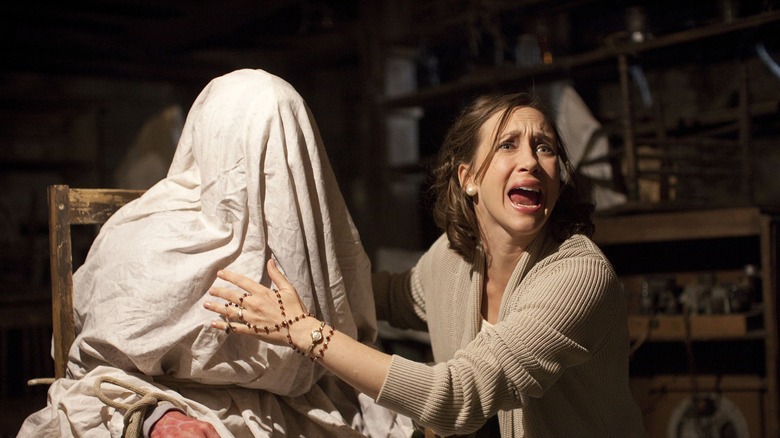 Warner Brothers
In the state of the current housing bubble, finding your dream home is a lot harder than it used to be. That is, unless you're in the market for a house that comes with its own set of otherworldly roommates. The site of the haunting that inspired James Wan's 2013 film "The Conjuring" is currently on the market for $1.2 million dollars. We're not talking about the house used for the set of the film, no. We're talking about the bonafide site of the actual haunting.
The 3,0000 square foot Burrillville, Rhode Island farmhouse sits on eight acres of land, features three bedrooms and one and a half bathrooms, and is supposedly haunted as hell. Back in 1971, the real life Ed and Lorraine Warren of "The Conjuring" and "Amityville Horror" fame were called in by the Perron family who owned the home at the time and determined the land to be cursed by a witch named Bathsheba Sherman. 
Is The House Still Haunted?
Mott & Chace Sotheby's International Realty
Current owners Jenn and Cory Heinzen purchased the property in 2019 and chose to inhabit just one downstairs room for the first four months as a way to respect the space of the spirits in the house. Cory Heinzen told the Wall Street Journal, "It was a sign of respect for the spirits, letting them get used to us instead of barging in." Perhaps someone should have given the same advice to the Deetz' family when they moved into the Maitland farmhouse. Maybe then they wouldn't have needed to call Beetlejuice.
Heinzen noted that a full-bodied apparition was creeping on them after they moved in, but it seemed less malicious and more curious. Since the initial interaction, the Heinzens have noted multiple paranormal connections and have built a bit of a side business renting the property out to paranormal investigators. The home is currently booked for paranormal investigation visits throughout 2022.
How Can You Buy The Conjuring House?
Mott & Chase Sotheby's International Realty, who represents the property, isn't shying away from the home's legacy either. Their listing for the house is filled with information acknowledging the hauntings, but with that expert realtor flair. "1677 Round Top Road is a property with such a fascinating background, and we are pleased to have listed this interesting home," said Ray Mott, broker and co-owner. Fellow co-owner Judy Chace, continued saying, "'The "Conjuring' estate is an intriguing offering in northern Rhode Island. We are happy that The Blackstone Team has listed this property with such noteworthy historical significance."
If you feel compelled to buy the house made famous by "The Conjuring," you must provide proof of funds for an in-person viewing and sign a Non-Disclosure Agreement for the release of full property financials. Detailed pro forma available upon request to qualified buyers.
Best of luck to whoever decides to play the clapping game after purchase.