Morbius: Release Date, Cast, And More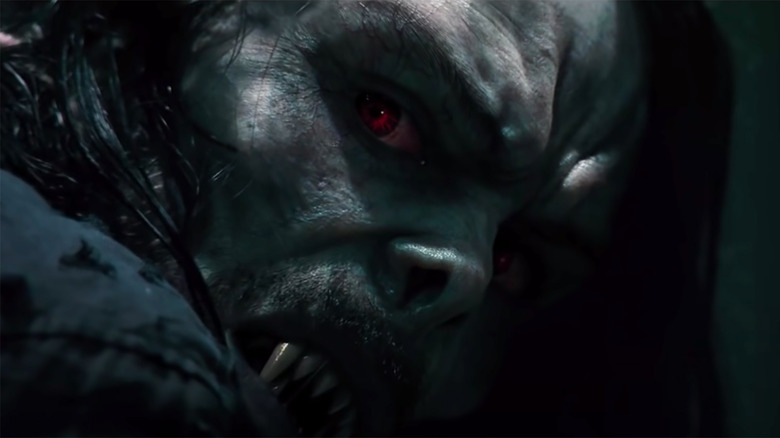 Sony Pictures
Now that Sony Pictures has established "Venom" as a new Marvel Comics franchise that lies outside the Marvel Cinematic Universe (for now), they're hoping to expand their roster of Spider-Man characters on the big screen with "Morbius." Based on the comic book character of the same name, the film puts Jared Leto in the lead as a scientist with a rare blood disorder whose work to find a cure takes him in a dark and dangerous direction. It certainly doesn't look like the next Spider-Man, but it's definitely something else. Find out when you can see "Morbius" and everything else we know about the upcoming comic book movie below.
Morbius Release Date and Where You Can Watch It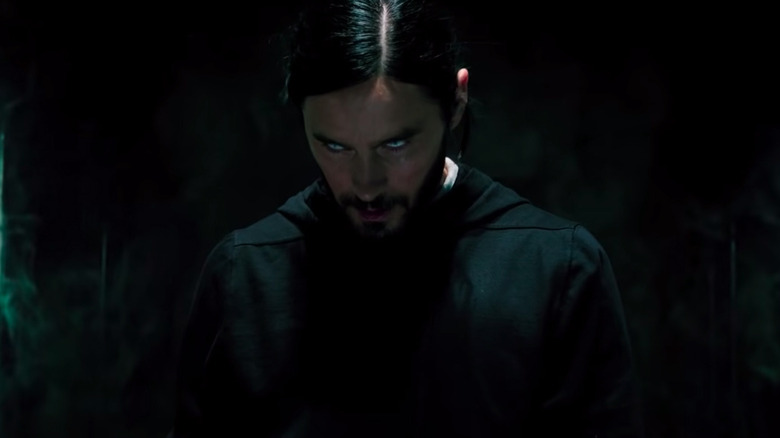 Sony Pictures
"Morbius" was originally scheduled to be released in July 2020 before the COVID-19 pandemic came along. It was initially delayed to March 2021, followed by another delay to October 2021. But once "Venom: Let There Be Carnage" was shifted into an October release date, "Morbius" was pushed back with a release date of January 28, 2022. It was pushed back again in early January to its new release date of April 1, 2022. It's not clear how long the film will be a theatrical exclusive, but there hasn't been any announcement about a shortened release window just yet.
After playing in theaters, "Morbius" will be part of a new deal that Sony Pictures struck with Netflix that will make their streaming library the exclusive home to the comic book movie for the first streaming window after it arrives on home video. That's typically an 18-month period, and then after that, the movie will then shift over to Disney where it will be sent to Hulu and various cable networks.
What is Morbius?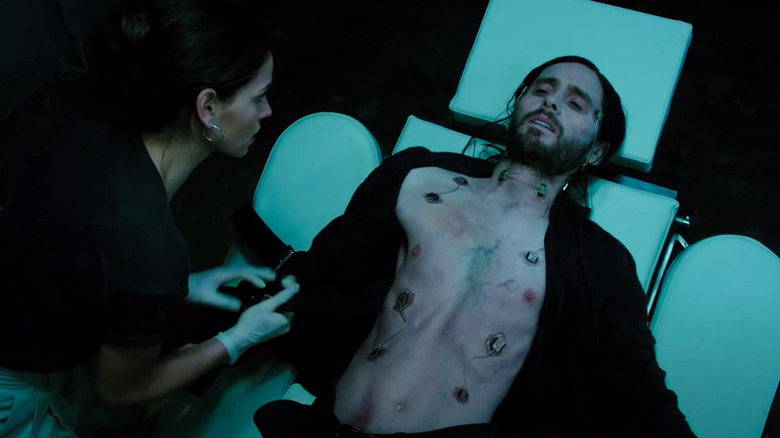 Sony Pictures
"Morbius" is the latest Marvel Comics movie to be produced and distributed by Sony Pictures. Since the character falls under the roster of properties included in their ownership of Spider-Man comics, this film appears to fall outside of the Marvel Cinematic Universe. But with rumors swirling about "Venom: Let There Be Carnage" potentially creating some kind of bridge to Tom Holland's "Spider-Man" franchise in the MCU, that could easily change by the time "Morbius" is released.
In Marvel Comics, Morbius began as one of Spider-Man's many horror-inspired villains in "The Amazing Spider-Man # 101." After trying to cure a rare blood disease with a risky biochemical experiment, scientist Michael Morbius accidentally imbues himself with pseudo-vampiric superhuman abilities and physical traits, including an insatiable thirst for blood. And that's how he becomes Morbius, the Living Vampire. But after tangling with Spider-Man, Morbius became a tragic antihero dealing with his complicated circumstances and confronting various supernatural threats, not to mention characters like Blade the Vampire Hunter, Ghost Rider, and Man-Thing.
Now Sony Pictures is giving Morbius, the Living Vampire his own feature film, but his debut will be without Spider-Man. Instead, the film focuses on his inherited vampiric abilities and the struggles that come with it, which will likely include squaring off with another being suffering from pseudo-vampirism. 
Morbius Cast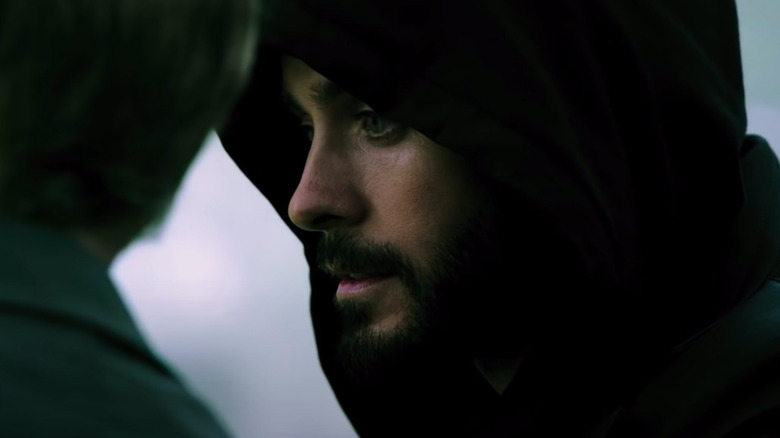 Sony Pictures
Jared Leto is playing the titular role of Morbius, both as the infirm Michael Morbius and his living vampire alter ego. Jared Harris ("Chernobyl") plays Morbius' mentor, and Adria Arjona plays his fiancée Martine Bancroft. 
In pursuit of Morbius will be Al Madrigal as Alberto Rodriguez, an FBI agent. Alongside him will be Tyrese Gibson as Simon Stroud, who wields a hi-tech weapons grade arm of some kind. So we can expect him and Morbius to get into a fight at some point. 
However, it seems like the big bad that Morbius will have to contend with is Matt Smith, who is playing a friend of Morbius named Loxias Crown. It just so happens that he's suffering from the same rare blood disease, and we're betting that Crown takes a more villainous turn than Morbius. In Marvel Comics, Crown becomes known as Hunger and starts abducting citizens off the streets and keeping them prisoner in a subterranean chamber. We're not sure how closely Crown's character will be translated from page to screen, but since Smith is the only other huge star in the movie, and he has the exact same abilities as Morbius, he's clearly meant to be the primary antagonist.
The "Morbius" trailer also revealed Michael Keaton reprising his role as Adrian Toomes, AKA Vulture from "Spider-Man: Homecoming," but it's yet to be explained how that's possible when this movie is supposed to fall outside of the Marvel Cinematic Universe. Perhaps it has something to do with the recently unfurled multiverse from "Loki."
Morbius Director, Writer, and More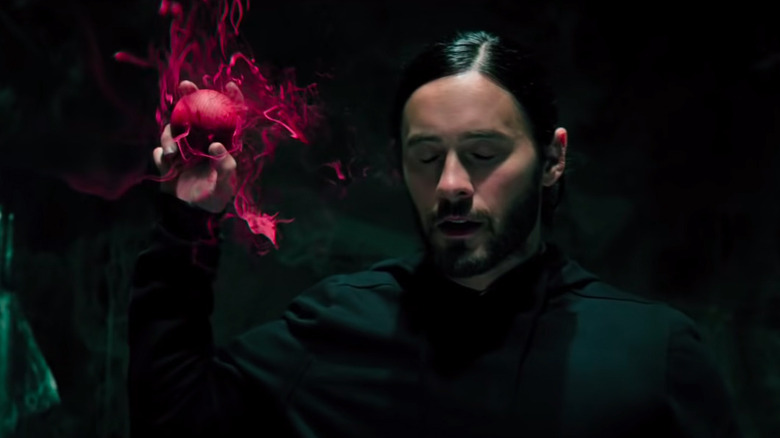 Sony Pictures
"Morbius" will be directed by Daniel Espinosa, the filmmaker behind the sci-fi thriller "Life" and the action thriller "Safe House." Meanwhile, the script comes from writing duo Matt Sazama & Burk Sharpless, who previously tackled vampires in "Dracula Untold" and the supernatural in "The Last Witch Hunter." The writing team is also known for scripting the "Power Rangers" reboot and "Gods of Egypt," neither of which inspires much confidence. 
Morbius Trailer and Synopsis
Here's the official synopsis for "Morbius" from Sony Pictures:
One of Marvel's most compelling and conflicted characters comes to the big screen as Oscar winner Jared Leto transforms into the enigmatic antihero, Michael Morbius. Dangerously ill with a rare blood disorder, and determined to save others suffering his same fate, Dr. Morbius attempts a desperate gamble. What at first appears to be a radical success, a darkness inside him is unleashed and transforms this healer into a hunter.