Bridgerton Season 2 Clip: How About Some More Period Romance?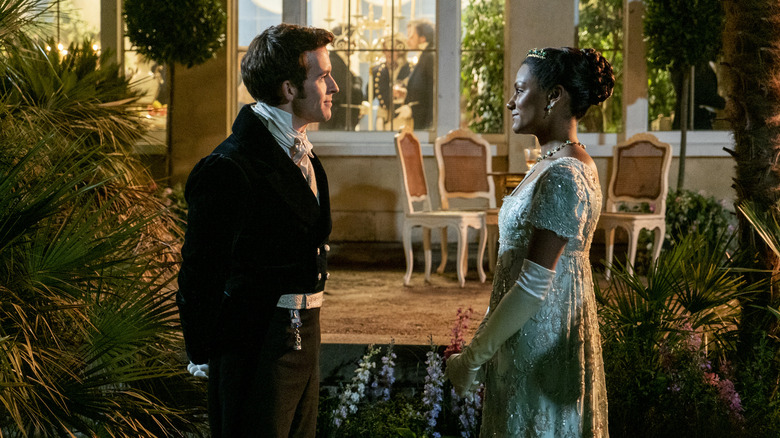 Netflix
Netflix packed a lot into its Tudum event over the weekend, and "Bridgerton" fans weren't left wanting. The streaming platform released a clip from the highly anticipated second season of the Shondaland show, where we see the eldest Bridgerton, Anthony (Jonathan Bailey), get dressed down by the witty Kate Sharma (Simone Ashley).
We already knew that season 2 of "Bridgerton" would focus on Anthony's travails in love now that Daphne Bridgerton (Phoebe Dynevor) and Simon Basset (Regé-Jean Page) are happily wed. This clip makes it all-but-certain that Kate will be the one to become romantically entangled with Anthony, though it's clear she won't be won over by him so easily.
See for yourself how handily Kate dresses down Anthony, who appears to still hold his boorish views about what a wife should be.
Bridgerton Season 2 Clip
Ouch! Kate didn't hold back in what she thinks about the Bridgeton Viscount. Anthony, however, seems smitten, and I'm sure things will smolder between them as the season unfolds. We'll be seeing a lot of Anthony, and perhaps none of Phoebe and Simon, as the series will focus on one Bridgerton sibling per season. Season 2 is Anthony's year, so we'll be seeing him in a variety of romantic exploits as the episodes unfurl.
Need a refresher on the premise of the show? Here's the official synopsis:
Based on Julia Quinn's best-selling series of novels, "Bridgerton", is set in the sexy, lavish and competitive world of Regency London high society. From the glittering ballrooms of Mayfair to the aristocratic palaces of Park Lane and beyond, the series unveils a seductive, sumptuous world replete with intricate rules and dramatic power struggles, where no one is truly ever on steady ground. At the heart of the show is the powerful Bridgerton family. Comprised of eight close-knit siblings, this funny, witty, daring and clever group must navigate the upper ten thousand's marriage mart in search of romance, adventure and love.
Season 2 also includes some new cast members. In addition to Ashley taking on the role of Kate Sharma, Charithra Chandran ("Alex Rider") will play her sister Edwina, who wants nothing but a true love match. Shelley Conn ("Liar") will play Kate's mother, Mary, and Earl's daughter, who married a tradesman and had to face the "scandal" that came with it. Calam Lynch is also in season 2 playing Theo Sharpe, and Rupert Young ("Dear Evan Hansen") will play Jack, an enigmatic character who apparently has a connection to one of its most notable families.
Season 2 of "Bridgerton" is set to premiere some time in 2022.