15 Shows Like The White Lotus You Should Definitely Check Out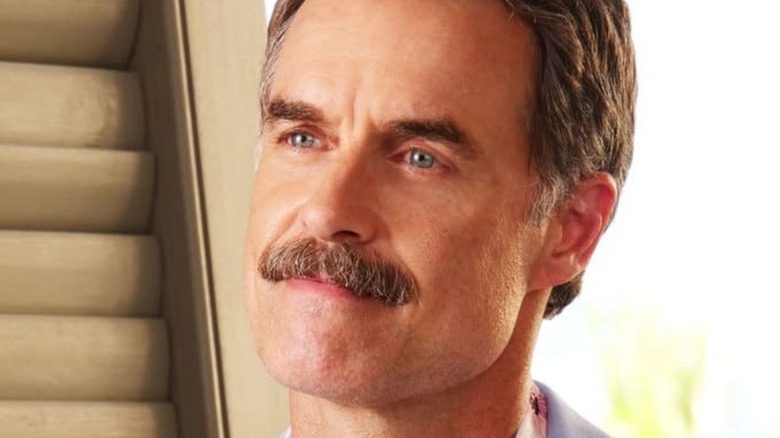 HBO
One of the reasons why "The White Lotus" was such a hit with audiences is that it was unexpected. We're simply not used to seeing social satire pulled off well in mainstream popular culture. When done correctly, satire holds a lens up to society and exposes a type of person, vice, or institution that is problematic or ridiculous in some way. It's not just imitation or parody. In fact, satire is so difficult to pull off without actually doing the offensive thing that you're trying to mock that it sometimes seems like networks — and maybe even writers themselves — shy away from it. 
But while "The White Lotus" is exemplary satire, it's not the only example on television. One might even argue that other shows were do it more successfully. There has been some conversation about whether or not "The White Lotus" reached the right audience — after all, what good is a satire if it only reaches those it is seeking to satirize? Musing on that, here are some other shows that pull off satire in one way or another, as well as a couple that just have those amorphous "White Lotus" vibes. 
Nine Perfect Strangers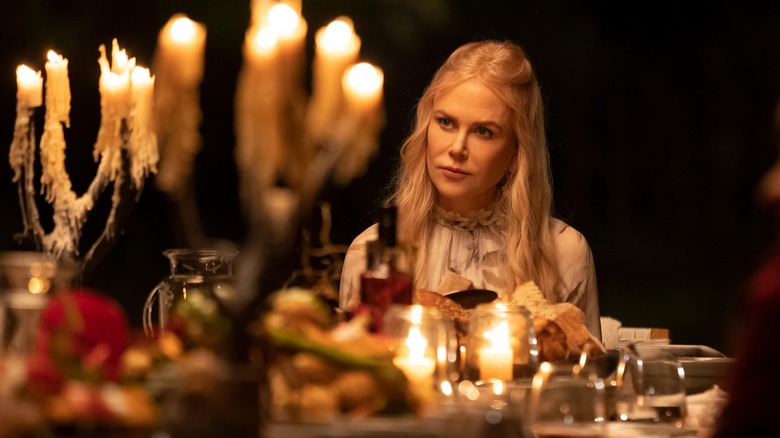 Hulu
Like "The White Lotus," the Hulu series "Nine Perfect Strangers" has a star-studded ensemble cast and a luxurious vacation setting, and since it started right as "The White Lotus" aired its shocking finale, comparisons between the two shows are already commonplace. There is also a building sense of tension, as many characters wonder if they have been brought together for a reason and have hidden motives, that is comparable to the murder mystery simmering underneath "The White Lotus." 
However, the entitlement satirized by "The White Lotus" isn't an issue with "Nine Perfect Strangers," because this resort's guests are being controlled by the staff. "Nine Perfect Strangers" is about the wellness industry. The titular strangers are removed from their phones and given daily therapeutic tasks to complete — only to discover that their host, played by Nicole Kidman, has been micro-dosing them with hallucinogens. It's a different kind of dark comedy, but if you like one you should at least check out the other.
Weeds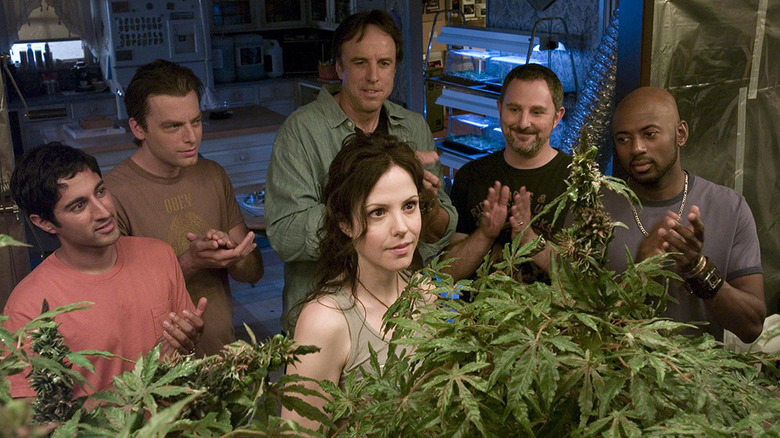 Showtime
Jenji Kohan is one of the best living writers when it comes to satire and class commentary. You probably watched Kohan's "Orange is the New Black," a Netflix series that uses a privileged white woman's incarceration as a Trojan horse to tell comic and tragic stories about the prison-industrial complex and the American justice system. 
But before "Orange is the New Black," Kohan was the showrunner and creator of the long-running prestige sitcom "Weeds," which satirized upper class suburban society through the lens of a housewife-turned-widow who starts selling marijuana in order to maintain the lifestyle she has grown accustomed to. Nancy Botwin's friends and clients would feel right at home bossing around the staff on "The White Lotus." The only thing that's missing is the murder mystery, although the Starz series did manage to pack in multiple twists and turns over its eight seasons. That also makes "Weeds" a perfect show to binge, if that's what you're looking for.
Succession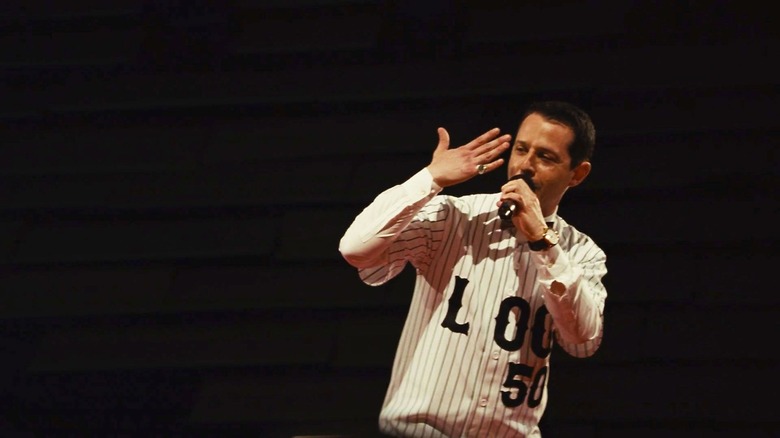 HBO
The Home Box Office really loves to make shows about the rich, don't they? It's quite possible that "The White Lotus" became so popular over the summer because it filled the "Succession"-shaped hole in the hearts of HBO viewers. That said, the two shows have very, very different senses of humor. "Succession" is a dry comedy — at first, you might not even realize that it's being played for laughs. It doesn't help that, in the early days of the show, it was known as "dramatic 'Arrested Development,'" even though both shows are, in fact, comedies. 
If you've somehow missed out on the phenomenon, "Succession" is about the one-percenters in the Roy family and their media empire. Like some of the characters on "The White Lotus," they are callous towards the poor and middle classes, and get away with (literal) murder. Once you get into the groove of the jokes on "Succession" you won't be able to stop laughing. The only thing that keeps "Succession" from being as successful of a satire as "The White Lotus" is that, against all odds, the despicable, overprivileged characters on the show are actually likable. 
On Becoming a God in Central Florida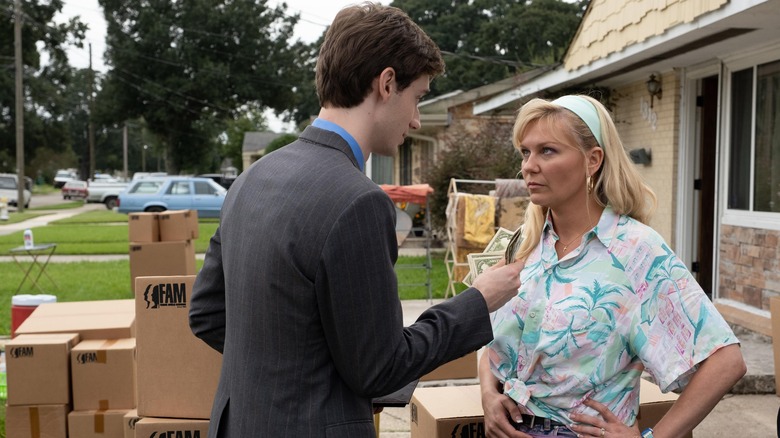 Showtime
If you found yourself watching "LuLaRich," the four-part documentary series taking down the LuLaRue women's clothing company, in addition to "The White Lotus," then the next show you need to watch is "On Becoming a God in Central Florida." It's a dark comedy about a similar topic, ie multi-level marketing and pyramid schemes that become akin to cults. After an MLM ruined her family, Kirsten Dunst's character cons her way to the top of the organization with the intent to take them down from within. It's also technically a period piece, seeing as it takes place in the '90s.
Despite Dunst's critically-acclaimed performance, this Showtime series only lasted one season, due to scheduling complications in the midst of the Coronavirus pandemic. The upside is "On Becoming a God in Central Florida" won't take long to watch. If what you're looking for next is a quick bite, this could be perfect.  
American Vandal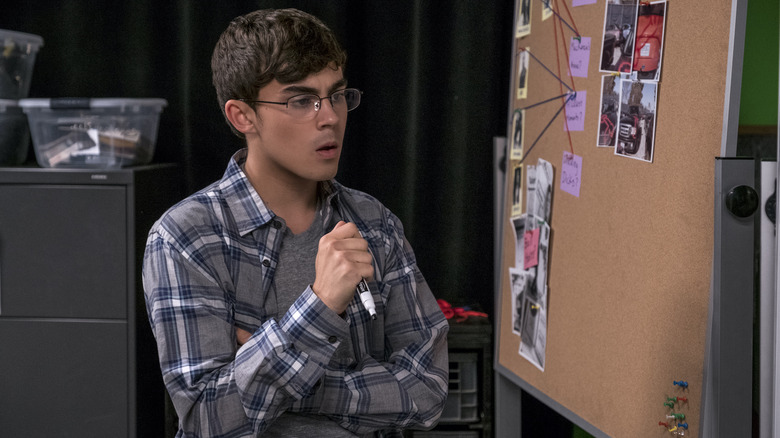 Netflix
The beauty of "American Vandal" is that it's super smart about new media, documentary, and criminal justice while telling the silliest stories imaginable. The "true crimes" investigated by amateur documentarians are graffitied penises and lemonade spiked with laxatives. "American Vandal" has no business being so incisive or so laugh-out-loud funny. Despite the childish subject matter, every single character is dead serious about the crimes they're investigating, witness to, or accused of. The series even satirizes true crime audiences themselves. You'll be obsessed with finding out "who did the dicks" in the first season before you realize you are the butt of the joke as well. 
If the two seasons of "American Vandal" on Netflix aren't enough to satisfy you, the creators of the series, Tony Yacenda and Dan Perrault, are next set to produce a mockumentary series about an esports league for Paramount+ that will spoof "The Last Dance." This new series will be called "Players."
UnREAL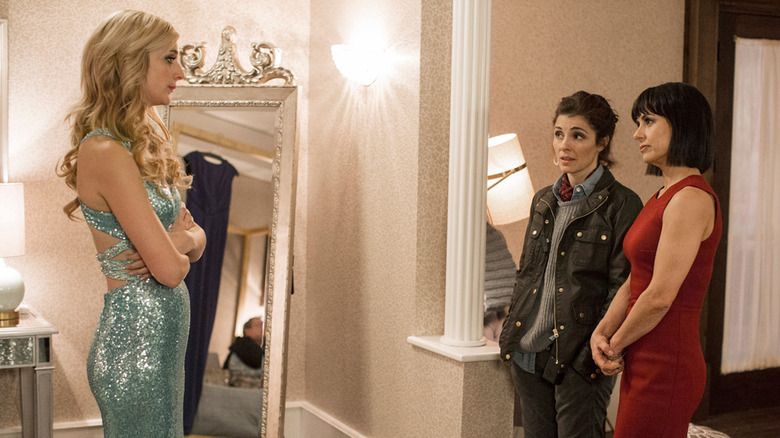 Lifetime
"The White Lotus" was written by Mike White, who, in addition to being the screenwriter behind "Chuck & Buck," "School of Rock," and "Enlightened," has also studied human behavior extensively as a reality show contestant (he competed on "The Amazing Race" and "Survivor"). So, what better satire to put on next than "UnREAL," Marti Noxon's series about a fictional dating show that's nearly identical to "The Bachelor?" 
The central character in "UnREAL" is a young producer who specializes in manipulating the emotions of contestants to get the television she wants to make. Read any kind of tell-all from real dating shows, and you'll find that this satire isn't far off from the truth. This show is hysterical, mean, and features some of the most complex female antiheroes you'll ever see on television. Whether you genuinely like "The Bachelor," despise it, or haven't watched a single episode but feel like you get it, there's something you'll enjoy about "UnREAL."
Search Party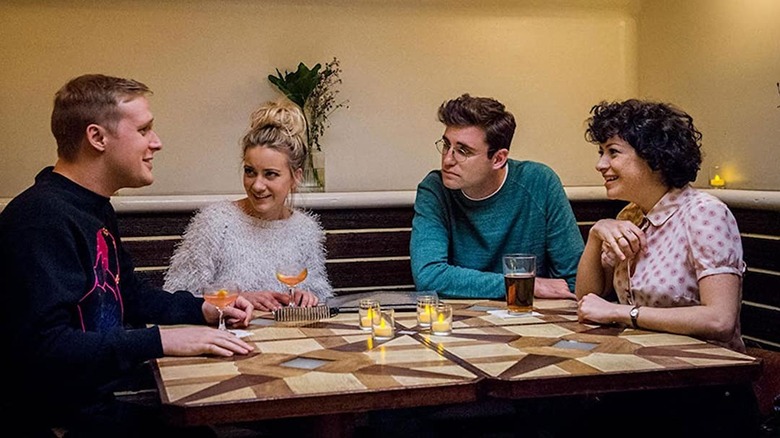 HBO Max
Speaking as one of them, millennials are villainized and mocked every ding dong day. We're accused of "killing" industries left and right. We've been treated like teenagers in headlines for what seems like the last 20 years. But "Search Party" takes a deeper and more informed look at this messed-up generation and creates a satire that both rings true and manages to punch up. These millennials aren't entitled because they received participation trophies or eat avocado toast, but because they're white and rich.
"Search Party" is about college friends who, lacking a sense of purpose in life, set out to find a Facebook friend who has gone missing. Unsurprisingly, they're less equipped to deal with the escalating stakes than they think. The sitcom recently moved from TBS to HBO Max, and there is a fifth season coming, likely in 2022. 
Veep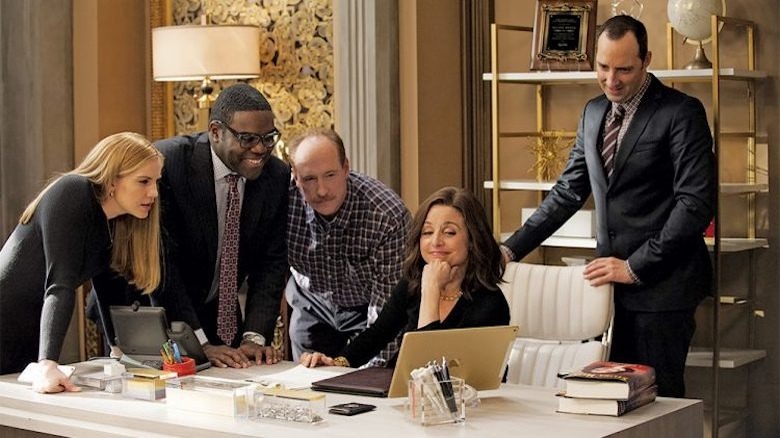 HBO
Five years ago, it seemed like "Veep" was an over-the-top satire about how nasty politicians are behind the scenes. Then it started predicting the future. Satire is supposed to feel just unrealistic enough that the audience knows it's a joke, but "Veep" got a little too real. If you're still a bit burned from the last election or two, this may not be the best show to watch next. If you're willing to laugh through the pain, however, let's get into it.
The long-running series is a crass and cynical story about the first female Vice President, Selina Meyer, and the ways she lies and cheats her way to the Oval Office. The characters are incredibly mean and the jokes are smart, although the characters are decidedly not. If you've ever had a suspicion that politicians don't actually care about serving the country and helping people, this show dials that hunch up to 11 and points a spotlight right at it. 
The Other Two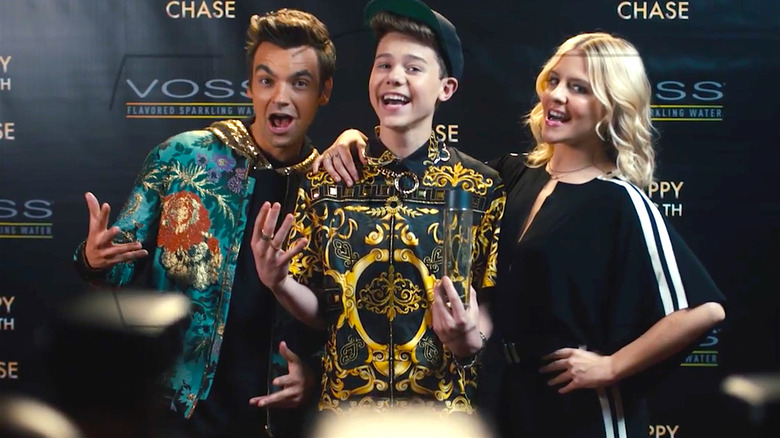 HBO Max
"The Other Two," which initially aired on Comedy Central before moving to HBO Max, satirizes the frivolous rise of Youtubers and now, in its second season, how nepotism keeps the entertainment industry spinning. The show is about two adult siblings whose little brother becomes an overnight sensation. His 15 minutes of fame open the door for his brother and sister to try and further their own careers. 
The satire in "The Other Two" is primarily focused on viral fame, digital media, Instagram influencers, and the aspects of society that have more to do with status and clout than wealth and class. For example, a recent episode took down perceived "gay baiting" by celebrities who won't comment on their sexuality publicly, but are performative in their ambiguity in order to generate headlines. That's something most sitcoms would never think of talking about, but comes effortlessly to "The Other Two."
Made for Love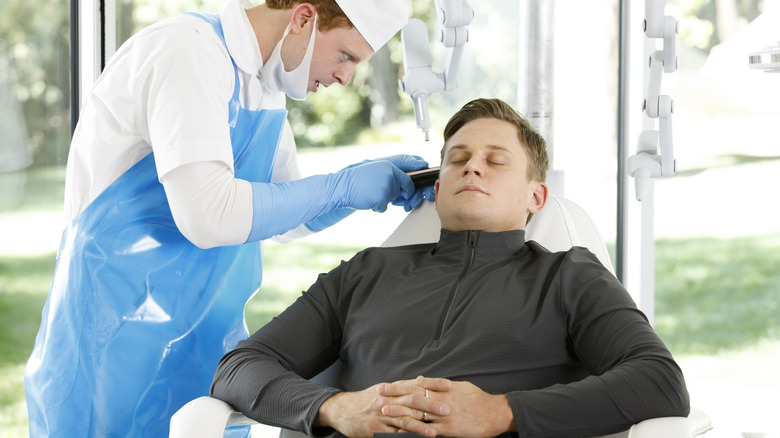 HBO Max
If you questioned Rachel's choice to stay with Shane at the end of "The White Lotus," get a load of the twisted romance on "Made for Love." In a satire with a science fiction twist, a woman named Hazel (Cristin Milioti) discovers that her tech-genius husband has implanted a chip in her brain (please, keep jokes about the COVID-19 vaccine to yourself). This chip allows for her so-called soulmate to not only "read her emotional data" but also to see and hear everything she sees and hears, which therefore prohibits her from running away from their abusive partnership. 
That doesn't stop her from trying. While Hazel's husband Byron Gogol (Billy Magnussen) is easily able to find her in his attempts to win her back, his mission forces him to leave his protective compound and experience the real world for the first time in a long while. He's a more heightened version of the clueless, rich babies we see in "The White Lotus," if that's even possible. 
Big Little Lies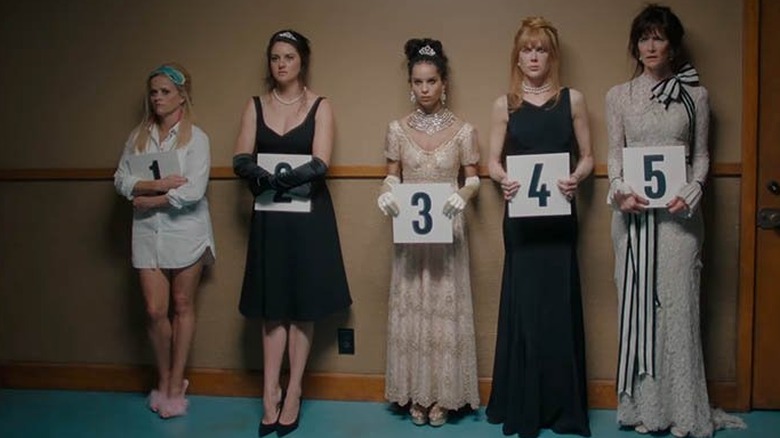 HBO
"Big Little Lies" takes itself a little too seriously to call it a true satire, but it certainly has the elements in place. The wealthy women at the center of this HBO series are completely unaware of how ridiculous some aspects of their lives are — at least when it comes to after-school pickup and school fundraisers, that is, not abusive partnerships, sexual assault, and grief. The show puts satirical characters in high-stakes situations and asks them to actually work through their issues and face the consequences for their actions. 
But then, just when you think "Big Little Lies" is too self-important, Meryl Streep screams while wearing a frumpy wig and Laura Dern snarls, "I will not not be rich" through a prison visitation window. "Big Little Lies" can tell realistic and important stories about mental health and women in general, but at the end of the day it does know it's a satirical comedy, just like "The White Lotus."
The Great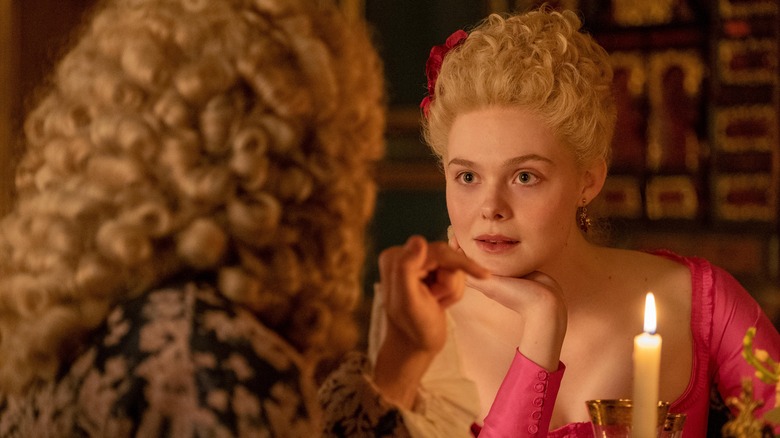 Ollie Upton/Hulu
No two actors had more fun on television in 2020 than Elle Fanning and Nicholas Hoult of "The Great." On the hysterical Hulu series, the truth is often greater than fiction. A lot of the events portrayed really happened, but the show takes some creative liberties to make the true story of Catherine the Great's plot to murder her husband Peter III as big and silly as the imagination allows. 
Fanning's intellectually bored, scheming Empress is quite sympathetic when left alone in a palace full of obliviously tyrannical royals, led by Hoult's gleeful portrayal of a himbo Emperor. The showrunner, Tony McNamara, also co-wrote the screenplay for Yorgos Lanthimos' film "The Favourite," but while you'll recognize the biting sense of humor, the film and the series are absurd in very different ways. That just speaks to the authorial voice of a director in film, compared to the more writer-centric medium of television. 
Fawlty Towers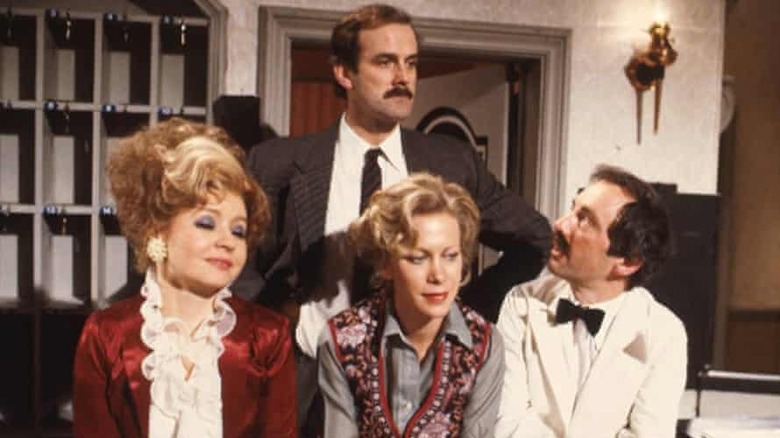 If you don't want something quite as biting as "The White Lotus" but love comedies about hotel management, why not check out this classic British sitcom? Murray Bartlett's character on "The White Lotus" is, for all intents and purposes, an upside-down version of John Cleese's character, Basil, on "Fawlty Towers." The guests who come to stay at the hotel are more eccentric than over-privileged, but cause plenty of trouble for the staff nonetheless. 
In fact, the class commentary on "Fawlty Towers" is almost reversed: Most of the time, the joke is on the hotel manager. He's the punchline. Basil longs to run a posh establishment. He's the one doing the social climbing, and he actually thinks most of his guests are beneath him, happily sucking up to anyone classy or wealthy who happens to visit. If Basil actually got the cream he's after, he might end up as cynical as Dom ... but "Fawlty Towers" isn't interested in cynicism. 
Black Monday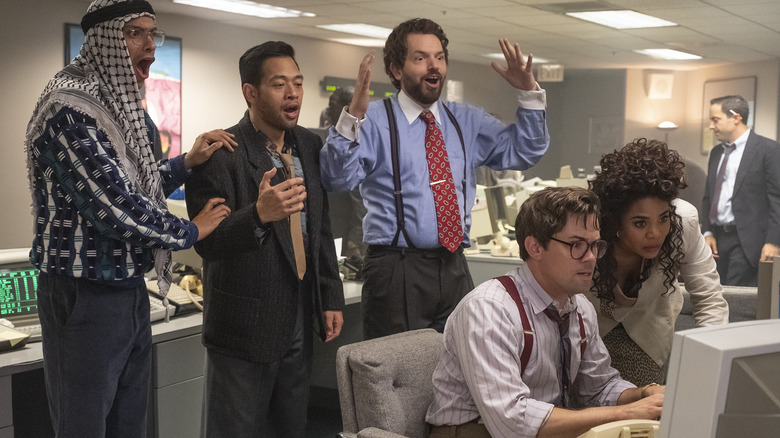 Showtime
If you love dark comedy, "Black Monday" may be the best show you're not watching. The series, whose third season aired on Showtime in 2021, is about mediocre but cold-blooded stock brokers in the '80s who may or may not be responsible for an infamous crash on Wall Street. But while Black Monday is a real and mysterious historical event, the show based on it is completely fictional — and completely ridiculous. 
Don Cheadle, Andrew Rannells, Regina Hall, Paul Scheer, and June Diane Raphael make up the ensemble cast, who are misfits trying to conquer the world of over-privileged Wall Street bros. "Black Monday" satirizes the wealth and greed of the '80s in the same way that "Wonder Woman 1984" did, but it's a little more obvious that satire is the intent when there aren't and superheroes flying around — but that doesn't stop the situations from getting increasingly ridiculous. 
Schitt's Creek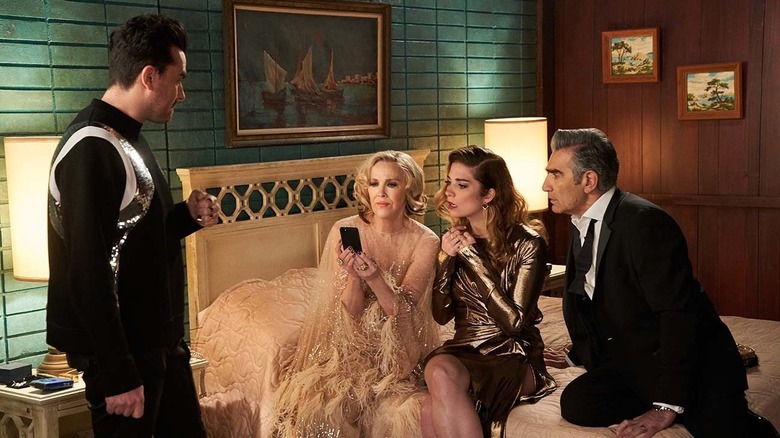 Pop Media Group
By the time that "Schitt's Creek" aired its final season, it was as cuddly and warm-hearted and down to Earth as "Parks and Recreation" — but it wasn't always like that. There was a time when the Rose family was just as clueless about the real world as any of the guests on "The White Lotus." That doesn't mean that the show was less good, or less funny — it just slowly morphed into a slightly different kind of comedy. Satire doesn't often allow for a lot of character growth, but "Schitt's Creek" couldn't help it. 
For those reasons, "Schitt's Creek" might be the perfect show to put on after "The White Lotus." It's similar, but not nearly as stressful. You start laughing at the Rose family, and end up laughing (and, let's be real, crying) with them. Most shows don't get to have it both ways. "Schitt's Creek" does.