Venom: Let There Be Carnage Clips Introduce The Sequel's New Characters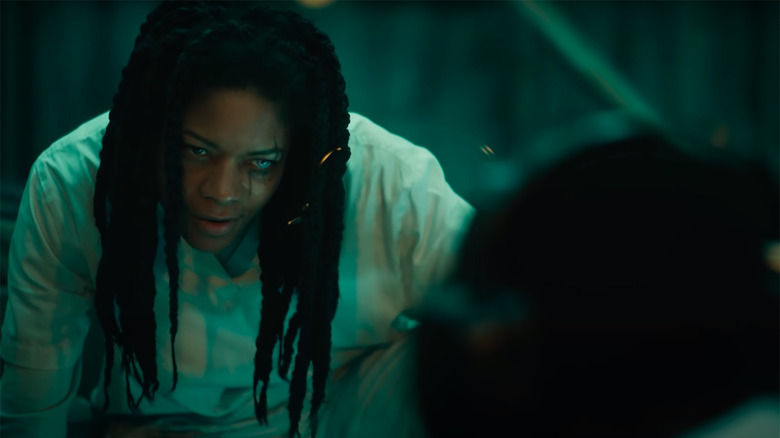 Sony Pictures
"Venom: Let There Be Carnage" is just over a week away, and we honestly can't wait to be reunited with Eddie Brock and his hungry symbiote buddy called Venom. Thanks to Tom Hardy's mesmerizing performance in the original "Venom," the movie ended up being surprisingly entertaining, though perhaps not always intentionally. So we're anxious to see how the sequel ups the ante, especially with Woody Harrelson playing murderer Cletus Kasady, who becomes the vicious villain known as Carnage. A handful of "Venom: Let There Be Carnage" clips (via Bloody Disgusting) properly introduce us to Kasady (again), as well as a couple new key characters we'll be seeing in the sequel, and you can watch them all below.
Venom and Eddie Have Roommate Woes
Easily the best thing about the first "Venom" movie was Tom Hardy's performance. Hardy being such a serious actor made his comedic performance that much more jarring, but it was also fascinating to watch. Though Eddie Brock and Venom chose to stay together in the end, their life is far from harmonious. Venom is still insatiably hungry, and he's making Eddie's life a living hell. The dichotomy between these two characters will hopefully continue to be a highlight in the sequel, and I hope it gets much more silly.
Meet Detective Mulligan
At the end of "Venom," a credits scene teased the debut of Carnage when Eddie Brock went to visit Cletus Kasady (Woody Harrelson in a hilarious wig) in prison. However, it sounds like maybe that first meeting didn't go very well. Even so, Kasady still wants to meet with Brock again, and he's being encouraged to do so by Detective Mulligan (Stephen Graham), hoping that the killer wants to spill the beans on the bodies they've yet to retrieve from his murders. No matter how much Brock wants to stay away from Kasady, it sounds like he'll be forced to see him. Otherwise how would we have a sequel?
There's Gonna Be Carnage
In this clip, Eddie Brock reunites with Cletus Kasady, and he's not exactly subtle about trying to get information out of him before the death penalty is carried out for Kasady's crimes. Unfortunately, Kasady didn't bring Brock back to tell him anything valuable. Instead, he takes darkly personal digs at Brock in an effort to get a rise out of him. There's a line in the trailer about Kasady tasting Brock's blood and knowing that there's something off about him. So this presumably leads to Brock trying to attacked Kasady, which will inevitably result in the criminal lashing out at the journalist, and that's probably how some of Venom turns into Carnage inside Kasady's body. 
Shriek for Me
Finally, we have a clip introducing us to Naomie Harris as Shriek. She's being contained in a cell that has been designed to contain her powerful scream. Not only is she in a transparent, mostly soundproof box, but the entire metal room around her has been padded to also capture the sound, should she unleash her super power. The guards have headphones to block the scream too, but even so, they're clearly still scared of her. As of now, we don't know why she's been locked up, but it's probably because she's done some bad things. After all, she doesn't look too friendly, and that's probably only going to get worse when she eventually gets a symbiote of her own.
Andy Serkis is directing "Venom: Let There Be Carnage," which arrives in theaters on October 1, 2021.