14 Movie Roles Denzel Washington Should Have Turned Down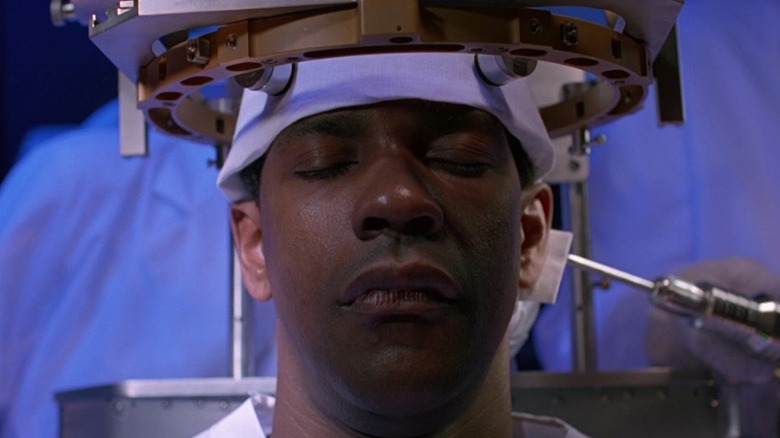 Paramount Pictures
It goes without saying that Denzel Washington is a living legend — a man so inherent to our perception of cinematic talent that his mere presence is considered an improvement to any film. Washington-starring movies become, in their own inevitable way, Washington-esque movies. "Malcolm X," "Fences," "Crimson Tide," and "Training Day" — with just a couple of lines here and a forehead rub there, each one becomes Washington material in the most Denzel-ion sort of way.
With Washington at the ripe age of 66 years old, he's a veteran who can do whatever he wants. Since 2002, he's gone on to direct five features, with "A Journal for Jordan," starring Michael B. Jordan, on the way in December 2021. He's also produced 11 films. This is all to say that Washington hasn't always starred in films that elevated or needed him. It isn't easy to choose a movie that shouldn't star Washington, as if that wasn't a blasphemous thing to even suggest. But with this near impossibility in mind, here are 14 possible options.
Heart Condition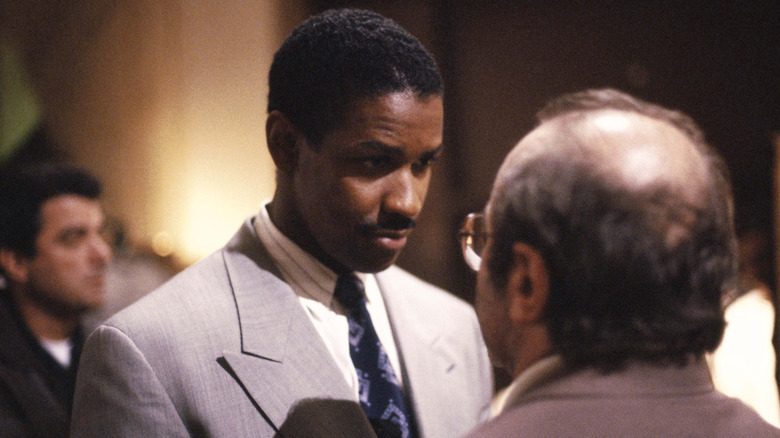 New Line Cinema
The year 1990 was a simpler time, when a bigoted cop who received the heart of a Black lawyer in a transplant was an actual plot device. A time that crystallized a union between Bob Hoskins and Washington in what Complex declared the 21st most racist movie of all time. Whether it was due to the unlikability of Jack Moony (played by Hoskins) or the assumed likeability of Napoleon Stone (played by Washington), this film builds up a sense of stupefaction, punctuated by a question, "How is this movie even real?"
Well, director James D. Parriott's "Heart Condition" is real. Stupidly real. For an actor of any other stature, this film would be an exercise in career suicide. Hoskins himself openly brandishes the racial slurs, carrying the heart of a Black lawyer who he hates, but whose murder he must solve. Meanwhile, Washington is our ghostly attorney, as graceful as the role would allow him to be. Given that Washington won the best supporting actor Oscar for "Glory" just a month and a half after "Heart Condition" debuted, his choice to star in this film remains baffling.
Virtuosity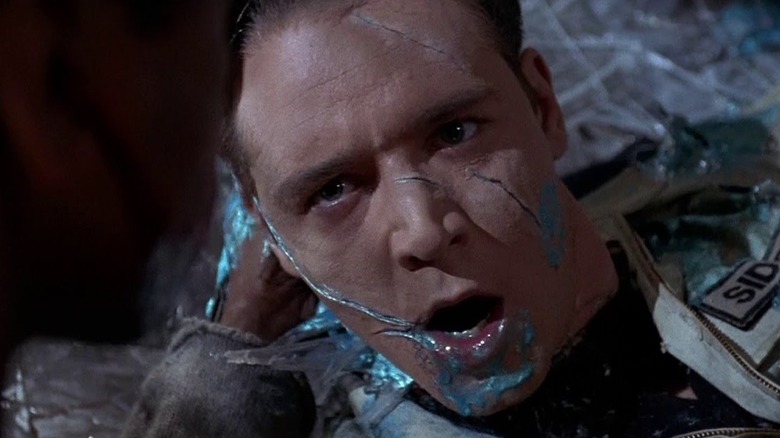 Paramount Pictures
Silliness can be defined in so many ways — but for now, the plot of "Virtuosity" will work just fine. In this thriller from Brett Leonard, director of "The Lawnmower Man," Denzel Washington takes the thankless role of Lt. Parker Barnes, an ex-cop tasked with stopping a VR serial killer who escapes to the real world. That's all that audiences need to know. It's Washington and cyberspace dude Russell Crowe, both playing the most forgettable parts of their lifetimes.
"Virtuosity" is all cyber-crazy aesthetics in the way that the entire '90s were cyber-crazy: house music, DJs with plastic glowing orbs, corny police uniforms, VR interfaces, and very bad CG. Considering that "Virtuosity" came out in 1995, the same year as the comparatively beloved "Hackers," it's clearly the product of its era.
As a matter of history, weirdness to the detriment of his reputation has never been a problem for Washington. Before "Virtuosity," he'd taken on celebrated roles in "Crimson Tide," "Philadelphia," and "Malcolm X." While it's true that "Virtuosity" stands as arguably Washington's worst role, it neither elevated nor damaged his reputation at the time — a negative that only Washington can stand on.
Carbon Copy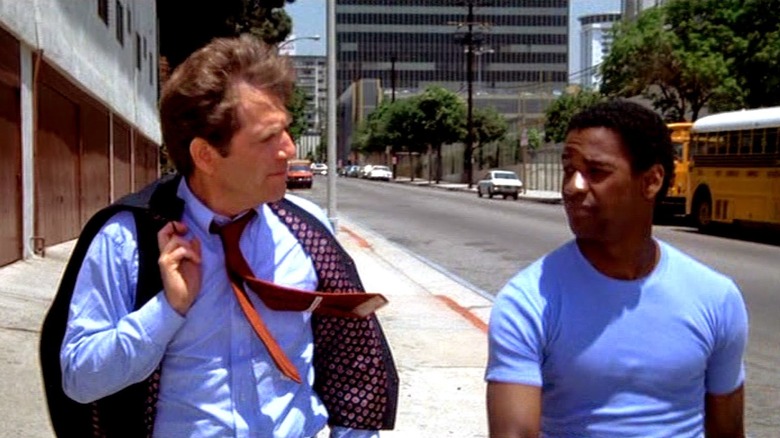 AVCO Embassy Pictures
In "Carbon Copy," a white businessman is stunned to find out that he has a long-lost Black son. The optics for a really bad, highly stereotypical movie are all here. But to give it some context, Michael Shultz's "Carbon Copy" was Washington's first feature film. If exposure was the goal, it wasn't an entirely bad choice, even if Washington deserved far better.
Perhaps things were different in the '80s when it came to "well-meaning" but absurdly racist comedies. Maybe the movie's tagline — "Any resemblance between father and son is purely hysterical" — was all smiles and giggles. And maybe a story about a white, rank-obsessed, and (secretly) Jewish executive named Walter Whitney (George Segal) and his Black son, Washington's Roger Porter, was A-okay. The '80s will not be judged here. But we're almost four decades removed from the release of "Carbon Copy," and it's still incredible that Washington began his legendary run with such a dud.
Much Ado About Nothing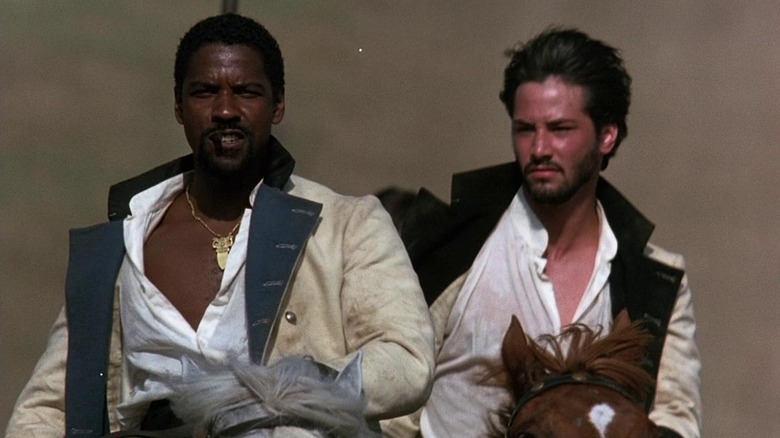 The Samuel Goldwyn Company
27 years later, no one actually remembers "Much Ado About Nothing" as a memorable Washington role. What they will remember is Denzel Washington and Keanu Reeves as half-brothers, a match sprung from fan-fiction heaven. For those unfamiliar, the Kenneth Branagh Shakespeare adaptation follows two youthful lovers, Claudio (Robert Sean Leonard) and Hero (Kate Beckinsale) who team up with Don Pedro (Washington) in a matchmaking scheme. Pretty easy to follow.
In actuality, it's the word-for-wordiness ease of a William Shakespeare comedy that makes this a highly forgettable adaptation. It lacks the gun-toting weirdness of Leonardo DiCaprio and Claire Danes' "Romeo + Juliet," or the modernized touch of Joss Whedon's black and white take on the same play. But a few good performances (Emma Thompson, Imelda Staunton, Richard Briers, and Patrick Doyle) can't keep this '90s dramedy from being an unremarkable one for Washington, accents notwithstanding.
2 Guns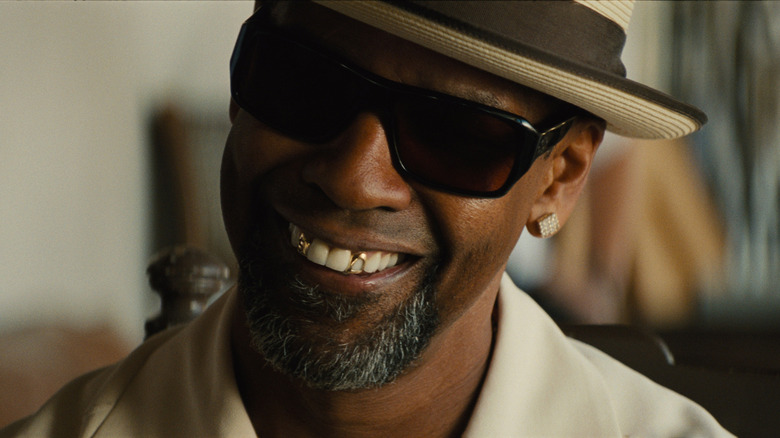 Universal Pictures
"2 Guns" is the sort of movie Washington makes when he's waiting for better material. In other words, his brooding, barely-trying presence transcends this B-movie. Based on a comic book by Steven Grant and Mateus Santolouco, "2 Guns" relies entirely on Mark Wahlberg and Washington. They play two criminals — Marcus Stigman and Bobby Trench, respectively — who each have a secret. Both are undercover agents, and both are searching for a criminal. Cue the buddy-cop clichés.
To the credit of Icelandic director Baltasar Kormákur, it isn't a bad time. Wahlberg does his best to keep up, while veteran Washington mugs his way through it under sunglasses and a fedora. The movie doesn't need a "Fences"-level of commitment, just Washington's presence. Playing one half of a criminal-cop duo in 2013 reinforced the fact that Washington did it better in 2001 with "Training Day"; Ethan Hawke and Washington are different, but equally as iconic. "2 Guns" works, but more as a cash grab than a meaningful role for Washington.
John Q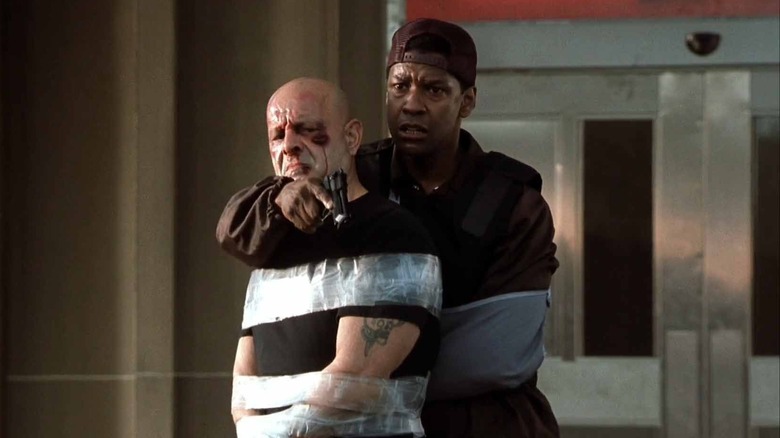 New Line Cinema
In order to explain why "John Q" is on the list, we need to go into spoilers. Ready? In this film, Washington plays John Quincy Archibald, who has a son who needs a heart. The hospital refuses to provide a heart because Archibald doesn't have insurance. So, guess what? Archibald holds a hospital hostage, gets national coverage, almost dies, and his son gets a transplant. He's happy, his wife (played by Kimberly Elise) is happy, and we have a happy ending. The thing is, this heart giveaway is the result of a freak accident. It has absolutely nothing to do with Washington. He went to prison and earned a criminal record for something that wouldn't have happened if an innocent person hadn't died.
All that aside, "John Q" is your typical "everyman is screwed by the powers that be" movie directed by Nick Cassavetes ("The Notebook," "Alpha Dog"). Washington, who does an admirable job, isn't the problem here. The issue comes in the messaging. It's almost unbearably corny at every stretch, especially the way that local nurse Kevin Connolly spews monologues worthy of an entire Supreme Court lecture. It's a role Washington could have skipped, if not for the simple fact that he's Denzel Washington.
Deja Vu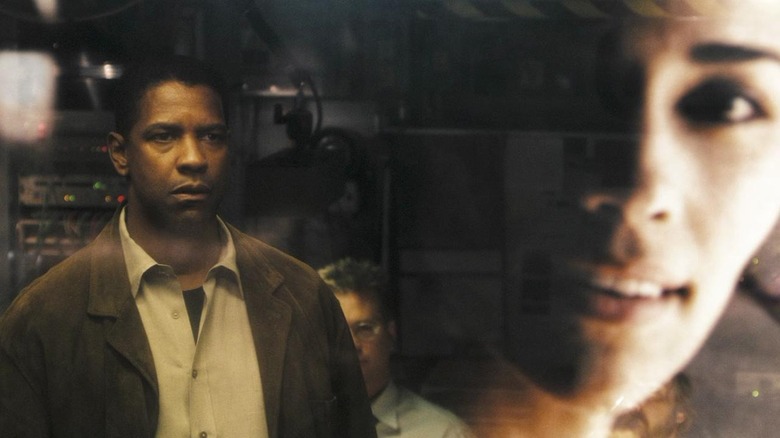 Buena Vista Pictures
Look, it's hard to make time travel make sense. "Back to the Future" couldn't do it. "Avengers: Endgame" certainly couldn't, either. And neither can Denzel Washington. When a singular scene happens, in which Washington describes time travel, it's hypnotic, hopeful, wonderful, and disappointingly illogical. Plot-wise, you've got Doug Carlin (Washington) as an anally attentive investigator who hitches a ride into the past thanks to Val Kilmer's Agent Pryzwarra. Terrorists attack, a crime needs to be solved, and the body of a woman who died prior somehow becomes a subject of obsession.
All in all, "Deja Vu" was never going to win any awards in the logic or science departments. Directed by Tony Scott in 2006, it's a movie more concerned with activity over relativity, and hocus pocus over focus. Washington should have considered this role with the slowness.
Safe House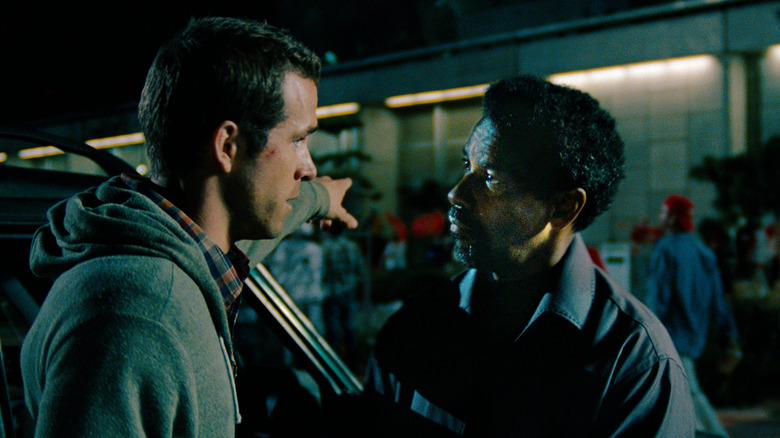 Universal Pictures
"Are you going to kill me?" That is a direct quote from Ryan Reynolds' character in "Safe House." Don't worry, he gets a Washington-level reply: "I only kill professionals." 
This exchange is "Safe House" in a nutshell, a meta-view into what it must have felt like to be a B-level Reynolds trying to keep up with his royal Denzel-ness. For "Safe House," think "Training Day," but charming. As a buddy movie romp, it's a run-of-the-mill thriller about a CIA agent named Matt Weston (Reynolds) who's charged with looking after a former CIA fugitive (Washington) in a safe house. Sure, action-y things happen, but at its best, "Safe House" mixes a knowingly somber actor with the helplessly humorous and hopes for the best.
However, by 2012, Washington was already 57, and had 39 film roles under his belt. He was at the height of his game. If there's a movie out there that utilizes the full extent of Washington's talent, this Daniel Espinosa-directed, shaky-cam infected flick is not it.
Fallen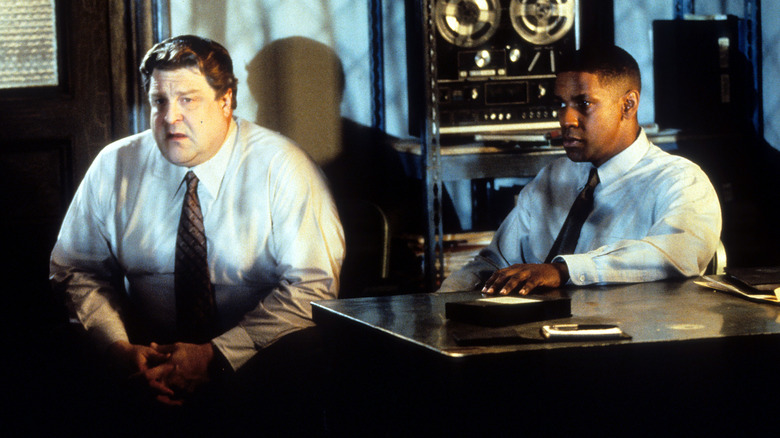 Turner Pictures
"Fallen" is a testament to the fact that Washington will fight anything in a movie. In this 1998 crime drama by director Gregory Hoblit ("Primal Fear"), Washington plays a cop named John Hobbes. With his partner Jonesy (John Goodman), Hobbes must defeat a serial-killing demon who forces others to commit murders. It's an unbelievably bizarre but entertaining concept; at one point, this demon possesses a cat and proceeds to blow our collective minds (no spoilers).
While, like every movie on this list though, Washington acts his way through it, "Fallen" is a film that copies the aesthetics of David Fincher's "Se7en," but has the mistaken energy of a knockoff. "Fallen" is a weird — but watchable — thriller that few people viewed, as evidenced by its $10 million opening weekend. That doesn't make "Fallen" a terrible movie, just an unnecessary one, at least by Washington's standards.
Power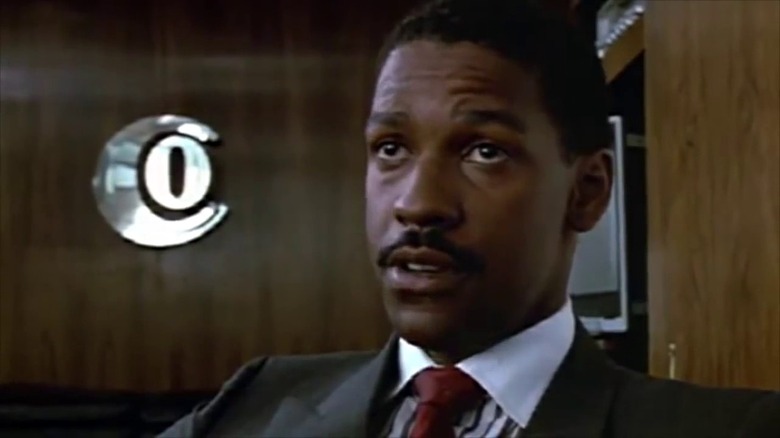 20th Century Fox
How many times can one watch Washington play a morally ambiguous character? The limit does not exist. To be clear, "Power" is a Richard Gere film. As Pete St. John, Gere plays a media manipulator who happens to be any politician's ideal final form. He knows how to reshape the public's opinion in his own devious image, and he's good at it (he'd fit this decade well). Contextually, the concept of consultants who molded media influence was still a novel idea in 1986, and director Sidney Lumet capitalized on it by telling a story that was driven by machinations, deception, and politics.
Why "Power" deserves a spot on this list: Out of every film Washington should've avoided, "Power" received the least of him. Yes, Washington plays a corrupt rival who's colluding with Middle Eastern oil sharks. Yes, he works directly with Gere in a singular, magnificent acting effort. But with a combo of Gere and a peak Gene Hackman driving the movie, he's hardly the main focus.
The Preacher's Wife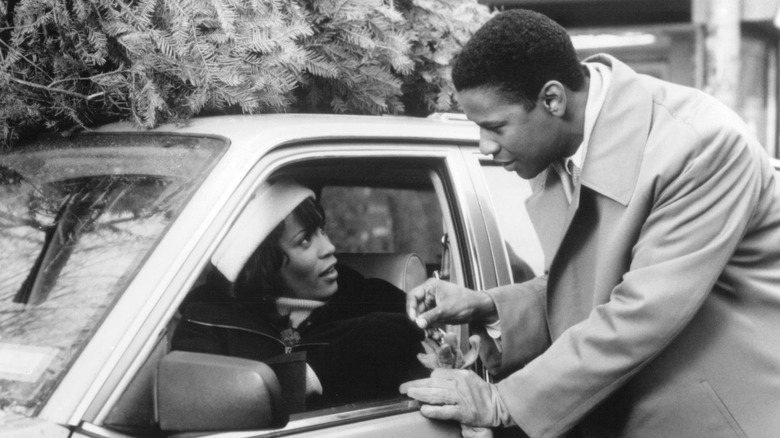 Buena Vista Pictures
This Washington-produced, Penny Marshall-directed dramedy has all the hokey sentimentality of a holiday classic. Washington plays an angel known as Dudley who's dispatched from Heaven to assist a man with his church and marriage. Naturally, Washington — who, I repeat, is an angel — falls in love with Julia Biggs, played by Whitney Houston, because who wouldn't? Things happen, Denzel returns to the mission, and we've got an Academy Award-winning soundtrack wrapped in an excuse for a movie. 
To Washington's credit, he was instrumental in getting the film off the floor. But what began as a spiritual remake to "The Bishop's Wife" endured a torrent of problems during production: thefts, bad weather, and a few deaths in proximity to the set. Yes, deaths occurred during shooting. If history can ignore any figurative or literal weirdness, "The Preacher's Wife" will be best remembered for Houston's legendary grace, not Washington's footnote of a performance.
For Queen and Country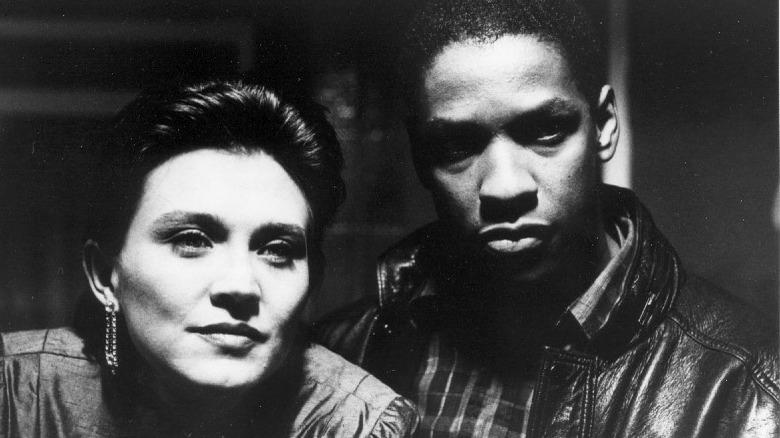 Atlantic Entertainment Group
"For Queen and Country" was an all-around mixed bag. It's mixed for limiting Washington to another '80s social drama about racism and communal discontent. And it's a mixed bag for Washington, who couldn't completely nail his British accent. As a struggling British Falklands vet named Reuben James during peak Thatcherism, Washington was one of the few Black American actors to play a British protagonist, dialect and all. And in truth, "For Queen and Country" is as much a period piece about Britain in the '50s as it is a release from the clutches of "Carbon Copy."
Notions of Washington's range evolved acutely shortly after this 1988 role, leading to parts in "Mo' Better Blues," "Malcolm X," and "Philadelphia." And, unlike several silly selections on this list, Martin Stellman's "For Queen and Country" isn't a bad starting point for Washington. It's not his most memorable film by any stretch, but it certainly prepared him for future challenges.
The Little Things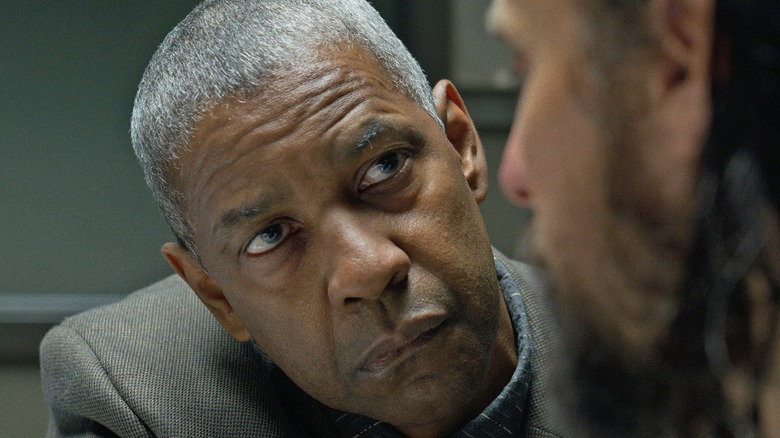 Warner Bros.
Holy exposition, Batman! "The Little Things" is perhaps the movie that best exemplifies why filmmakers need Washington, and why he doesn't necessarily need them. It wants to be a clever taut and twisty serial killer film, and yet it's obsessed with explaining away its cleverness. It's maddening, because with director John Lee Hancock's atmospheric nods to David Fincher's "Se7en" and Jonathan Demme's "Silence of the Lambs," you want it to work, especially with Washington as the lead.
As far as stories go, Washington plays yet another maladjusted cop, this time named Joe "Deke" Deacon, who, at the edge of retirement, involves himself with a series of unsolved murders. Jared Leto plays the prime suspect. Naturally, Rami Malek joins Washington as detective Jim Baxter. When the thriller is great, it's well-composed and subtle. When it's bad, Washington's performance is above the material. There's a seasoned ease to the way Washington towers over Malek, who won the Academy Award for best actor in 2019. That speaks more to Washington's legacy than his need to be remembered for this 2021 pandemic drop.
The Taking of Pelham 123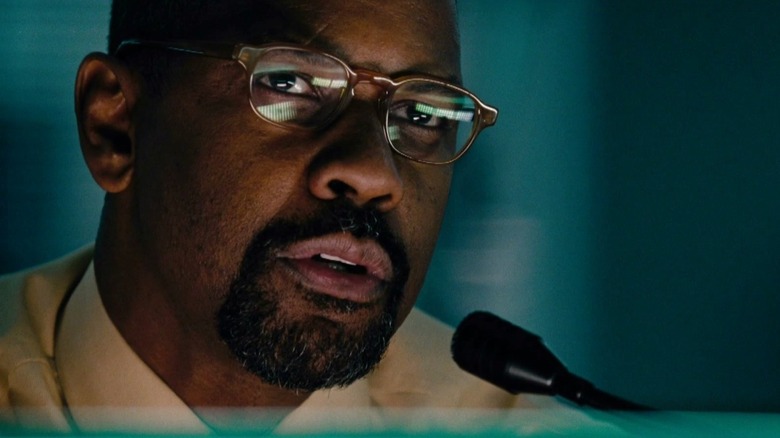 Columbia Pictures
In just about every conceivable way, Tony Scott's 2009 remake of the 1974 thriller "The Taking of Pelham 123" is inferior. The setup? Subway dispatcher Walter Garber, played by Washington, enters a confrontation with a man named Ryder, played by John Travolta. The situation? Pelham Bay Park, a running train, and a hijacking involving hostages and a ticking clock.
From top to bottom, Scott's movie is essentially an hour and 46 minutes of Washington acting incredibly nerdy and Travolta's bulging neck tattoo. Very little in the way of character development exists outside of Washington, and even so, he can't shoulder the burden of the dizzying cuts and the narrative block known as Travolta. "The Taking of Pelham 123" is a dumb, fun ride, but hardly one of Washington's most necessary roles.