'Much Ado About Nothing' Review: Joss Whedon Makes Shakespeare His Own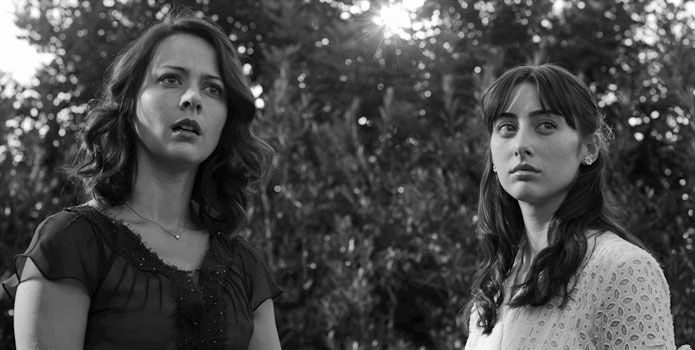 (This review originally ran during SXSW, in March. As Much Ado About Nothing hits theaters today, we present it once more.)
In the world of drama, nothing is quite as distinct or lovely as the prose of William Shakespeare. His vocabulary, his rhythm, rhymes and descriptions, all established a standard against which others are still measured. Modern day dramatist Joss Whedon also has a distinct style, characterized by wit, humor, and cultural authority. Surely it's not in the same league as the Bard's. But with the writer/director's modern adaptation of Much Ado About Nothing, Whedon has found an enjoyable and surprising balance between the two.
The film will be released June 7, but had its U.S. Premiere this week at South by Southwest. Read more below.
The story of Much Ado About Nothing is famous, and often copied. Benedick (Angel's Alexis Denisof) and Claudio (The Cabin In The Woods' Fran Kranz) return from war and find themselves in the company of Leonato (The Avengers' Clark Gregg) and his family. The extended relations include Leonato's daughter Hero (Jillian Morgese) and cousin Beatrice (Angel's Amy Acker).
Both men have returned from their trials set on remaining bachelors, but each fall for the girls. Claudio does so in a grand, head over heels manner, while the silver-tongued Benedick is a bit more averse to his feelings. A series of comedic follies ensue, resulting in heartbreak, betrayal and ultimately, lots of love. Rounding out the cast are other Whedon regulars such as Firefly's Nathan Fillion and Sean Maher, The Avengers' Ashley Johnson and others.
Whedon wisely doesn't mess with a story that has resonated for several centuries. He give audiences pretty much exactly that original text, only in a modern California setting. What he does, however, with both his adapted screenplay and direction, is simultaneously accentuate the timelessness of that story while interpreting the prose through his own humor. He throws in lots of physical performances, silly cutaways and out there settings that make the film funnier and feel like his own. How often do you see Shakespeare characters give monologues while exercising? Whedon's actors own their performances in a way that feels current despite the the centuries-old text in which they're based.
The tone remains light and humorous throughout, which should help help audiences slowly acclimate to the language of the film. What it doesn't help are the narrative reaches Shakespeare used so regularly. Things such as marriages that come seemingly out of nowhere, and characters literally dropping dead. In this modern setting, many pieces of plot elicit eye-rolls.
But if you're a fan of Shakespeare, Whedon or just a good old-fashioned romantic comedy, Much Ado About Nothing delivers. It's not quite the cultural revolution Baz Luhrmann's Romeo + Juliet was, but it certainly feels like the successful blending of two distinct voices.
/Film rating: 7 out of 10