Behind-The-Scenes The Protégé Footage Shows Off The Making Of An Action Movie [Exclusive]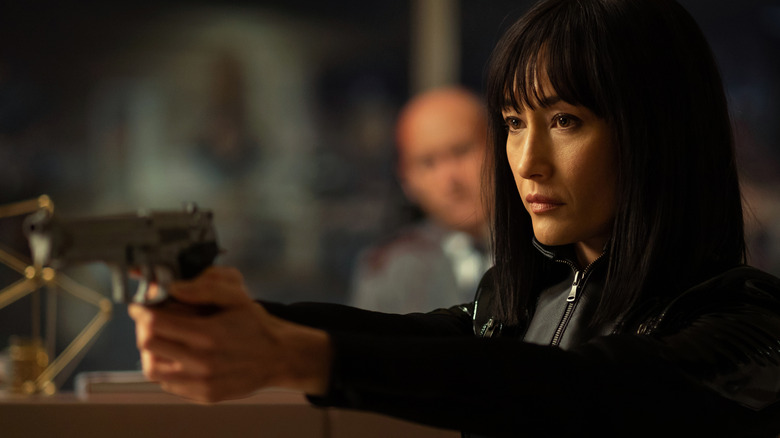 Lionsgate
Any filmmaker who has hits like "The Mask of Zorro," "Goldeneye," or "Casino Royale" under their belt is a filmmaker who knows their way around action. It's as simple as that. For Martin Campbell, this year's release of "The Protégé" (along with 2017's Jackie Chan-starring "The Foreigner") marked a grand return to the genre that seems to come as naturally to him as breathing. The U.K.-based, New Zealand director hasn't been shy about sounding off on his thoughts on the current action landscape or giving viewers a peek behind the scenes on the process of making a movie like "The Protégé."
With the film now available on digital platforms today, /Film can exclusively present a behind-the-scenes featurette on its female-led mayhem, the plot that keeps you guessing, and the humor in the script that keeps the dialogue lively. Check out the video below.
Behind the Scenes of The Protégé
"The Protégé" comes to digital as of today, September 21, 2021, and stars the trio of Maggie Q as the assassin Anna, Samuel L. Jackson as her mentor Moody, and Michael Keaton as the villainous (and artfully-named) Rembrandt. As Jackson states in the video, the emphasis on having someone of Maggie Q's legendary status and caliber cast in the main role speaks volumes. For her part, Maggie Q is well aware of what her presence represents and has fully embraced the challenge.
"The Protégé" also arrives on 4K UHD, BLU-RAY, and DVD on October 19, 2021. The home release will include special features such as:
"Scars of the Past: Making The Protégé" Featurette, hosted by Martin Campbell and featuring "an inside look at the making of the film, and is filled with immersive on-set footage, captivating photographs, and intriguing interviews" with the stars
"Anna vs Rembrandt" Featurette, which highlights "the chemistry between Maggie Q's and Keaton's characters"
A previously unreleased deleted scene
Theatrical trailer
The official synopsis for "The Protégé" describes the film as:
"Rescued as a child by the legendary assassin Moody (Samuel L. Jackson) and trained in the family business, Anna (Maggie Q) is the world's most skilled contract killer. But when Moody – the man who was like a father to her and taught her everything she needs to know about trust and survival – is brutally killed, Anna vows revenge. As she becomes entangled with an enigmatic killer (Michael Keaton) whose attraction to her goes way beyond cat and mouse, their confrontation turns deadly and the loose ends of a life spent killing will weave themselves even tighter."