The Morning Watch: Seinfeld's Many Movie References, HBO Pays Tribute To Michael K. Williams & More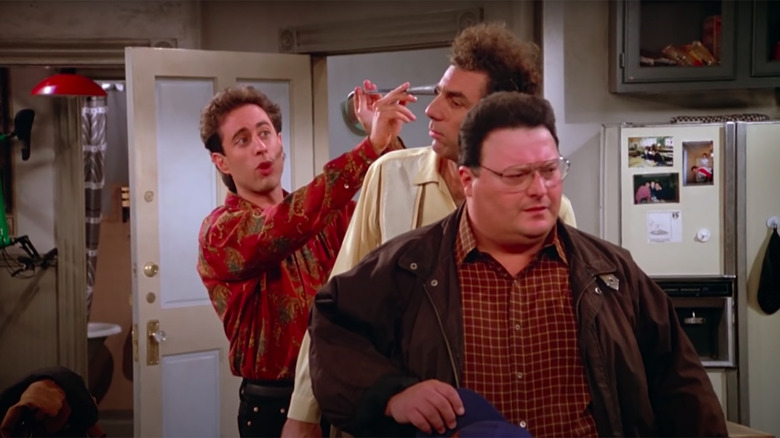 NBC
(The Morning Watch is a recurring feature that highlights a handful of noteworthy videos from around the web. They could be video essays, fan-made productions, featurettes, short films, hilarious sketches, or just anything that has to do with our favorite movies and TV shows.)
In this edition, see how the many movie references of "Seinfeld" compare to footage from the movies themselves. Plus, watch HBO's tribute to the late Michael K. Williams, who starred in their acclaimed drama shows "The Wire" and "Boardwalk Empire." And finally, see what happens when "Robot Chicken" mashes up "The Suite Life of Zack and Cody" with "The Shining."
Seinfeld's Movie References
First up, Nerdist called our attention to a helpful video from Yaron Baruch on YouTube that breaks down the many movie references that "Seinfeld" made throughout the series' run. There's even a comparison of the episodes being highlighted to the movies referenced and parodied, which include "JFK," "Marathon Man," "Apocalypse Now," and "Basic Instinct," which is all the more entertaining because Wayne Knight actually appears in the movie and the "Seinfeld" parody of it.
HBO Honors the Late Michael K. Williams
Michael K. Williams unfortunately passed away earlier this month, a tragic loss for both film and television. Even though Williams didn't walk away with one last Emmy win last night for his role in "Lovecraft Country," HBO went out of their way to pay tribute to the actor. Williams gave acclaimed performances for HBO's "The Wire" and "Boardwalk Empire," not to mention "The Night Of" and "Bessie," and they're all featured here. Enjoy these clips featuring some of Williams' best performances, and if you haven't seen these shows, go out of your way to watch them.
The Shining Life of Zack and Cody
Finally, "Robot Chicken" puts a terrifying twist on The Disney Channel series "The Suite Life of Zack and Cody," starring the then-young Cole and Dylan Sprouse. Rather than having zany adventures in a big hotel, the twins find themselves dealing with The Overlook Hotel from "The Shining." Life isn't quite so sweet when Zack and Cody learn that Mr. Moseby is a one hundred-year old ghost.